Espadrilles are one of my favorite styles of shoes for spring and summer. They come in a variety of different styles, from wedges to flats and everywhere in between. I love the fresh look of the jute sole for the warmer seasons! Today I'm partnering with Cole Haan to share Three Ways to Style Espadrilles, featuring their insanely comfortable Cloudfeel Espadrille Sandal! These sandals are classic, functional, and high quality, too!
1 // With pants.
Perfect for early spring when it's still a little chilly, these Cloudfeel Espadrille Sandals look great with pants! They're super easy to throw on with just about anything because of their timeless style. Their cushioned sole makes them incredibly comfortable, too, so they're great if you need to be on your feet all day yet still want a little style! They're lightweight, as well!
2 // With shorts.
Espadrilles are great to throw on with a pair of shorts, too! The Cloudfeel Espadrille Sandals low heel height and classic style makes them great for just about any outfit. I have a feeling these will be my go-to mom shoes this summer because they're so easy to move in and go with everything. Their rubber outsole provides decent traction, too, so they're perfect whether you're on the playground with the kids or heading to the beach! The best part is the slingback prevents your foot from slipping out, as well.
3 // With a dress.
Not only do espadrille sandals work with pants and shorts, but they look great with dresses too! They're so comfortable that you feel like you're walking on air – which is perfect for all spring and summer festivities. There's no breaking them in, either! They're comfortable the second you slip them on your feet. Cole Haan's Cloudfeel Espadrille Sandals are a great pair of shoes to travel with, as well, because of their versatility. You can easily wear them to the airport, the beach, and dressed up for dinner, too!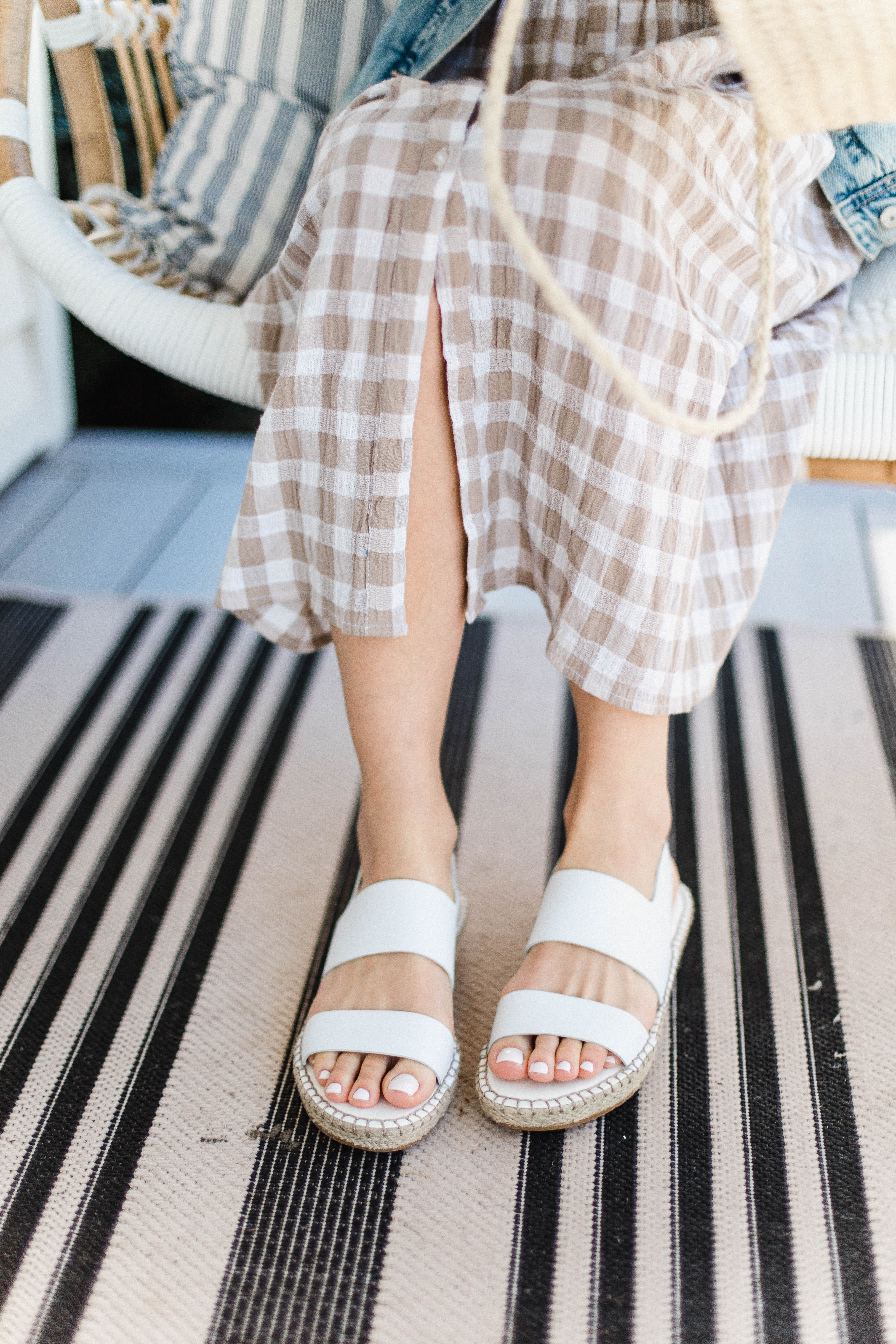 Cole Haan has a variety of espadrille options, but these Cloudfeel Sandals are going to be a staple of mine for the season! I hope that gave you a little inspiration on how you can style your espadrilles and showed how they're one of the most versatile shoes you can have in your spring/summer closet! Cole Haan has a wide variety of high quality, comfortable, and function shoes. I love that they don't need to be broken in, and really hold up over time! If you're looking to invest in a quality shoe that will last multiple seasons, these Cole Haan sandals are it!
You can shop more espadrilles below:

Thank you to Cole Haan for sponsoring today's post.