I rounded up a few last minute Mother's Day Gifts on Amazon, all available for Prime shipping! There's something for everyone, and a variety of price points!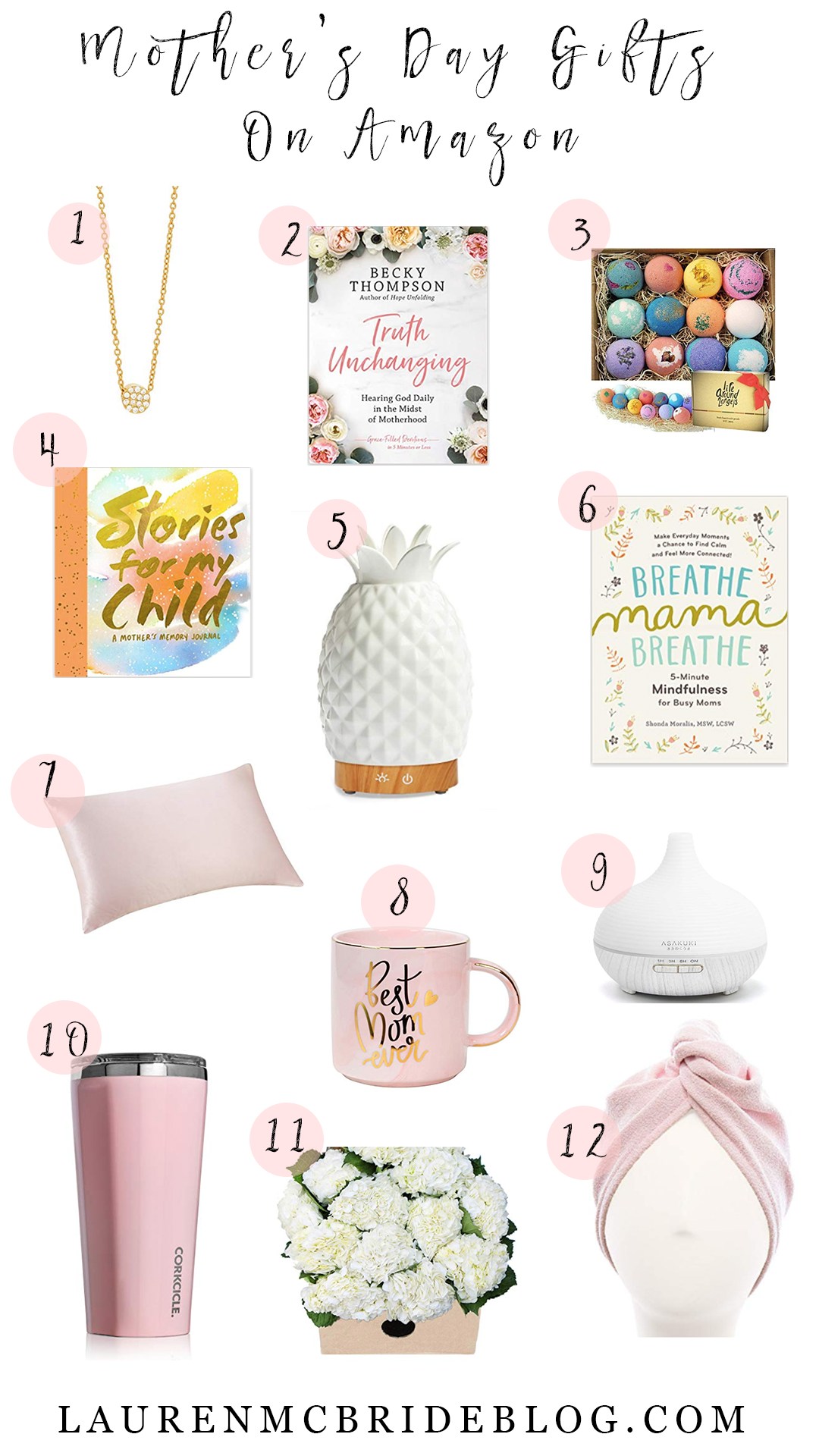 1 // SHIMMER CHARM ADJUSTABLE PENDANT: This dainty necklace is beautiful worn alone or layered.
2 // TRUTH UNCHANGING: HEARING GOD DAILY IN THE MIDST OF MOTHERHOOD: This daily devotional is the perfect gift for a busy mom, and especially one who needs a little encouragement.
3 // BATH BOMBS: These bath bombs have shea and cocoa butter in them, and come in adorable colors for a relaxing bath time experience.
4 // STORIES FOR MY CHILD GUIDED JOURNAL: This beautiful journal is a great for a mom to document her journey through motherhood.
5 // PINEAPPLE DIFFUSER: The symbol of hospitality, this cute little pineapple diffuser is perfect for any mom's home!
6 // BREATHE, MAMA, BREATHE: I have this book and it's fantastic! It's great for busy moms who need a few minutes to reset.
7 // SILK PILLOWCASE: I own several of these and they're a game changer for hair! I wake up with less frizz, which means my hair stays styled longer. They're also great for your skin!
8 // BEST MOM EVER MUG: This adorable gold and pink marble mug is perfect for any mom!
9 // WHITE WOOD DIFFUSER & HUMIDIFIER: I love that this diffuser is a humidifier, too! It comes in a variety of wood tones to match decor as well.
10 // CORKCICLE TUMBLER: Perfect for the mom who's always reheating her coffee!
11 // HYDRANGEAS: Did you know you can buy flowers on Amazon?! These hydrangeas are beautiful and will be delivered right to mom's doorstep!
12 // AQUIS HAIR TURBAN: This hair turban is a game changer for your hair! It absorbs moisture to prevent frizz, and leaves your hair looking silkier and feeling softer.