I've got another month of Amazon Finds Under $50 for you! This month we have some great accessories, dupes, and athletic wear!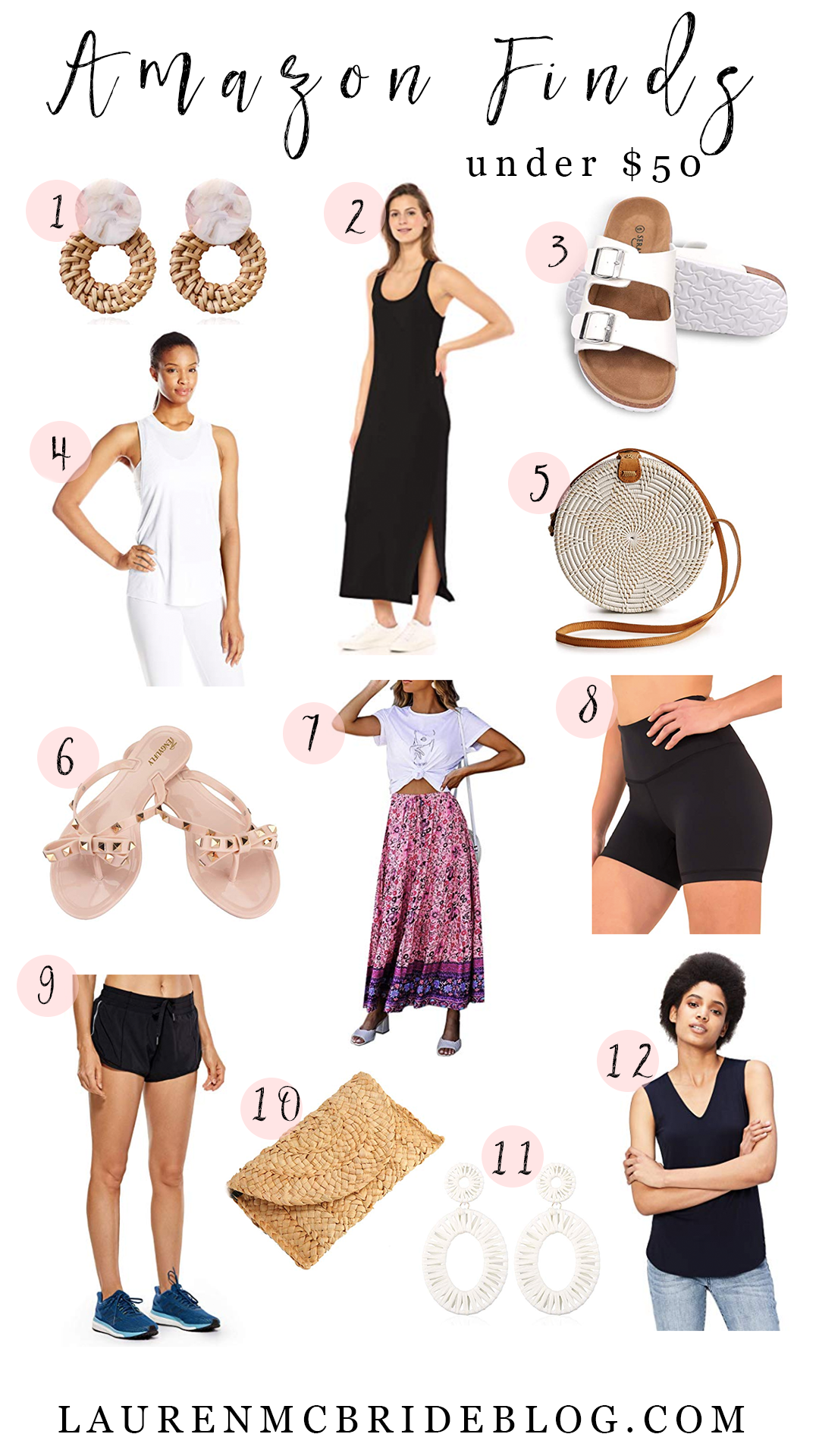 1 // Woven Rattan Resin Earrings: These earrings are the perfect statement earrings for summer!
2 // Supersoft Terry Maxi Dress: I love a simple maxi dress, and this one comes in a variety of neutral colors.
3 // Double Buckle Cork Sandals: These Birkenstock dupes are a great price if you're on a budget or don't want to take the plunge on the price of the real version!
4 // Alo Yoga Heat Wave Tank: I grabbed this tank for Orange Theory, and I love it! It's breezy and not constricting – perfect for a sweaty workout.
5 // Rattan Round Bag: I love the color of this rattan bag! It comes in a variety of styles.
6 // Bowtie Jelly Flip Flops: These flip fops are adorable for the beach or pool! I love that they're easily washable, too.
7 // Bohemian Floral Print Skirt: I love the print of this skirt for summer! There are a variety of other floral prints, as well.
8 // Power Flex Yoga Shorts: I grabbed these shorts because they reminded me of my Zella shorts, and I was impressed for the price! They're 2 for $20! I personally love the length because they're not up my butt while running.
9 // Running Shorts: These running shorts are shorter than the previous pair, but less constricting and breezier – better for a hot day!
10 // Straw Clutch: This cute little straw clutch is only $15 and great for summer date nights!
11 // Drop Hoop Raffia Earrings: These earrings are just gorgeous! They're slightly heavier than I envisioned due to the frame, but not bad.
12 // Jersey V-Neck Tank Top: This simple basic tank is only $12.50! I love the quality of the fabric.