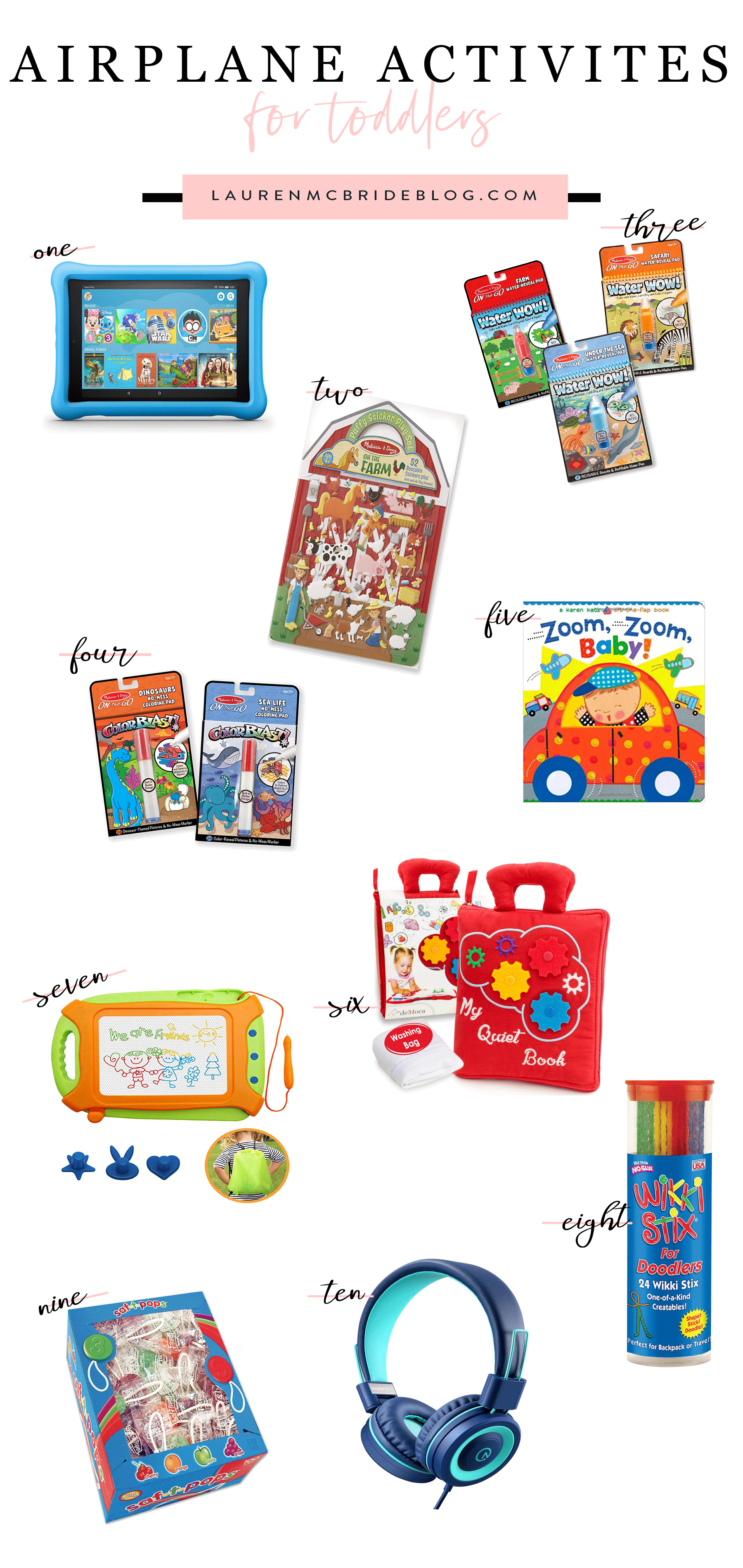 Confession: I am not a good flyer. At all. But surprisingly enough, flying with my children has actually helped me handle it better than before! Having three small kiddos to help definitely keeps my anxiety at bay when traveling. We've been traveling quite a bit this year, and every trip makes me more and more confident when flying with kids. I've learned quite a bit each plane ride, and what works and what DOESN'T for our family. I thought I'd share my best Airplane Activities for Toddlers with you in case you're flying with small children soon!
1 // Amazon Fire HD 8 Kids Edition Tablet: My kids don't get tablet time too often, but traveling is the exception to the rule. My kids are literal perfect angel travelers if they have their tablet in hand! And with traveling as a whole being very stressful, I'll do anything to make it easier, haha! We LOVE the Amazon Fire Kids tablet because it's kid-safe…no advertisements, no sketchy apps, and easy to use! We've had ours for several years now, and I can't recommend them enough! Pro tip: make sure you download movies/shows/etc BEFORE your flight. No one wants to be stuck with no WiFi to watch with on a long flight with a toddler who just wants Elmo.
2 // Melissa & Doug On the Farm Puffy Sticker Play Set: I bought this for my youngest on the the plane to Disney and it kept him occupied WAY longer than I thought! I purposely put him in the window seat, so he enjoyed sticking these onto the window and then back onto the paper, over and over again. Totally recommend for little ones!
3 // Melissa & Doug Water Wow!: This a great mess-free way to color! I brought one of these and the next item on the list for my youngest, and they kept him occupied for a bit as well. My 3 year old loves them too!
4 // Melissa & Doug On the Go ColorBlast No-Mess Coloring Pad: Another mess-free way to color! This is an actual marker instead of a water pen, so just keep that in mind if your little one likes to bite tips off markers (not that I know anything about that….)
5 // Zoom, Zoom, Baby!: A Karen Katz Lift-the-Flap Book: My youngest LOVES lift the flap books, especially the Karen Katz collection! I brought a few that we read over and over (and over and over) again on the plane ride.
6 // Quiet Book for Toddlers: This quiet book is a little pricey but SO cool! I like that it's fully washable too!
7 // Magnetic Drawing Board for Toddlers: My littlest LOVED this little drawing board! Another mess free way to color!
8 // WikkiStix for Doodlers: These little wax sticks are so fun for kids of all ages! Keeps them busy, and they're mess free!
9 // Saf-T-Pops: Lollipops are great for the kids ears on the plane! These are great for little ones because they have a safer stick design.
10 // Kids Headphones: My youngest won't keep these on his head quite yet, but my older two love their headphones and it keeps down the noise from movies or tablets on the plane. Try using the code NOOT2500 for a discount on these!
SHOP THE POST