Thank you to shopDisney and Shopstyle for sponsoring today's post! All thoughts and opinions are my own.
It's no surprise our family absolutely LOVES all things Disney, and we are already missing our time there this past week! I put together a shopDisney gift guide featuring Disney Gifts for Everyone if you're still in need of some ideas! There is something for everyone and a variety of price points, too! Also, there is a Mystery Savings Event happening until 12/20 Friday, which reveals your discount once items are added to the cart. How fun!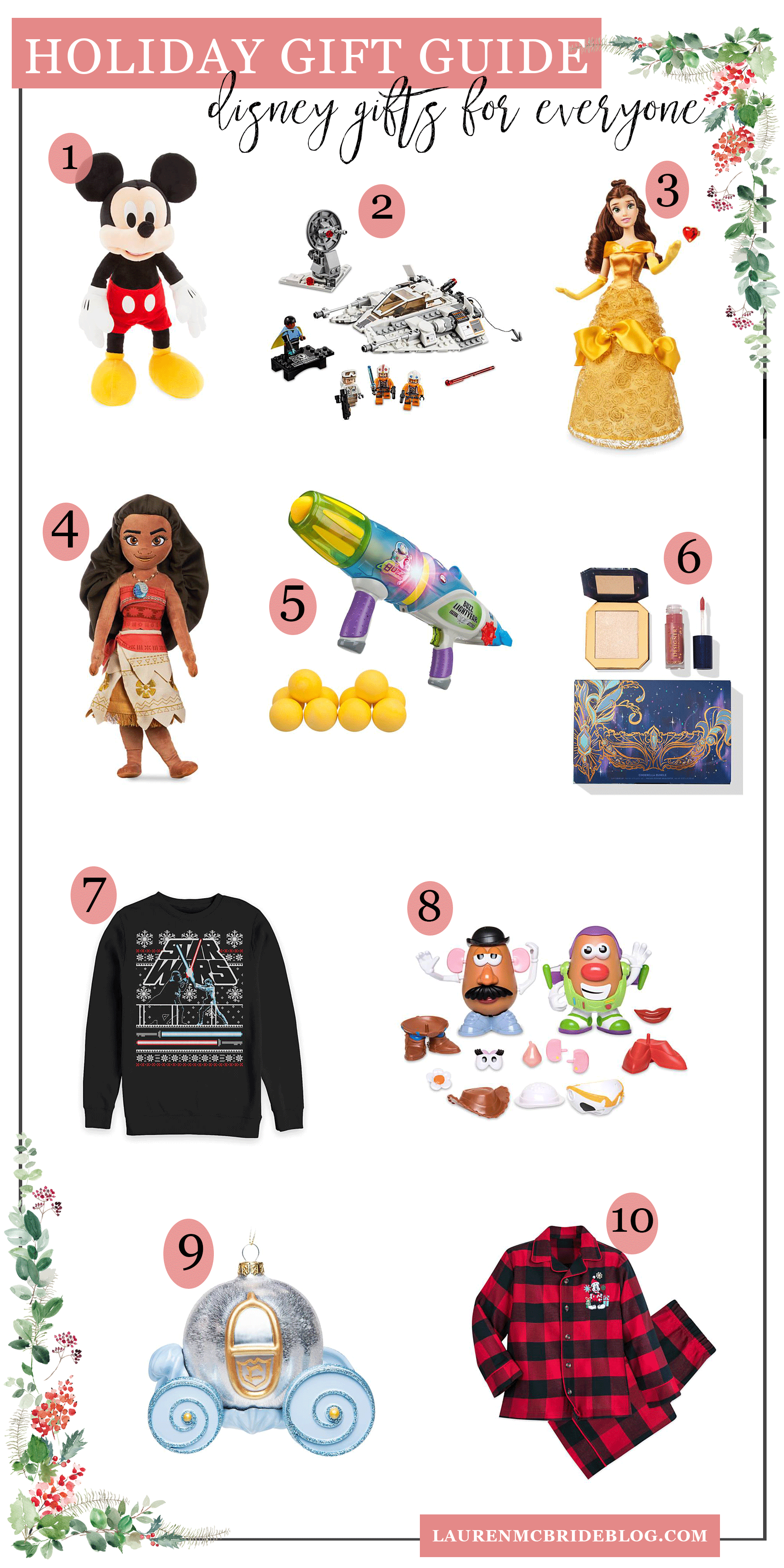 Disney Gifts For Everyone
1 // Mickey Mouse Medium Plush Doll: shopDisney has a variety of plush doll options! We have a few for the kids, and really like how they hold up. This Mickey Mouse doll is a classic for any Disney fan!
2 // Star Wars Snowspeeder- 20th Anniversary Edition Play Set by LEGO: My oldest has been loving all things Star Wars lately, and also loves LEGOs! shopDisney has a variety of LEGO Star Wars sets available in a variety of price ranges. I got this one for my oldest for Christmas! 🙂
3 // Belle Classic Doll with Ring: My little girl has been collecting Disney Princess dolls for a couple of years now. They have every princess option available, so it's easy to get your little one's favorite girl as a holiday gift or stocking stuffer!
4 // Moana Medium Plush Doll: My youngest is Moana obsessed, so I totally got him this doll for his stocking. Again, the plush dolls are so great because they can cuddle up easily with them too!
5 // Buzz Lightyear Glow-in-the-Dark Blaster: This fun Buzz Lightyear Blaster is great for older kiddos! They have other varieties too, which makes for a fun indoor activity during the winter season!
6 // Cinderella Midnight Masquerade Makeup Bundle: If you're a Disney obsessed adult like me, this is a great gift idea! Colourpop has a variety of Disney Princess bundles featuring highlighter and a lip gloss!
7 // Luke Skywalker and Darth Vader Holiday Sweatshirt: This holiday sweater is perfect for your Star Wars loving guy! There's a variety of options available in adult sizes. I'm gifting it to a friend for the holiday!
8 // Toy Story Mr. Potato Head Play Set: I love this take on Mr. Potato Head! My kiddos love Toy Story, and I thought this would be a great gift for my youngest. Great for fine motor skills, too!
9 // Cinderella Pumpkin Carriage Glass Ornament: I absolutely love ornaments like this to commemorate our Disney trip this year! This Cinderella ornament is absolutely BEAUTIFUL in person, and the perfect gift for a Disney loving family to display on their tree!
10 // Mickey Mouse Holiday Plaid PJ Set: These holiday pajamas are adorable for Disney loving families! There's an adorable matching girls nightgown set right here. They have women's and men's, too!
If these options aren't for you, there's a ton of options on shopDisney for you to find the perfect holiday gift! Just be sure to expedite shipping at checkout if needed before Christmas!