As you might recall, we celebrated 10 years of marriage this year with a vow renewal in Turks & Caicos! We had our ceremony at the beautiful Beaches Turks & Caicos, and I'm sharing all of the details in this post!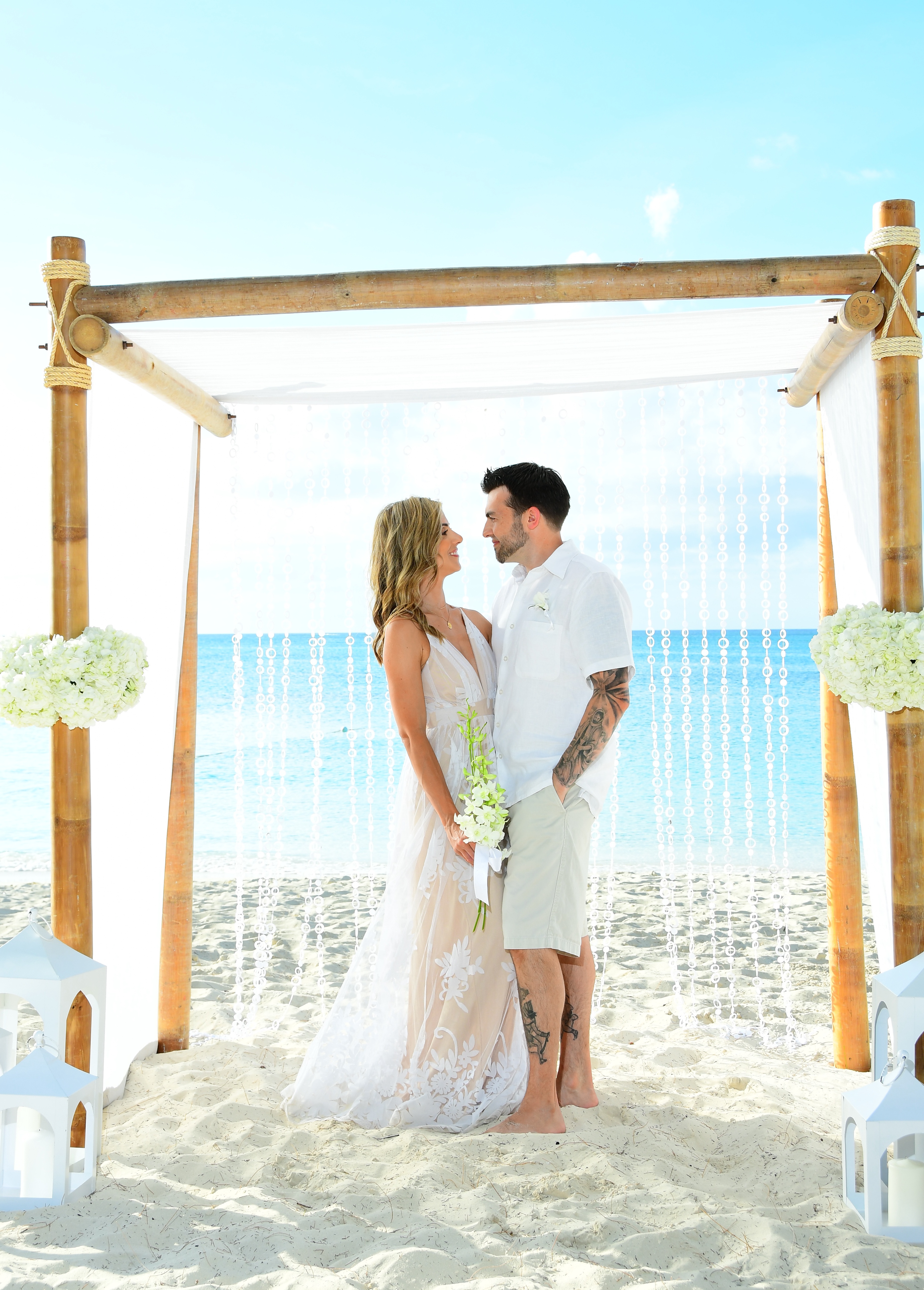 Beaches Turks & Caicos made the planning of our vow renewal, or Re-Tie The Knot Ceremony, incredibly easy. I was able to video chat with their wedding coordinator ahead of time to actually get a visual of all of the ceremony details including the structures, decor, linens, flowers, and more. It was really nice actually being able to SEE the items, not just in a photo! The call was about an hour and made me feel confident in what our ceremony would look like.
Or ceremony was a few days after our arrival at the resort, which I preferred because it gave us time to make any last minute changes – which we did! We changed the structure we were originally planning on using because it was MASSIVE in person. They showed me a bamboo one that was much smaller and exactly what I had originally had in mind! I reiterated to the wedding coordinator that we wanted it very private, which she made sure of. We did NOT want a big ceremony, at all. We wanted something very intimate and private, just the two of us and the kids. I was very pleased with how well they orchestrated this to happen on a beach that is very much public to the rest of the guests at the resort. They also worked with us on every single little detail, from the music, to how the ceremony would run, and the reception following it. There were so many options, and everything is customizable. I love that you can pretty much do anything you'd like!
THE CEREMONY
Beaches set up the most beautiful structure for our vow renewal – this gorgeous bamboo arch that they draped with white linens and a beaded curtain for privacy. They even added some beautiful flowers to the arch, and the lanterns I had picked out during the video call. I loved the overall set up so much!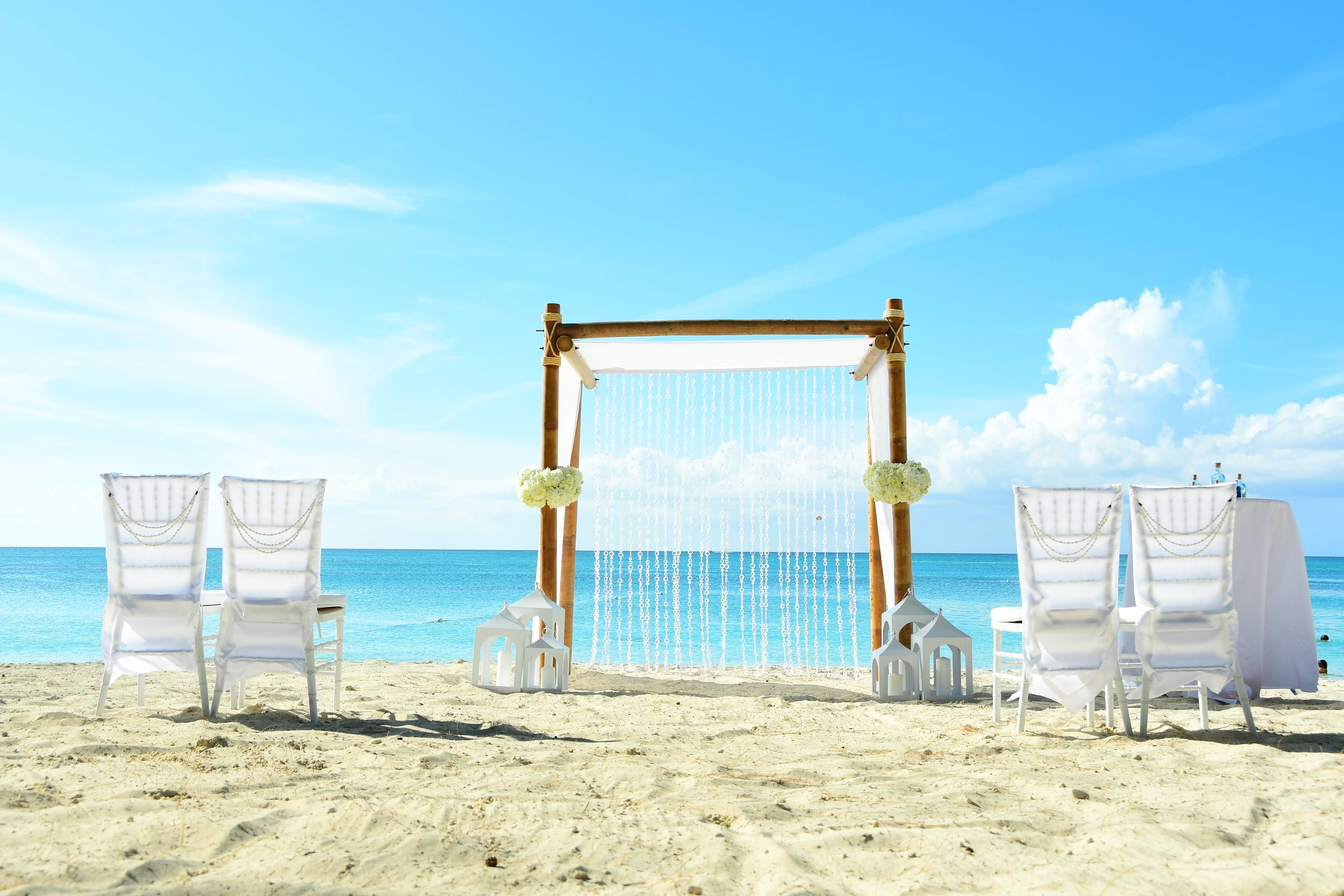 Right before the ceremony, the wedding coordinator picked myself and the kids up in their wedding golf cart – which was super fun for the kids! When it was go time, I had my daughter walk down the boardwalk aisle first as my flower girl, and then had my two boys walk me down to my husband. We had our wedding song, Forever and Ever Amen by Randy Travis, playing as I walked down.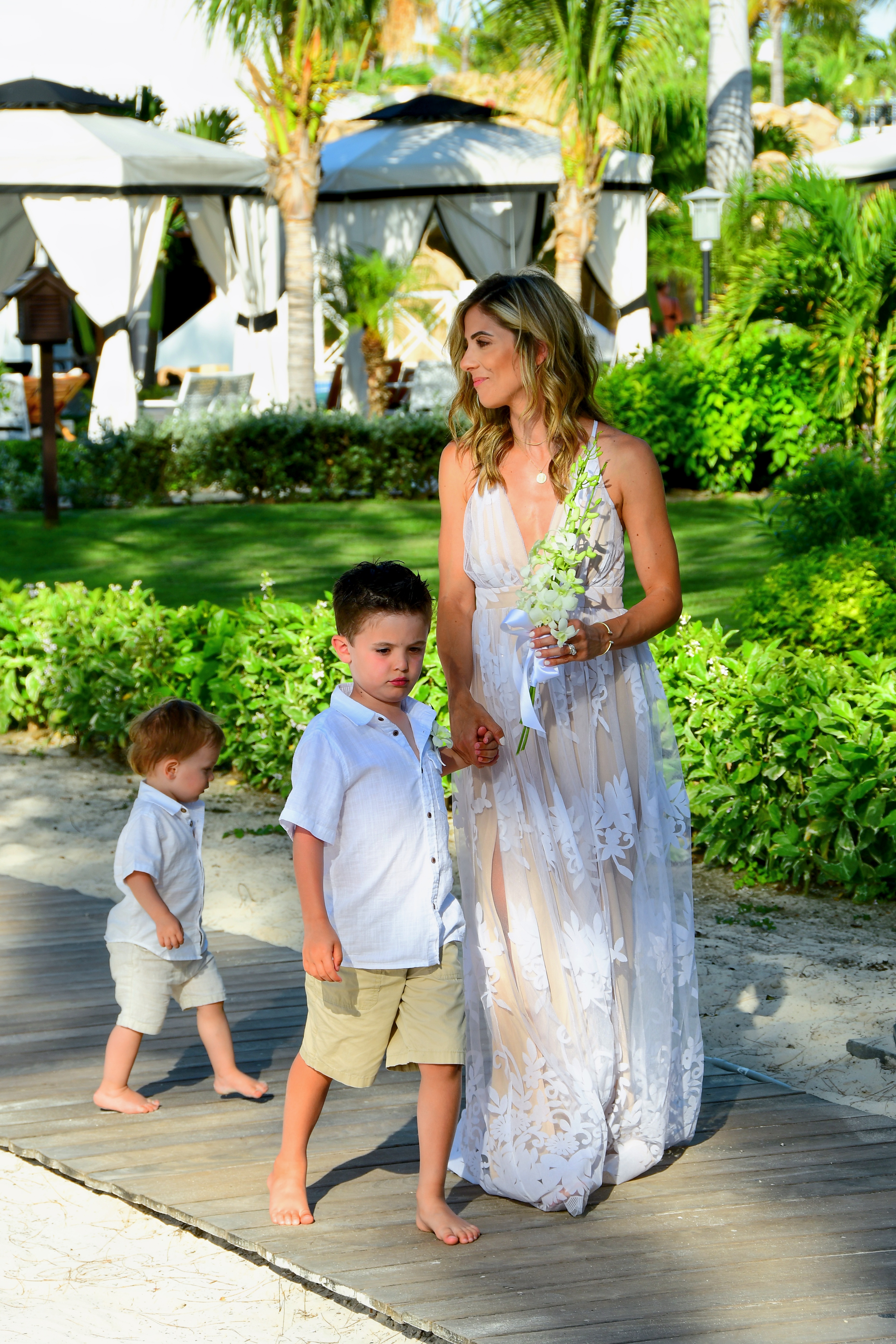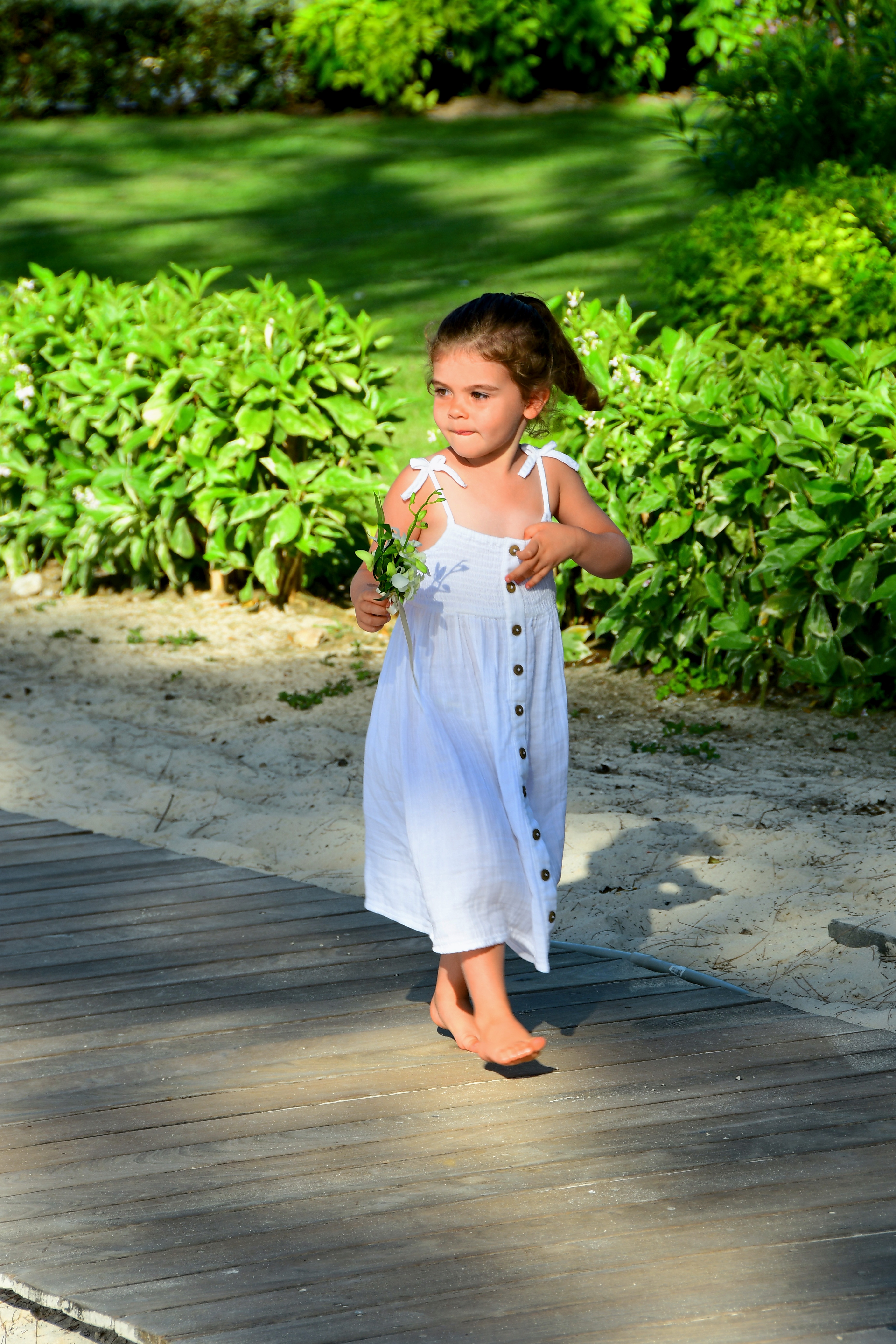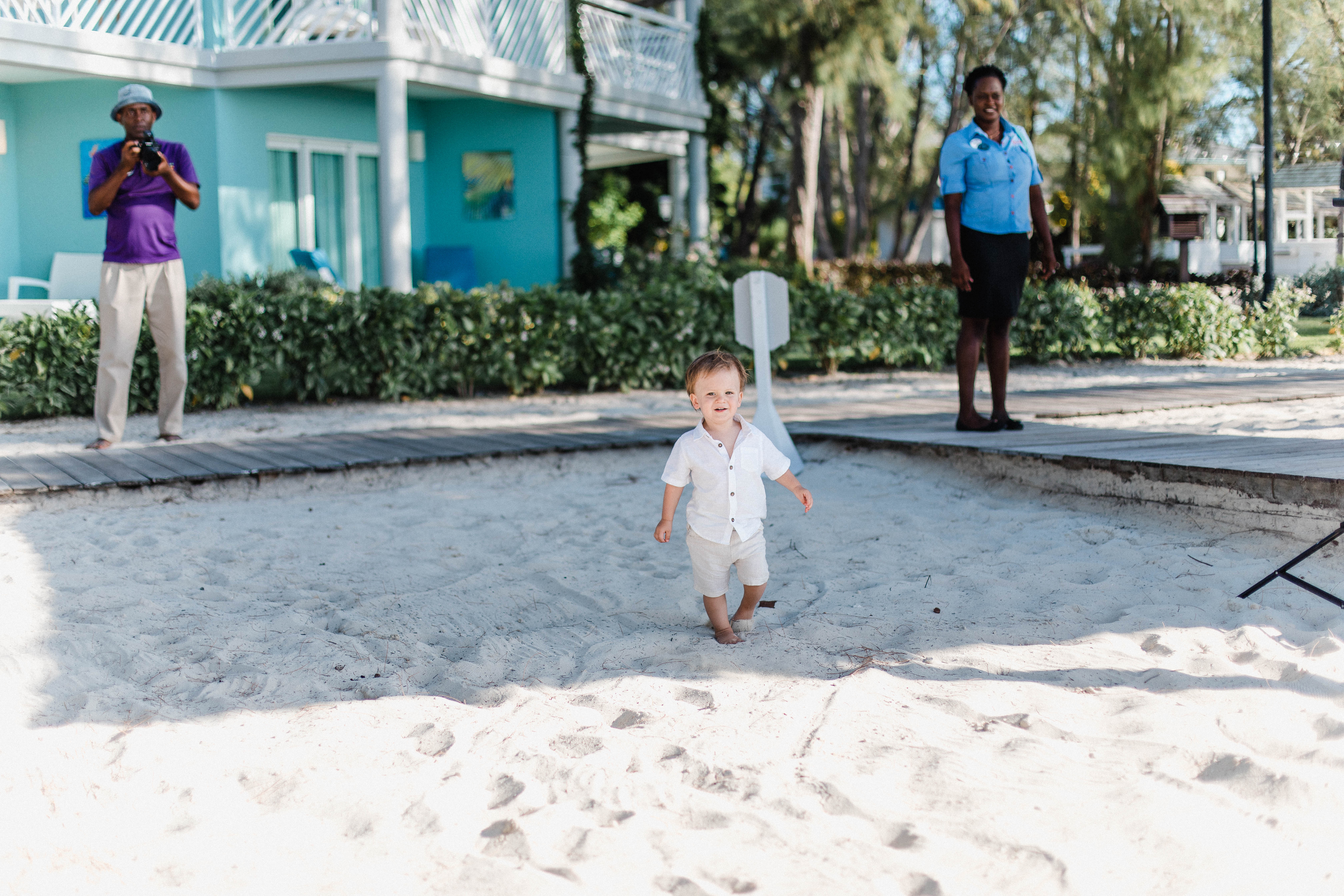 The minister they provided was SO wonderful. We both truly enjoyed everything he prepared to say to us for our renewal. My husband and I chose to write our own vows (something we didn't do for our wedding). We clearly proved to each other that we know each other well after 10 years because our vows were EXACTLY the same, haha!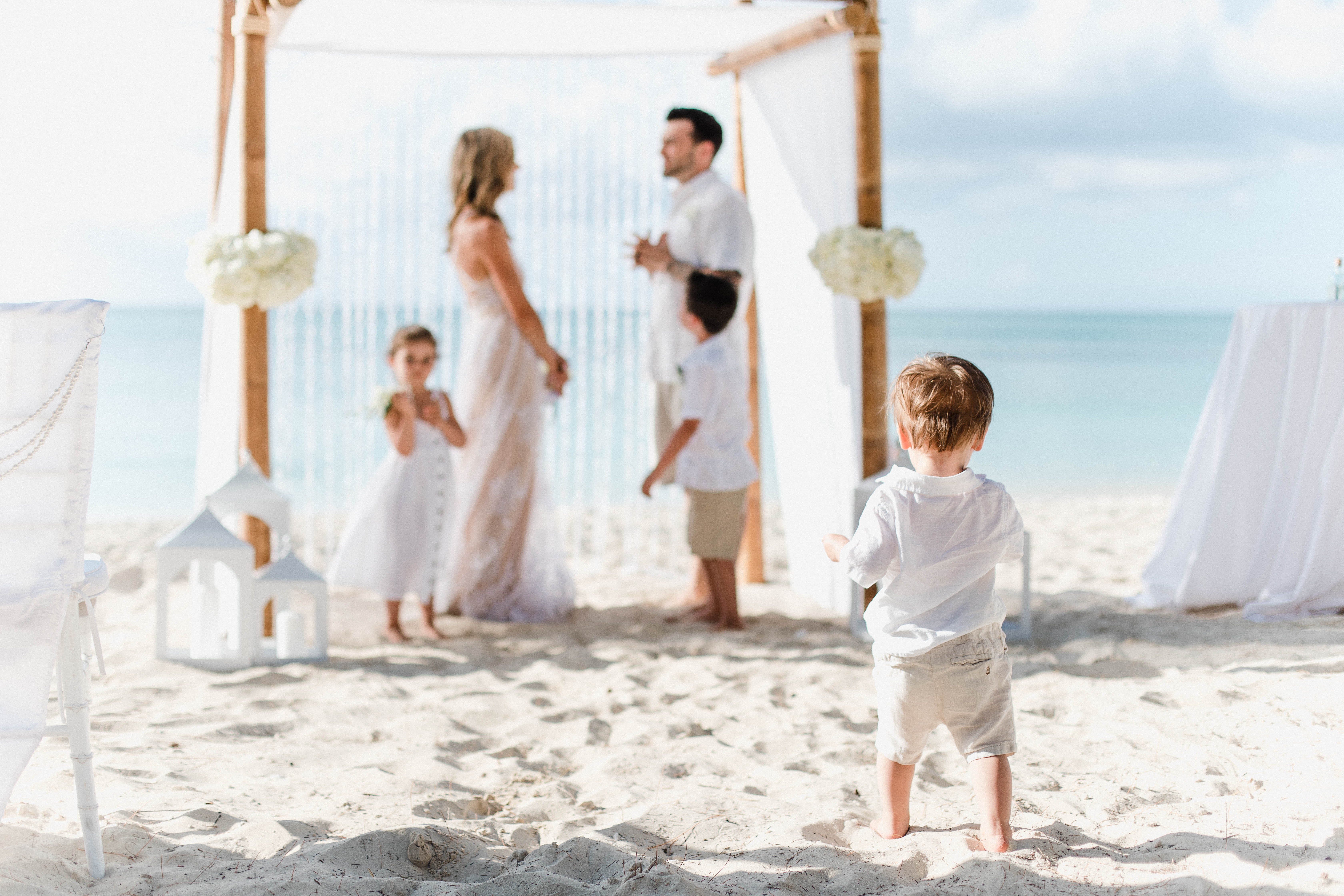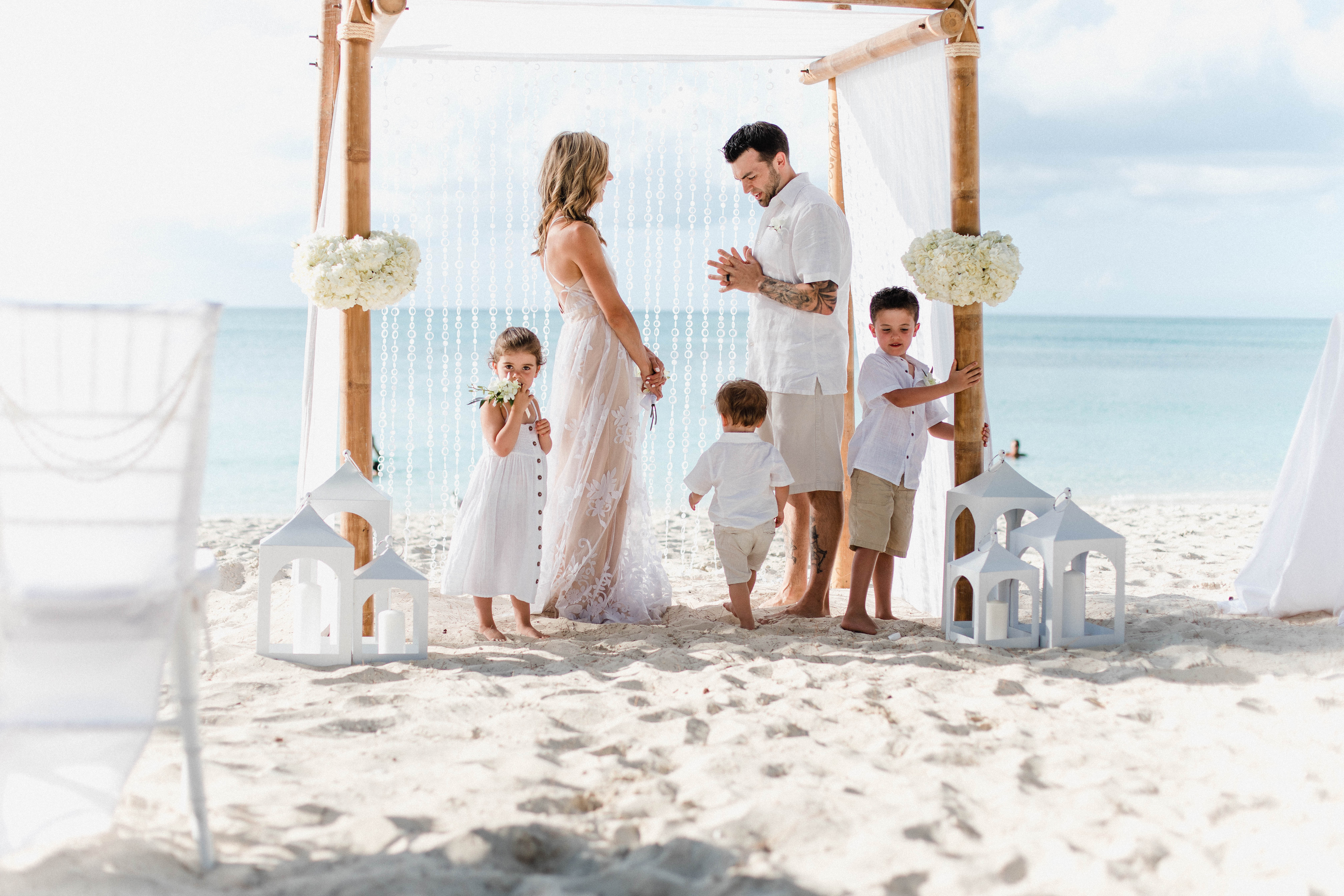 We wanted to include the children in the ceremony, so we did a family sand pour to represent unity. I purchased bottles in advance right HERE, making sure there was one large vessel, 2 medium sized vessels for my husband and myself, and 3 smaller vessels for the children. Beaches provided the sand, which we were able to select (there are multiple colors!) ahead of time. My husband and I kept our sand true to color, and our kids chose their own colored sand. I loved this moment during the ceremony because it represented our family as a whole. The kid really loved participating!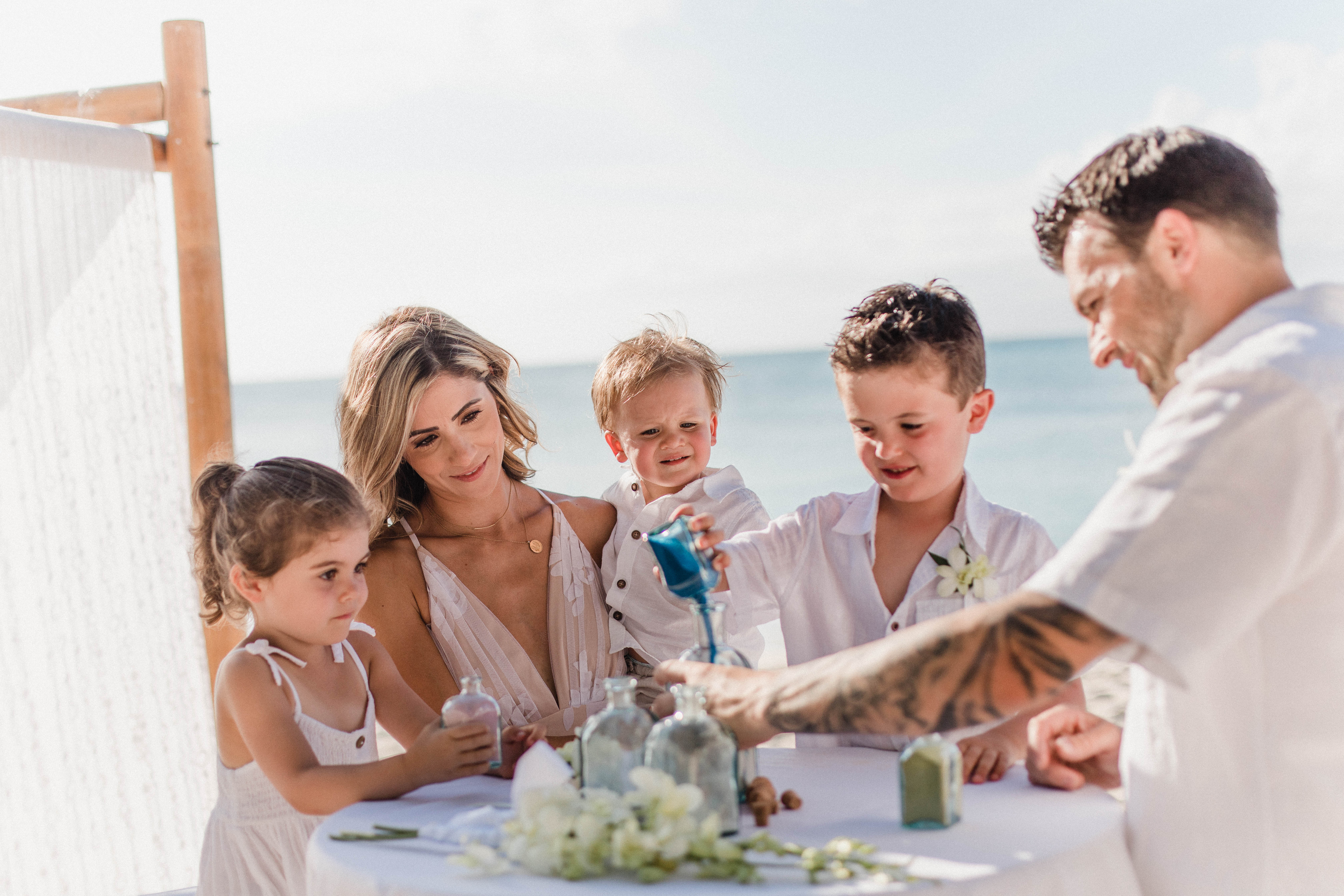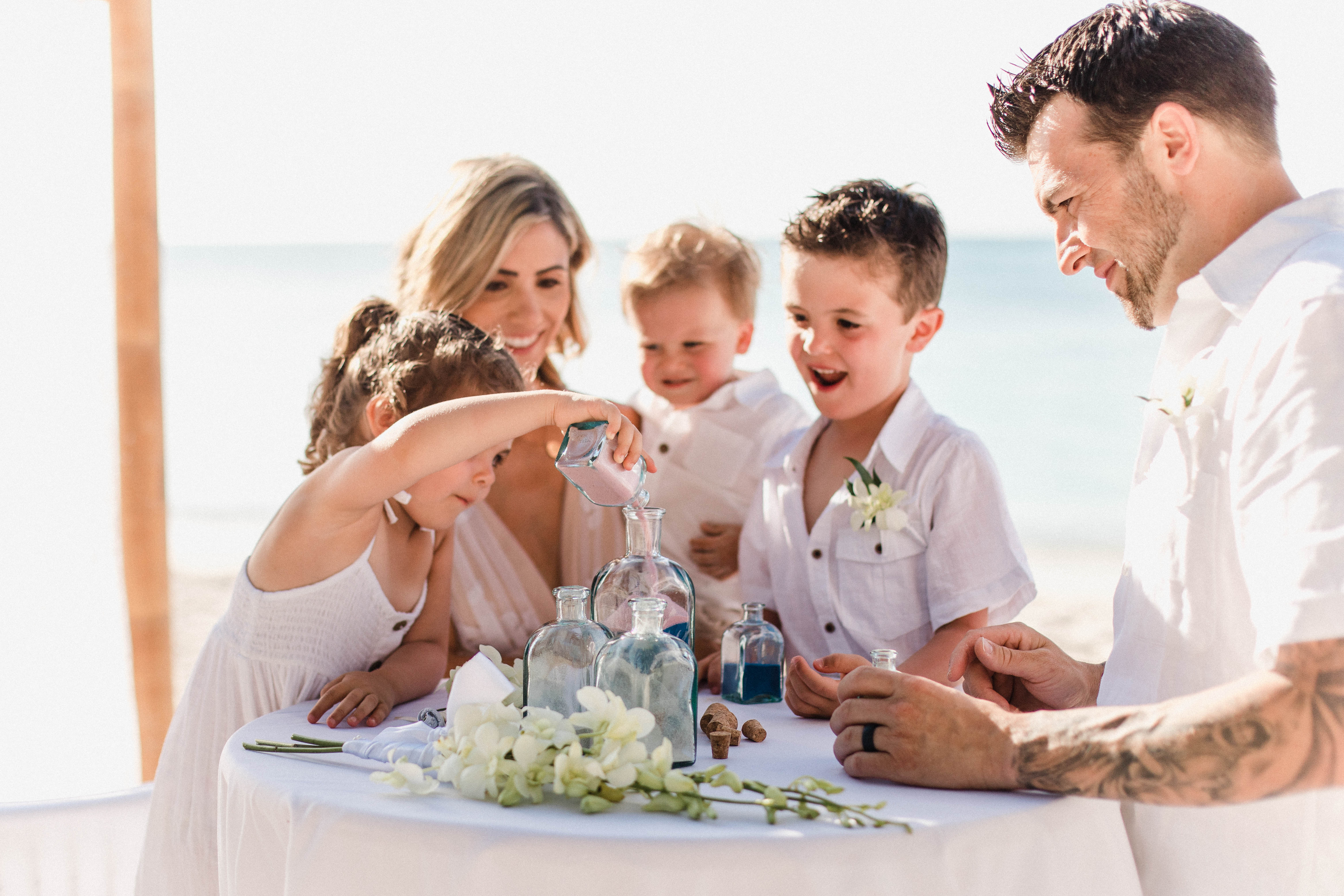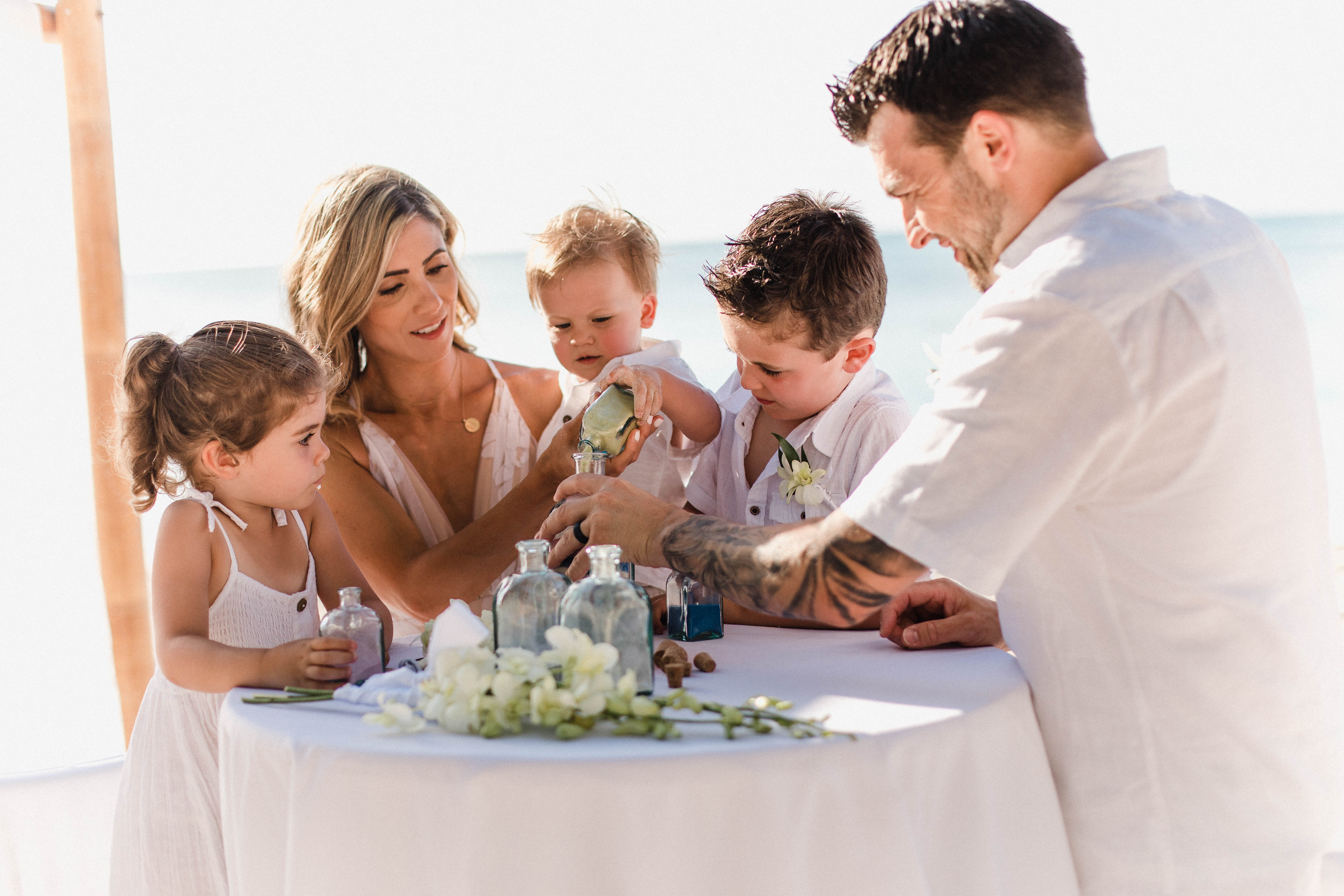 When the ceremony was complete, we had a family dance party to one of our favorite family songs. We always dance around our kitchen to it, so it made sense to have fun with the ceremony and include it! I really loved that we put our personal family touch on the entire ceremony. And, of course, some family photos!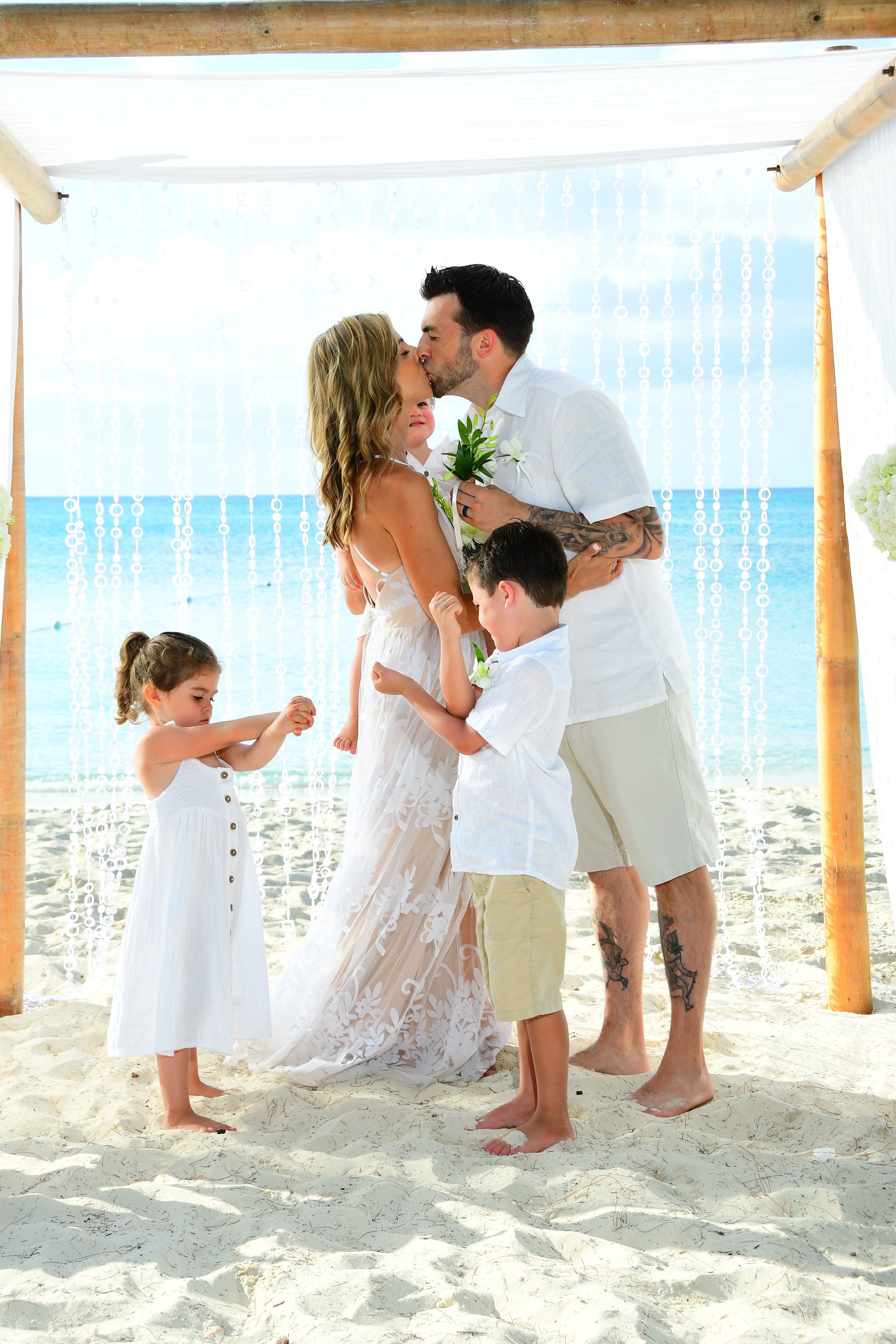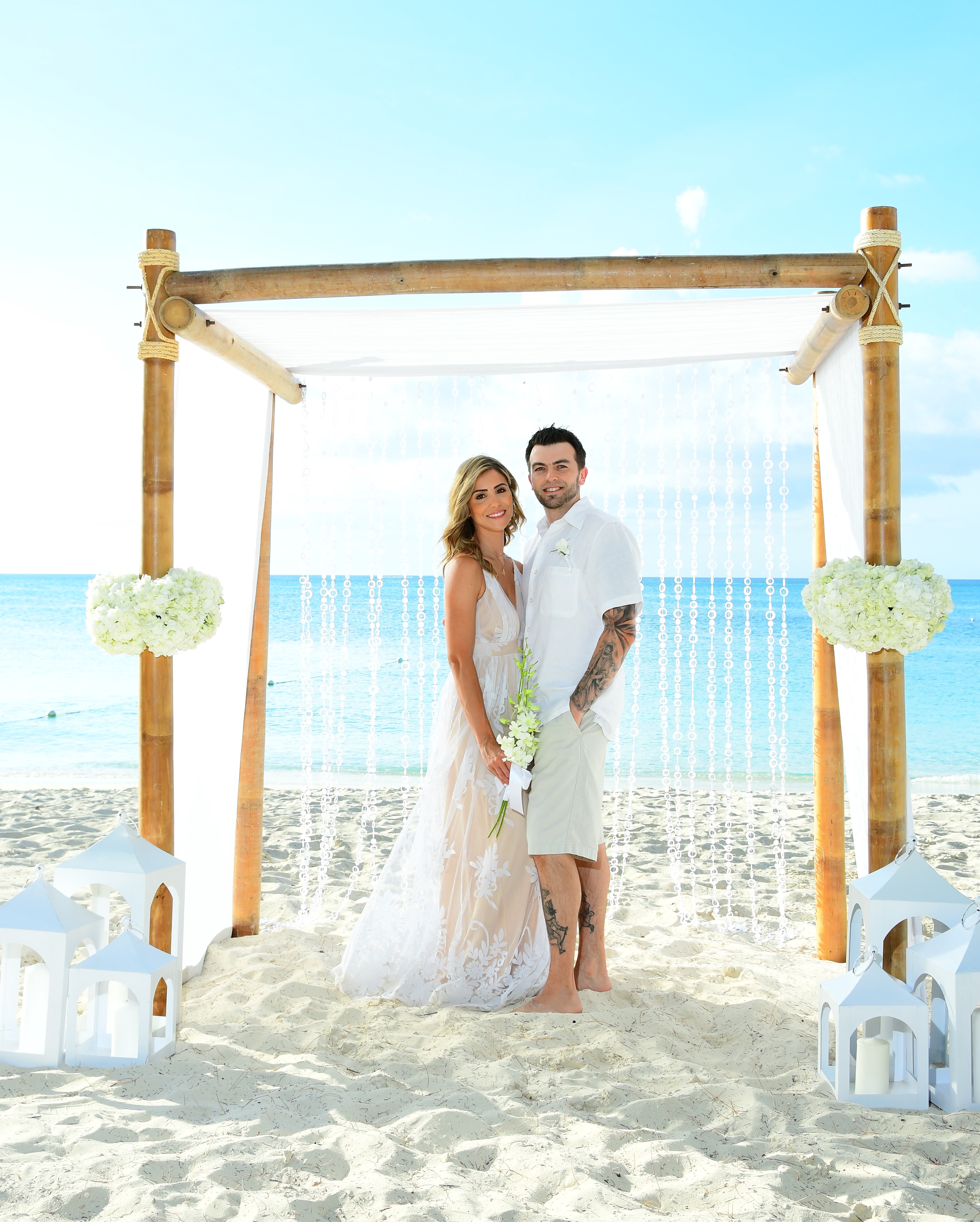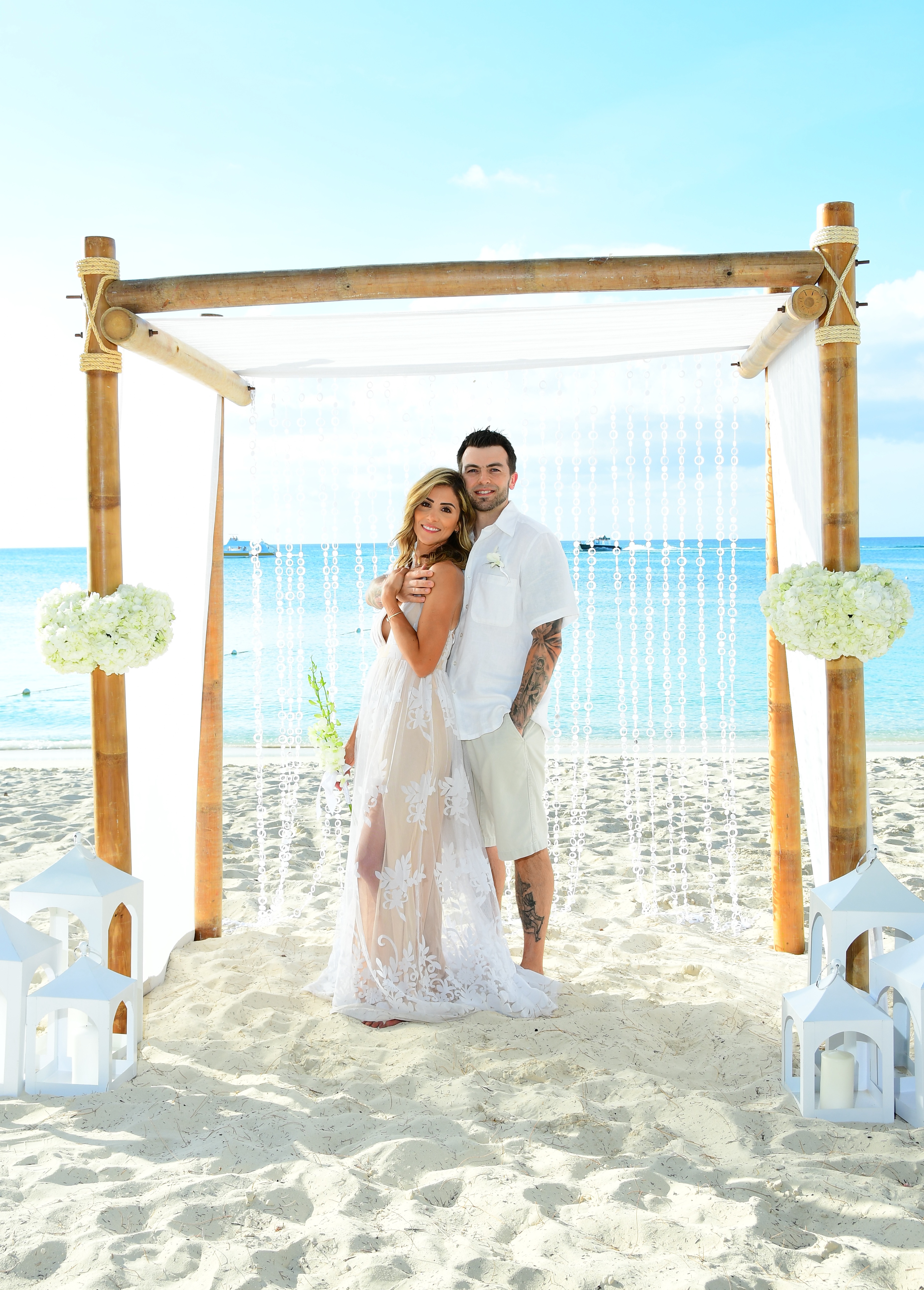 THE RECEPTION
After the ceremony, we had a small cake reception with some appetizers as a family while the sun set. Again, we kept this very private, and Beaches set us up in one of their beautiful gazebos overlooking the water. There were different reception options, but we kept it small because we knew the kids would be tired! The cake was DELICIOUS (and gluten free!), and the table decor was stunning. We chatted about table decor during our initial video call, but I swear Beaches went above and beyond to make everything truly beautiful.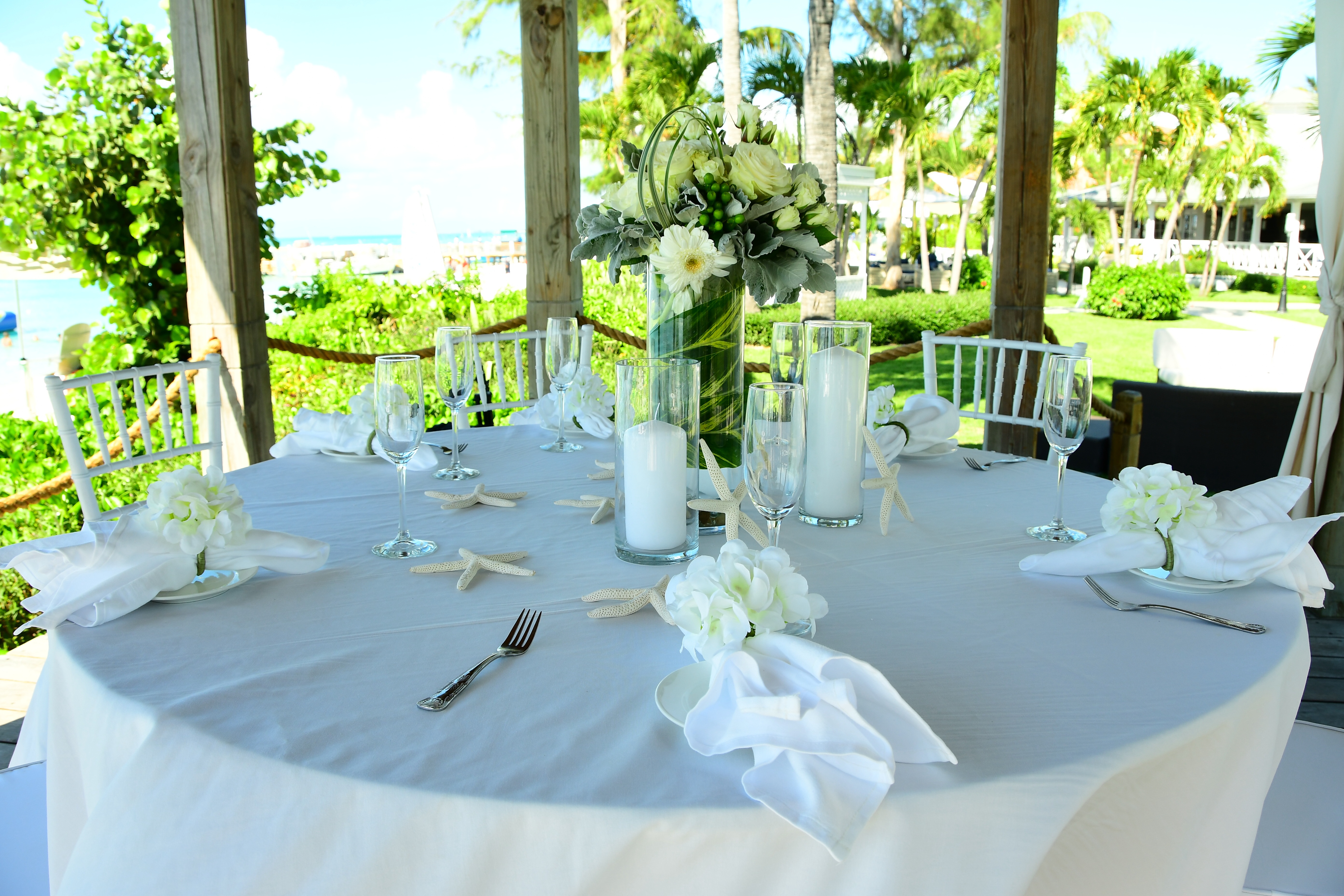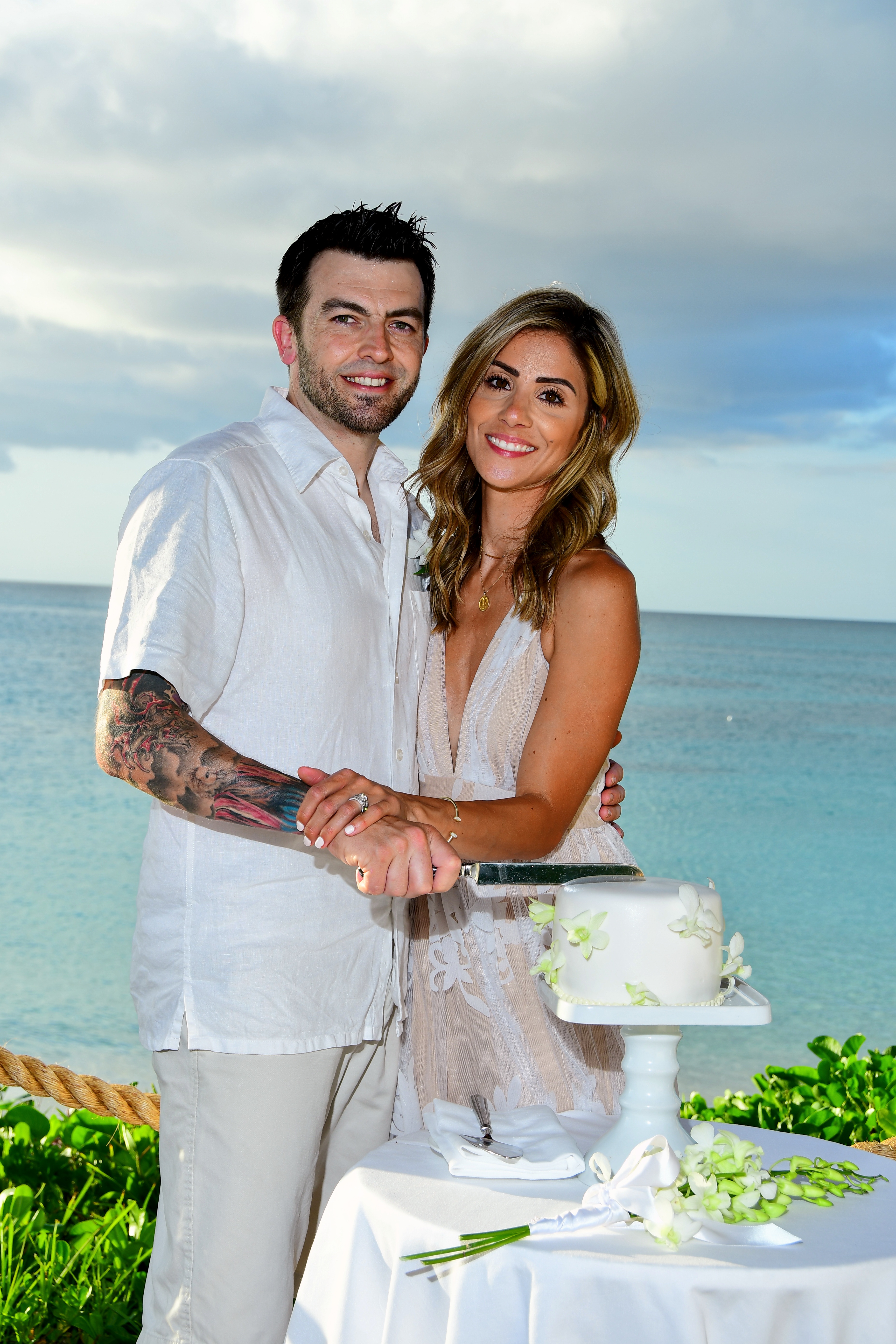 PHOTOGRAPHY
We had family with us because we knew Austin would be a bit difficult during the ceremony, and they graciously offered to take a few photos for us. But we also hired a Beaches professional wedding photographer, and I was so impressed with how they turned out! I will cherish these photos forever of our special day. The majority of the photos in this post are from the photographer! 🙂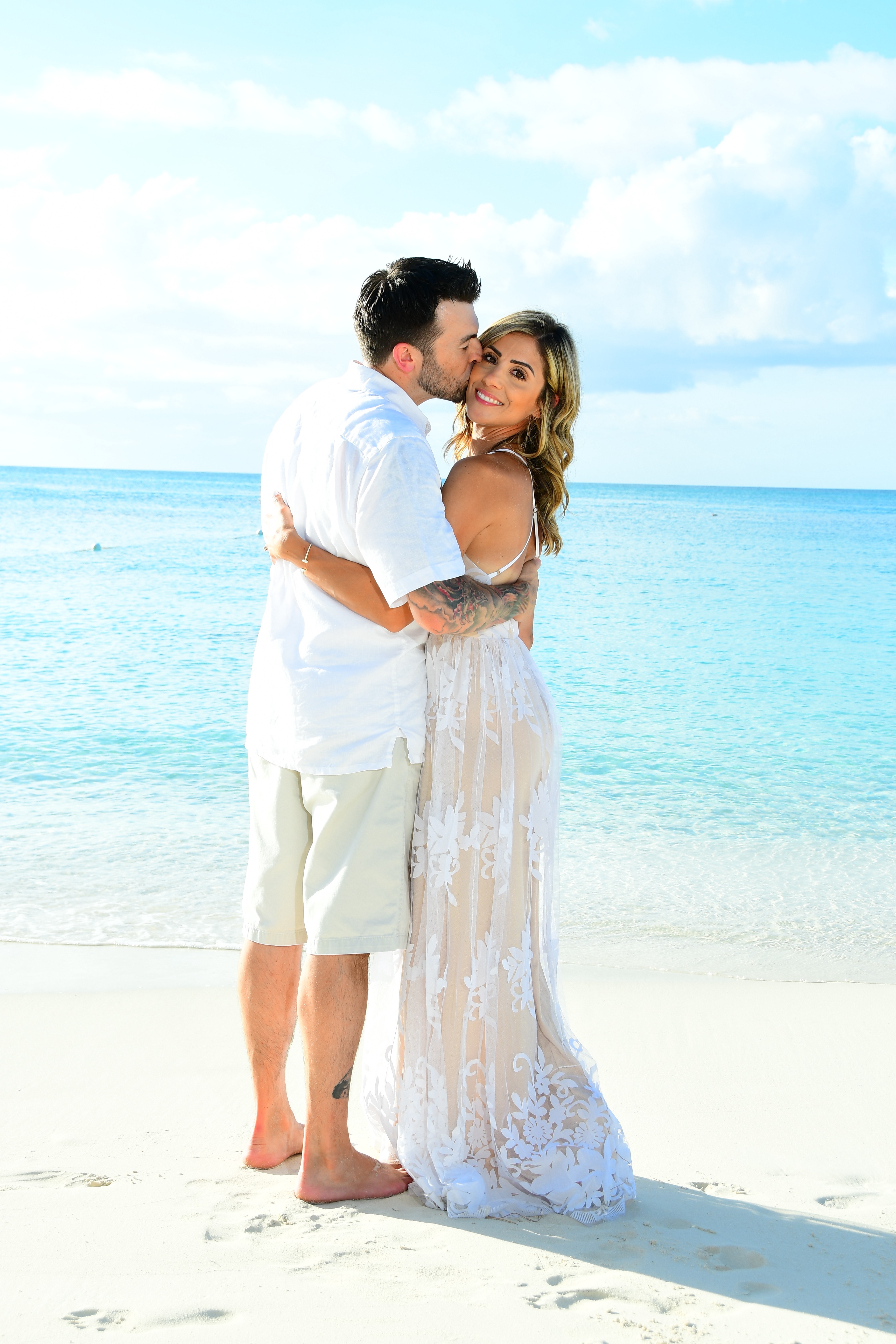 THE OUTFITS
I kept our wardrobe very simple for our vow renewal. I found this beautiful lace overlay dress from VICI, and a simple white dress for my daughter that we already owned from Marks & Spencer (but try Zara and Old Navy if you're in the market for one!). I kept the boys in khaki shorts and white button down shirts. I wanted the overall look to be casual…we didn't even wear shoes! Beaches provided the boutonnieres, corsage, and my bouquet in the flowers I requested. It was absolutely perfect.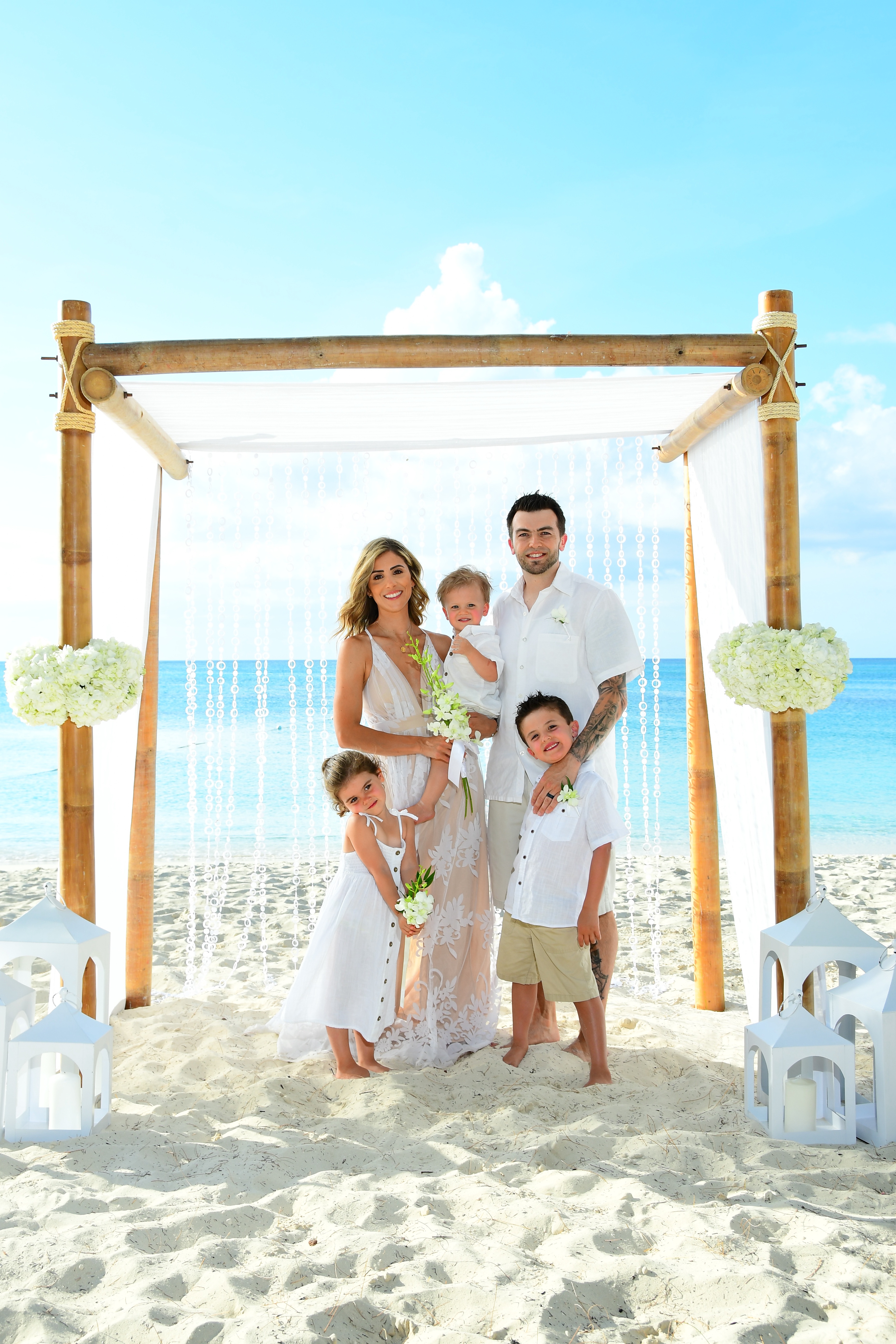 We are so incredibly happy we decided to renew our vows for our 10 year anniversary. My husband and I really value marriage, and we were happy to share this moment with our children as a promise to them as well. It was intimate and perfect for us, and I'm grateful to Beaches for allowing us the opportunity to do it! And the best part…it's the best family friendly resort to vacation at before or after! If you're considering a vow renewal, I highly recommend checking out the Re-Tie The Knot Ceremony at Beaches. They made it stress-free and seamless! 🙂
Thank you to Beaches for partnering with us on this special moment!