I stopped into Old Navy yesterday in hopes of some new arrivals, but sadly it was slim pickings! I think things just might not be out yet. So instead of doing my usual capsule style of a try on, I decided to do a bit of an athletic wear try on on for you (I promise more capsule styles to come in the future)! Everything is linked below each photo for you!
OUTFIT 1
LEGGINGS: Fits TTS, wearing an XS here. Long in the length, linking the 7/8s version HERE (which I would prefer!).
SPORTS BRA: A great, basic sports bra. This is an XS and I feel I could use a S. I'm a 34B, so base your sizing off of that!

————————————————————-
OUTFIT 2
RACERBACK TANK: I forgot to take a photo of this! This is a great basic tank, and I love that it can be knotted too. I'm wearing an XS and it fits TTS.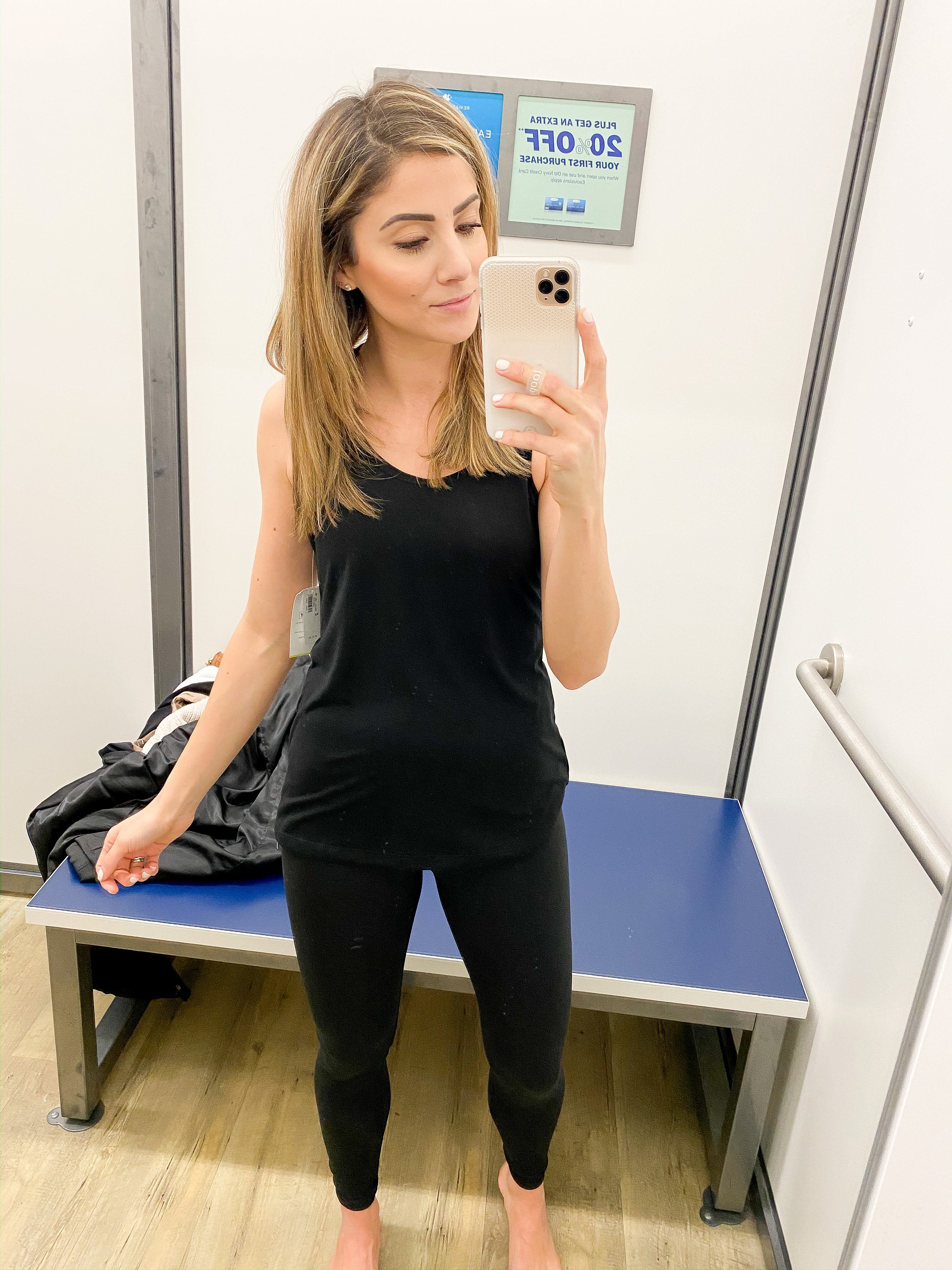 ————————————————————-
OUTFIT 3
DRAWSTRING SWEATSHIRT: This top is great for wearing to the gym or with a comfy mom outfit! I love the subtle leopard print. It fits TTS and I'm wearing an XS.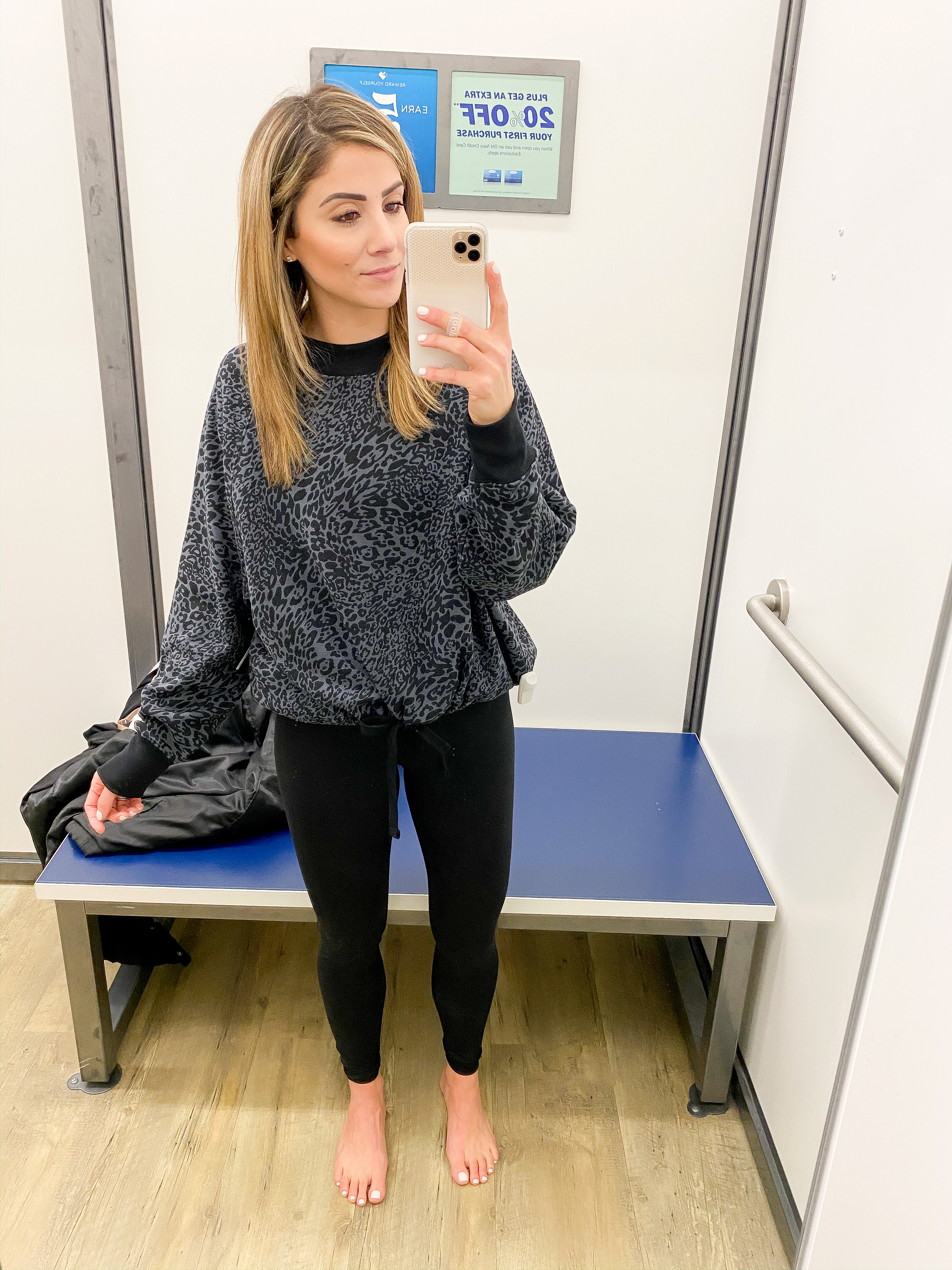 ————————————————————-
OUTFIT 4
FUNNEL NECK PULLOVER: This pullover is SO cozy! However, I do feel it runs small. I'm actually wearing a Medium here and cannot imagine trying the XS…I feel it would be WAY too tight for my liking. My recommendation would be to go up a size or two!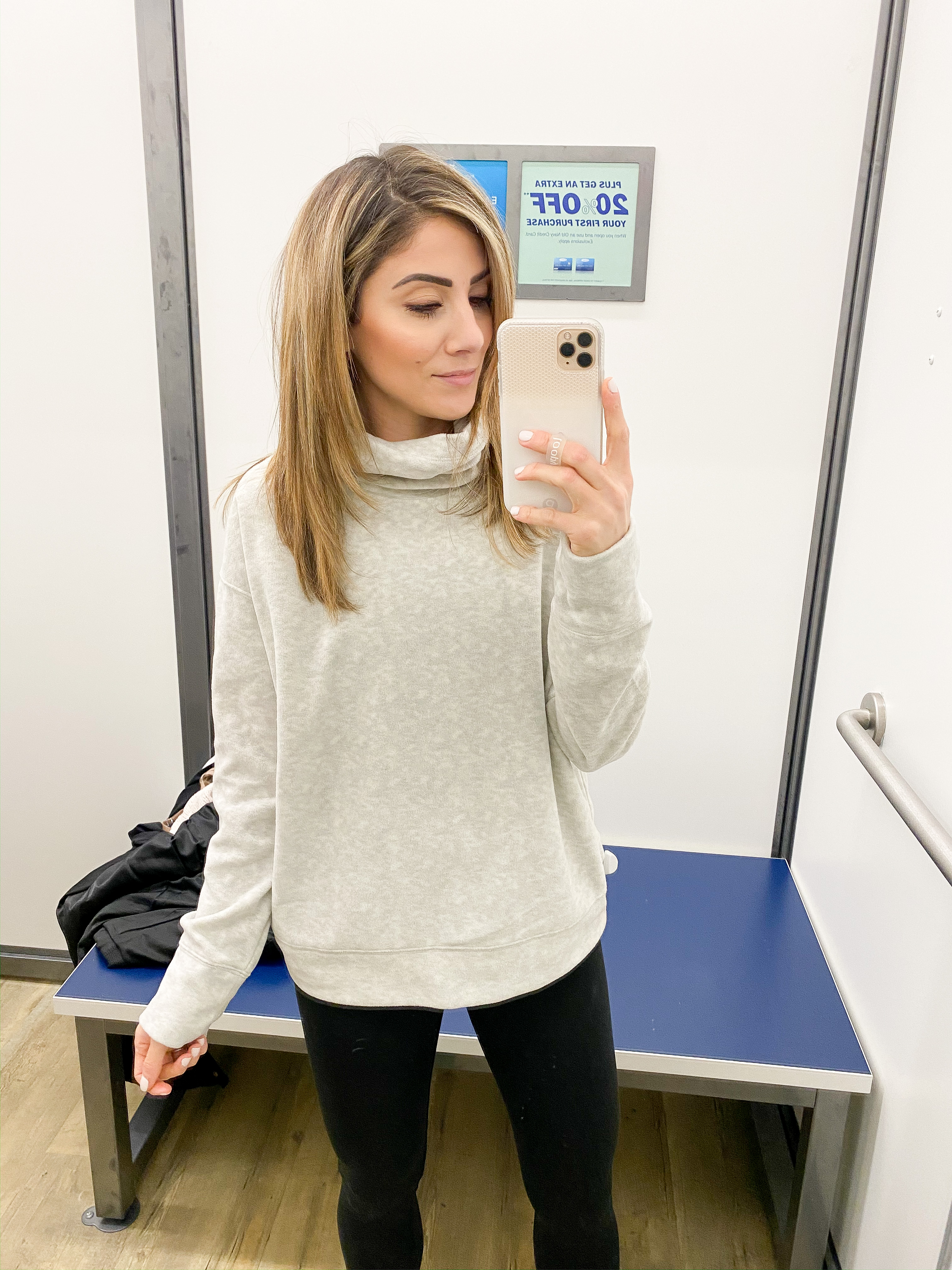 ————————————————————-
OUTFIT 5
SWEATSHIRT TUNIC: Great basic tunic if you're looking for something cozy to wear with leggings! Throw a vest or jacket over it for extra warmth. Fits TTS, wearing a S because there was no XS in store and would definitely want an XS.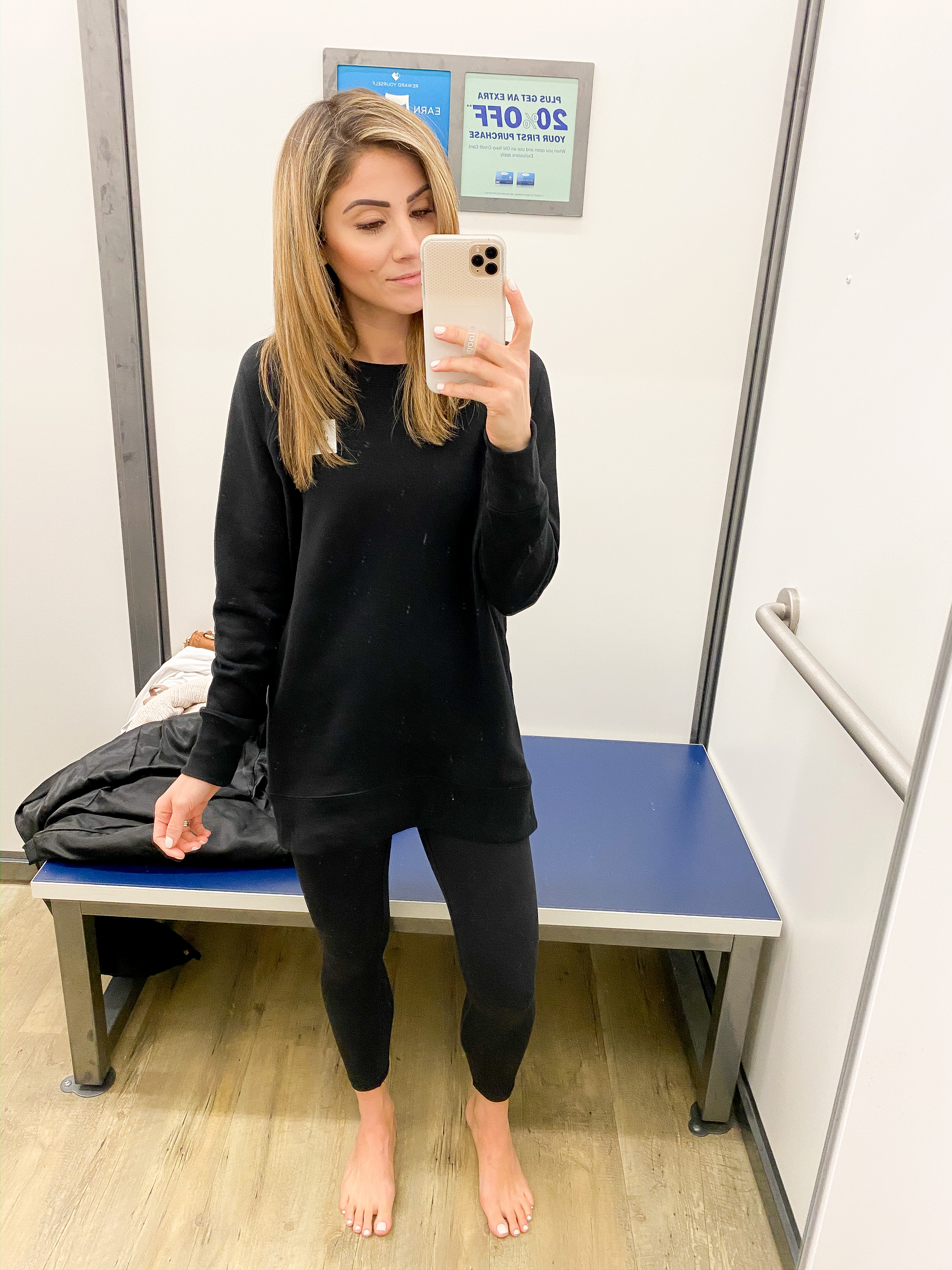 ————————————————————-
OUTFIT 6
LEGGINGS: These leggings were great! Squat proof, super cute, and fit TTS. Love the 7/8 length. Wearing an XS.
TWIST FRONT TOP: Love this top for warming up during workouts. Great for yoga, too! Fits TTS, wearing an XS here.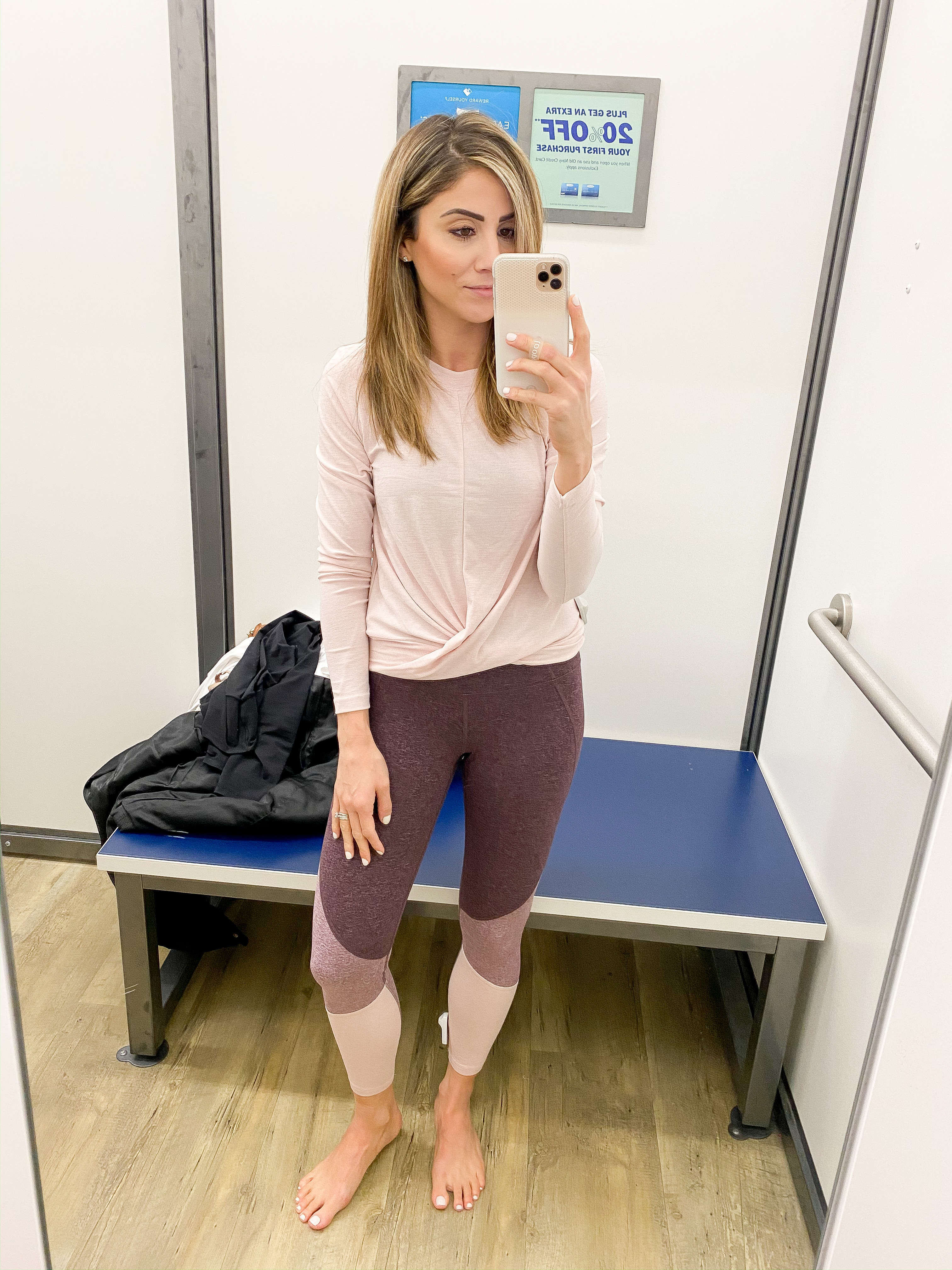 ————————————————————-
OUTFIT 7
FLEECE HOODIE: This fleece hoodie is really cozy and comes in a few different colors! I didn't even realize this at the time, but the sleeves actually cinch! Im wearing an XS here and feel it fits TTS.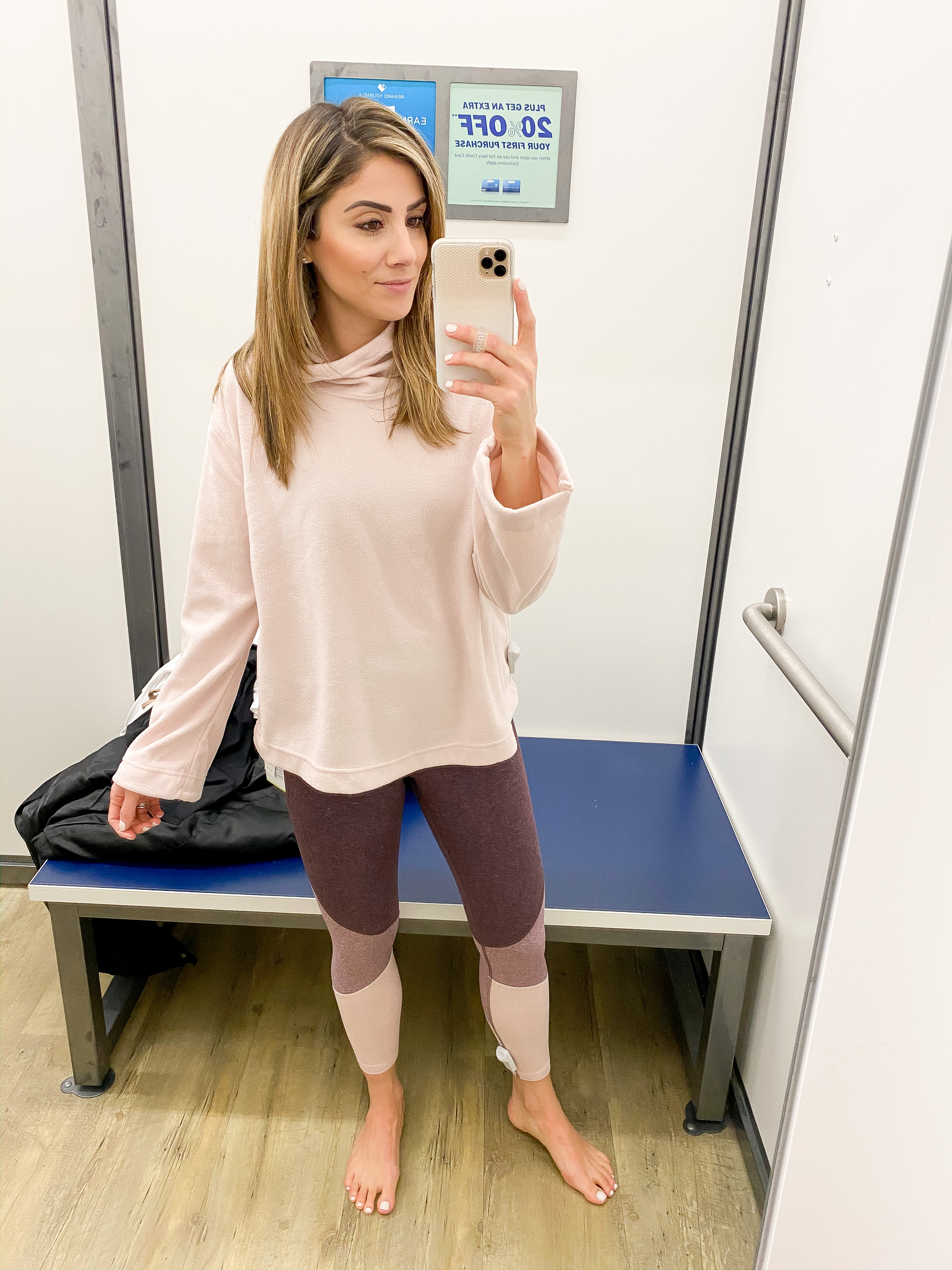 ————————————————————-
OUTFIT 8
HALF ZIP SHERPA: I love this adorable sherpa! The zipper detail is rose gold which is so fun. It fits TTS and I'm wearing an XS here.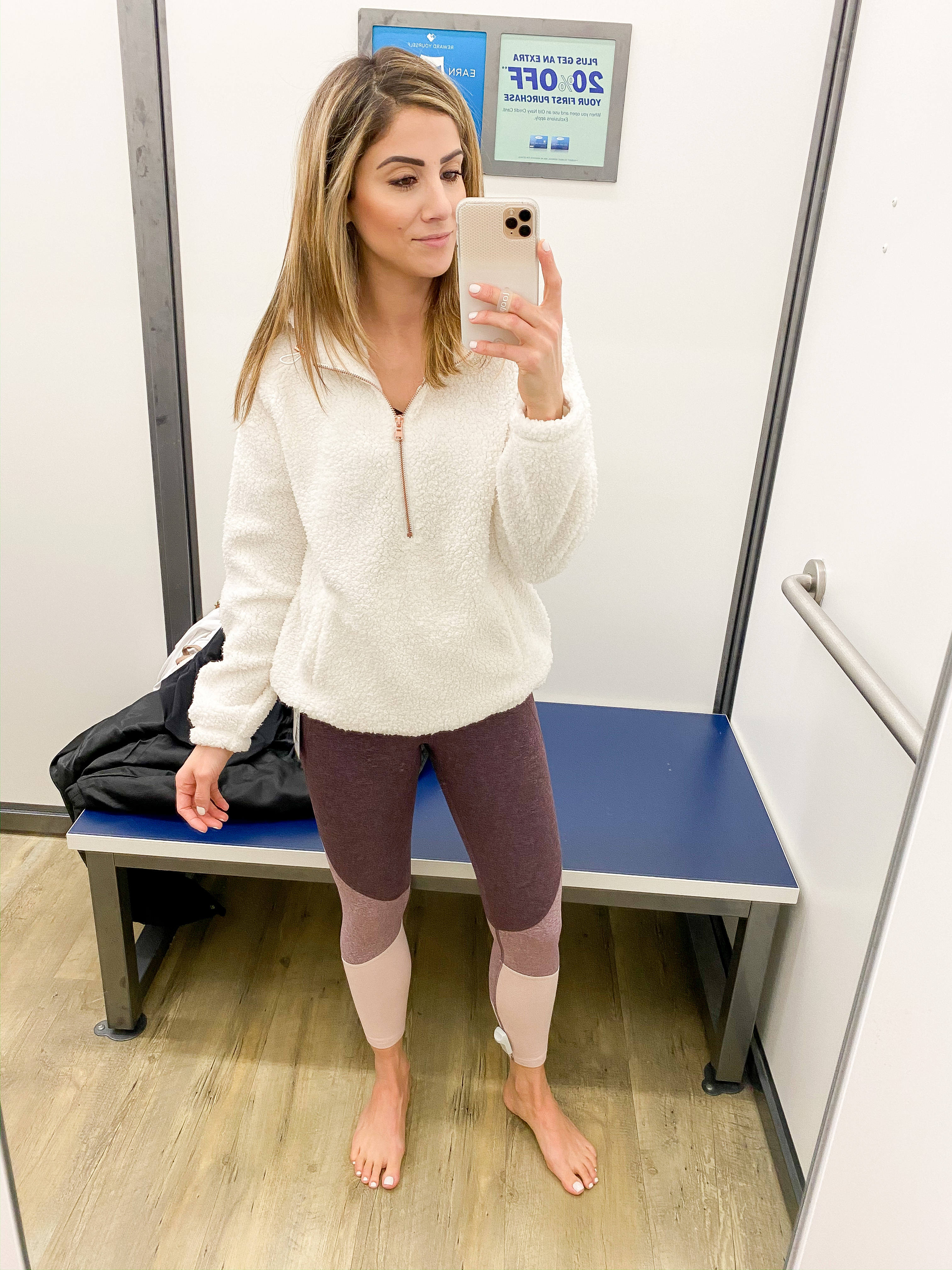 ————————————————————-
OUTFIT 9
JOGGERS: These joggers are so comfortable! They're very lightweight, but fit really well and are great for lounging. I can see these with a basic tee and jean jacket for spring. I'm in an XS and they fit TTS.

————————————————————-
OUTFIT 10
JUMPSUIT: I love how comfortable this jumpsuit is, but I do feel it runs a little big on me! I'm in an XS, and I would definitely need to wear a bralette underneath to avoid flashing the world, haha. I have a short torso though, so it might just be how it fits me! It's SO comfortable though, and great for spring!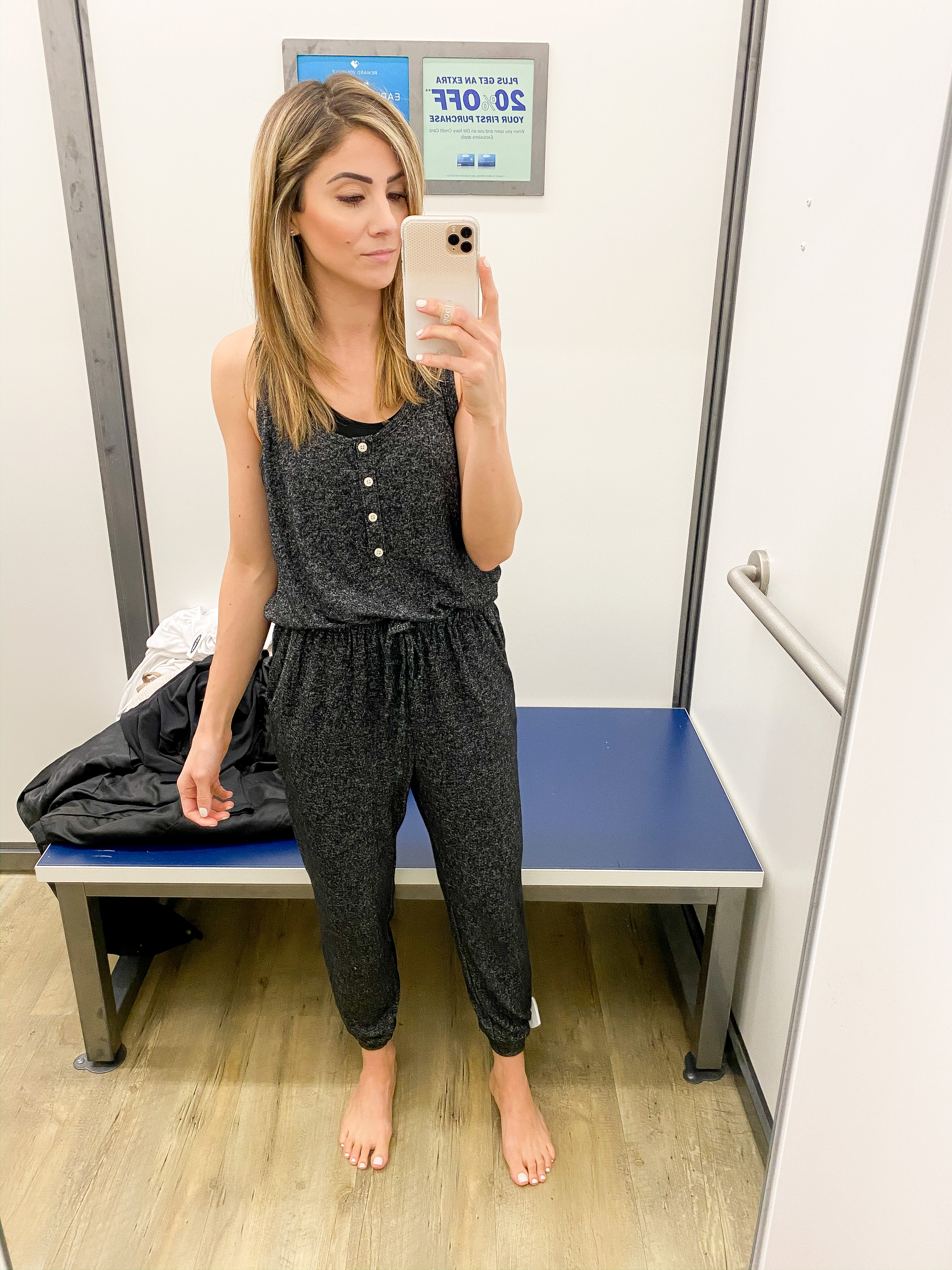 ————————————————————-
OUTFIT 11
SHERPA VEST: This vest is so great! Love the sherpa style with tan trim detail. Great for an extra layer over a sweater, chambray top, etc. Fits TTS, I'm wearing an XS here.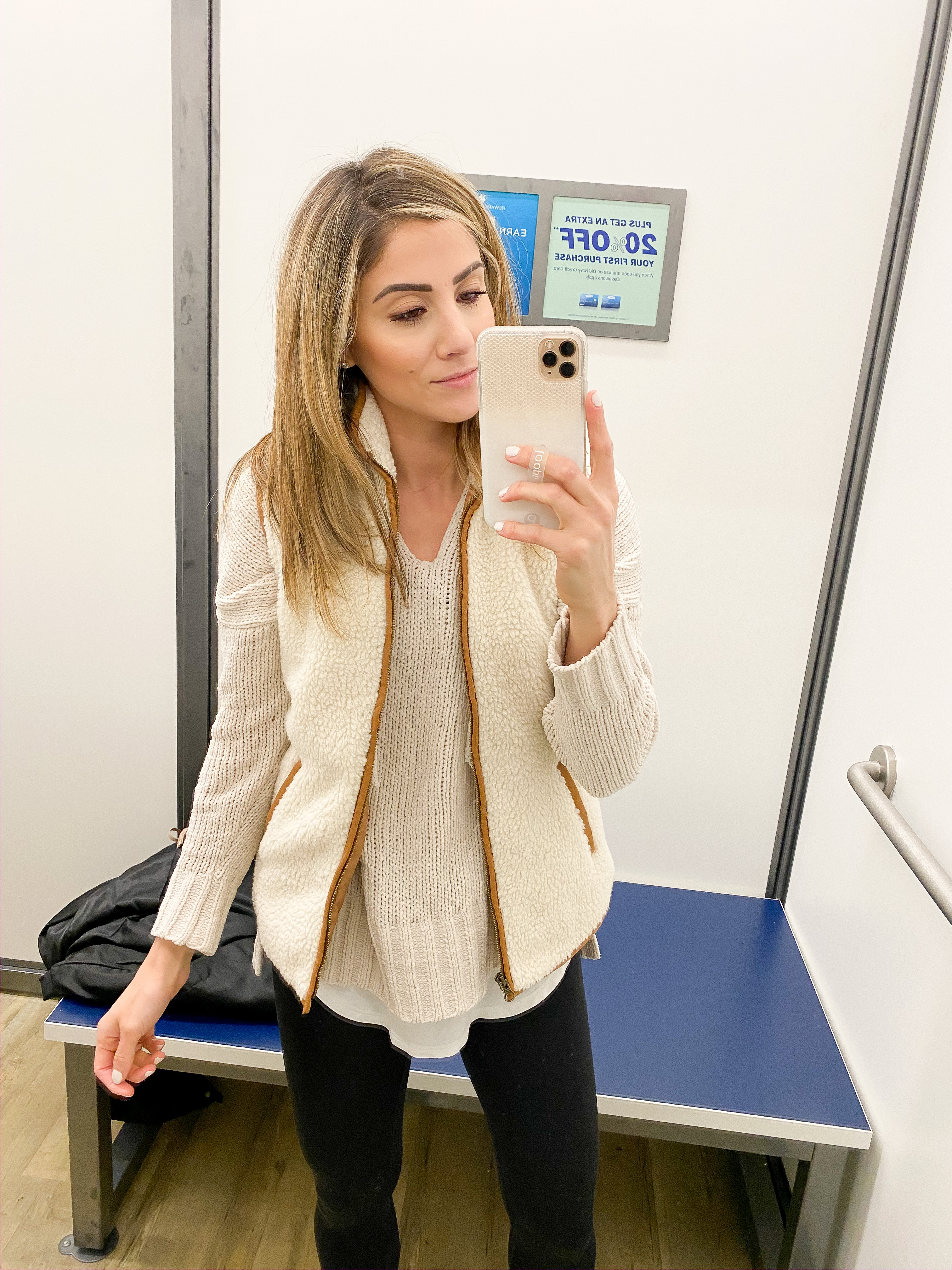 ————————————————————-
OUTFIT 12
LAYERING TEE: This isn't so much an outfit as it is me just wanting to point out that this is a FANTASTIC long sleeve layering tee if you need one! It covers the booty and is great to wear under shorter tops. It fits TTS, I'm wearing an XS.