We have this very tiny closet in our playroom that serves a huge purpose even though it's small in size. It houses all of our kids' craft supplies as well as board games! I love having a designated space for the mess makers and things with many pieces (you know what I mean!). I've shared this a few times on Instagram stories, but wanted to give it a permanent place on the blog so you can refer back to it if needed!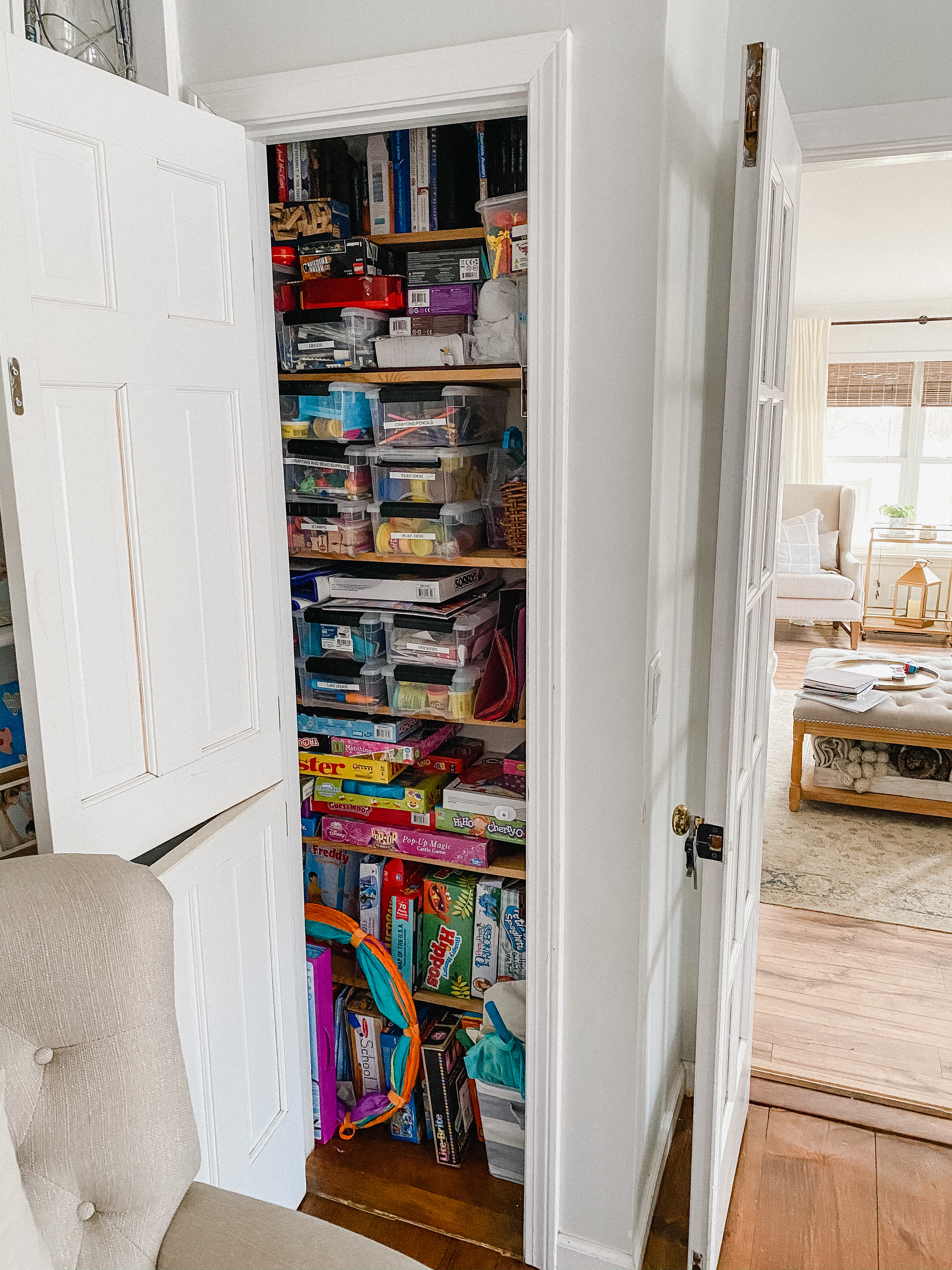 Now listen up…you're getting a real look at our kids' craft closet! I did clean it out this weekend (I try to do that monthly), but as you can see…it's not "pretty" with a variety of adorable bins. It's functional and does the job. Games are still a mess on the shelves, and that's fine because we play them daily…I don't expect things to be put back perfectly every time. But overall, the "mess" is contained and somewhat organized!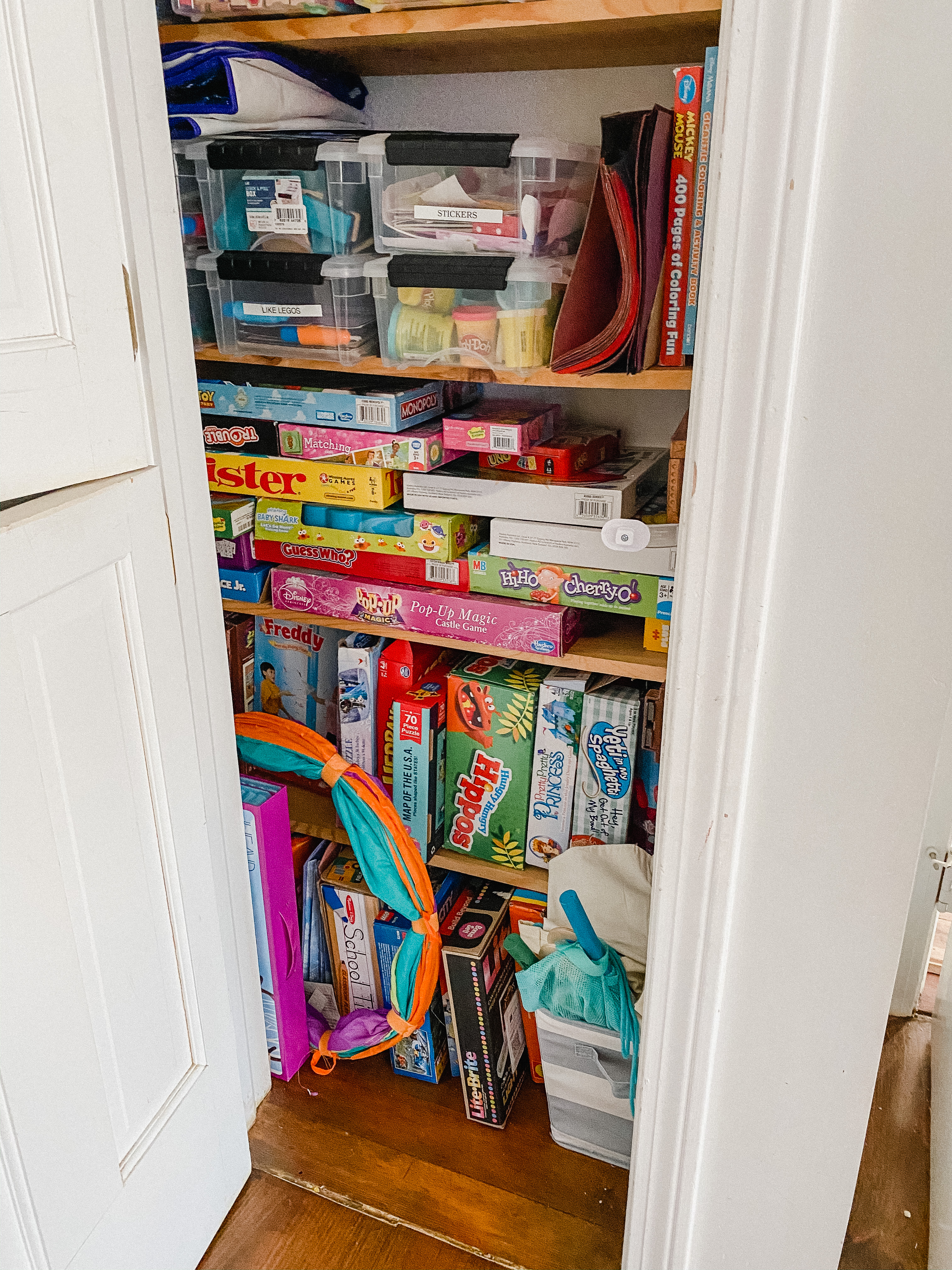 I keep all of the board games on the bottom shelves for easy access. We rotate these out as we get new ones or get tired of old ones. We've got quite a few down there, for all ages! A current favorite is Hungry, Hungry Hippos. I also keep odds and ends like this collapsible tunnel (great for an indoor obstacle course!) and their little fishing game. I have a bin on the floor of the closet for random things, as well.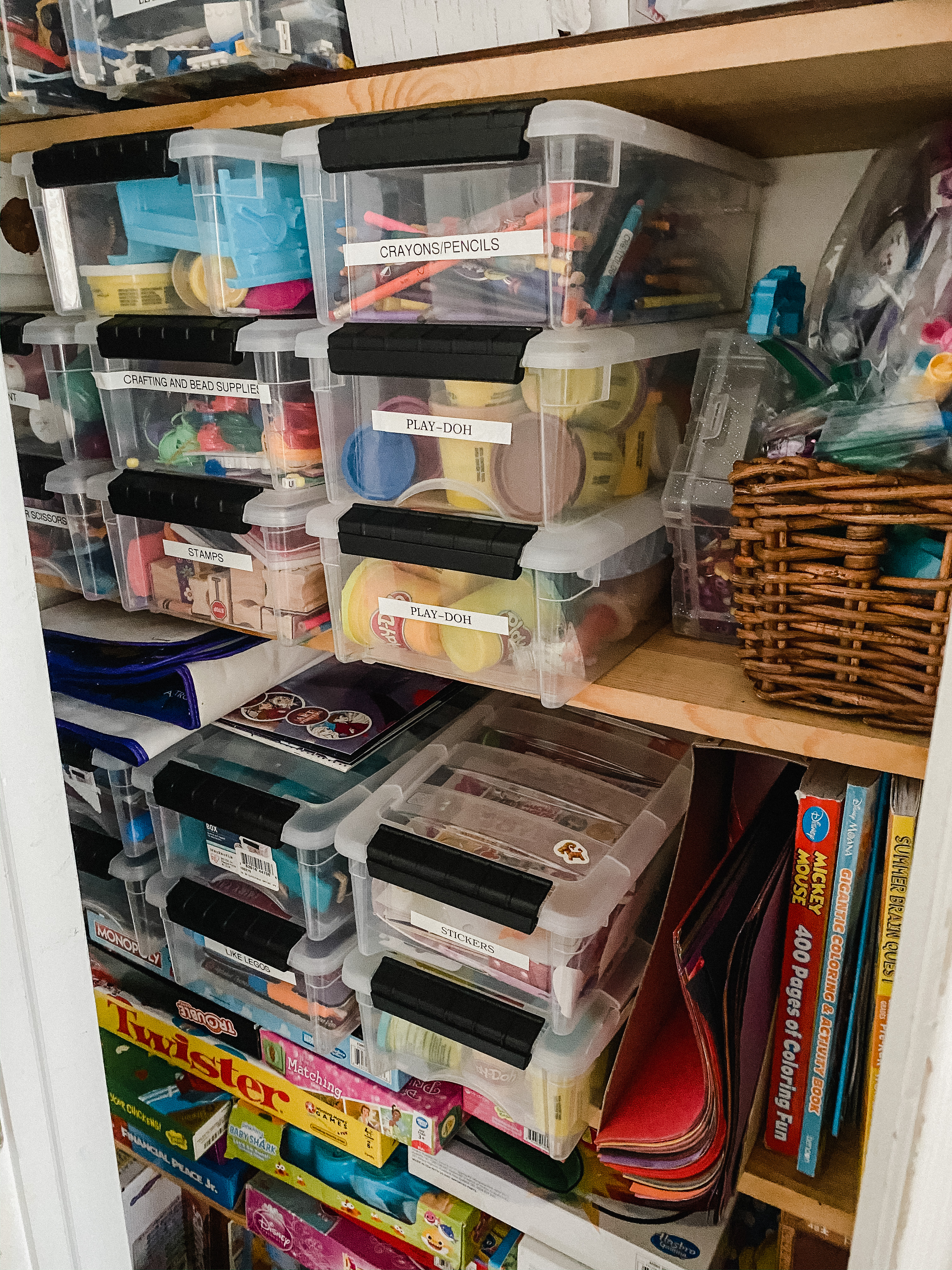 In the kids' craft closet, the upper shelves store all the art supplies, including paint, crayons, markers, stamps, glue, play-doh, stickers, and more. To keep everything somewhat orderly, I bought THESE bins off Amazon (they come in a pack of 12) as well as THIS label maker. Each item has a bin! My kids LOVE to be creative, and we pull these bins out daily. I like that we can easily pull them out, bring them to a table, and put them away when we're done. I've had this system in place for over 2 years at this point, and it stays organized! I also have a basket for a few random items that won't fit into a bin. Coloring books and construction paper are orderly as well. I also keep some extra disposable table cloths for extra messy projects or activities that involve water.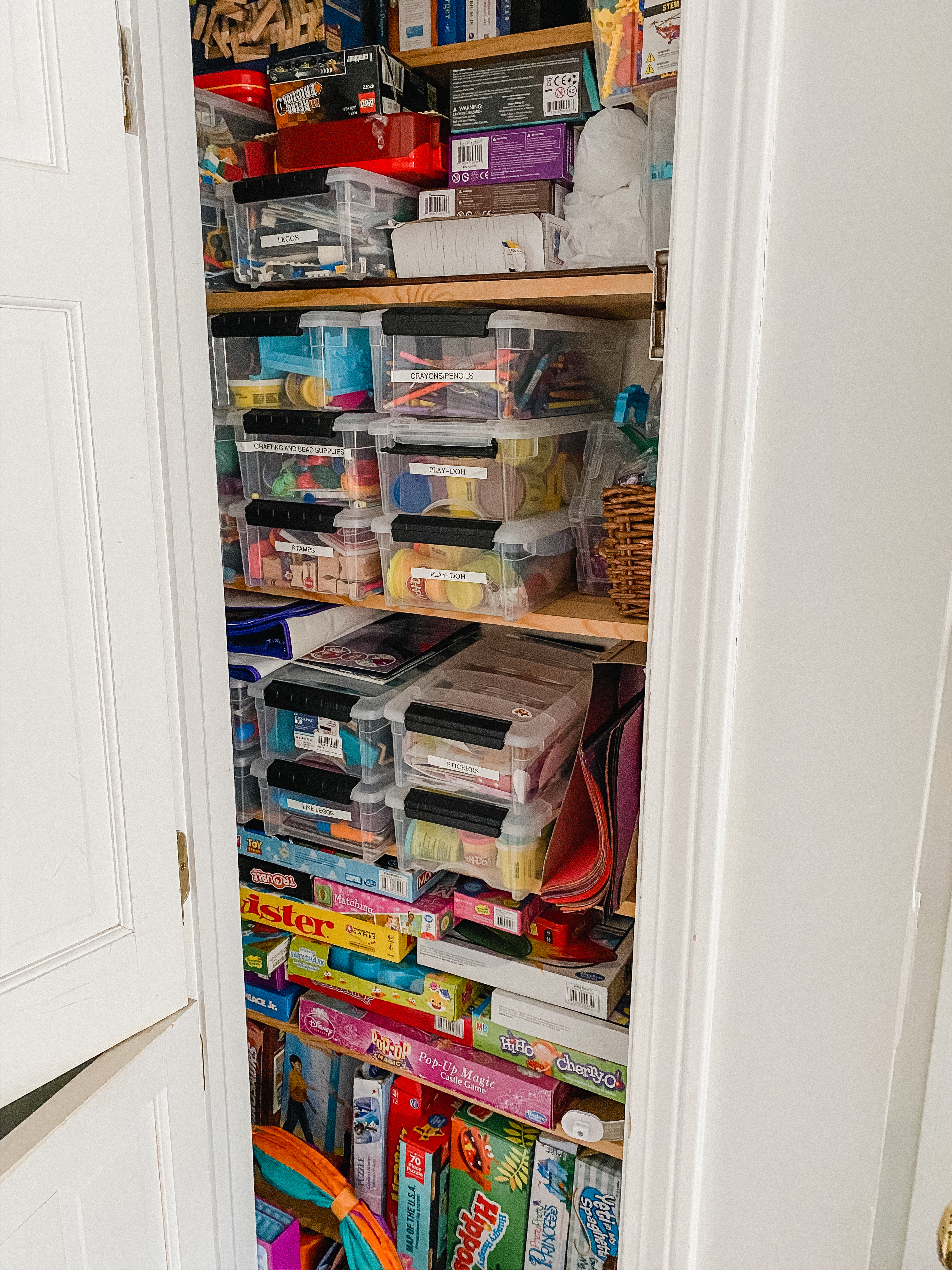 This craft closet had a split door when we moved in, which drove me CRAZY at first. Why would there be a split door on an interior closet? Makes no sense! Except then, it did for us! We installed a latch on the bottom door so our littlest can't access (and destroy, haha) things without help (and for safety reasons…lots of small pieces in there!). It was a simple solution to an otherwise awkward area of this house.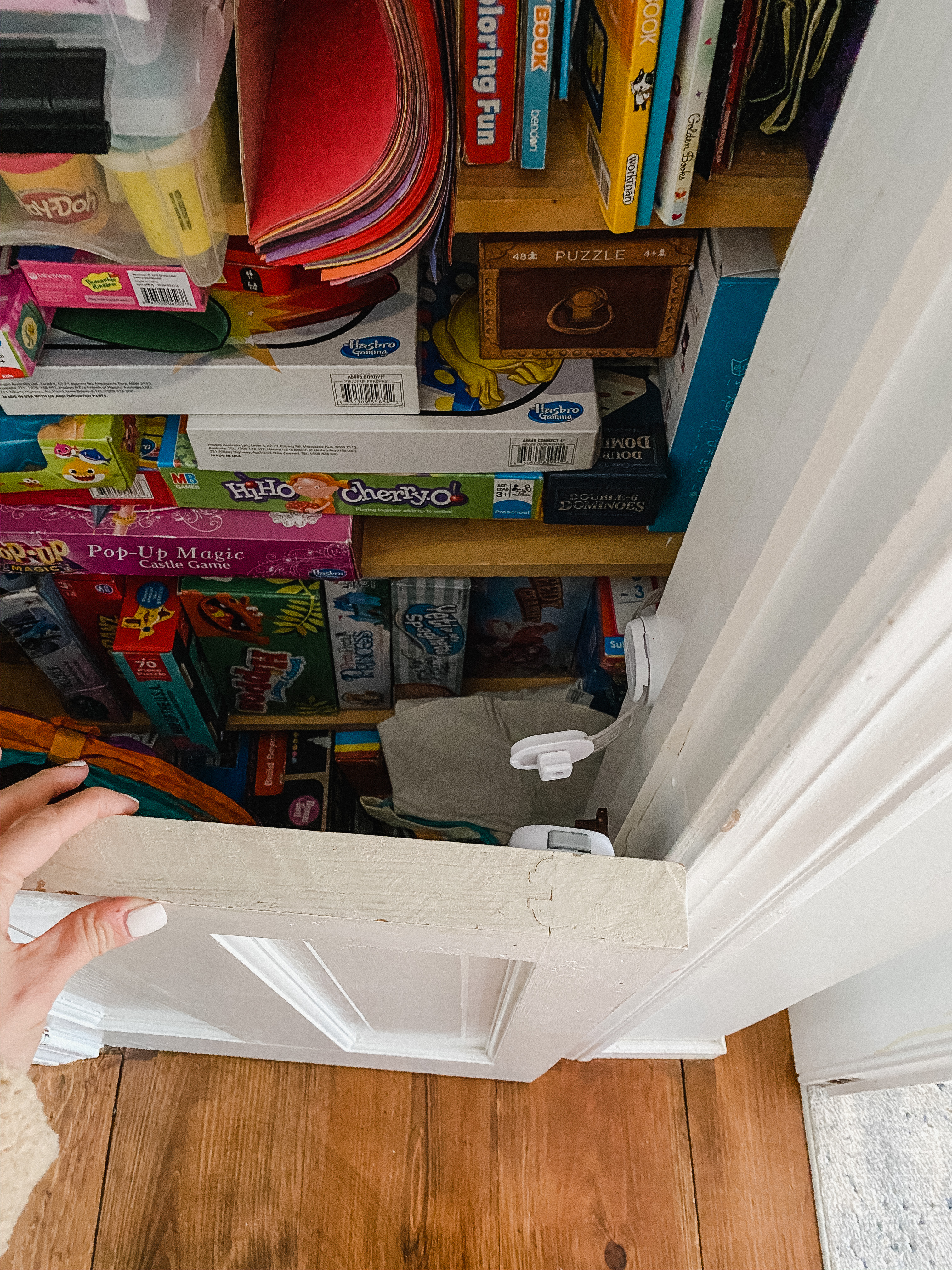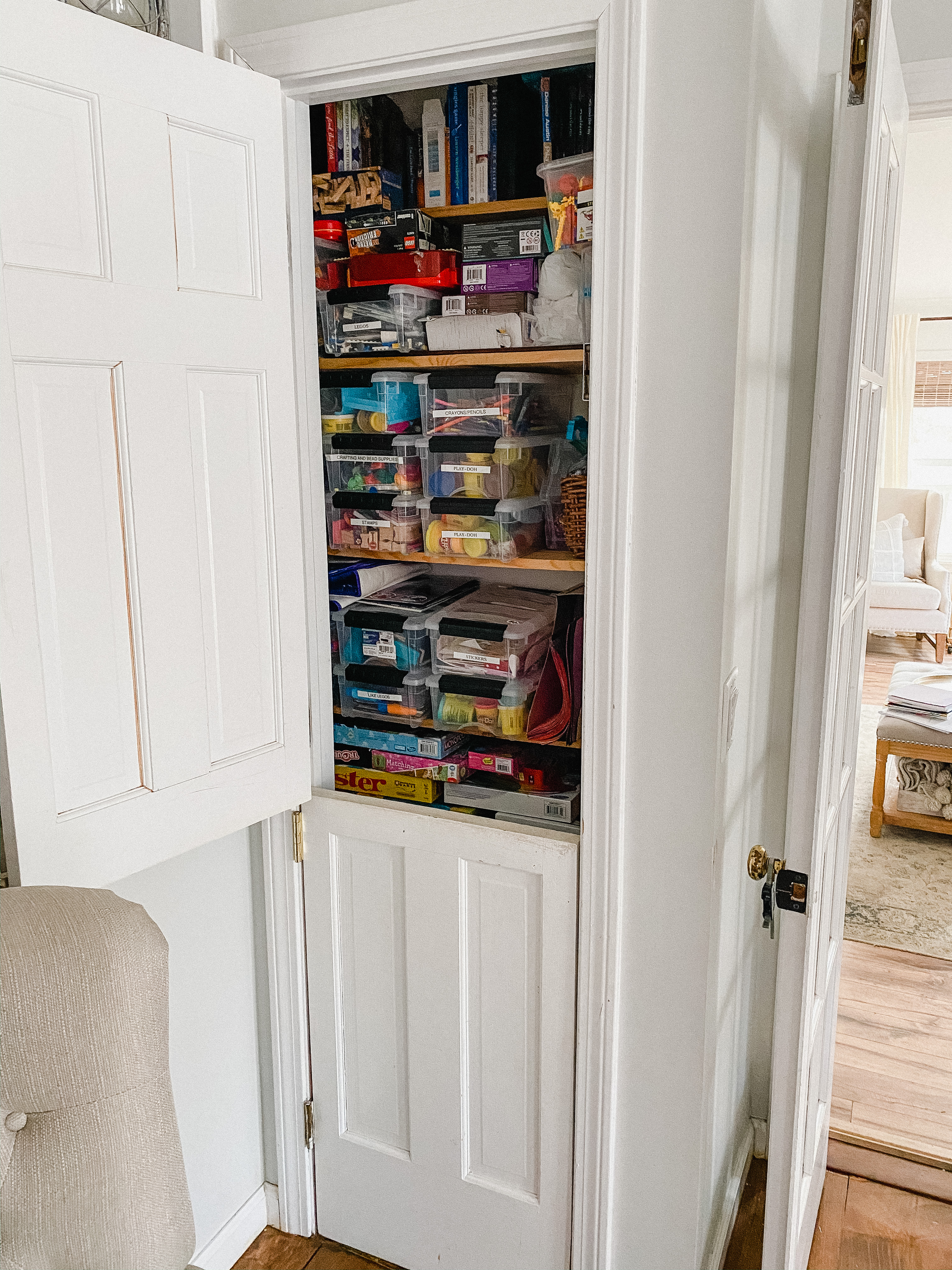 Again, this closet is not meant to be cute….its a kids' craft closet! It's going to be messy. But I love that it's fairly organized (and the kids follow suit!). I clean it out about once a month to keep things in good shape or rotate out games. It works for us! 🙂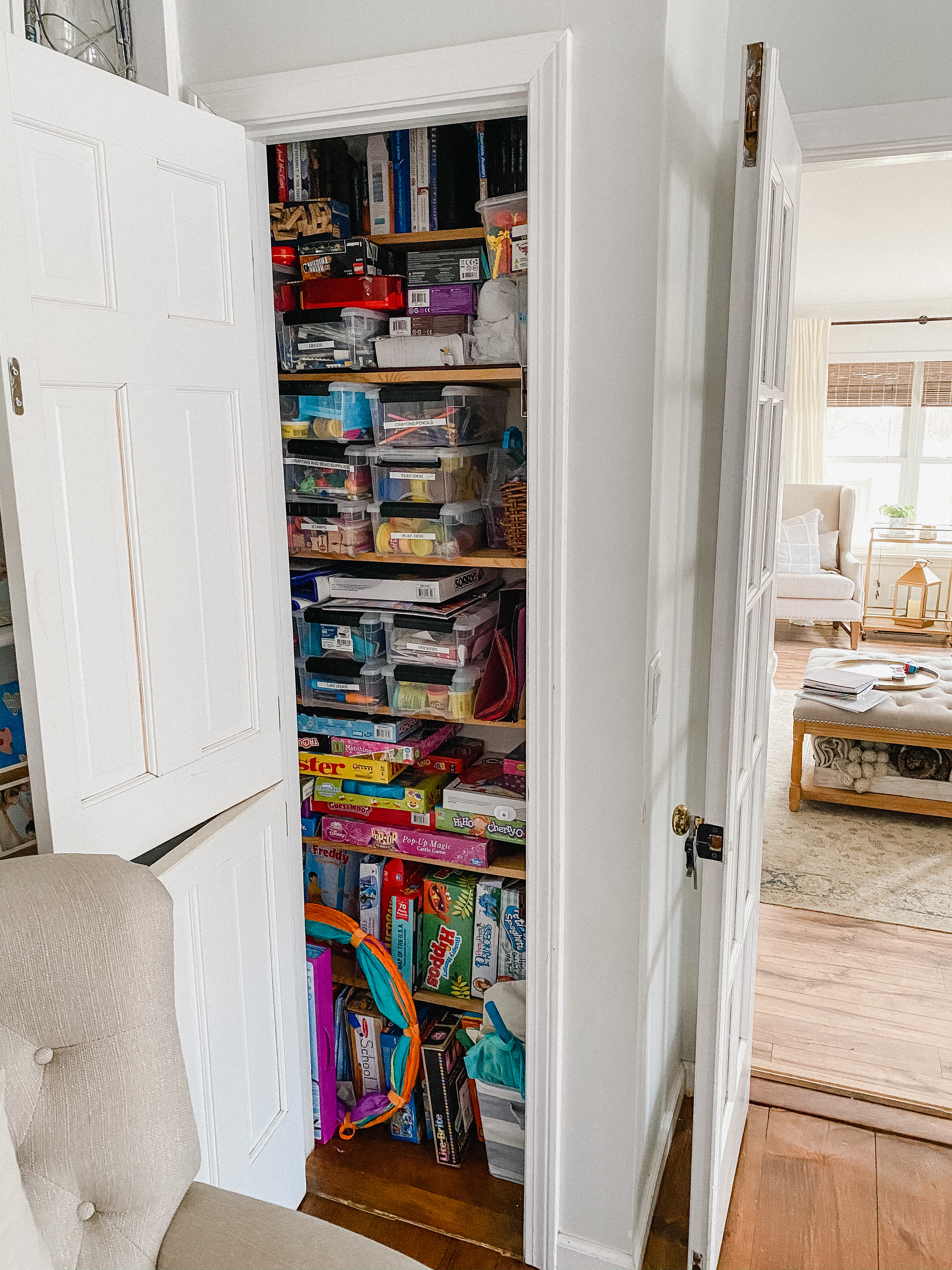 READ NOW, PIN FOR LATER: