If you've been following along with us for a bit, you know we recently took a family trip to Walt Disney World for Christmas! We attended the week before Christmas, for a quick 4 day trip. It was NOT enough time to see all WDW has to offer during the holiday, and just gave us a little taste of all the excitement! We absolutely want to return for a longer period of time for Christmas sometime in the future. For now, I thought I'd give you a little recap of what we saw and What to Do During Christmas in Walt Disney World!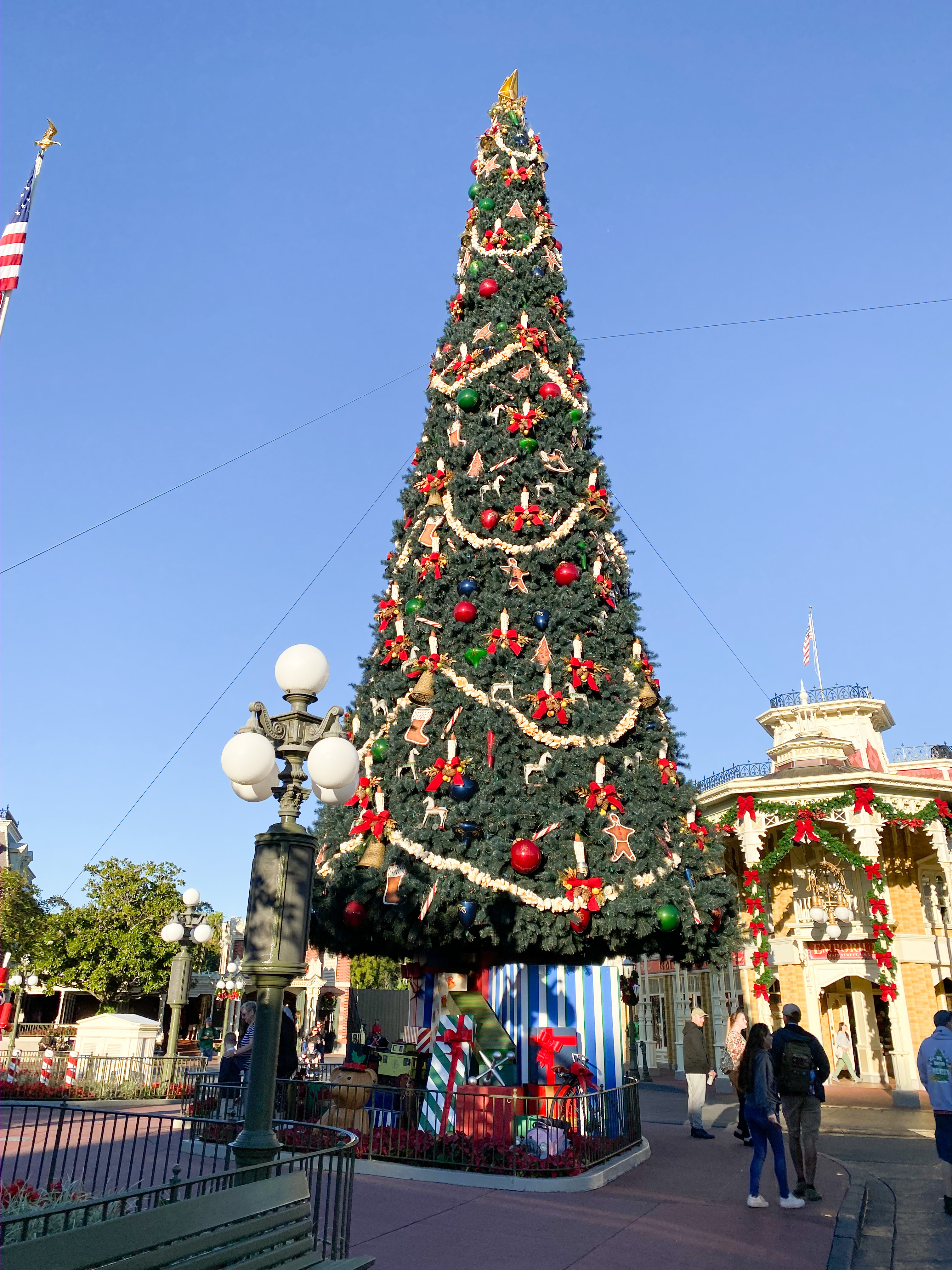 MAGIC KINGDOM
Mickey's Very Merry Christmas Party is a must see for Christmas in Walt Disney World! The parties take place several nights of the season, so there's plenty of opportunities to attend! This is a special ticketed event and does require tickets to be purchased in advance. It typically runs about a week after Halloween through late December.
The party doesn't start until 7pm, but they allow event ticket holders in at 4pm! However, the fun stuff doesn't start until 7pm! I DO recommend getting there early if you want to get in line to meet special characters. Non-ticket holders leave the park around 6pm, so there is a lull in crowds around that time which is great for getting on rides! There's a special entrance for event ticket holders where you will acquire a special bracelet from a cast member to wear that signifies you're there for the event. We went around 4pm to grab a bite to eat, take advantage of the shorter lines, and also get a good seat for the Frozen Holiday Wish (where Elsa lights up the castle!).
We came dress in our holiday best for the party, as did the rest of the crowd! Everyone was in Disney-inspired holiday outfits which made everything that much more festive! It was crowded (to be expected), but everyone is there for the same reason – to have some holiday fun!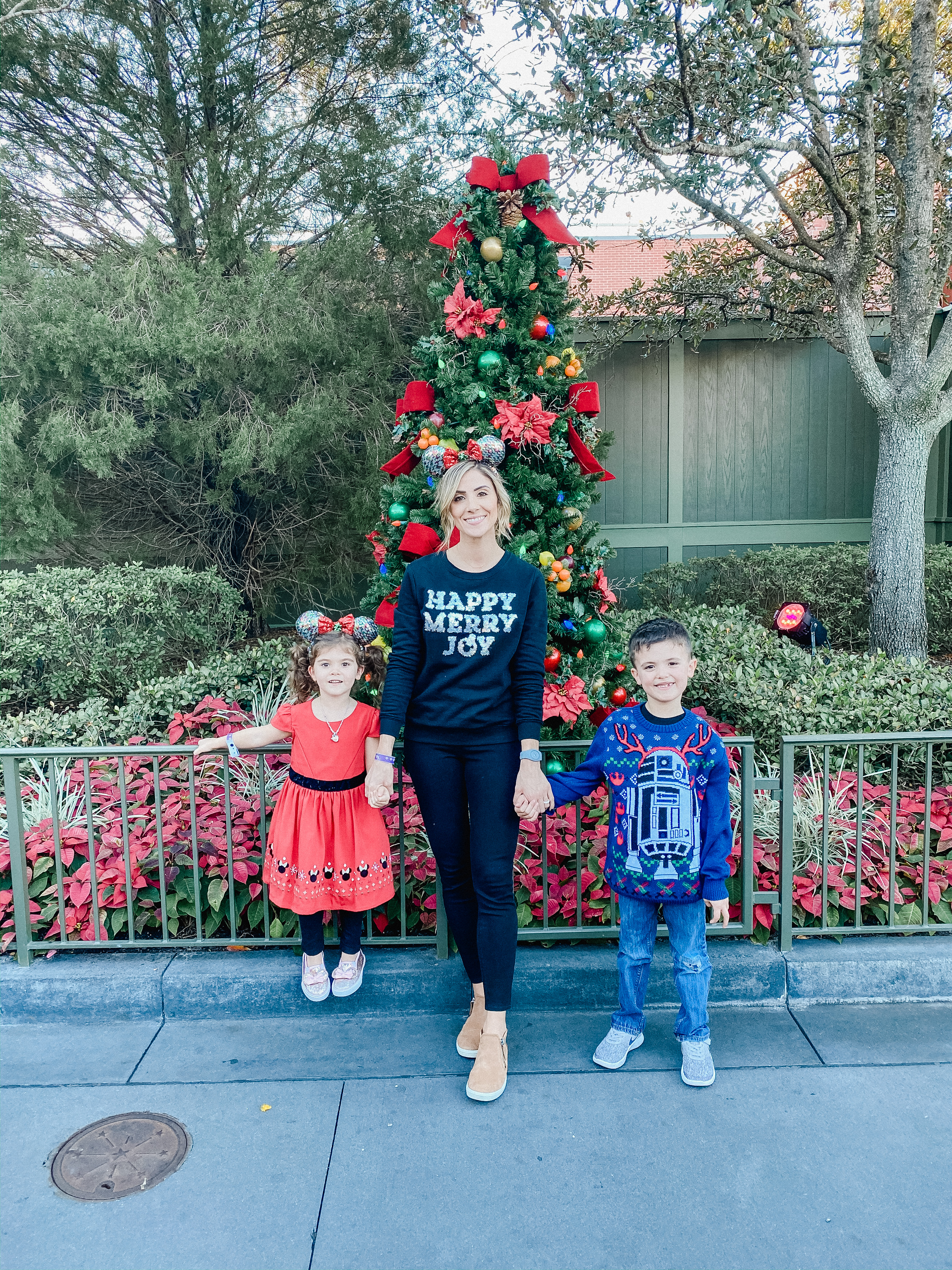 There are several treat spots and photo-ops with props during the party. The treat spots are signified by inflatable peppermint sticks! The treats consisted of cookies, drinks, and some other delicious snacks. Also, note that they DO have allergen-friendly treats, too! Just tell a cast member! There are also a variety of treat options at several restaurants and quick services throughout the park. There will be a map handed to you when you enter for the party with all of the spots designated.
We knew our kids couldn't hang late, so we watched A Frozen Holiday Wish for the first showing (around 6pm). It's a beautiful performance, and there's even snow on Main Street! The castle is lit up BEAUTIFULLY during the holidays – it's really a sight to see in person! We attempted seeing the Seven Dwarfs for Austin (he loves them!) but the line was significantly long (and hour and a half wait), so we just peeked our heads in to see them from a distance. There are a variety of character meet and greets all around the park – many special characters who only come out for the occasion!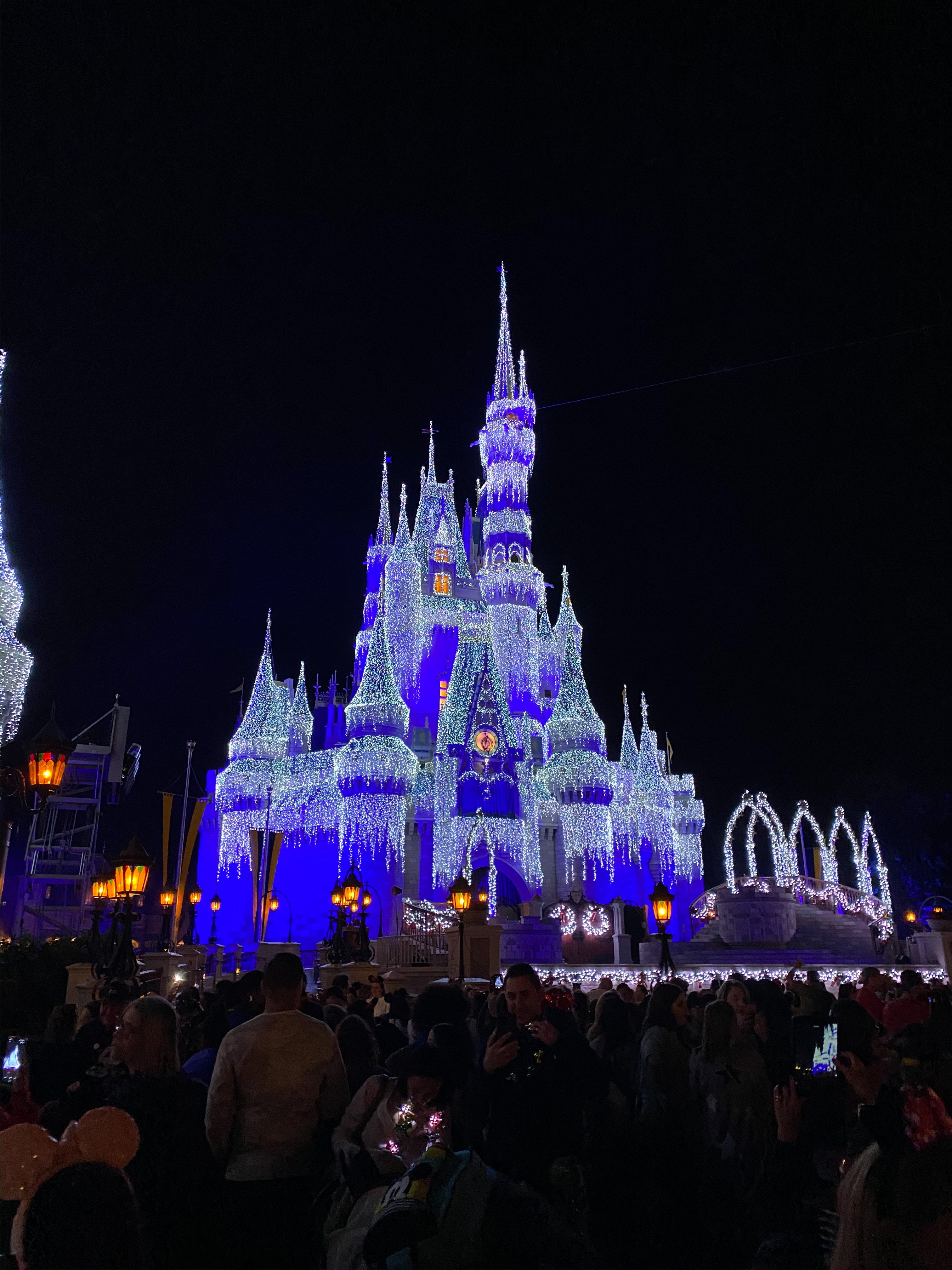 There are a variety of shows throughout the party, and of course the parade and fireworks! Our kiddos were SUPER tired (and have a 7pm bed time), so I think we would've gotten more out of it had they been older! We left during the parade as meltdowns were happening, haha. But it really was a magical experience with everything decked out for Christmas, and I would love to come back and attend another party when they're older and can hang bit longer!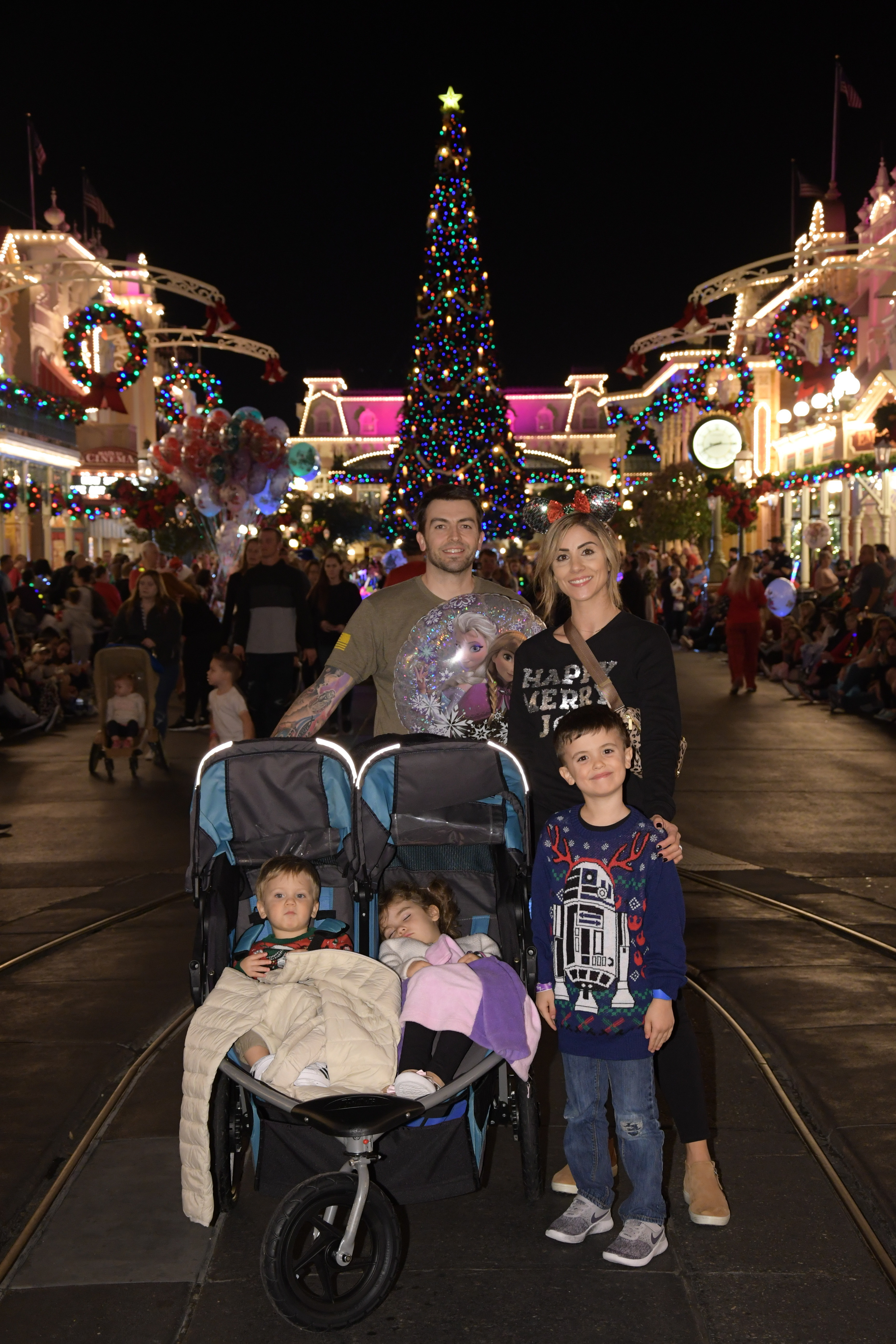 DISNEY SPRINGS
We visited Disney Springs to specifically see their Trail of Christmas Trees, which was such a neat experience! Each tree was decorated to the theme of a movie; the kids loved guessing each one! It was very crowded, but everyone was very understanding and respectful of each family's picture-taking 😉 A must-see if you're in town for the holiday!! Our family's personal favorite was the Frozen Tree with a variety of carrots as the topper 😉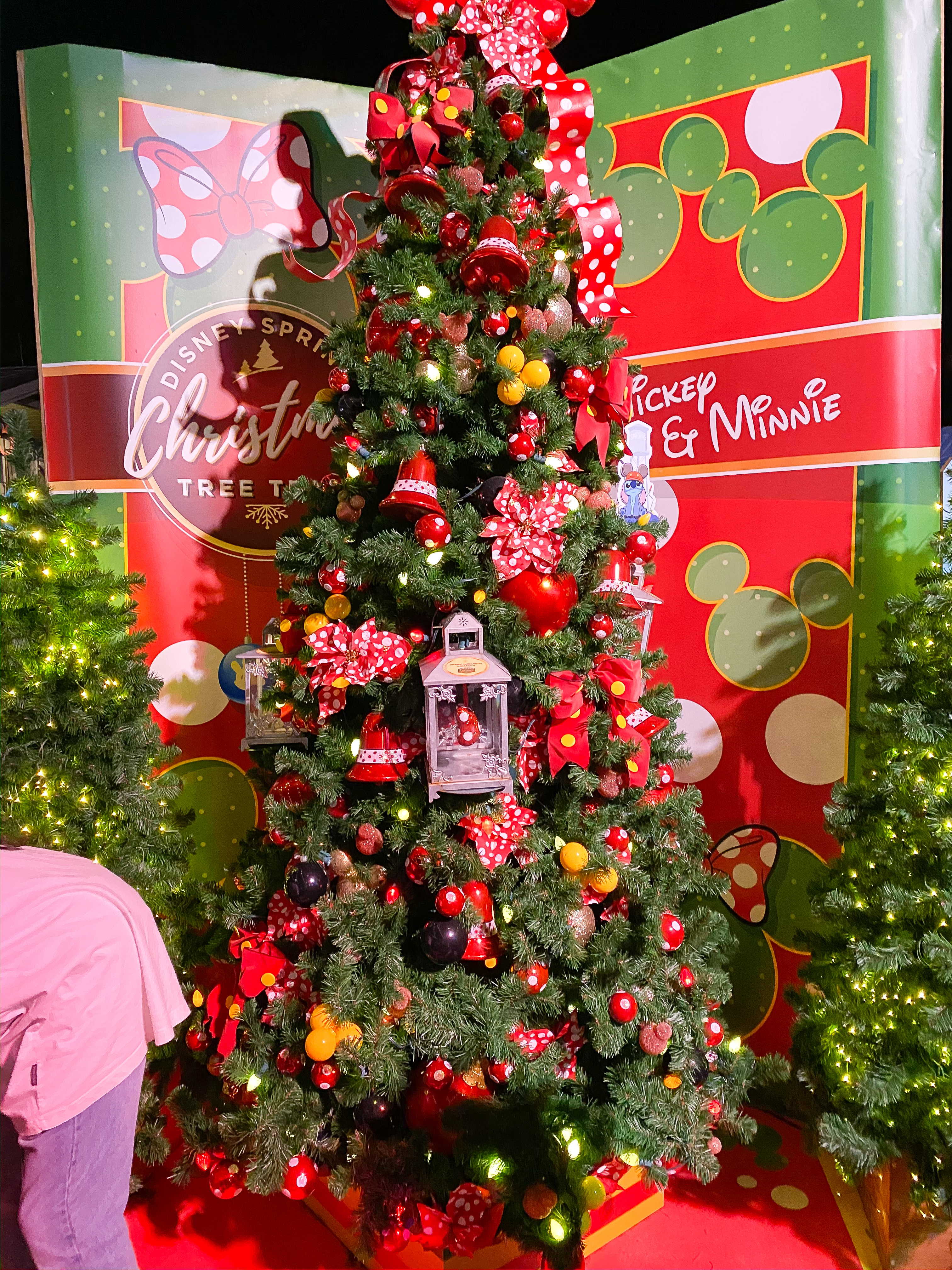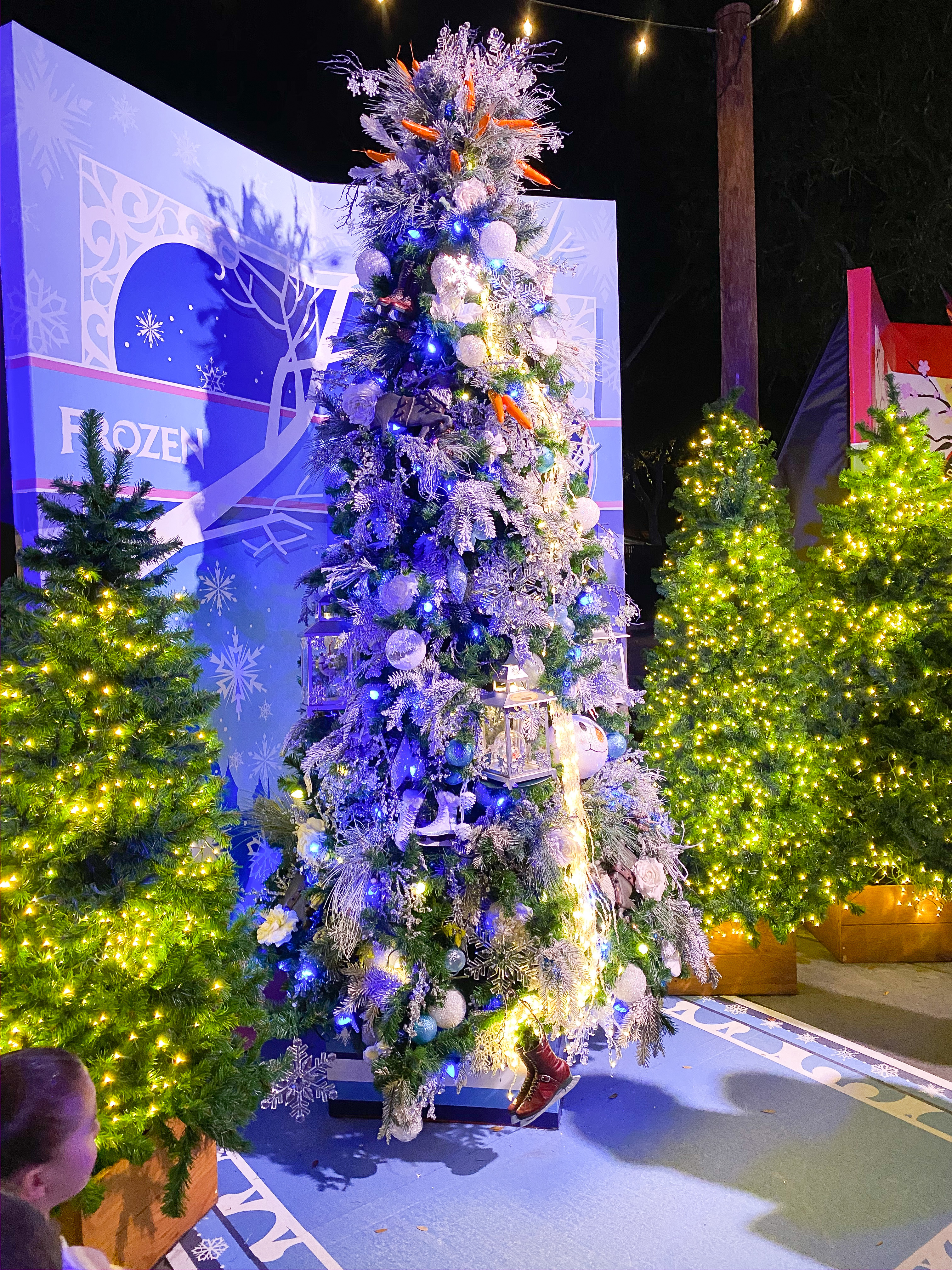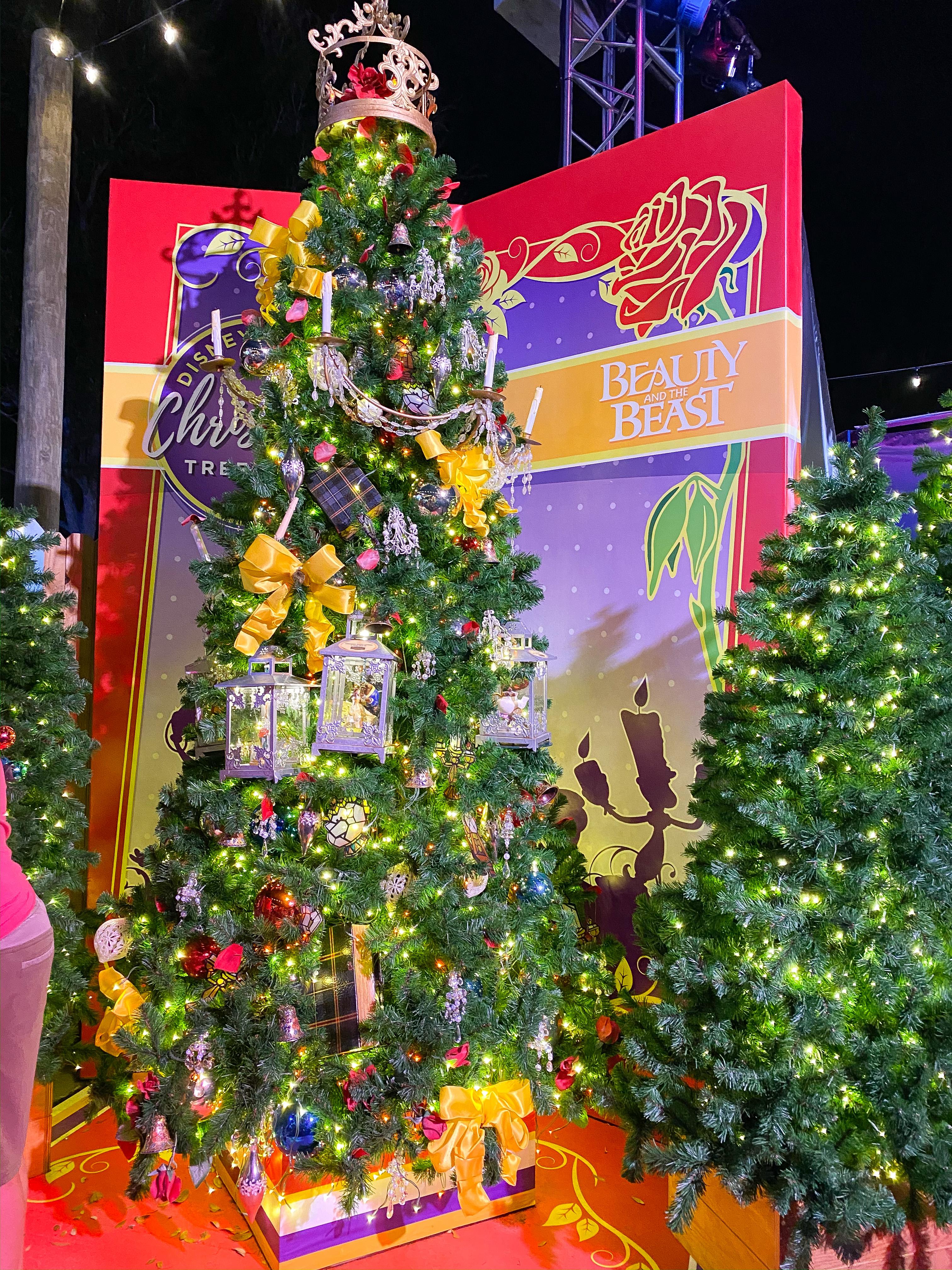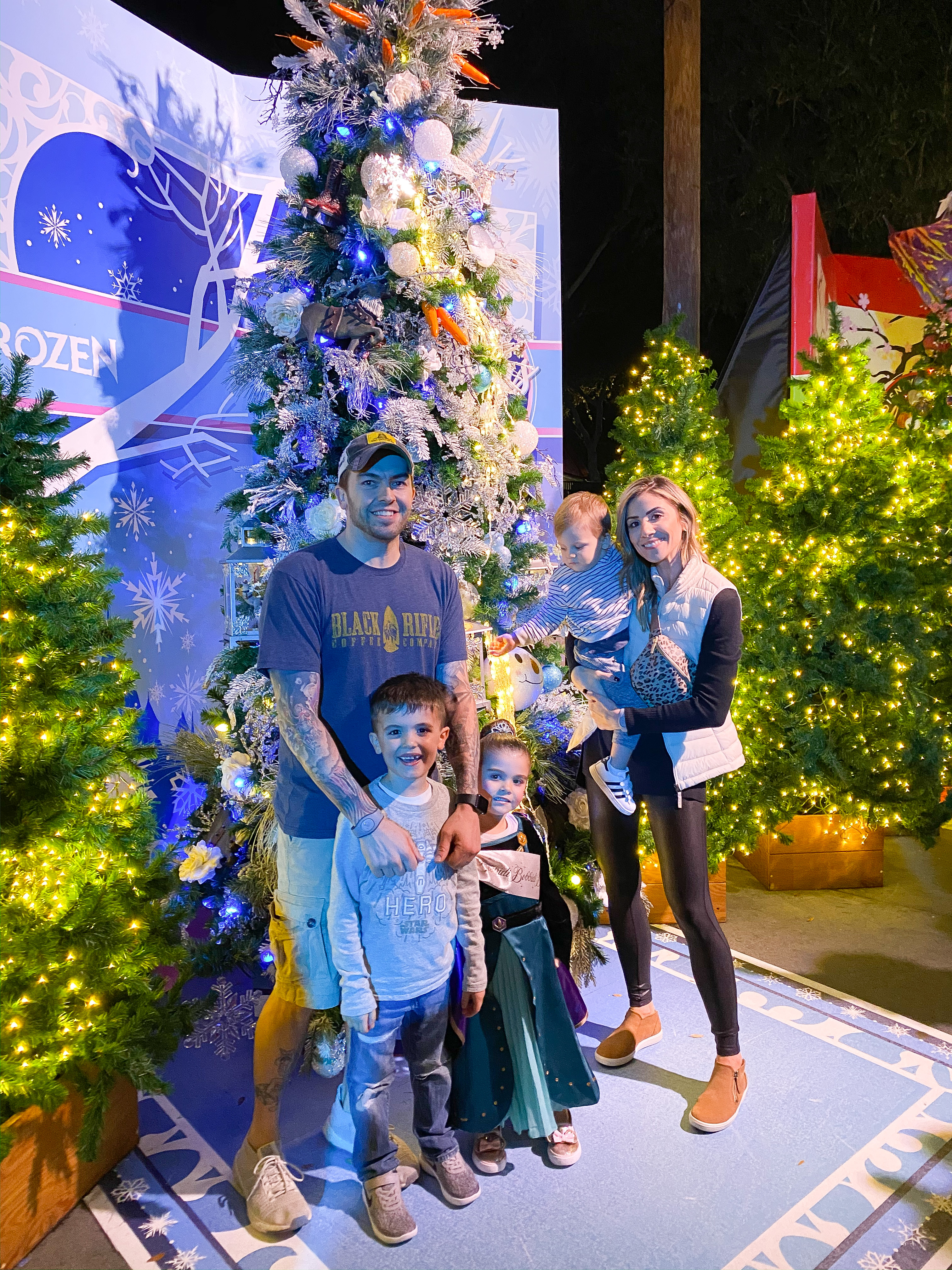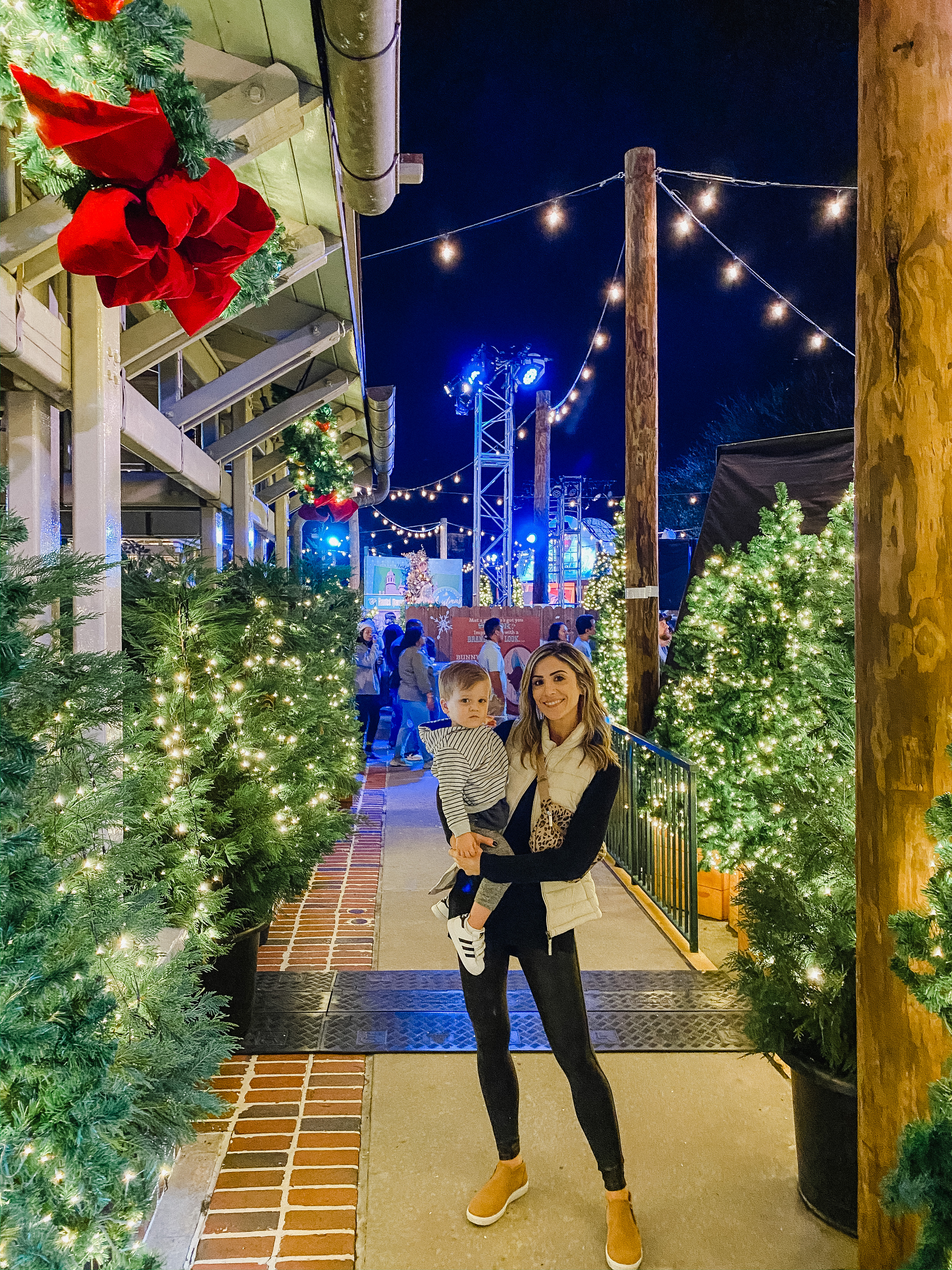 RESORT HOPPING
Many of you suggested resort hopping to see each resort's Christmas tree for the holiday! We didn't get to see all we would like to see, but one specific place we stopped is back at the Grand Floridian. They had a life sized gingerbread house (made from REAL gingerbread…it smells amazing!) set up in their lobby near their absolutely stunning Christmas tree. It was so incredible!!! They were serving drinks and sweet treats inside, but we only stopped for a brief moment to snap a photo.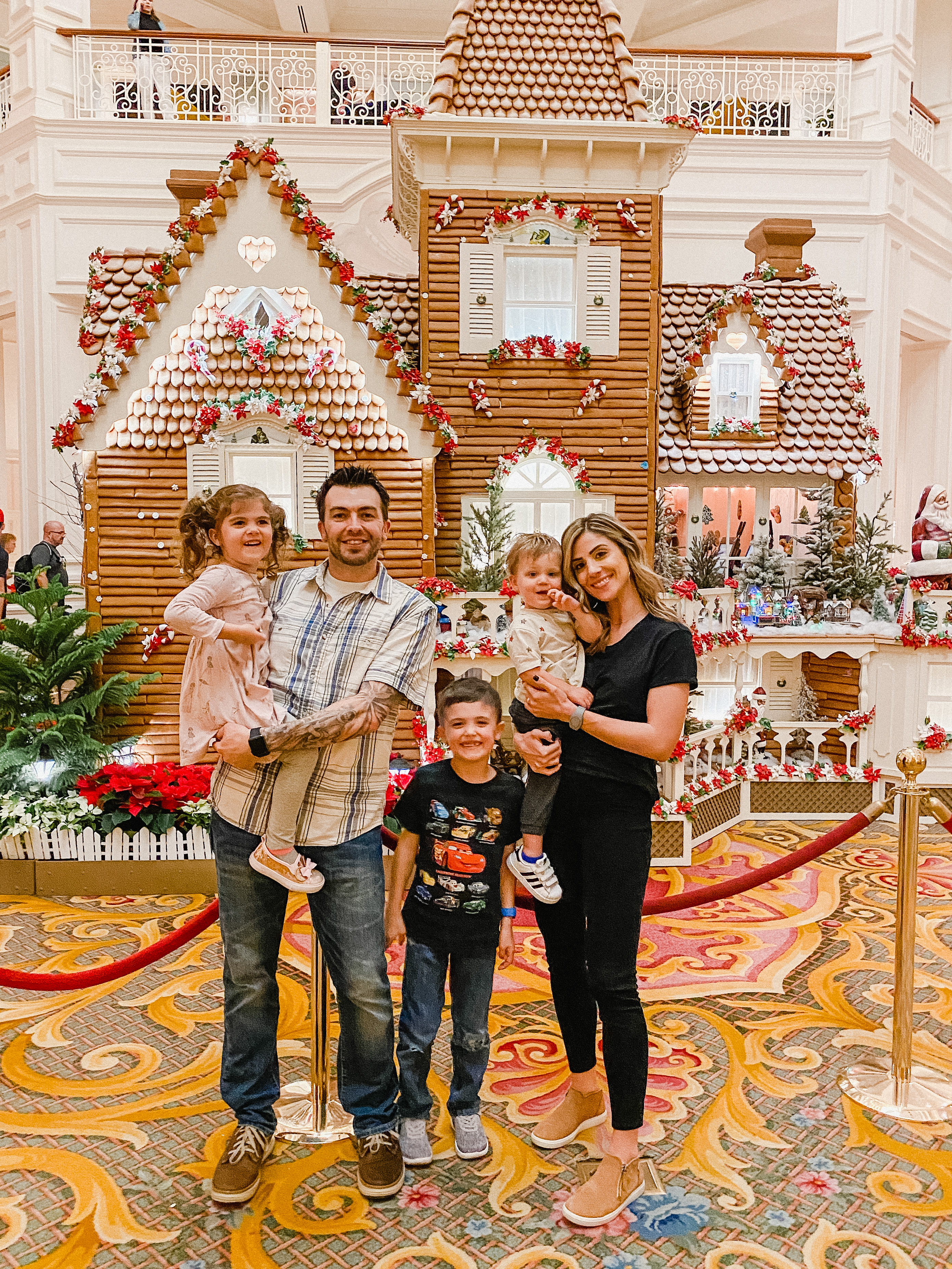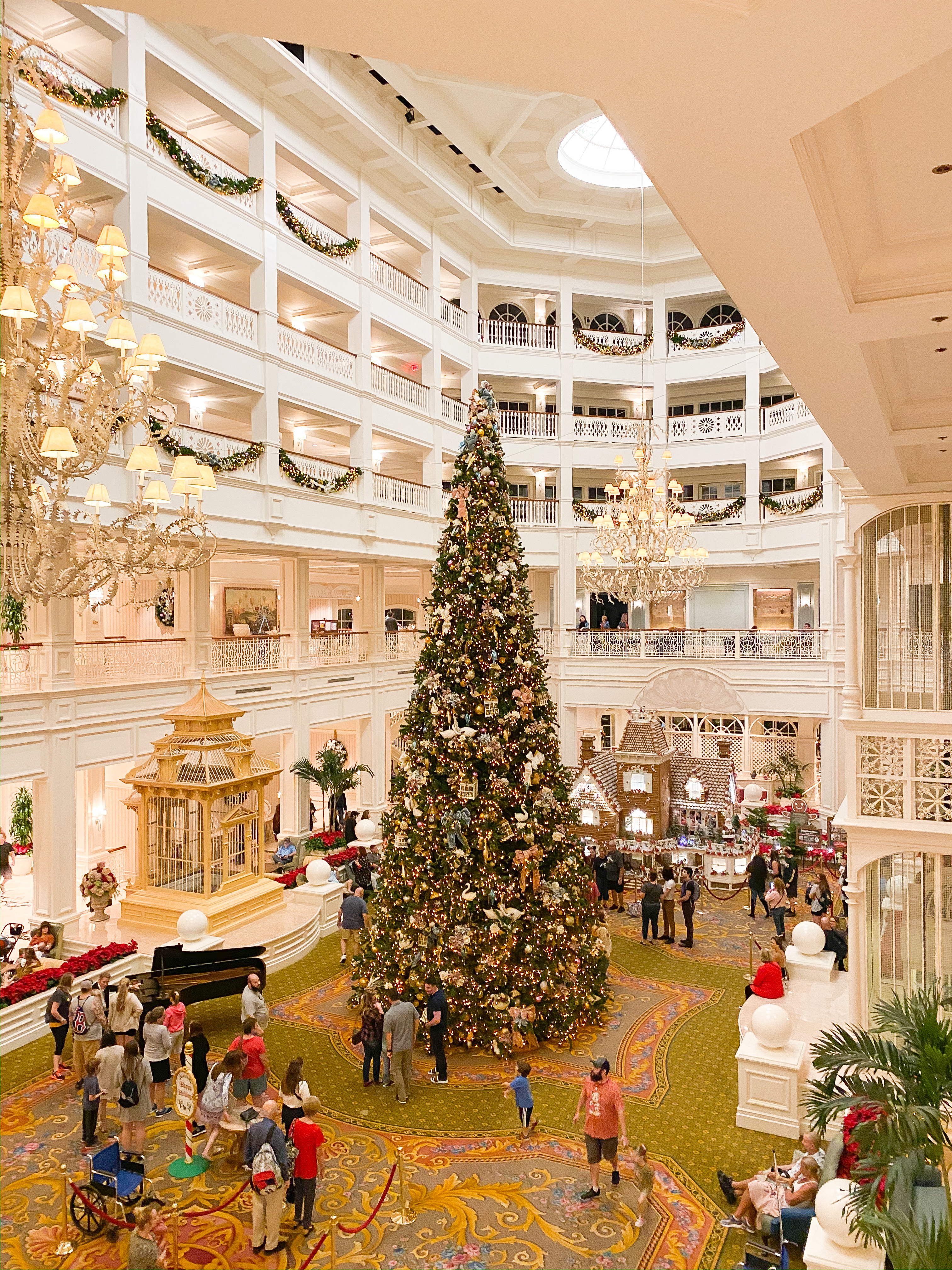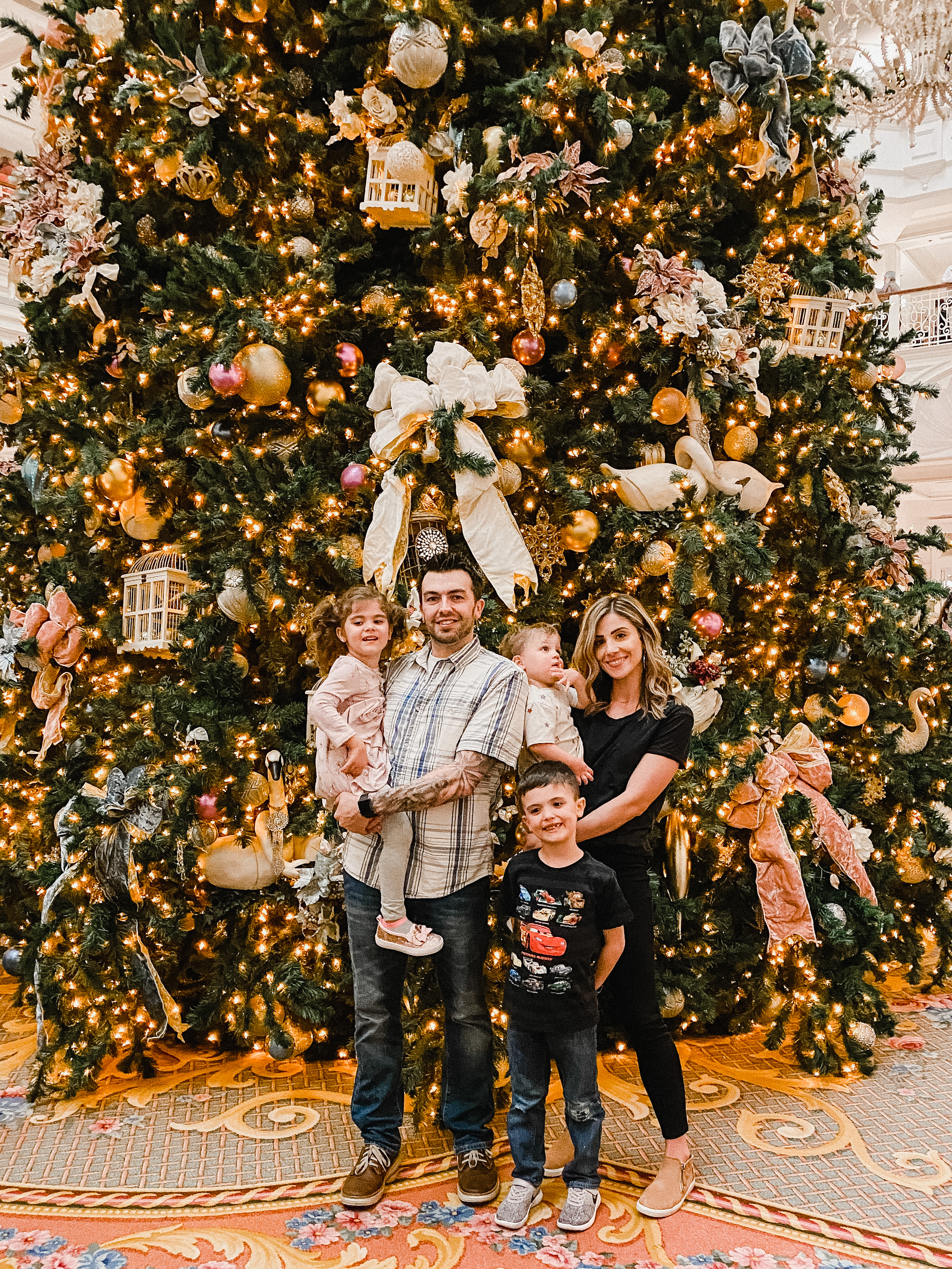 Many told us to stop at the Wilderness Lodge to see their trees, but we couldn't make that work this trip! Hopefully in the future 🙂 Wherever you go, you're bound to see gorgeous holiday decorations. Disney goes all out!
OTHER RECOMMENDATIONS
MANY recommended Epcot's World Showcase trees, as well as their Candlelight Processional. We were unable to attend, but I've heard it's really beautiful! There's also a variety of holiday-themed treats all throughout the parks and resorts, which makes it extra fun! Each resort has a variety of Christmas trees on display, and the rides are even Christmas themed! For example, The Jungle Cruise in Magic Kingdom was all decked out for the holiday (and even changed its name to Jingle Cruise!). It was so fun to see everything and everyone in the holiday spirit. I'm hope we can go back to experience even more another year!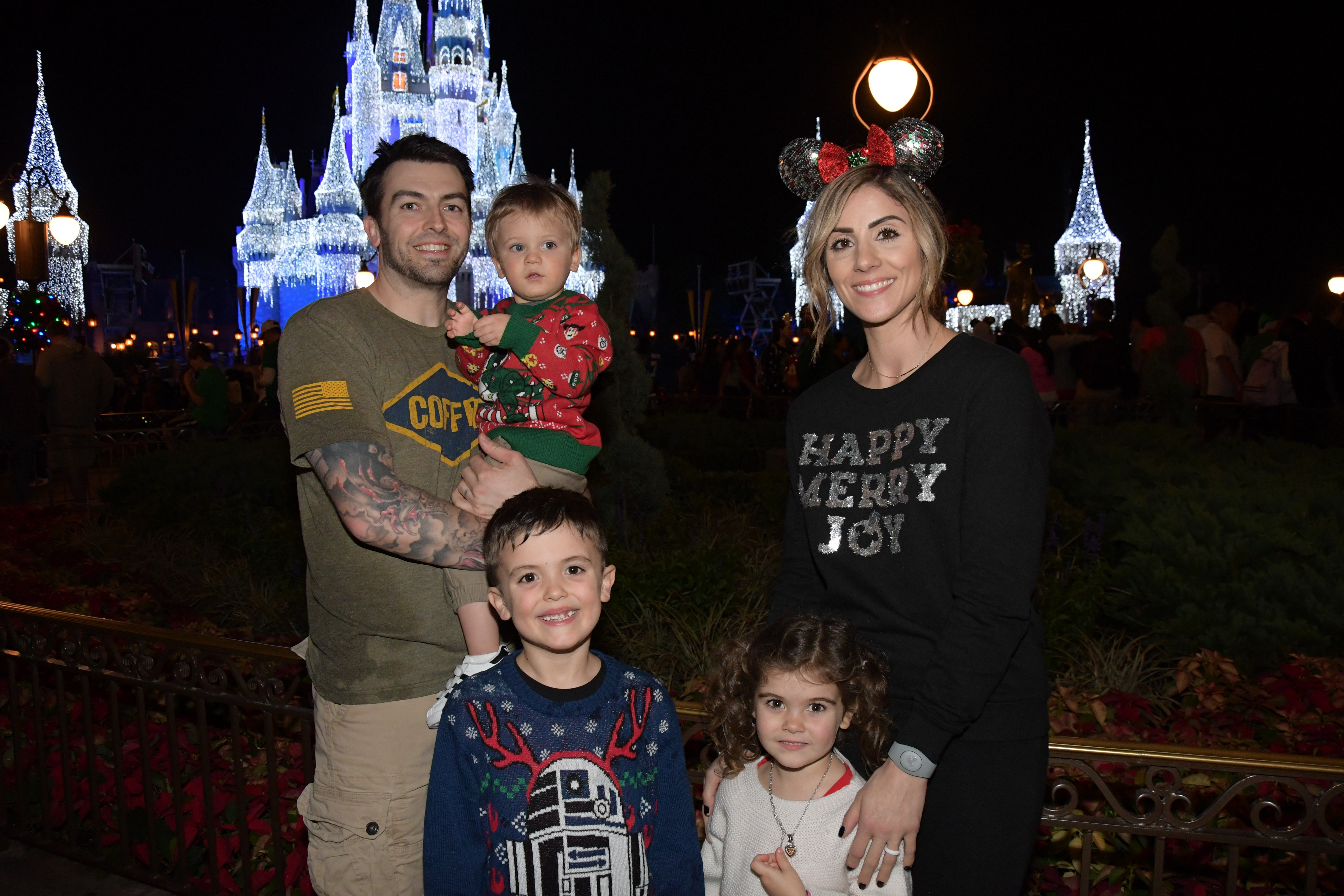 READ NOW, PIN FOR LATER: