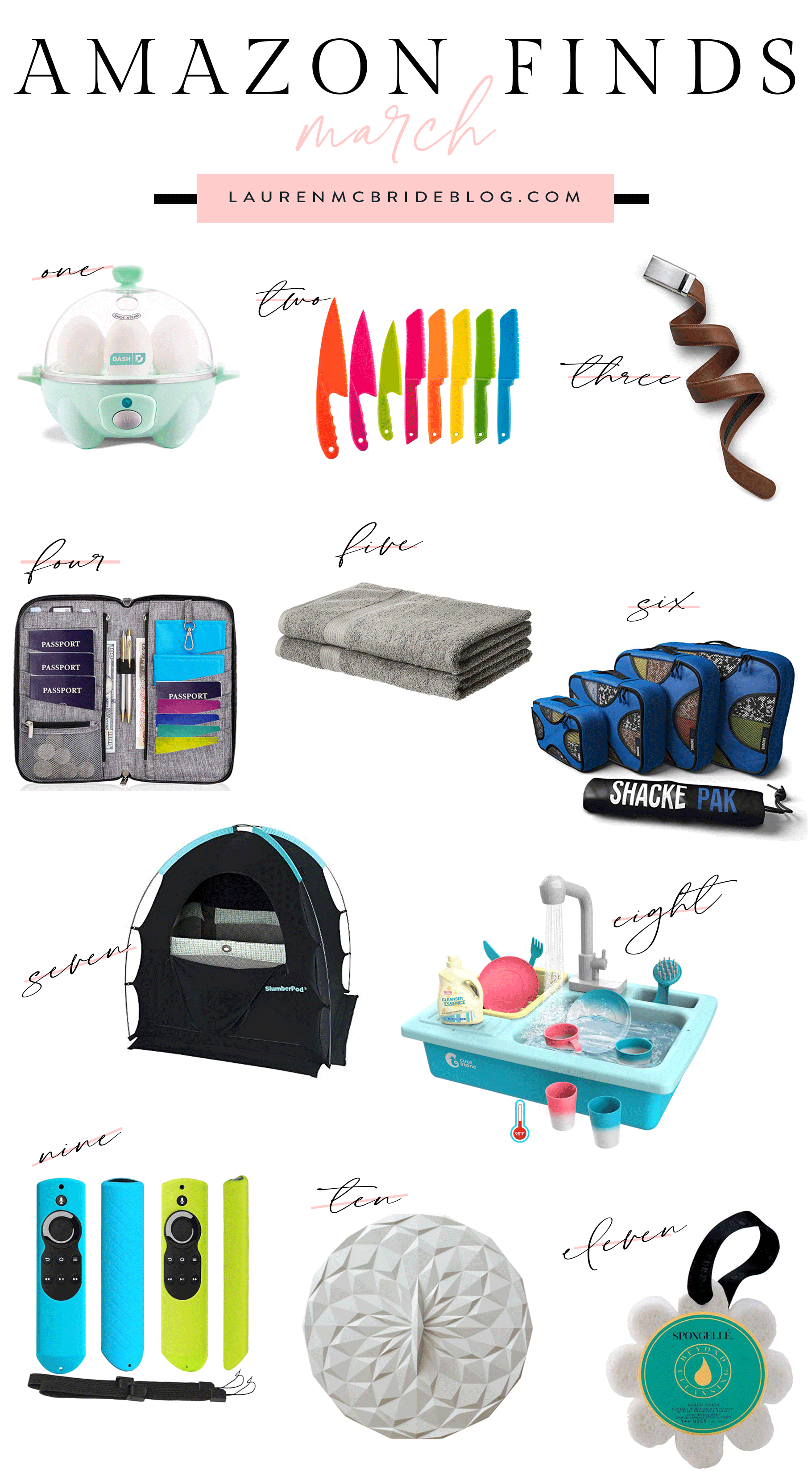 Amazon Finds: March
I've got a variety of random Amazon items I purchased and have been loving that I thought I'd share with you! Some of these items I've been using for awhile, and some are newer to me, but all of them are really great!
Dash Rapid Egg Cooker: I love making hard boiled eggs, but feel like I can never get it JUST right. I like this little egg cooker because there's next to no thought involved…I can set it and forget it!
Jovitec 8 Piece Kid Safe Knives: My oldest has been loving helping us cook, so I thought I would get him these kid safe knives to assist in the kitchen! Great for the little chef!
Mission Belt Men's Belt: I bought this belt on a whim for Pat, and he LOVES IT. It's such a neat concept! Theres NO holes, it fits perfectly every time, and is super easy to put on and take off. They come in a variety of belt and buckle colors. The best part – when you buy a belt, $1 goes to fighting global hunger.
Valante Premium Family Travel Document Organizer: I purchased this as an easy way to carry our passports for our Disney Cruise, and it was great! I loved that I could fit all 5 passports in one sleeve, as well as luggage tag receipts and more documentation we needed.
Amazon Basics Fade Resistant Bath Towels: Our towels needed some replacing (they were OLD), so I decided to try these Amazon ones after seeing the reviews! So far, so good! They're very soft, which surprised me, and are supposedly fade resistant. I have no complaints so far!
Shacke Pak- 5 Piece Packing Cubes: These are the packing cubes we used for Disney, and I love them because they come with a laundry bag too! Highly recommend, they really make packing so much easier.
SlumberPod Privacy Pod For Travel: We used this in Disney for Austin, and I feel it really helped while sharing a room. He needs black out to sleep, while my others need a little night light. This made it possible to do both!
Cute Stone Kid's Color Changing Kitchen Sink: I recently purchased this for my kiddos, and they absolutely love it! This little sink actually functions, so it's great sensory play too. Great gift idea!!
Anti-Slip Shockproof Fire Stick Silicone Remote Case Cover for Alexa: If you're like us and always lose your Firestick remote, then you need this! It's a silicone remote case thats BRIGHTLY COLORED, so it's easy to find when it goes missing 😉 A friend of mine recommended this, and we love it!
Get It Right Silicone 10-inch Round Lid: I bought this silicone lid awhile ago instead of using saran wrap, and love it! It's great for microwaving!
Spongelle Wild Flower Body Wash Infused Sponge: These were a gift inside of our room on the Disney Cruise, and I thought they were so cool! They're a body wash infused sponge, and would make a great gift idea, stocking stuff, or gift exchange idea.