Awhile back I asked you all on Instagram what your favorite white tee is, and man did you deliver! I took it upon myself to buy each of them so I can report back on my thoughts! I rounded up seven of the most recommended to give you a review of the Best White T-Shirts. My thoughts on how sheer they are, sizing, fit, and other details are below for you!
This tee has been one of my favorites for quite sometime. While it's slightly sheer, it's not sheer enough that you can't wear it without anything but a nude bra underneath (if that makes sense!) I like that they aren't too tight and overall fit well. These fit true to size. My only dislike about this tee is the slit on the side.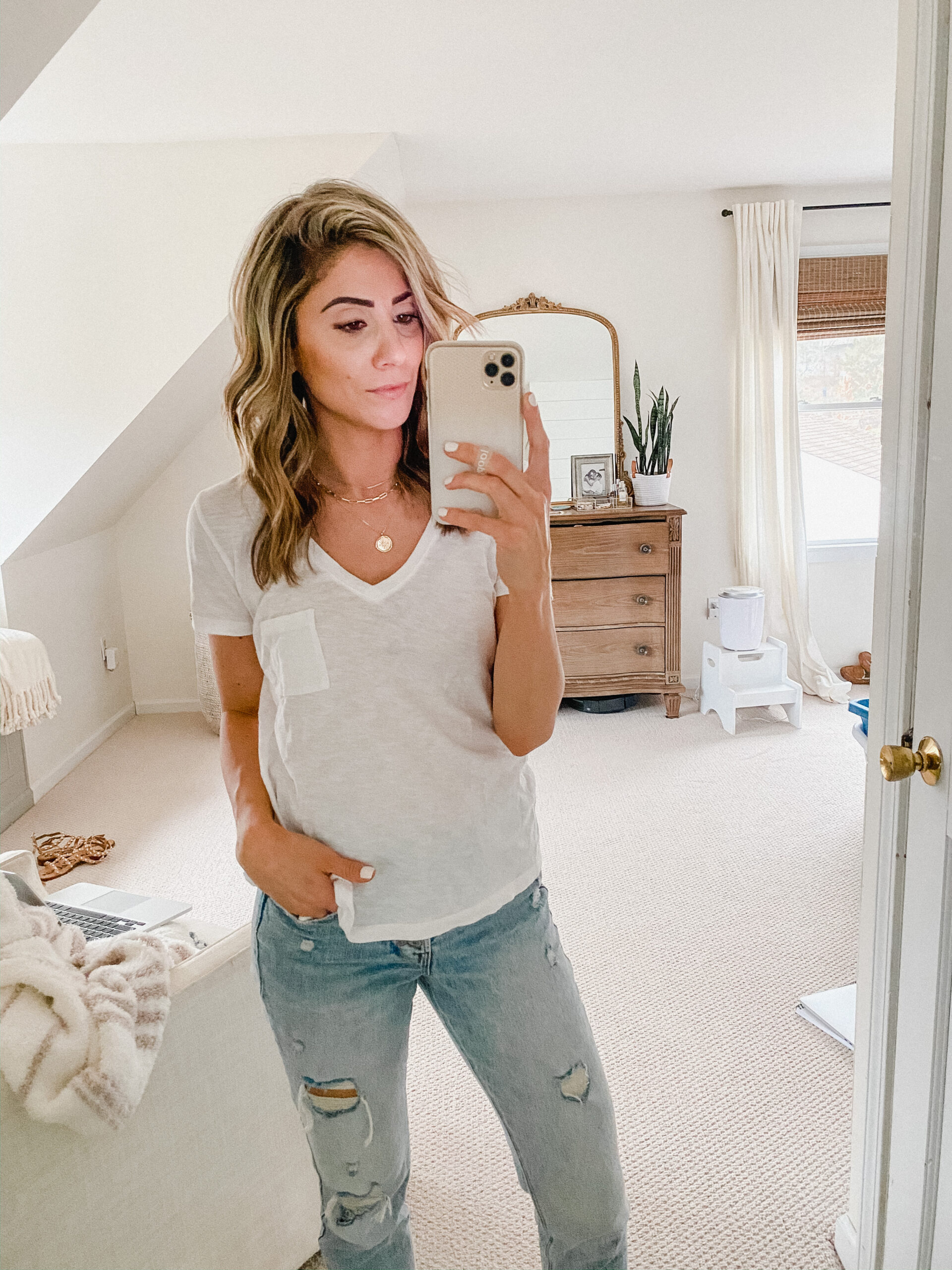 This tee has a "heathered" look, but is still sheer. I don't so much mind it, but I know some of you do hence why I'm calling it out. This tee is more fitted without being tight, and fits TTS. I'm wearing an XS here. I do think these shrink a bit in the wash, so just an FYI.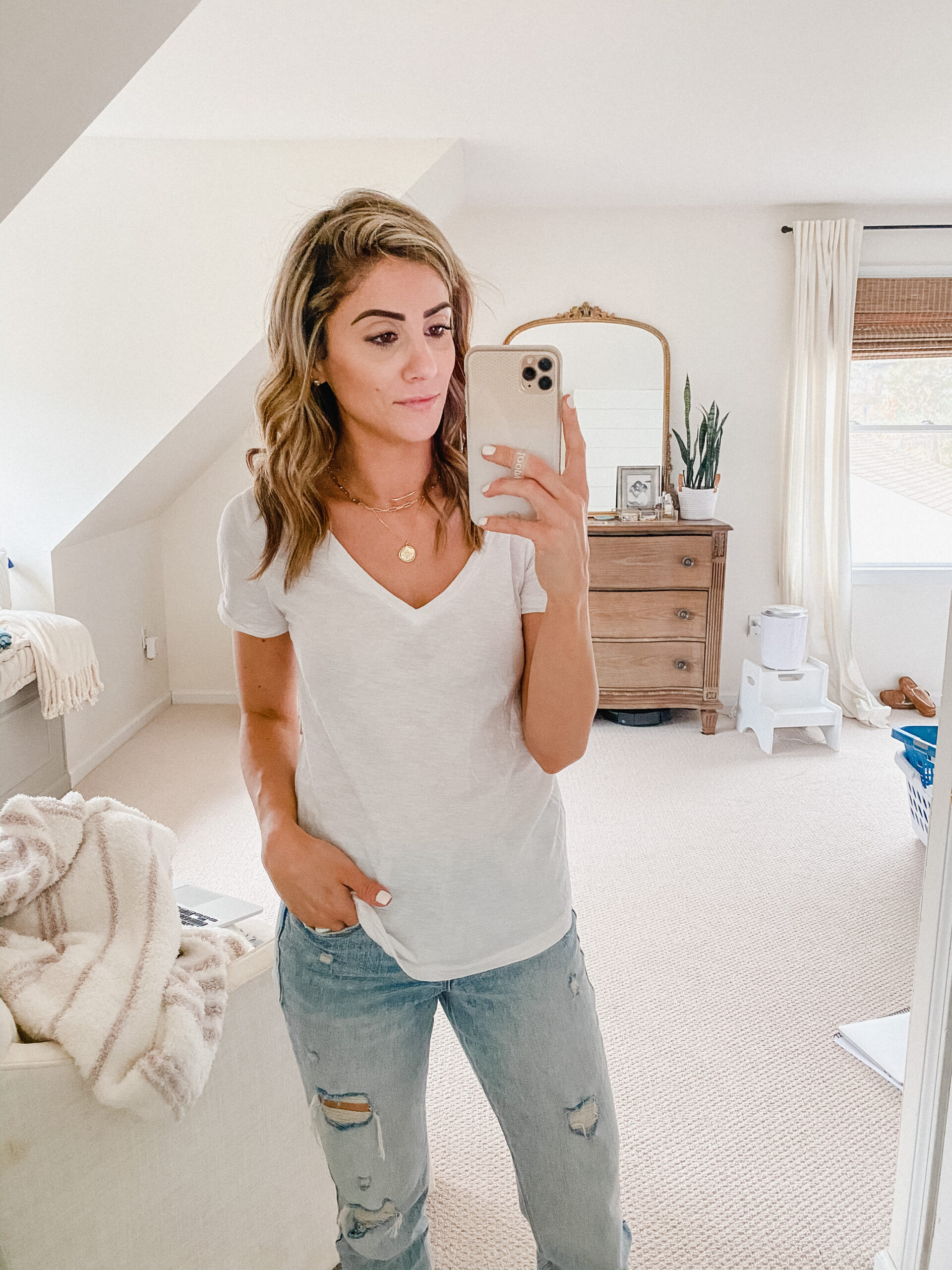 I was REALLY impressed with the fit of this tee. It's more fitted, but not too tight. It's slightly sheer, but I'm able to wear a nude bra just fine. I'm wearing an XS here, and feel it fits TTS. I like the thicker V-Neck on this one too, and that it's not too low cut. Out of all of the tees, I feel this one tucks the best!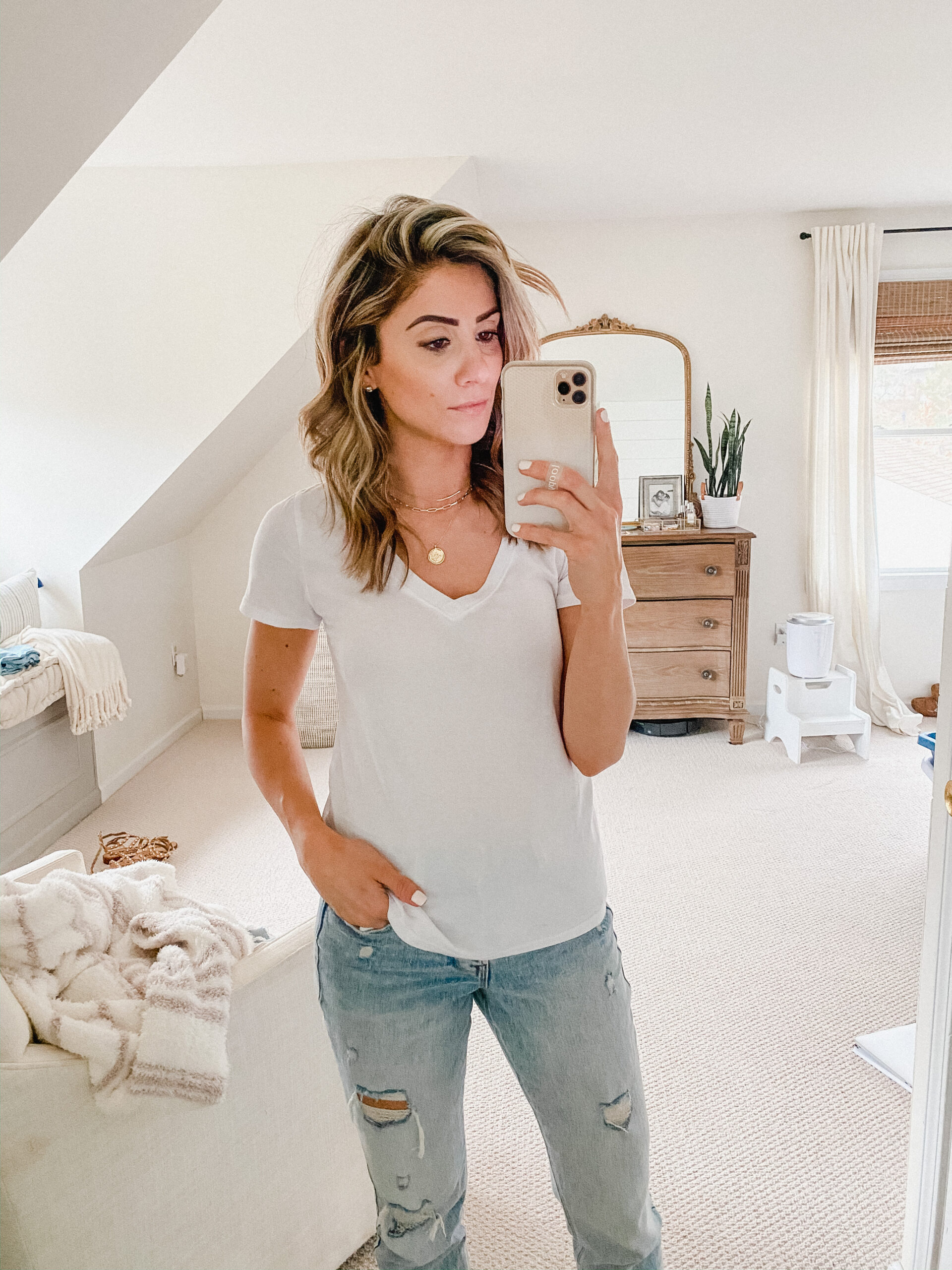 This one has a similar fit to Z Supply, but is a little looser in my opinion. It's slightly more sheer, however, even with a nude bra. I don't think this would be my first choice for a white tee given how sheer it is. It fits TTS, and I'm wearing an XS.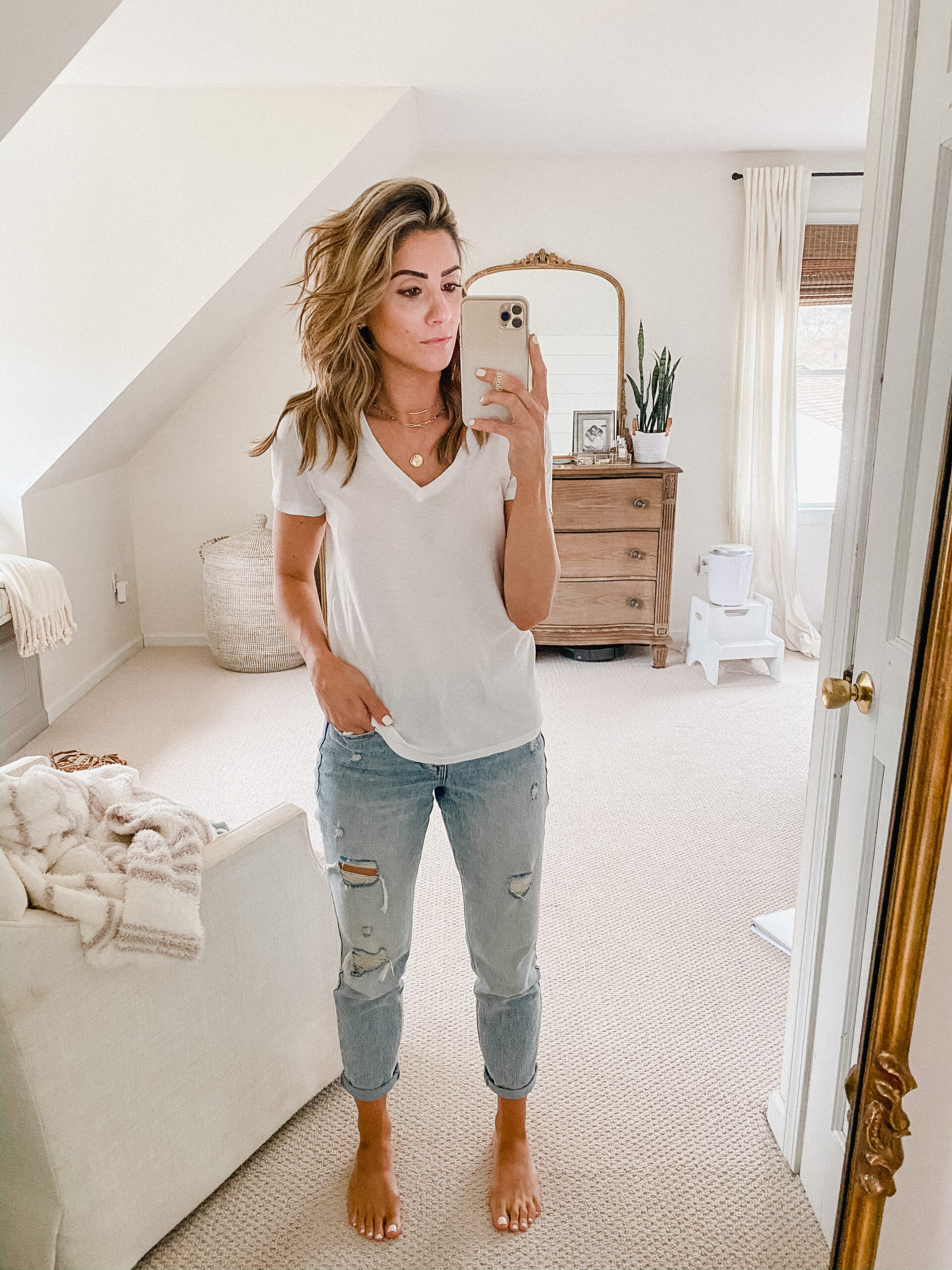 I REALLY love the fit of this tee! The curved hem is very flattering, and I like the overall fit. This tee is not too sheer either, so it's fine with just a nude bra underneath! The material is very similar to the Old Navy Luxe tee and very soft. These also wash very well! They fit TTS, I'm wearing an XS.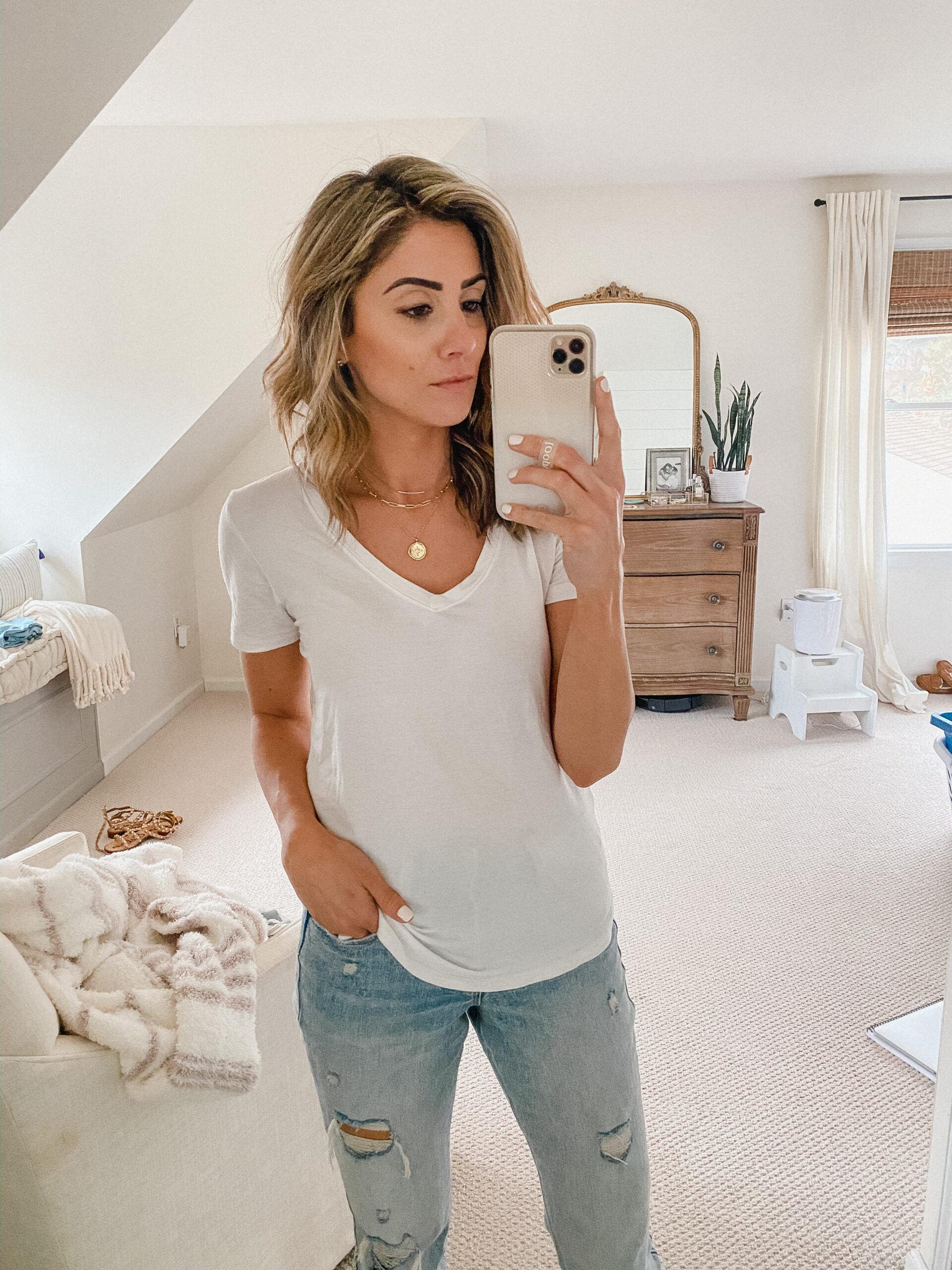 This tee is really great for layering! There's more length in the back and it nearly covers my entire butt. It's slightly more fitted than the Old Navy and Abercrombie tees. However, given the length, it might not be the best option for tucking. It does fit TTS (I'm in an XS), and washes well! Its not too sheer, either. I think this one is a great addition to your wardrobe, especially for layering!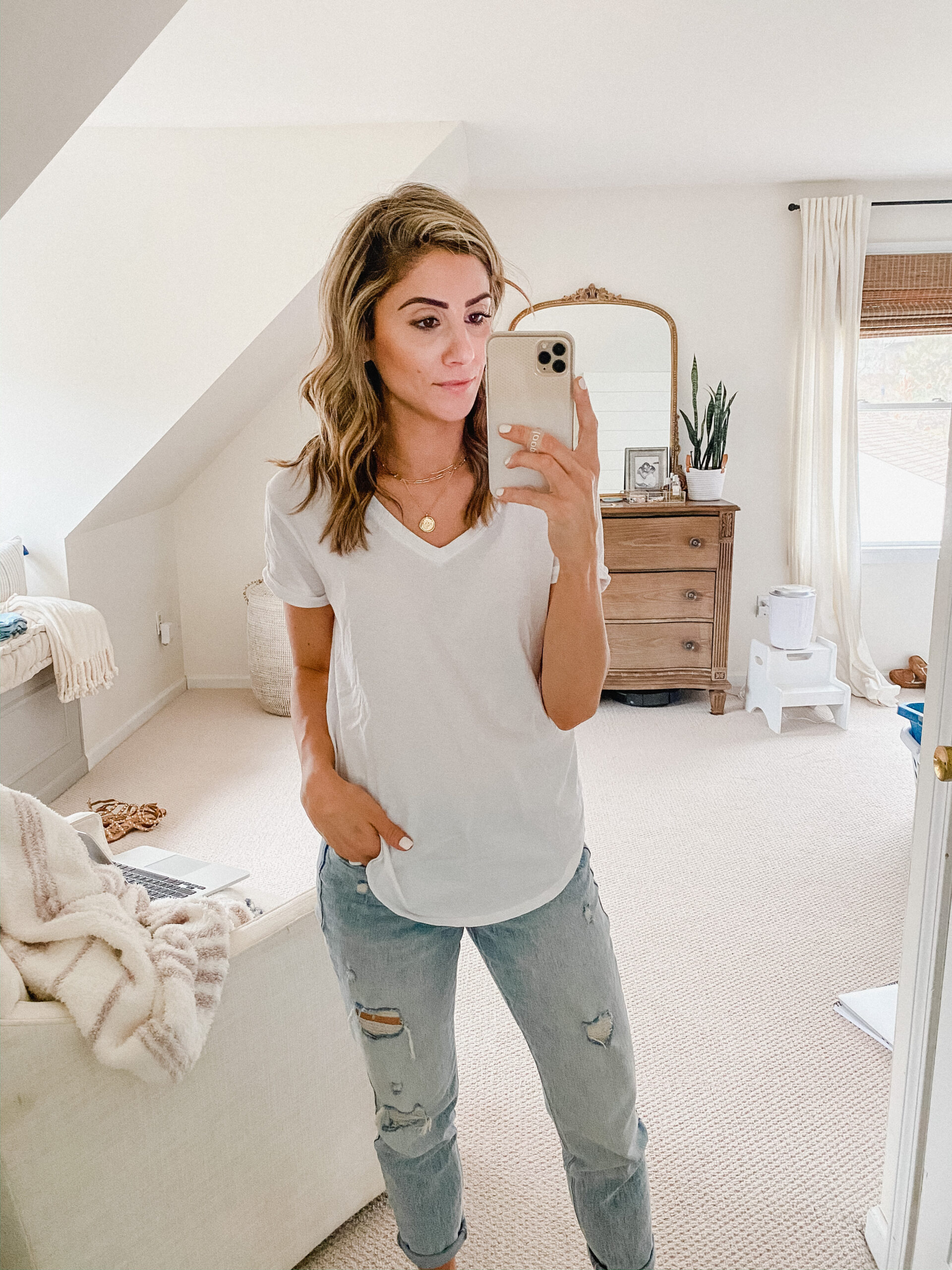 These tees are super, super soft, hence the "luxe" name. They are not sheer at all, and fit very well. They have a similar curved hem like the Abercrombie tee. They have a slightly looser fit, and do run longer than the other tees (which is great for layering!). They also wash REALLY well. I wear my normal size, an XS, in these tees. The only thing to note: I find this tee is not the best to tuck because of the looser fit and extra fabric. The fabric kind of hangs and is not all that flattering. I would still recommend this tee, but having a more fitted one on hand is good too!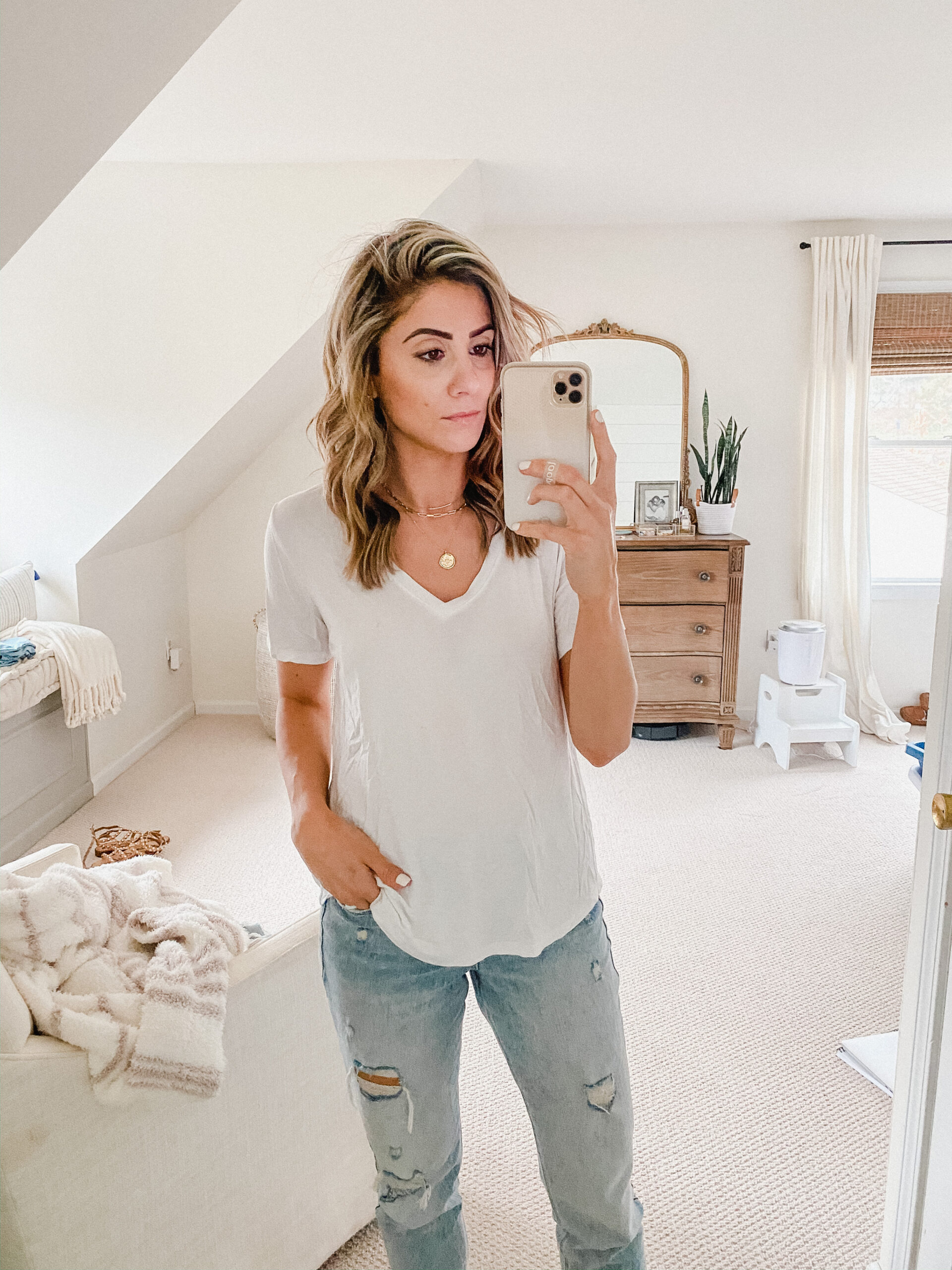 My favorites: Z-Supply for tucking and the Abercrombie Drapey Tee.
If you have a favorite I didn't mention, please leave me a comment below! I'll try it out and add it to the list! 🙂
READ NOW, PIN FOR LATER: