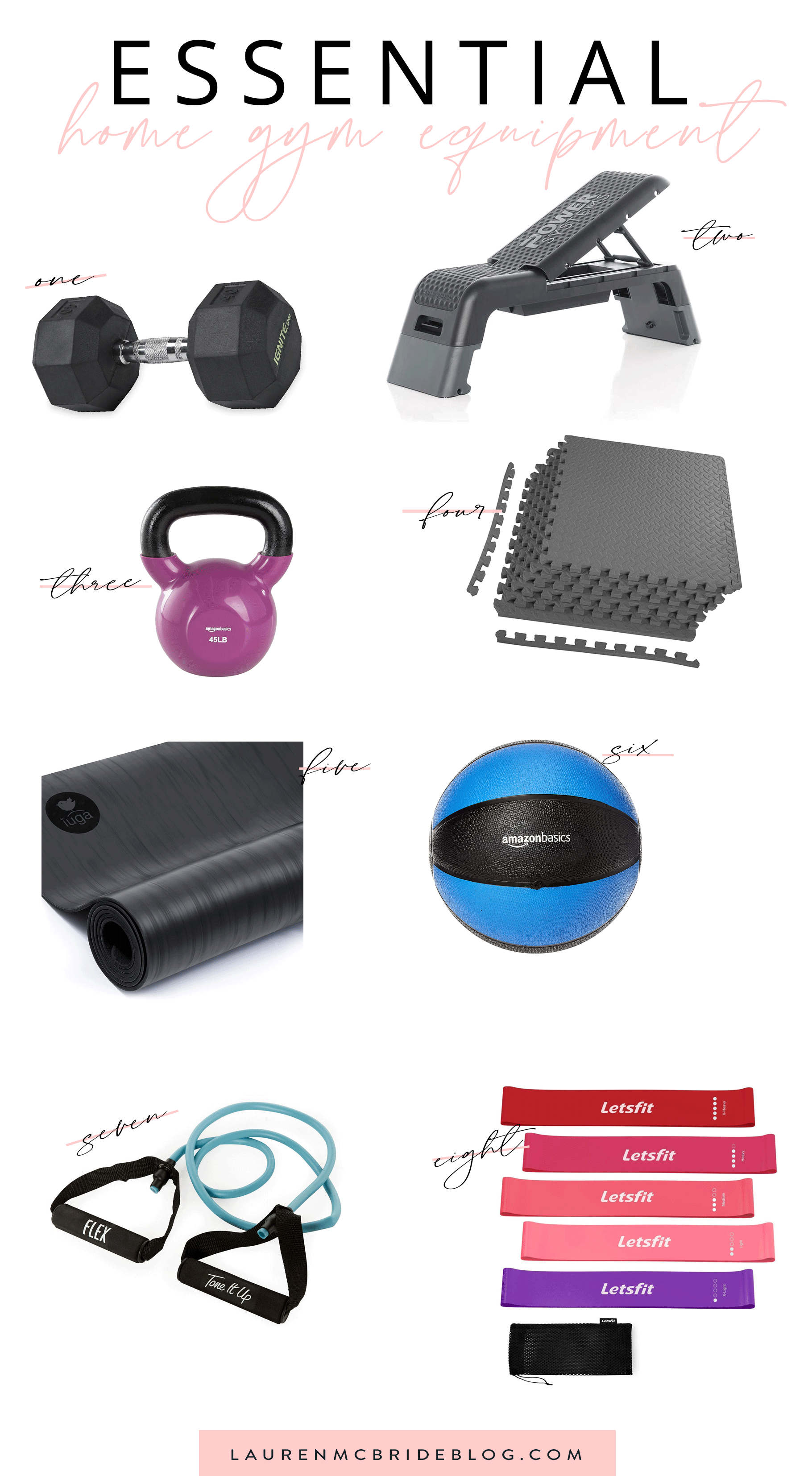 A couple of years back, prior to us joining Orangetheory, we set up a home gym in our garage so we had the ability to work out from home regardless of our work schedules. This has come in handy during this time of self-isolation and with businesses being closed! I miss Orangetheory and can't wait to return, but I'm happy we already had this equipment so I can get in at home workouts for the time being. I'm sharing Essential Home Gym Equipment today, and have divided it into 2 sections…basic equipment and then additional equipment to bring your home gym to the next level. I also added in some ways to create these items at home if you're not ready to make a purchase just yet!
BASIC EQUIPMENT FOR A HOME GYM
DUMBBELLS: We have a variety of weights for dumbbells, but the main weights I use are 10lbs, 15lbs, and 20lbs. I think having a lighter set and a heavier set is important for different body movements.
WORKOUT BENCH: I bought this bench because it's similar to the one I use at Orangetheory, but any bench will do! I prefer this one because of the traction on top of it (we do a lot of step ups onto the bench, and other similar movements), and I also like that it's adjustable in height and incline.
KETTLEBELL: I like kettlebells for a variety of different movements. I think having one is great because, while a dumbbell can be substituted, it's easier to hold for certain movements.
PROTECTIVE FLOORING: My husband bought our gym flooring at Tractor Supply Co., but I found this set on Amazon for a great price!
YOGA MAT: I prefer a thicker mat like the one linked, but any yoga mat works!
ADDITIONAL EQUIPMENT
MEDICINE BALL: We use these a lot in Orangetheory, and while I don't think they're necessary for a home gym, they're a good addition! However, you're able to use a dumbbell for pretty much all of the same movements you would do with a medicine ball.
RESISTANCE BANDS: These are a great alternative for weights and can be used in a variety of ways!
MINI BANDS: We use these frequently in OTF to work the smaller muscles in our legs and glutes. Not necessary for a basic home gym, but great to have for different movement options. These mini-bands make your muscles hurt SO good.
CARDIO MACHINE: This is obviously the most expensive item to have in a home gym, but something to consider if you plan on only workout out at home. We have a NordicTrack rower, but I've heard great things about the Peloton Tread or similar devices. Right now, I'm just bundling up and running outside early in the morning, and adding in some rowing if I feel like it. There are other ways to get cardio in without a machine, but it's a good investment if this will be your primary space to exercise in.
EQUIPMENT ALTERNATIVES
If you can't grab any of those above items right now, there are a few alternatives that can work! I've also totally held my kiddo to my chest for squats before, haha!
BENCH ALTERNATIVES: A chair or a step stool work! For movements that require you laying on a bench, just use the floor. I've used chairs for step-ups, push-ups, and more.
WEIGHT ALTERNATIVES: Coffee jugs or filled water bottles are great alternatives to lightweights. Fill a backpack with toys or heavier items to use it as a medicine ball!
…and, even if you have no weights, a LOT can be said for body movement workouts!!! Whatever you have to do to get moving – it's most important now more than ever! Getting that endorphin release is not only good for you physically, but mentally too. I'll share my favorite at-home workouts with you soon!
READ NOW, PIN FOR LATER: