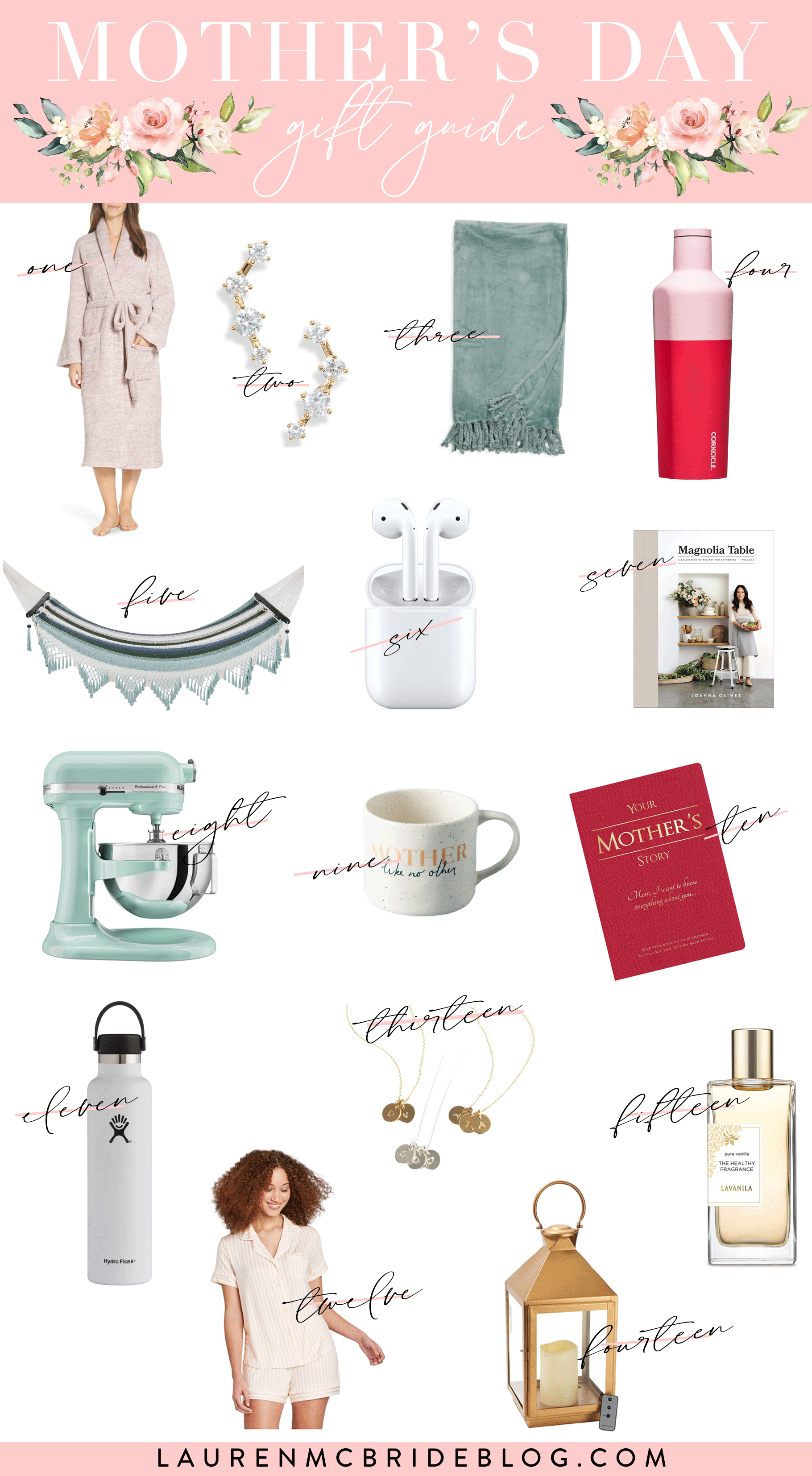 Mother's Day is around the corner, and seeing as shipping times are a little delayed, I thought I would share this Mother's Day gift guide early! I rounded up some of my favorite items for you, and a few others that I thought would make a great gift idea.
Mother's Day Gift Guide
1 // Barefoot Dreams Bathrobe: I've gifted this robe several times, and it's always a winner! It's incredibly soft and cozy, and washes very well. I've had mine for a few years now, and I highly recommend it!
2 // Ear Crawlers: I love these earrings because they're simple but add some nice sparkle. I have them myself and LOVE how they are the length of the ear lobe. They come in different metals, too.
3 // Plush Throw Blanket: This blanket is super soft and cozy! I've purchased it as a gift several times and it's always been well received. It comes in multiple colors too. The perfect gift for this time at home!
4 // Stainless Steel Canteen: I love the color block look of this water bottle! I find a reusable water bottle is always a needed gift to help us moms with our water intake 😉
5 // Hammock: This beautiful hammock makes for the perfect outdoor lounge spot when a mom needs a few minutes of peace!
6 // Apple AirPods: I've been loving my AirPods lately for at-home workouts and for helping me focus when I need to get some work done if the house is louder than normal during the day (since everyone is home!). These are currently on sale!
7 // Magnolia Table: I received Joanna Gaines last book as a gift, and I LOVED it! This one is perfect for the mom who loves to cook!
8 // KitchenAid Mixer: It took me years to start using my mixer, but now I use it weekly! We love this for baking, and I love how it looks on the counter too. Great for the mom who loves to bake!
9 // Mother Like No Other Mug: For the mom who loves her tea or coffee, I love the sweet message of this mug!
10 // Your Mother's Story Journal: I absolutely love this journal as a way to write your life story. This journal asks several different questions for a mom to answer to pass on to her children.
11 // HydroFlask: I love this water bottle, and have the sports cap to go with it. This is a great exercise water bottle!
12 // Pajamas: Soft pajamas are always a welcomed gift! I love this set, and it's only $22!
13 // Initial Charm Necklace: One of my favorite gifts to give a mom! These charm necklaces are dainty and beautiful, and I love that you can add initials for each special person. My coupon code is LAUREN for 15% off!
14 // Matte Brass Lantern: The indoor/outdoor lanterns from my QVC line make a beautiful gift for the mom who loves to be outdoors! Perfect for adding some mood lighting to the front porch or a patio retreat.
15 // Lavanila Perfume: This is my favorite perfume! I love that it's a light vanilla fragrance that doesn't leave you smelling like a dessert! Its a fragrance that works for everything, and has great ingredients too!