A few weeks back our family was recently invited back to Walt Disney World for the Disney Creators Conference. This conference was a land and sea trip, meaning we had a few days in the parks and a few days on Disney Cruise Line. It was a DREAM of a trip and I would do it over in a heart beat. We stayed at 2 different resorts this time and experienced a variety of things we didn't get to last time, so I'm excited to share my thoughts with you! Below is a recap of our time specifically in Walt Disney World. I'll share more on the Disney Cruise Line soon!
Where We Stayed
DISNEY'S BEACH CLUB RESORT
We arrived a few days prior to the conference to have some dedicated family time, and stayed at Beach Club Resort for 2 nights. I truly wish we had more time in this hotel because it was absolutely BEAUTIFUL. I loved the beachfront, which my kids had a blast at our first day. The beach overlooks the BoardWalk, and I loved the relaxing beach vibes and scenic views. The atmosphere felt significantly different here than our stay at Grand Floridian or Contemporary. I was initially concerned that we weren't near Magic Kingdom, but sitting on the beach that first day confirmed we made the right decision! The pool at the Beach Club is unreal, and even has a sand bottom section! I loved the walking path from Beach Club to Yacht Club, and all around to BoardWalk. The whole area is very laid back, which is really nice for a Disney vacation.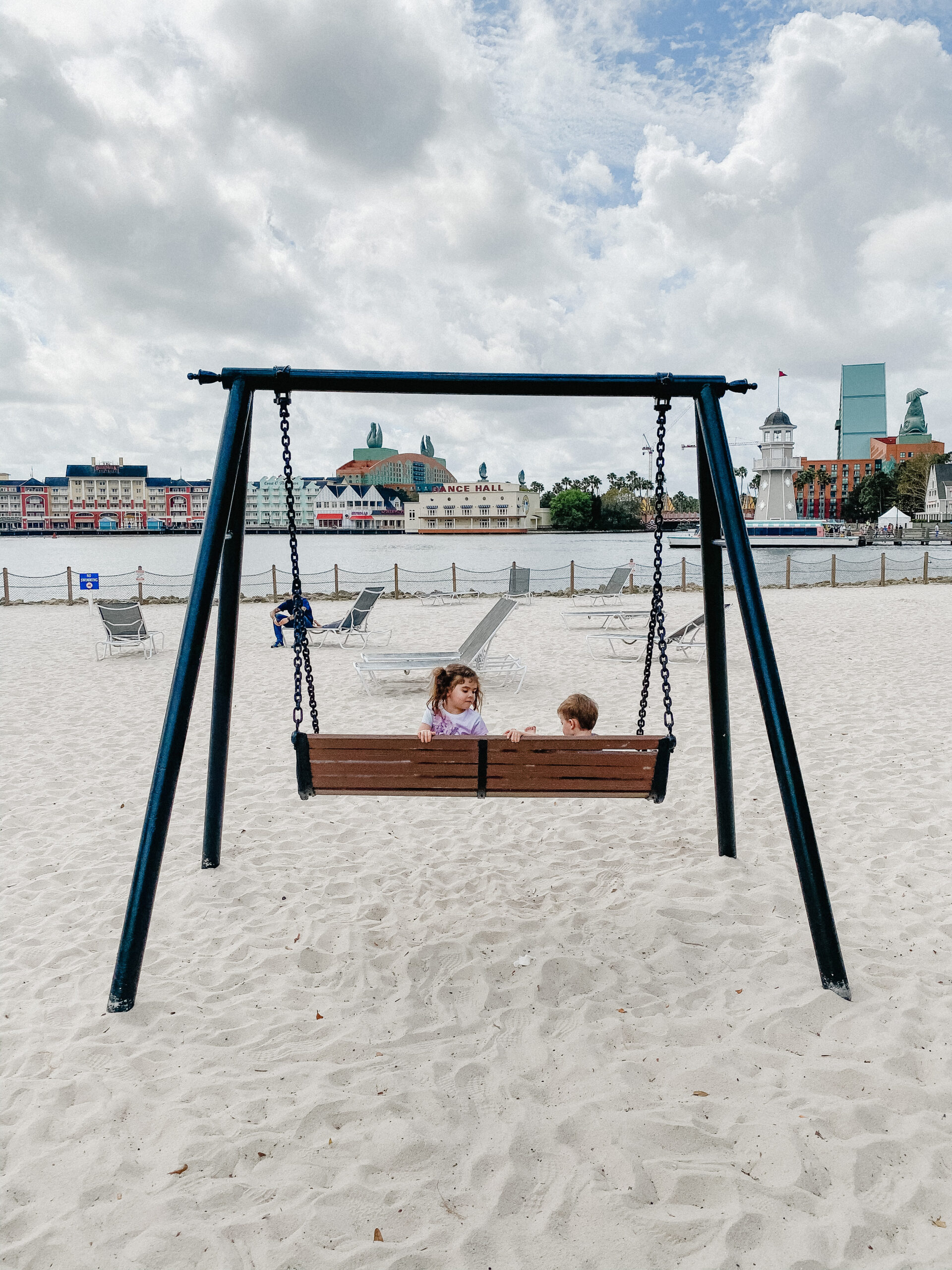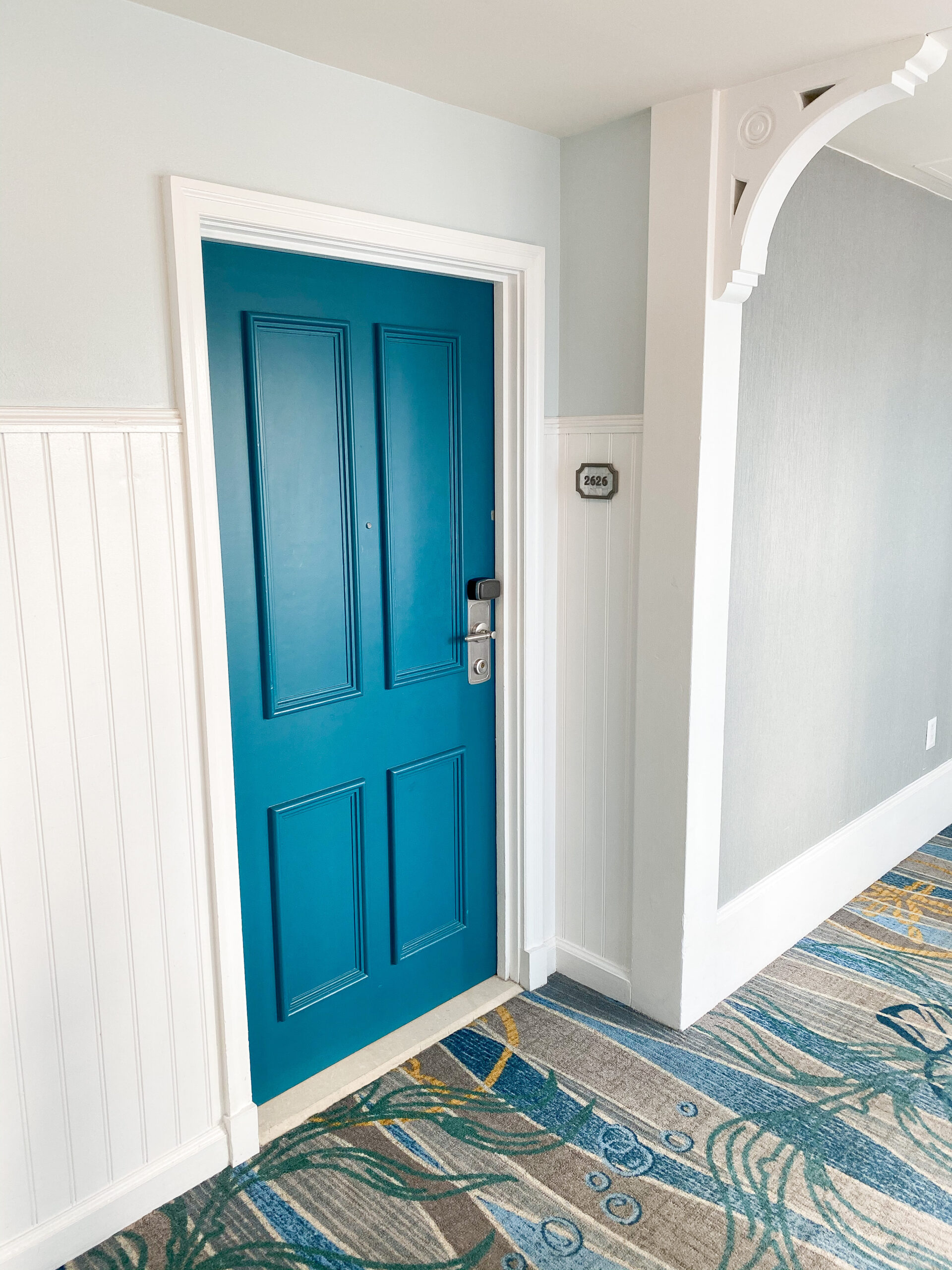 I loved everything about this hotel, from the vibe to the decor. I learned it's New England inspired (which is now not surprising that I loved it so much), and I loved the proximity to Epcot and Hollywood Studios. Epcot was in walking distance, and it was a quick Skyliner ride over to Hollywood Studios. I will absolutely come back and visit here! Many of you said it's your Disney Vacation Club home resort, and I can absolutely see why. The service was excellent, too!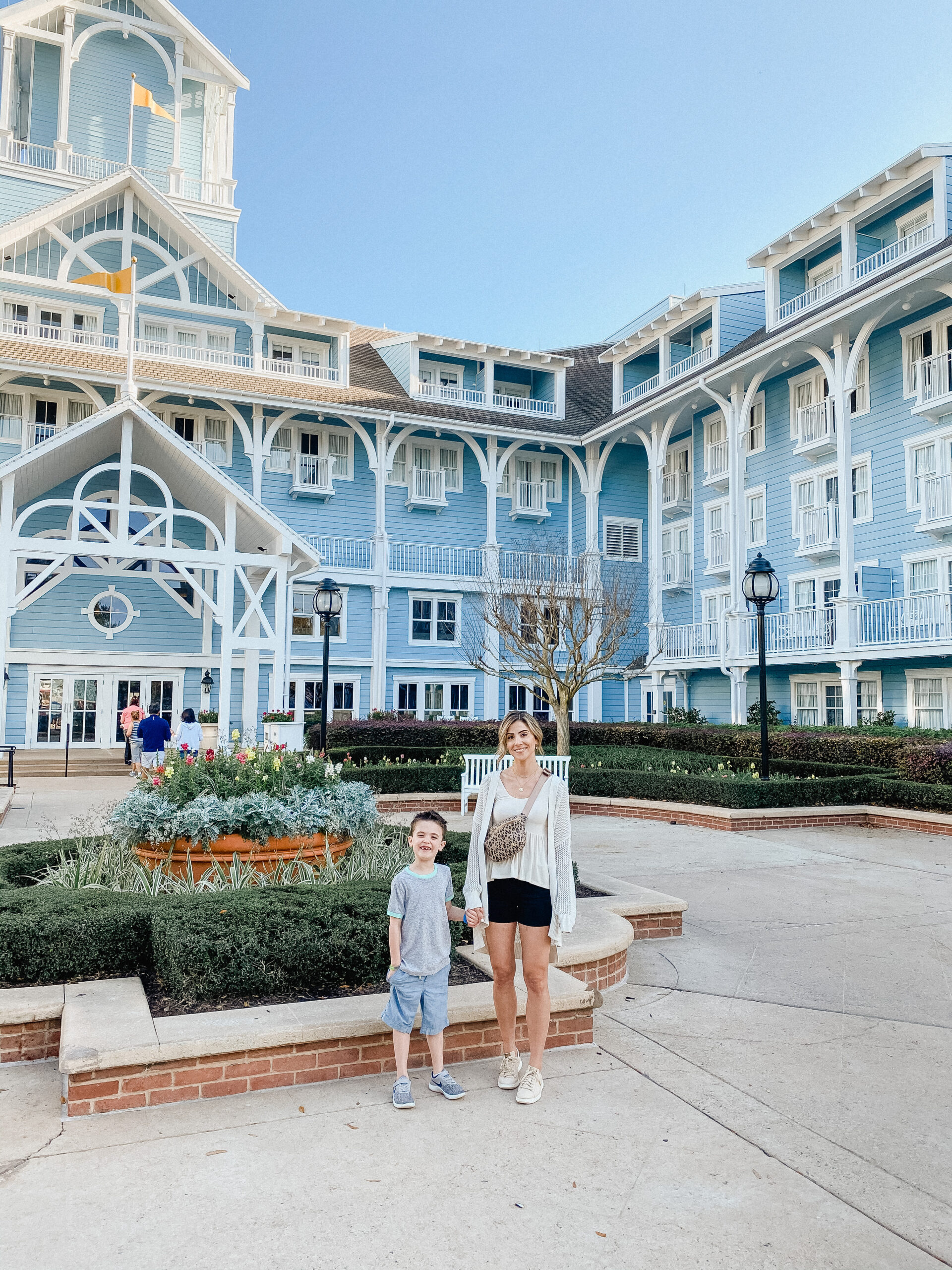 DISNEY'S RIVIERA RESORT
We transferred over to Riviera on our third day – and I highly recommend switching your luggage over yourself if you can. It took ALL DAY for our luggage to be transferred, which probably wouldn't have been an issue if I didn't need my bags that evening. So just a heads up – you won't have your bags until about 5pm if you have them transfer for you!
Riviera, Disney's newest resort, was absolutely STUNNING. I will absolutely stay here again in the future because of everything it has to offer. The rooms are amazing – there are several Murphy beds in the walls to save on space. My kids LOVED this! There's also a little kitchenette with plates, utensils, a toaster, and more. I liked this because we always Instacart food to our room to cut down on dining costs. We typically eat breakfast in the room, unless we have a character dining reservation, so this came in handy. There was ample space for our family of 5!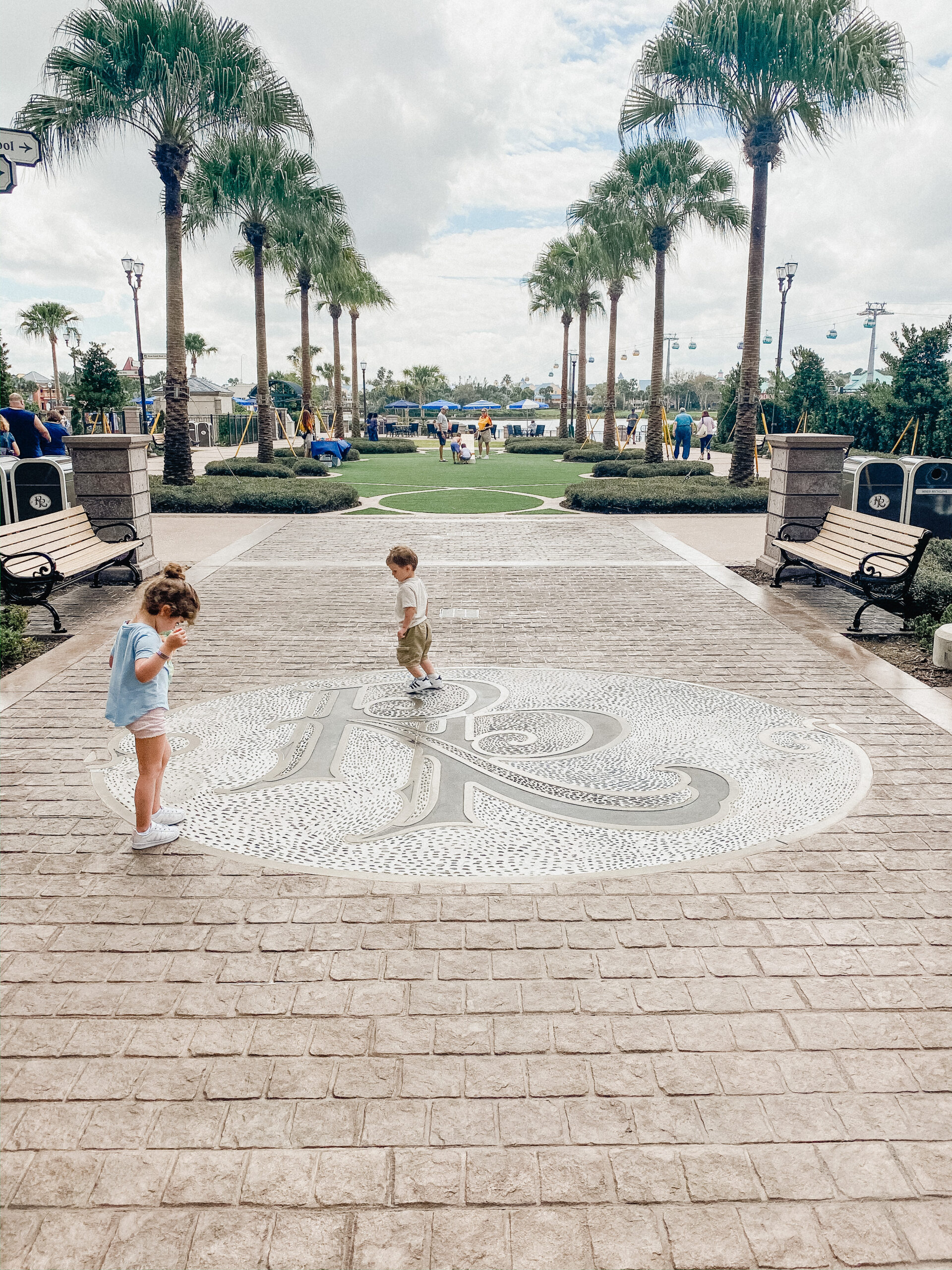 The pool was beautiful, and I loved the play area for kids. They had a gorgeous splash pad with kiddie slides that my oldest and middle child loved. They also had a lawn area with several lawn games and activities set up during the day. My kids enjoyed building Lego cards and racing them down the track they has set up one afternoon! There was also a small restaurant to grab a bite to eat, as well as a variety of snacks (healthy snacks, too, like carrot sticks, grapes, cheese, etc) for the room. We weren't able to get a Topolino's Terrace reservation, but I heard amazing things! I'm hoping for next time.
I absolutely loved the Skyliner service at the Riviera. We could easily hop on the Skyliner to Epcot or Hollywood Studios and be there in ten minutes or less. It was such an easy mode of transportation – easier than the monorail in my opinion! There was no wait time at all, except for after the fireworks in Epcot (naturally, as it's a busy time…but it moved quickly!). The walkway to the Skyliner has the most beautiful mosaic that an ode to Peter Pan on one side and Rapunzel on the other. It was so stunning to see in person.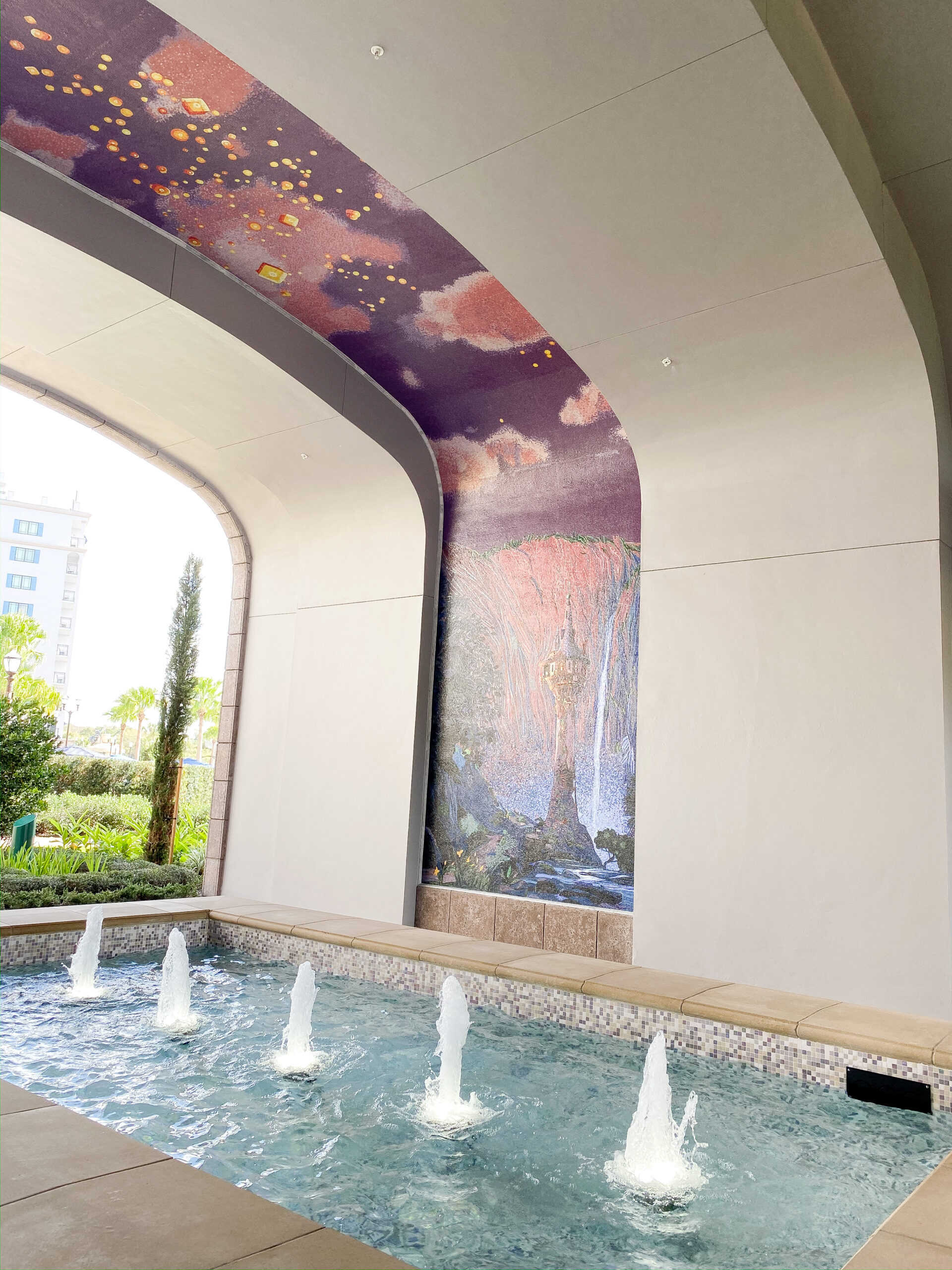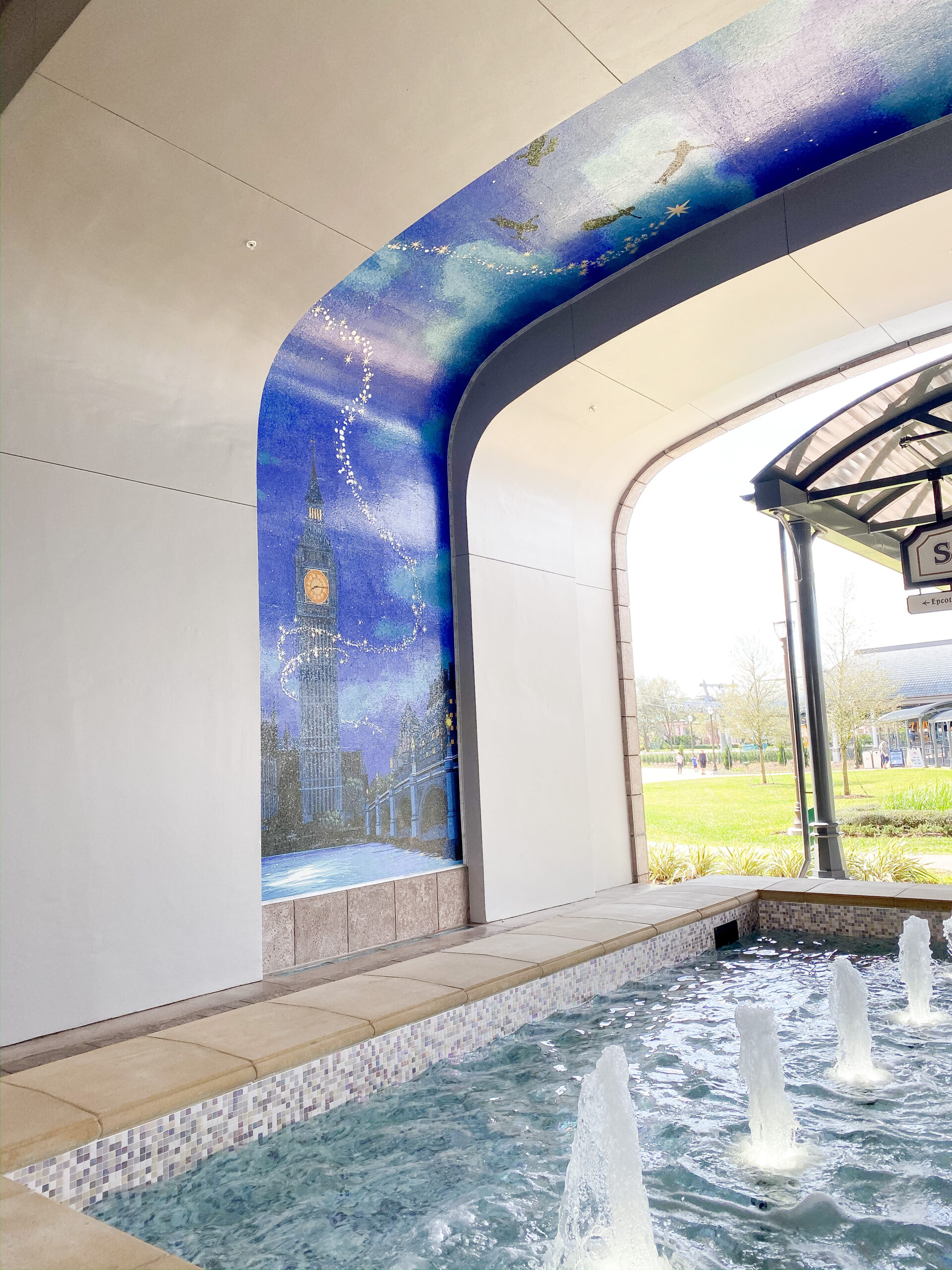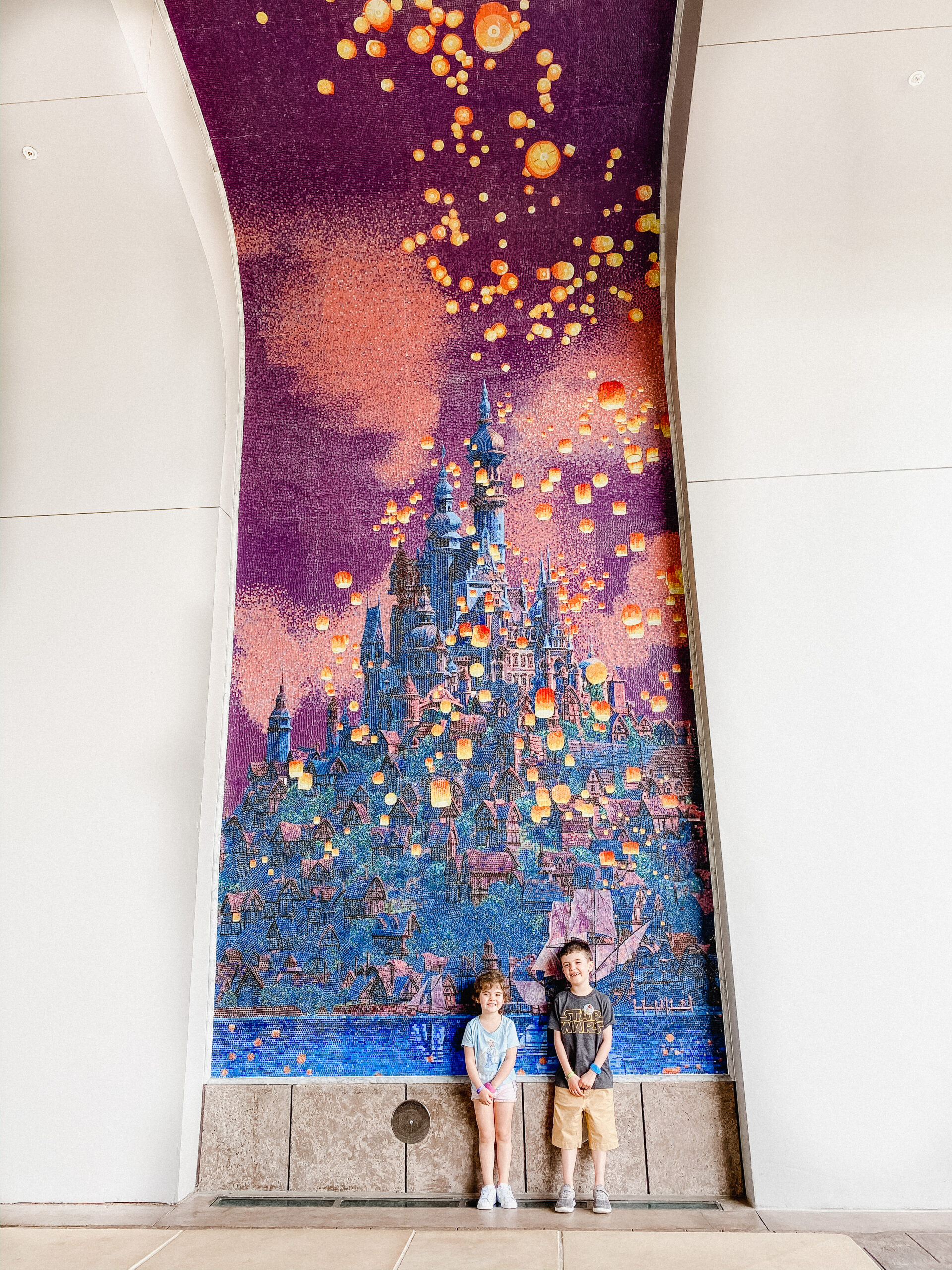 I was really surprised at how much I enjoyed this location compared to staying on the monorail. Our kids' favorite park is Magic Kingdom, which is why we prefer to stay near there. But being down this was was pleasantly surprising and I would absolutely stay here again. I feel like there's more to see, and you're more centrally located to everything. I wish we had more time here!
NOTE: One thing to be aware of if you're doing a split stay (half at one resort and half at another) is the luggage transfer. We dropped our luggage off at 8am and did not receive it until 5pm. I needed things in my bag for an event that evening, so I was not very happy in that moment. If I could do things over, I would've transferred the luggage via Uber myself. If you're planning on hitting the parks all day and don't need your luggage, it shouldn't be problem.
Where We Ate
I was able to grab several dining reservations we weren't able to get in the past with the help of Touring Plans Reservation Finder! We did a lot of character dining this trip since we did not on our past trips. Here's a run down of where we ate:
Storybook Dining at Artist Point: Located in Wilderness Lodge, this had characters from Snow White and the Seven Dwarfs, including Snow White, Grumpy, Dopey, and the Evil Queen. This was our favorite meal, by a landslide! The food at Artist Point is fantastic – even the allergen friendly meals and desserts. HIGHLY recommend if you can. Reservations for this one can be tricky!
Cape May Cafe: We did Minnie's Beach Bash breakfast, which was so cute! We loved how the characters were dressed (for the beach!) and the interaction at the tables was great. Also, one of the best buffet's in Disney if you ask me.
Grand Floridian Cafe: Always a favorite, I highly recommend this for dinner! I feel like it's a hidden gem that you can always find a reservation for and the food is SO GOOD. We've eaten there every trip!
Trattoria al Forno: We did the Bon Voyage Breakfast here one morning with Rapunzel, Flynn Rider, Ariel, and Eric! The breakfast was delicious, and I loved the character interaction as well. Make sure you ask to see inside Flynn's pouch!
1900 Park Fare: We ate here for dinner one evening! The buffet was pretty good, and the character interaction was SO great with the Evil Stepsisters! At one point Cinderella and Prince Charming even danced around the room. Super cute!
Primo Piatto: This was inside Riviera Resort and great for grabbing a quick bite. We utilized this for times we didn't have actual reservations. They had a variety of options for the whole family, and not just chicken nuggets and fries!
You can see my full list of the Best Character Meals at Walt Disney World right here!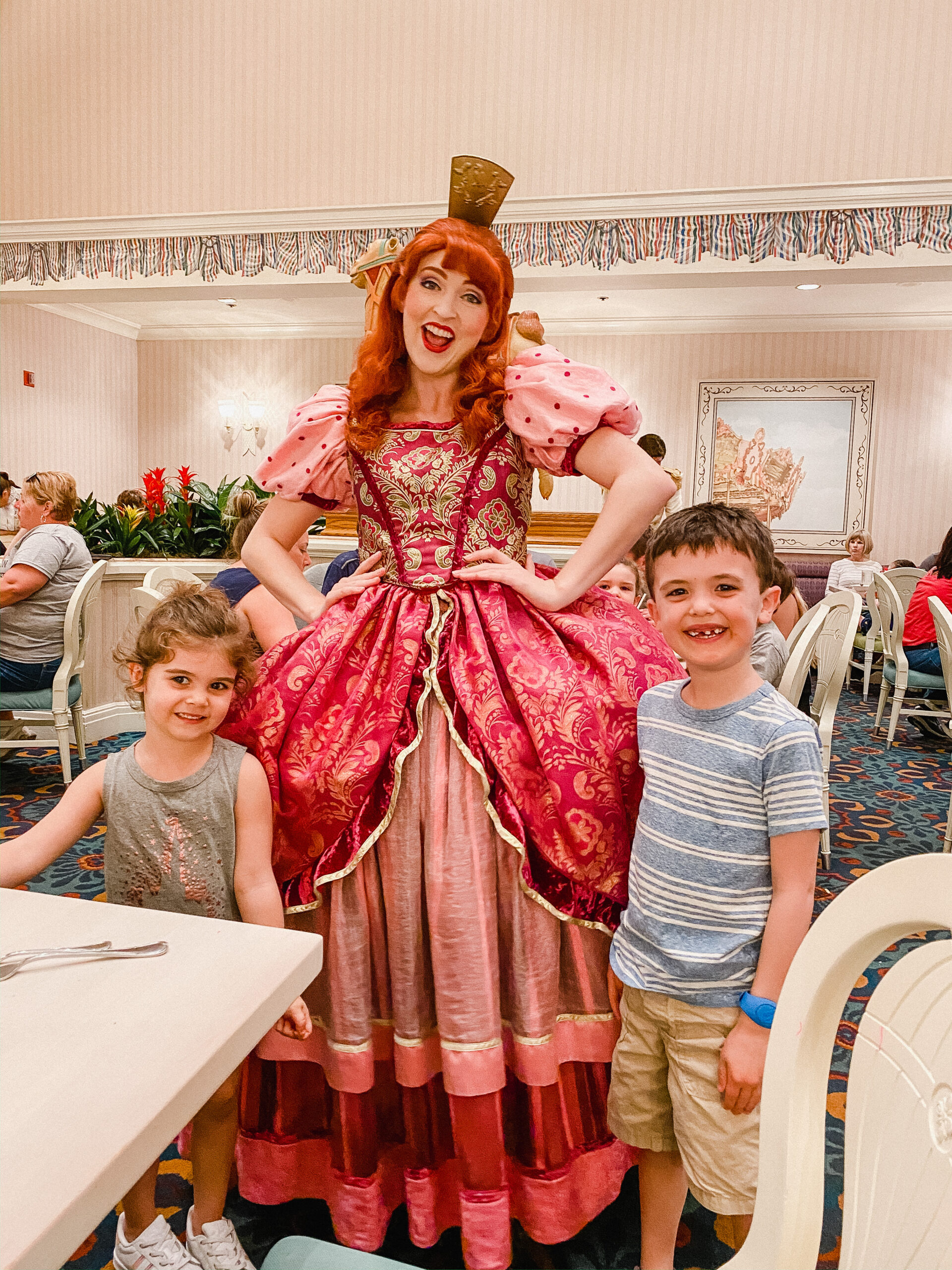 For what we did, I'm going to break it down by park! We were at all four parks this trip and got to experience some new rides we didn't before!
Magic Kingdom
We spent a couple of days in Magic Kingdom, which is our favorite park! I love that there are so many rides even my youngest can go on. I highly recommend rope dropping this park if you can!! Usually the park is quite that first hour, and you can get on several rides without a Fast Pass! It was President's Day weekend, so the parks were SLAMMED this day. Seven Dwarfs Mine Train had a THREE HOUR wait at one point! It was busier than when we visited around Christmas, so just an FYI if you're planning a trip!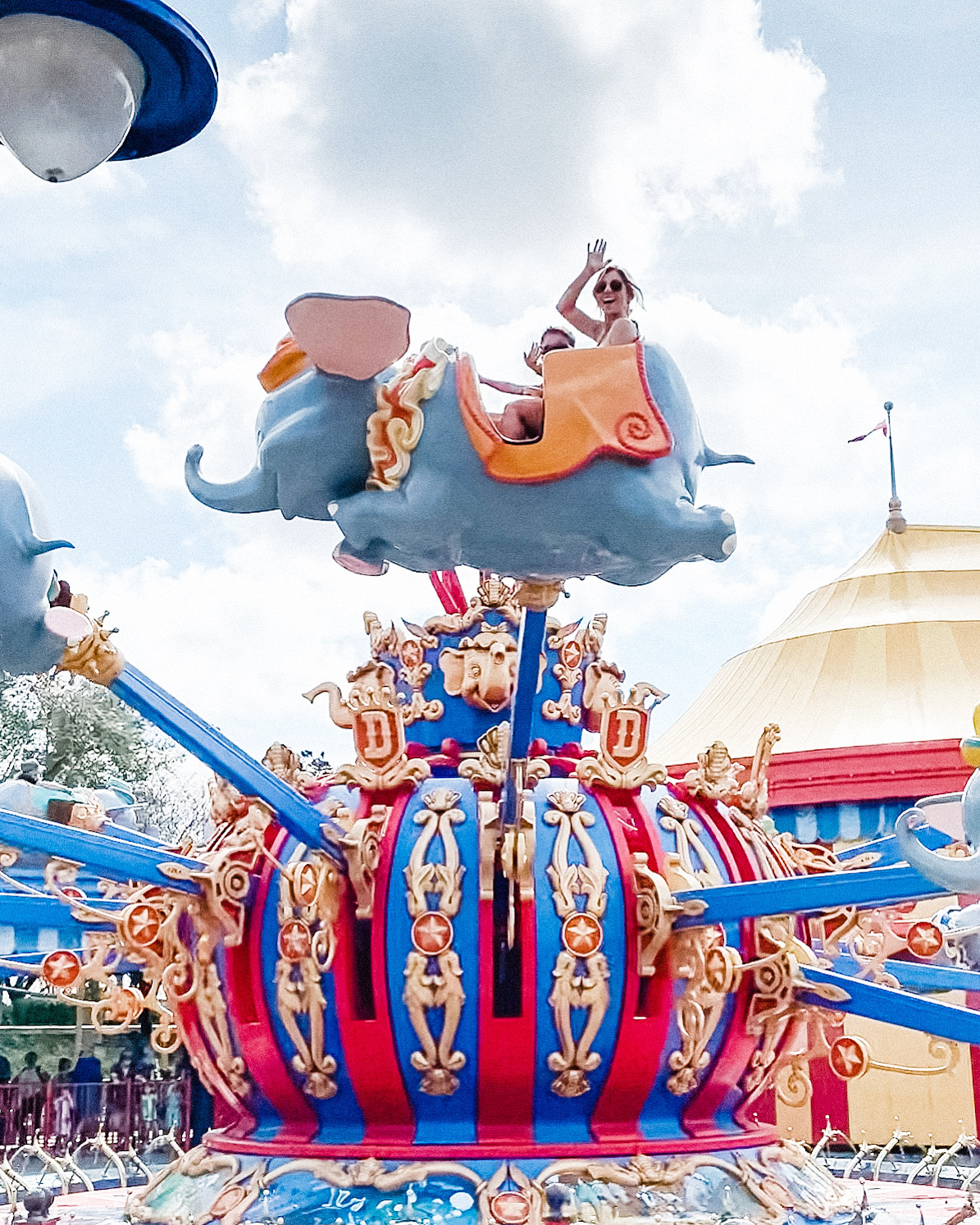 We always try to ride Seven Dwarfs Mine train, as it's our favorite coaster in the park. We have several other favorites as well, but overall we just LOVE the feeling of being in Magic Kingdom! I highly recommend seeing the parade and the Happily Ever After Fireworks if you can. If you stay at a monorail resort, the bonus is you can easily hop on the monorail to MK!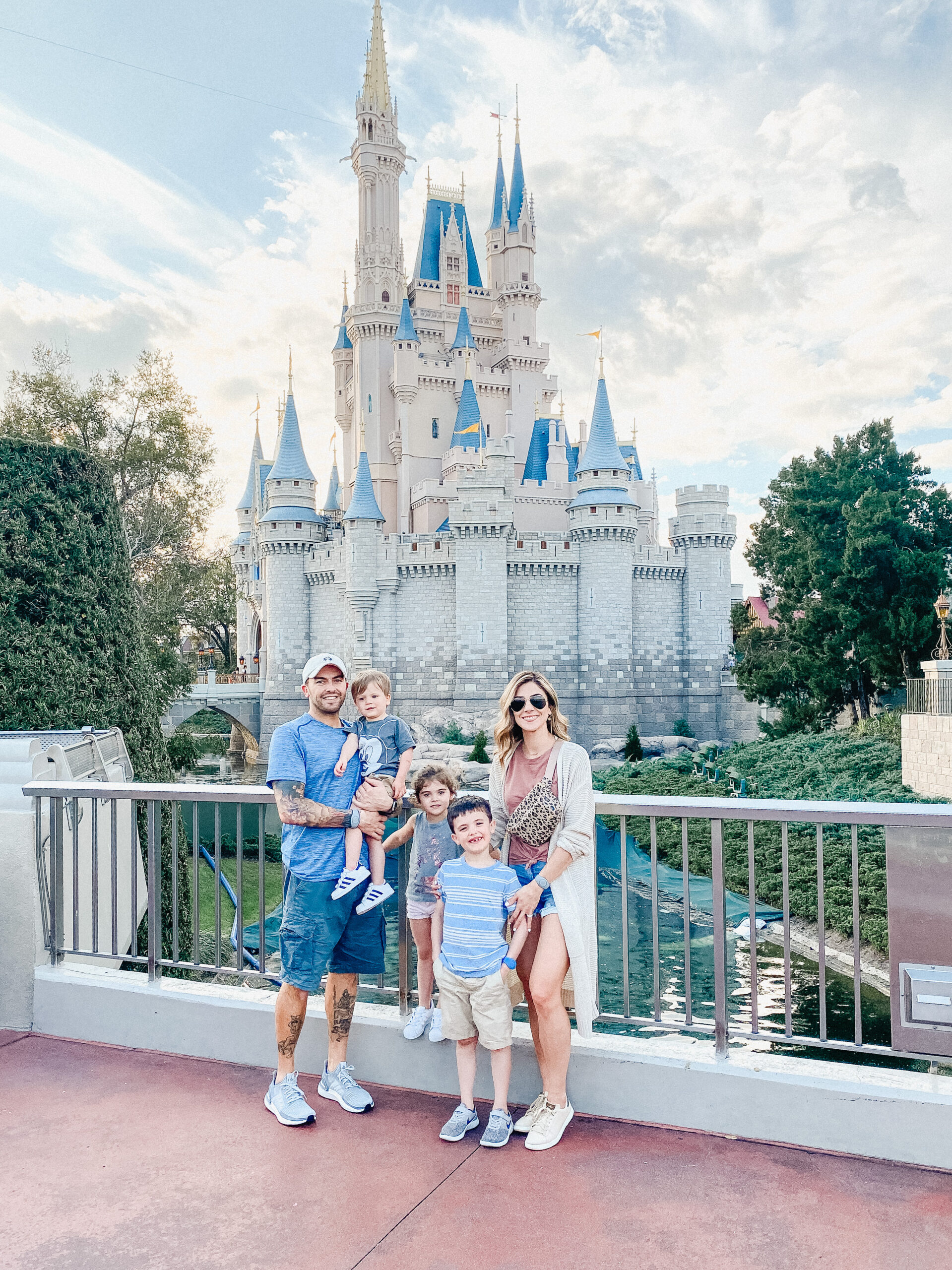 Epcot
The best part about staying at Beach Club and Riviera is the easy access to Epcot! We were able to walk here from Beach Club, and take a Skyliner from Riviera. This was our first time staying down this way, and I was surprised at how much I enjoyed it even though Magic Kingdom is our favorite park! We spent one whole day here, and then my oldest and I went back for the fireworks on a different day. We went on several rides we hadn't in the past, including Soarin' (SO cool), Journey to Imagination with Figment, and The Seas with Nemo & Friends. We also met Vanellope and Wreck it Ralph at the end of Journey to Imagination, which also had an awesome play area for kids (that's air conditioned!). We also went to the new Beauty and the Beast Sing-a-long in France, which was adorable! And of course, I always recommend Frozen Ever After if you can. Its our family's favorite ride!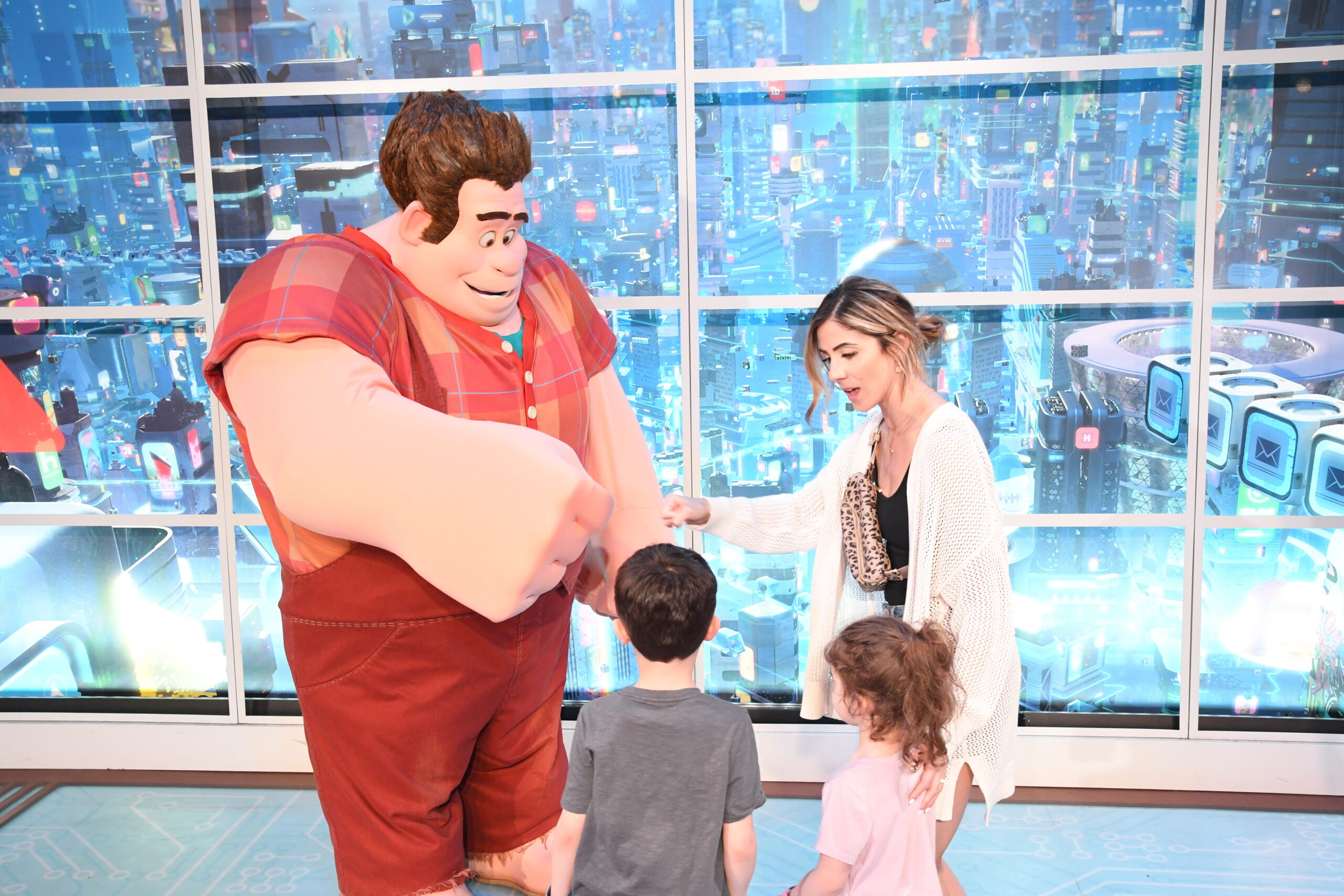 My oldest and I went back for the Epcot Forever fireworks (the others were tired!). These were incredible! I loved the light show and special effects that went along with the fireworks – it was truly a beautiful show to experience! We didn't spend much time in Epcot last trip, so I loved being able to enjoy it more.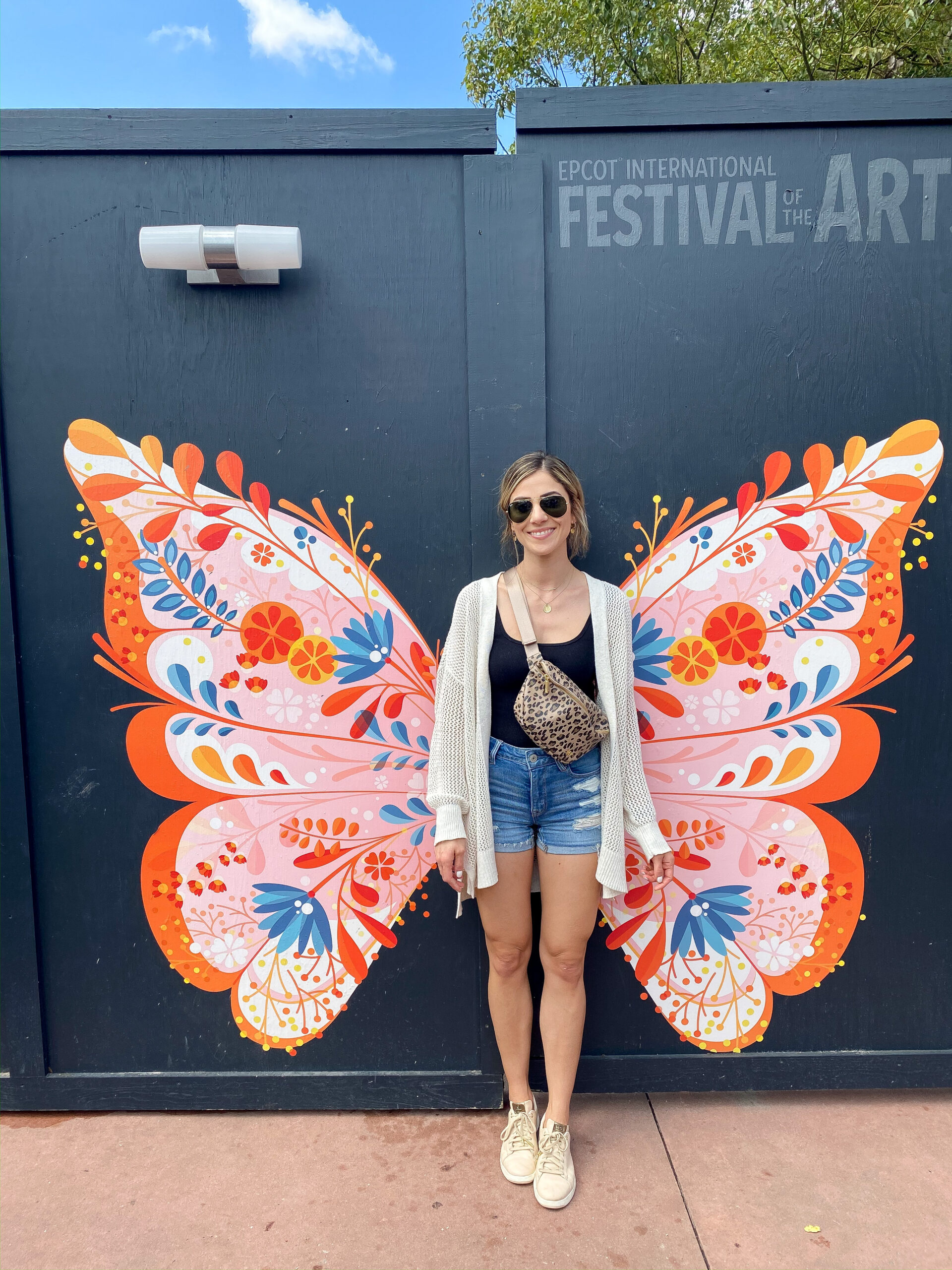 Animal Kingdom
Given that we were here for a conference, we had the privilege of attending a breakfast on Pandora at Animal Kingdom before the park opened one morning. We had not ventured into Pandora during our last trip, so it was quite a site to see and I would LOVE to go back in the evening some time! We were able to ride Flight of Passage (UNREAL) and the Nav'i River Journey which were really amazing! I kept an eye on my WDW app during this and noticed that 8 minutes after the park opened, Flight of Passage (FOP) had a 135 minute wait. SO, try to fast pass that one if you can get a time!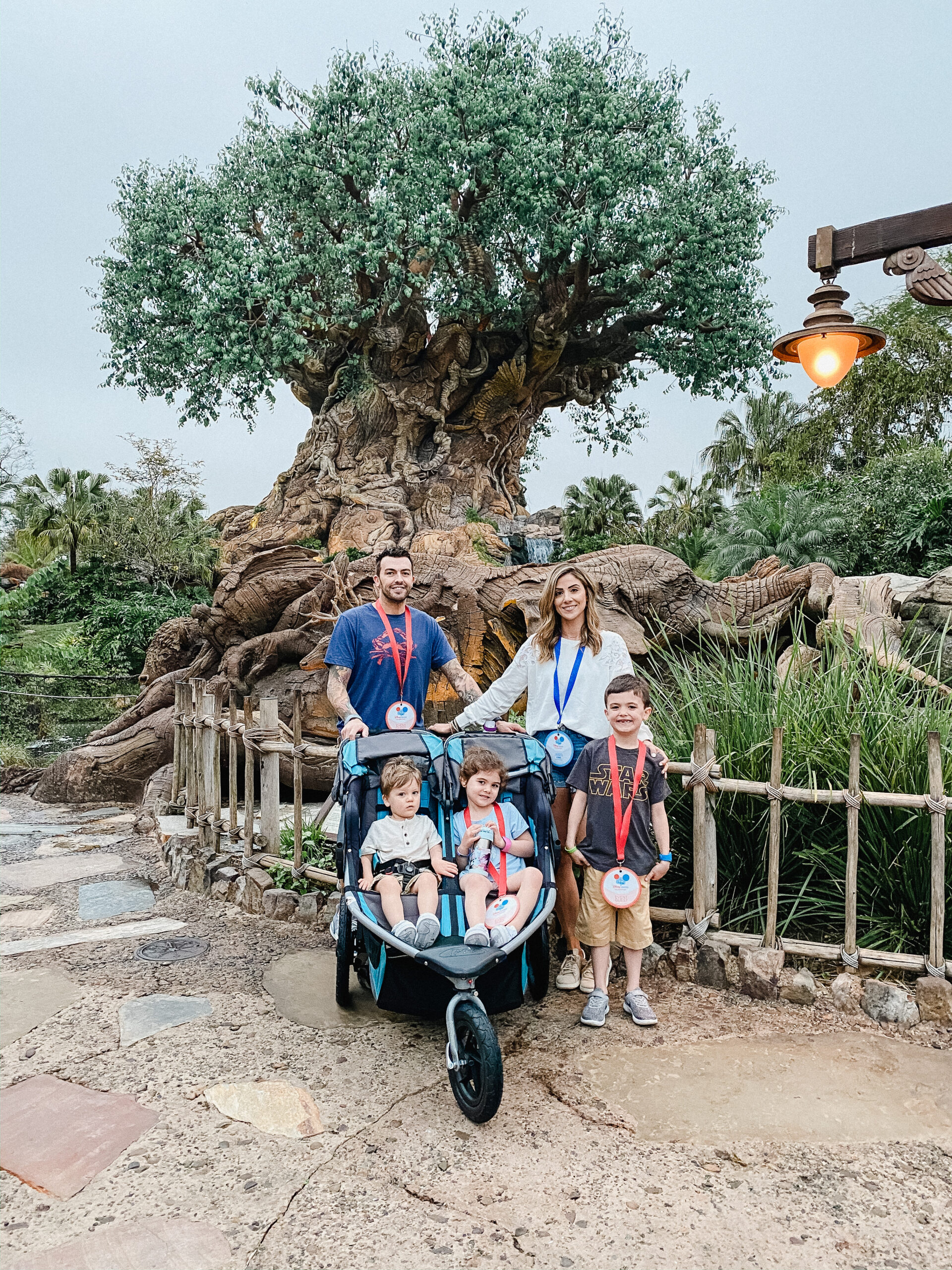 We also did the Safari this trip, and I highly recommend it! We went early in the morning (which is key, I've heard, because that's when all the animals are eating!). It lasted a good 20 minutes or so, and we saw so many different animals. All of the kids loved it, and it's a great family ride!
My oldest and I went on Expedition Everest again, which was so much fun! We also did Dinosaur, which was a little scary for my 4 year old (it was her first time). My youngest went on the adorable Tricerotops ride with my husband while they were waiting. We spent about a half day here because we wanted to rest before a late evening, but I appreciated this park even more after this trip! There really is so much to do and see.
Hollywood Studios
Toy Story Land is always a favorite in Hollywood Studios (we LOVE Slinky Dog), so it was fun to be back! We also went on Alien Swirling Saucers for the first time, which was really fun! I love how Toy Story Land feels like you're in the movie…the attention to detail is unreal.
We were invited to attend a special after hours party in Galaxy's Edge as apart of the conference, and let me tell you…that did not disappoint! We were able to ride Rise of the Resistance, and it was the coolest experience ever. Note: To ride this ride, you HAVE to get a boarding pass the second you scan into the park at the turnstile. Boarding passes fill up insanely fast, and they're not guaranteed at all. We were able to get one during our last trip, but it wasn't called until 6:30pm (and we scanned it at 6:45am!):. So, be QUICK and get to the park early!! Highly recommend it if you can get a spot. We also rode Smuggler's Run again, which is my son's favorite. Ask for the pilot seats, you can "drive" the Millennium Falcon!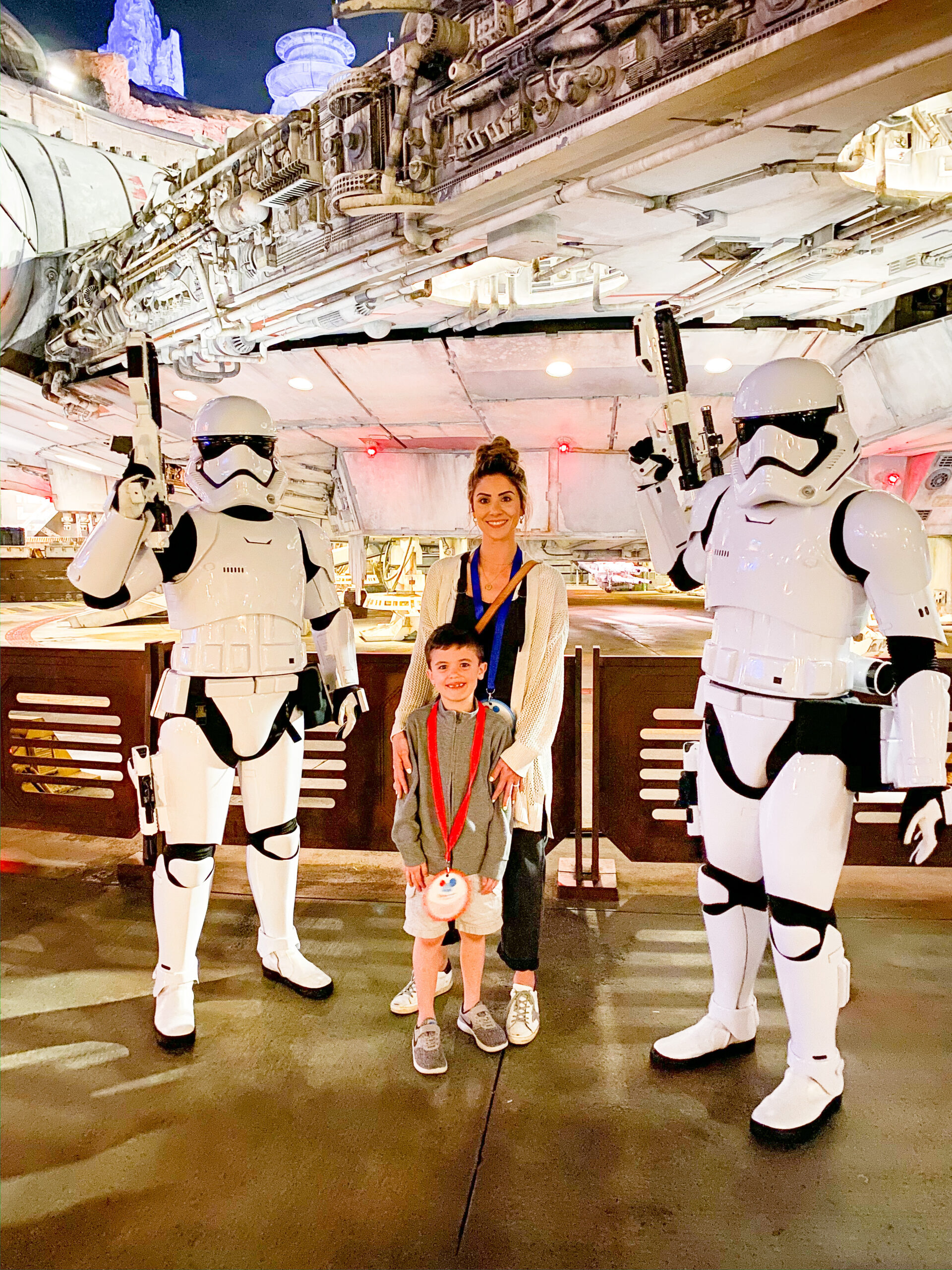 Some extra points I wanted to mention…
For transport to and from Magic Kingdom or places we couldn't take the Skyliner, we did utilize Disney's Minnie Van service. This can definitely become costly, just an FYI, but its a really nice option if you don't want to wait for a bus and have a family that requires car seats! They have carseats available, and they're great when you need to be somewhere at a certain time. You can schedule one in the Lyft app!
I highly recommend using Instacart for grocery delivery!!! We always stock our mini fridge with easy grab and go snacks for the kids, food to make lunches, and some breakfast options. It cuts down the cost of eating SIGNIFICANTLY. We really only ate at a restaurant one meal a day. Instacart will deliver right to your hotel's bell services!
If you have a Target Red Card, you get 5% off gift cards! We bought a few Disney gift cards prior to our trip to use towards food because we were able to save some money there!
I'll be sharing about our Disney Cruise Line experience, soon! In the meantime, you can see my other Disney posts below!
Our First Trip to Walt Disney World
Tips for Visiting Walt Disney World with Toddlers
Walt Disney World at Christmas: What to Do
Best Character Dining at Walt Disney World
READ NOW, SAVE FOR LATER: