I've got a round up of some Father's Day gift ideas for you! I curated this list based on several favorites of my husbands, as well as a few other items I thought were great gift ideas!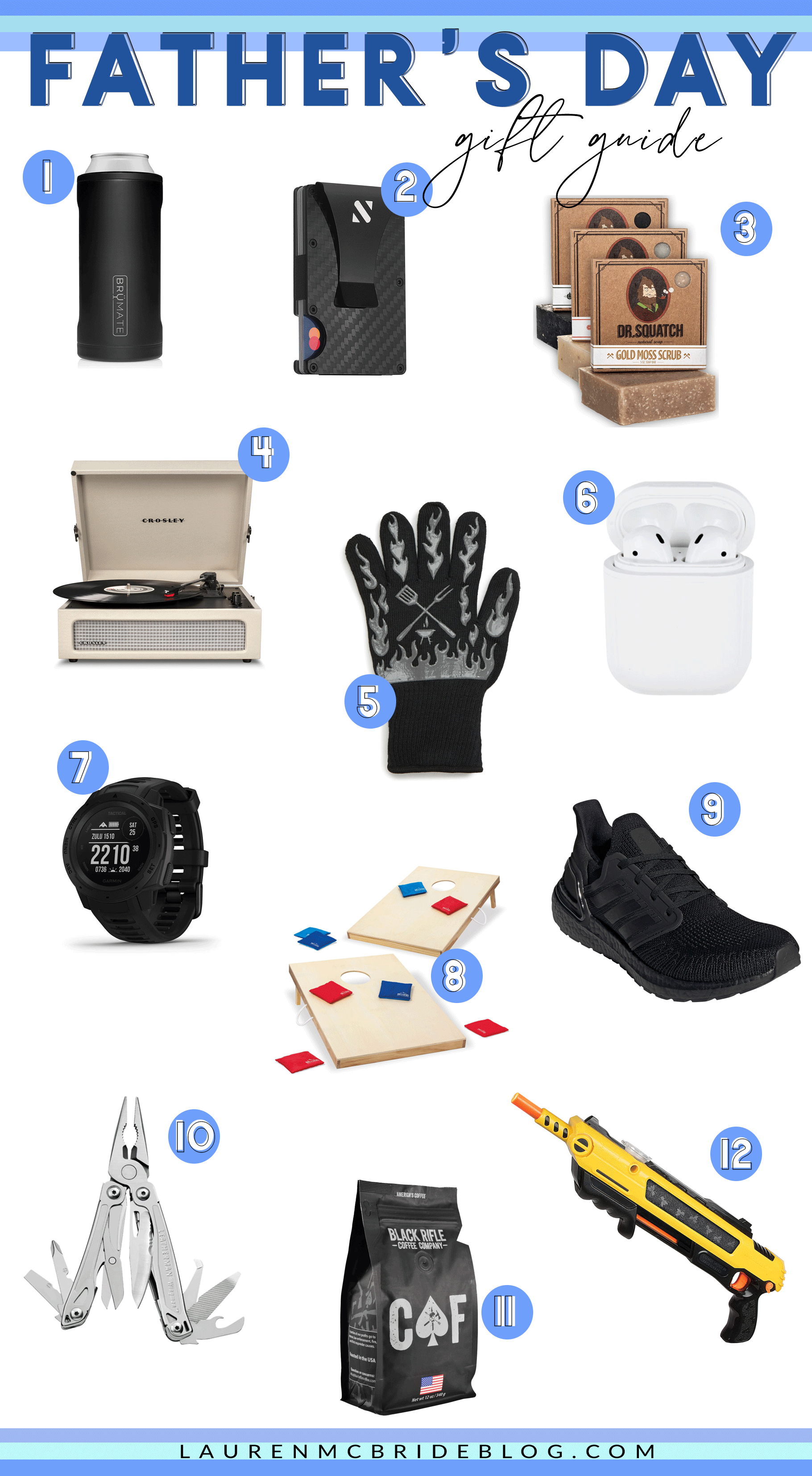 Father's Day Gift Guide Ideas
1 // BruMate Stainless Steel Insulated Can Cooler: These are so awesome for keeping your beverages cold! I've shared these for years now, and they're always a well received gift!
2 // Carbon Fiber Wallet/Card Holder: My husband has one of these and loves it. It expands to hold quite a few cards, and also acts as a money clip! It's slim and fits in his pocket, too.
3 // Dr. Squatch Men's Soap 3-Pack: This is my husband's current favorite soap! The Pine Tar scent is my personal fave, and it's all natural as well.
4 // Crosley Voyager Turntable: Not only is this grate for the dad who loves vinyl, but I think it looks great as decor too!
5 // Tame The Flame Grill Glove: Perfect for the dad who loves to grill!
6 // Apple AirPods with Charging Case: My husband and I love our AirPods, but I will warn you…his hearing becomes even more selective when they're in 😉
7 // Garmin Instinct Tactical Watch: My husband just got this watch and actually prefers it over his Apple Watch! He loves the tactical style and all of the tracking features it offers.
8 // Beyond Outdoors Wooden Bean Bag Toss: Always a classic lawn game!
9 // Adidas Ultraboost Running Shoe: Our personal favorite running shoes, these are great for the dad who enjoys running!
10 // Leatherman Stainless Steel Multi-tool: My husband says this is a tool everyone needs. I use it frequently, as well!
11 // Black Rifle Medium Roast Extra Caffeine Ground Coffee: Our favorite coffee! Perfect for the coffee-loving dad – we've gotten so many people hooked on this!
12 // BUG-A-SALT: The dad in our house is the designated bug killer, and this is his favorite bug-killing tool! It's a salt gun that stuns the bugs, and is used quite often in our house!