Summer is here! I rounded up a few great summer activities that are available on Amazon – many we already own and a few that are on our wish list!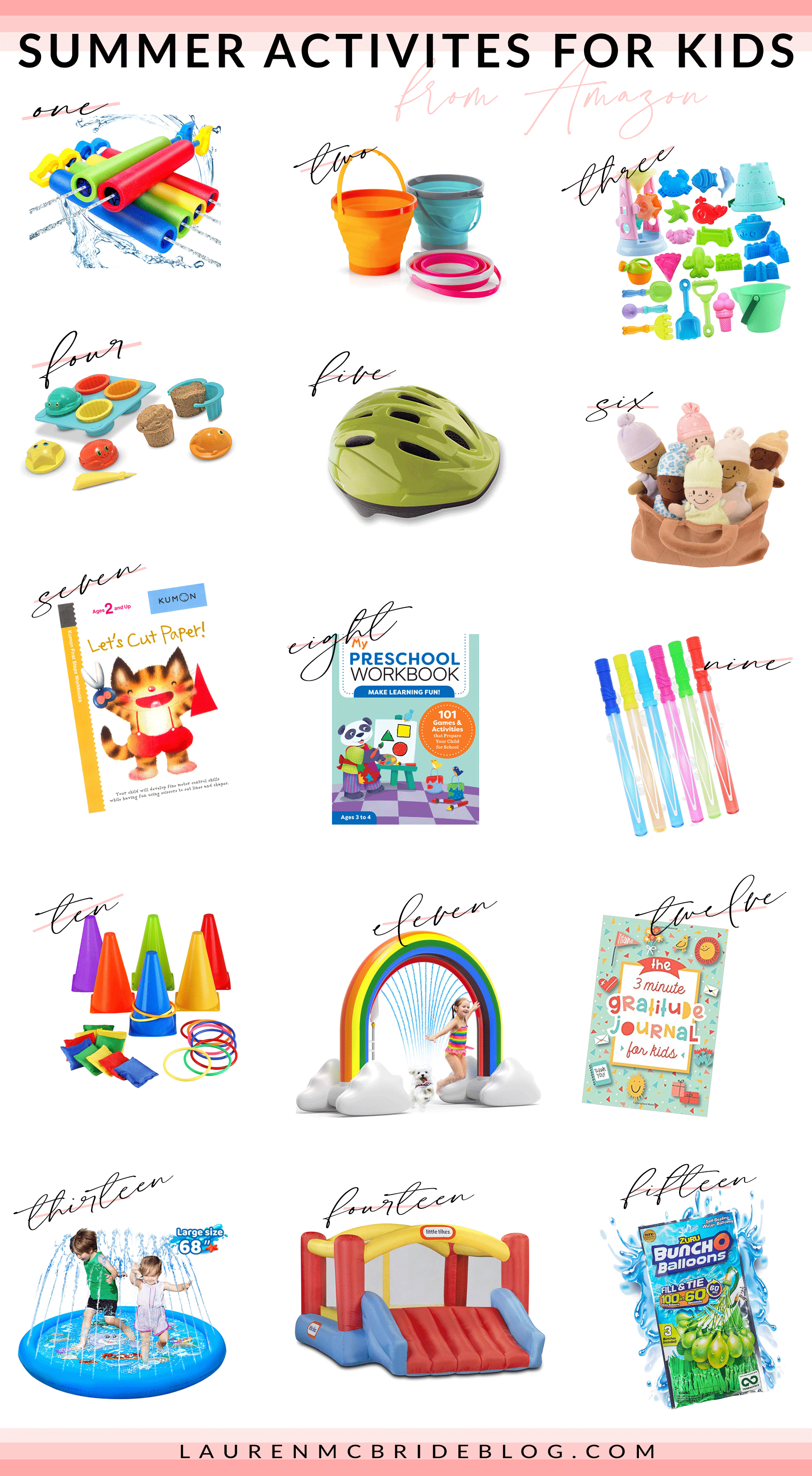 The Best Summer Activities for Kids Found on Amazon
1 // Water Shooter: These are SO fun for the summer! Whether it's having water fights, or having the kids water the plants (little mom hack, ha!), these are sure to provide hours of fun.
2 // Collapsible Buckets: I just bought these for the kids beach bags! I like the they collapse and make carrying easy.
3 // Beach Toys: I like the variety in this set of beach toys! Ours were years old and we had lost several items, so I just restocked their bags with these!
4 // Sand Cupcake Play Set: I thought this cupcake set was adorable for making sand cupcakes!
5 // Helmet: This is a great toddler helmet! It perfectly fits Austin, and it's adjustable!
6 // Basket of Babies: My daughter is loving this basket of babies! This is a great diverse toy, and provides imaginative play.
7 // Let's Cut Paper!: This is great for practicing scissor skills on a rainy day!
8 // Preschool Workbook: Workbooks like these are great for practicing over the summer! Great for a rainy day or quiet time.
9 // Big Bubble Wand Assortment; We love bubble wands! Someone gave me the tip of attaching them to a deck rail to avoid the spillage that always happens. I thought it was a great tip!
10 // Outdoor Games Supplies Set: This outdoor games set is great for obstacle courses, games, and more.
11 // Rainbow Sprinkler: This rainbow sprinkler is so fun!
12 // The 3 Minute Gratitude Journal for Kids: I have this gratitude journal for my son! I love the simplicity of it, and I think it's great mindfulness for the kids at the end of the day!
13 // Splash Pad: I thought this splash pad was so fun, especially with how this summer is looking!
14 // Little Tikes Inflatable Jump 'n Slide Bounce House: We have a similar version of this bounce house and it's the BEST. Our kids use it every day! Highly recommend for the summer!
15 // Bunch O Balloons: Instant Water Balloon–