I've got a hot topic to share with you – hair removing products! As a 100% Italian girl, hair removal is a part of my daily routine, haha (fellow Italian ladies, I know you hear me!). I do a combination of waxing and shaving, so below are my favorite hair removal products!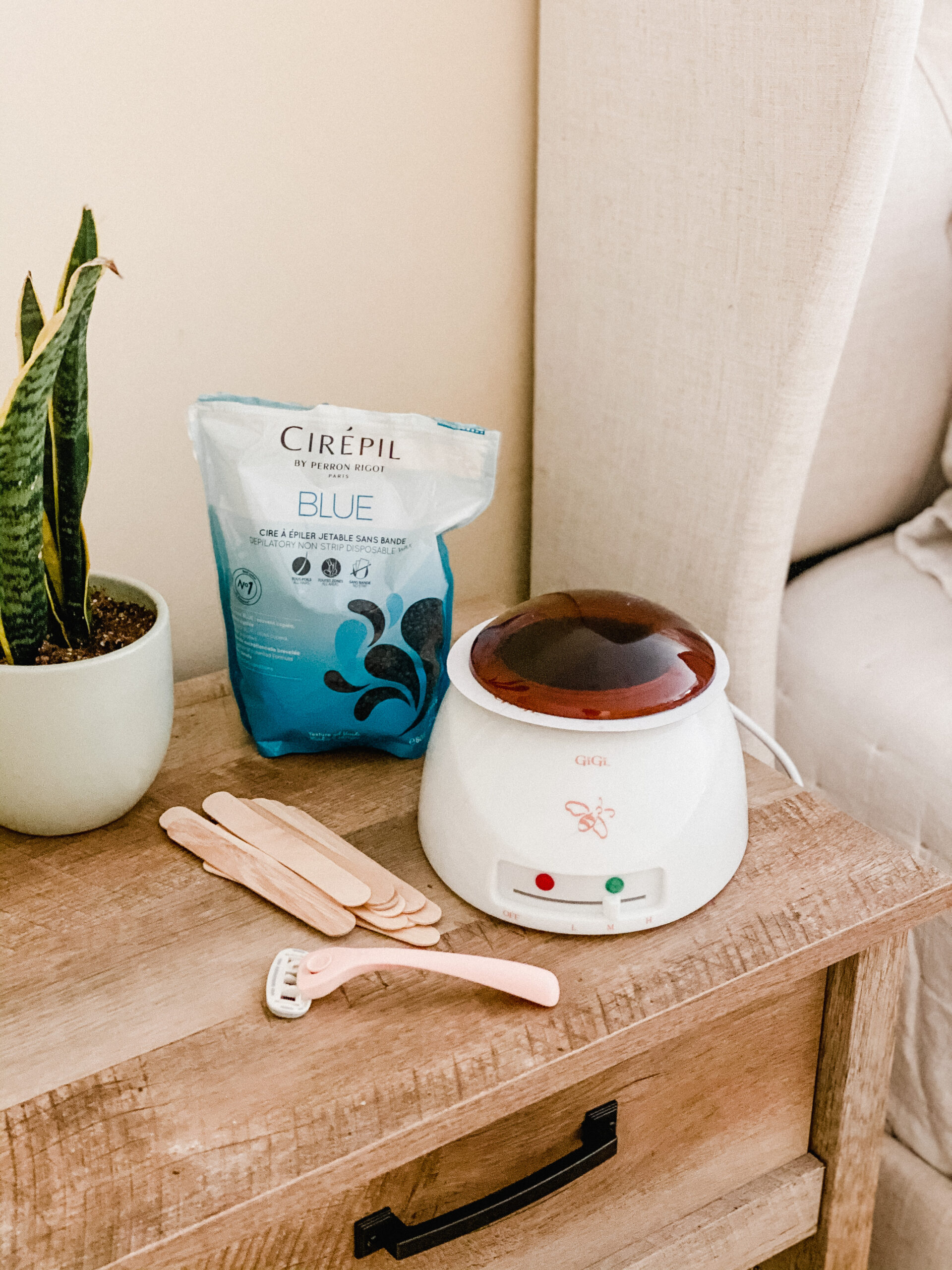 The past several months in quarantine has made me explore at-home waxing since I wasn't able to get my monthly Brazilian. After some research, I was able to create a little home wax station to get the job done. I've been getting Brazilians done for years, so even thought I'm not a licensed esthetician, I am familiar with the method. I don't recommend trying this at home if you haven't had it done before – you can harm yourself! I also use this wax set up for my upper lip. It's amazing how much better this wax performs compared to the Sally Hansen I used for my upper lip for years. Here are my at-home wax supplies.
Waxing
GiGi Wax Warmer: This wax warmer came highly recommend and I'm so glad I went with it. It heats perfectly, and I like that the temperature can be adjusted as well. I set it to Medium heat and it's perfect every time.

Empty Wax Can: This is what I place the wax in inside of my wax warmer. I don't think it's necessary, but I like that the wax is in the can instead of the warmer itself.

Cirepil Non-strip Wax: This wax has over 5K 4.5 star reviews for a reason! I was a little nervous when attempting this myself for the first time, but I cannot believe how well this wax works. It melts down and applies so easily, and there's minimal pain when I remove the hair. I wish I knew about this years ago for my upper lip, too! No strips are required for this wax, either. Highly, highly recommend!

Wooden Craft Sticks: I use these for applying wax! They also double for kids crafts 😉 One box comes with 500, so these will last me a long time.

Shaving
I've yet to attempt to wax elsewhere, so for the rest of my body I use my favorite shaving products.
Billie Razor: I'll talk about this razor until I'm blue in the face because it's truly the best one I've used! Not only does it perform well, but it's only $9 a month for FOUR cartridges. I feel like that's a deal that can't be beat! It also comes with a little magnet holder than sticks to the wall of your shower so the blade can dry out. I've been using Billie for over a year now and don't see myself switching razors any time in the near future.

Billie Shave Cream: This is my favorite shaving cream! I love that it's a cream instead of a can, and a little goes a very long way. It lasts me longer than any other shaving cream I've used, and leaves my skin feeling silky smooth. Highly, highly recommend adding it to your Billie order if you try the razor!

At some point, I plan on getting laser hair removal. But these methods are working for me in the meantime! I hope this was helpful for you!