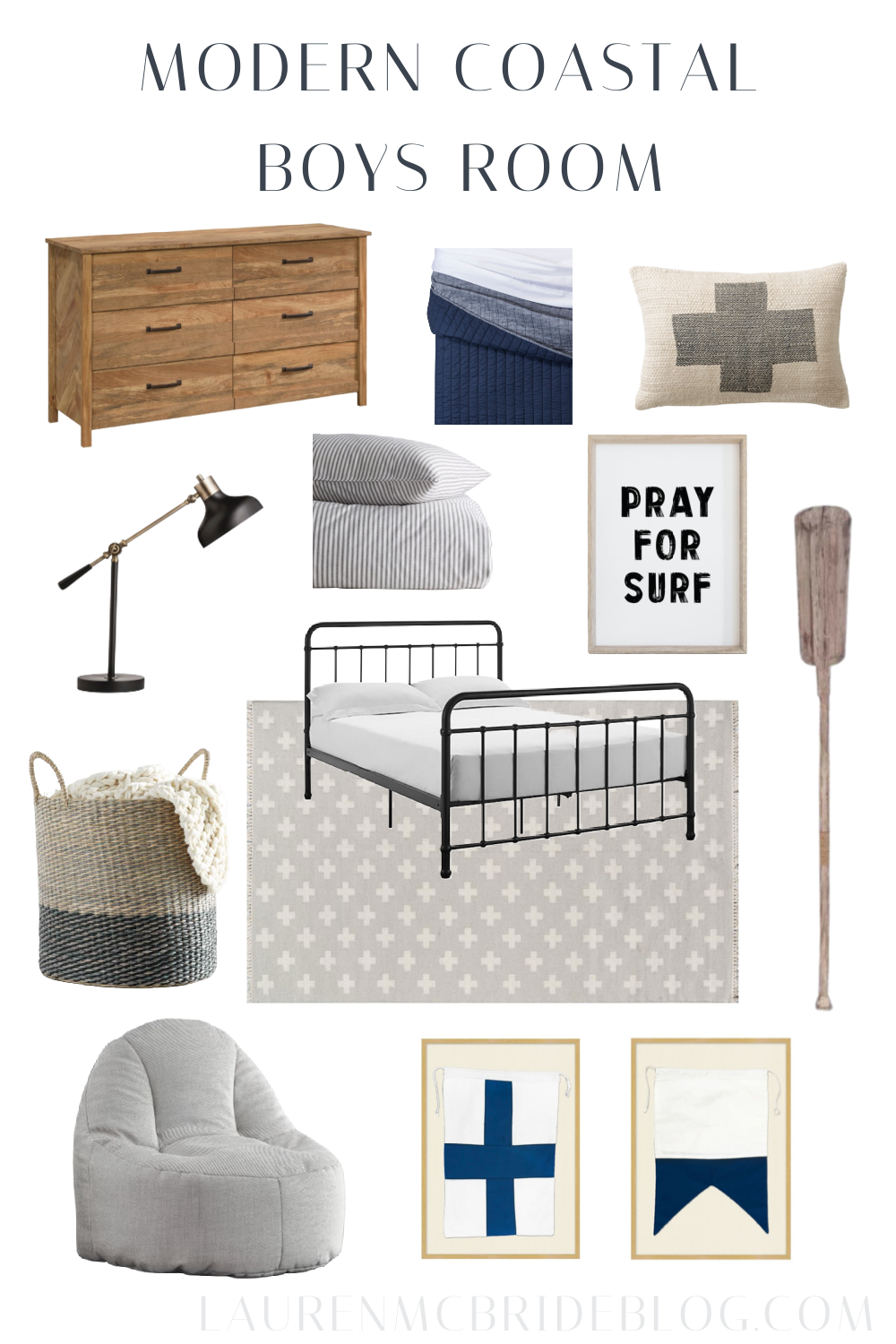 I've been in the process of planning out my oldest's room to create a calming space for him to read, have quiet time away from his younger sister and brother, and possibly complete his distance learning as well! I put together this little mood board as a guide to follow as I complete the process. I thought I'd share the sources in case it inspired you as well!
DRESSER: My son's dresser is fairly new but I can't find it in stock. This one is very similar if you're looking for one, and goes with the overall vibe of the room that I'm going for.
QUILT: I found this beautiful quilt for warmer nights that I'll style on his bed. It looks very similar to my Serena and Lily one!
CROSS PILLOW: My son has a similar pillow on his bed that I found at an antique show! Using this for reference, and will link here if you're looking for something similar!
DESK LAMP: I bought this industrial desk lamp for his night stand in the old house, and plan on re-using it in this house too. It looks great with the metal bed frame!
TICKING STRIPE DUVET: I bought this duvet YEARS ago because I loved it so much and found it on sale! I'm still planning on using it in this room.
PRAY FOR SURF SIGN: I found a variety of options of this sign that I really love! I even found a tapestry version that I think I like the most!
VINTAGE OAR: I have several vintage oars from estate sales over the years, and I plan on putting one above his bed. I found this similar one in case you're looking!
METAL BED FRAME: We are using the same metal bed frame we had in our old house. I love the look of these frames, and feel they go with just about everything.
PLUS SIGN RUG: I loved the look of this rug! It's a flatweave and a little thin, so I'm adding this rug pad underneath to soften it up a bit.
WOVEN BASKET: Baskets are always necessary for toys! I love the look of these, and I'm hoping to find similar ones at a better price.
BEAN BAG CHAIR: I want to create a little reading nook in his space, and I love the idea of a bean bag chair! I love the shape of this one, but I'm on the hunt for something a little cheaper (and maybe washable!)
NAUTICAL ALPHABET FLAGS: I love these flags for above the bed! However, I found cheaper flags on a different website that I plan on putting in a frame to create a similar look for a fraction of the price.
We'll see how much of this I stick to and what the end result will be! 🙂