Here it is! My current makeup routine, featuring all of the products I use on the daily! I'm sharing how I do it over on my Instagram stories, so head there to see it in action. 🙂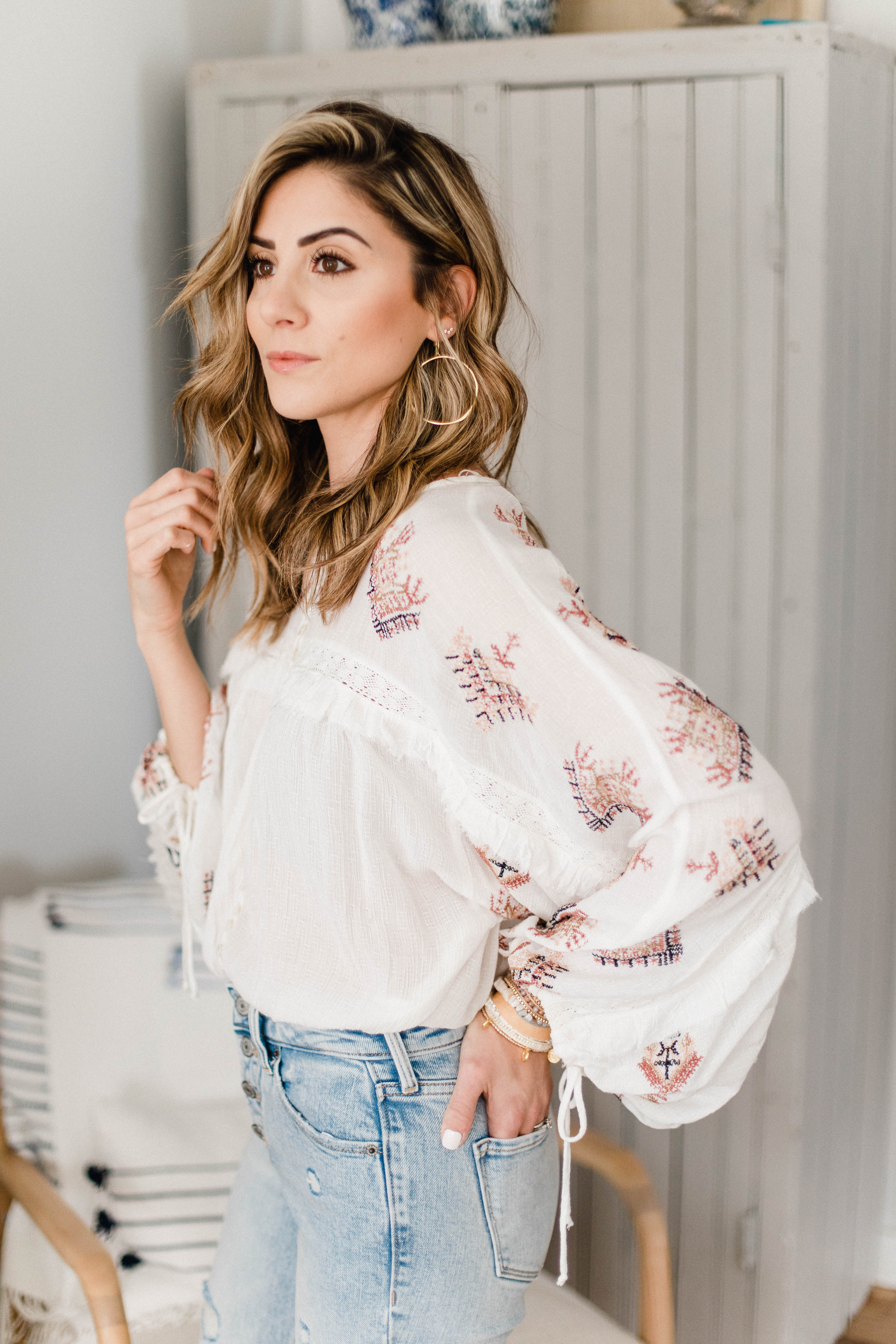 I recently purchased this primer after seeing it's nearly 5 star reviews, and I was pleasantly surprised with the outcome! I had purchased the solid formula in the past, which I did NOT like at all. This primer smooths my pores and creates such an awesome base for my foundation. It's pricey, but highly recommend trying it while it's on sale!

This is the best foundation I've ever put on my face, I swear. It lasts ALL DAY and looks like my skin instead of caked on foundation. I love how light it feels – truly weightless. Can't recommend this enough, and the shade range is awesome! I use 30CG and apply with a beauyblender.

I love how this corrector neutralizes the purple under my eyes. It's been the best one I've tried and lasts a long time! I get the Light to Medium shade.

As an Italian with hereditary dark circles, this concealer is king. I use the shade Light Medium. The only concealer that has come close to the way this performs is the Urban Decay Stay Naked Concealer!

My favorite setting powder of all time. I love how finely milled it is, and it sets my foundation in place beautifully. I also precisely apply it on top of my concealer using this brush to set it into place. Helps it to not crease! SOMETIMES, I'll set under my eyes with Charlotte Tillbury Airbrush Flawless Finish Powder in Medium. It gives a nice pop of brightness under the eyes.

I've been loving this set in the Fair/Medium shade for a light contour and highlight. I don't get crazy with it, but I love how natural it looks.

This is the best budget friendly bronzer, ever! I use the shade Bronzer when I want to add a more sun kissed glow.

I absolutely love this blush in the color First Love. It lasts quite some time too! I'm only just replacing it after using it for over 6 months! A little goes a long way.

This is the only actual eyeshadow I wear every day. I use it to even out the skin tone on my eyelids, and this Foxy color is great for that.

I love the colors of this palette for everyday. While I don't wear a full eyeshadow look daily, I do use two of the colors in here specifically to line my upper and lower lash line. I mix Firecracker and Rebel and lightly line my eyes. I like this softer look instead of a harsh liner. If I am doing a full eye look (nights out!), I always grab this palette. It's a beautiful blend of colors.

While my Anastasia Beverly Hills Brow Wiz, I feel like this It Cosmetics brow pencil matches my brow color better. I love the micro pencil tip for making little hair strokes. However, I blow through this pencil SO fast. I wish there was more in it!

I love how this brow gel sets. It doesn't leave your brows crunchy like some other brands! I apply a little of this and brush my brow hairs in an upward motion.

I love this setting spray – nothing compares for me! I have combination skin, and it gives me the PERFECT dewy glow without being greasy. AND it keeps things put all day. Highly, highly recommend!

I've been loving this lash curler (recently switched to this from Revlon which broke!). Gives the perfect curl! Highly recommend heating it up before using it – makes the curl better and last longer!

This eyeliner is fantastic! It's waterproof and stays in place all day. I actually prefer dark brown over black. UPDATED: This seems to be no longer available! This would be my next recommendation.

I've shared this so many time, but I LOVE this stuff so much. It's the perfect gloss/balm hybrid and leaves my lips hydrated with a slight tint of color. I love Nude and Rose the most, but the other colors are beautiful, too! Looks great topped on lipstick, as well.

MY MASCARA COCKTAIL
Do you need to do this? No. But I like how it works for me! If you want to try it, get a sample size before committing!
This lash primer has been a game changer in my mascara routine. I absolutely love how it lengthens and boosts my lashes. Better than others I've tried!
After the primer, I then apply ONE coat of this mascara. I feel it lengths my lashes even more!
I've been using this mascara for years and have yet to find anything that compares! It lengthens and adds volume, and I love how it looks. The waterproof formula is also identical to the regular formula, which I feel rarely happens! I use that when my eyes water from allergies during allergy season.

That's it! I'd love to know how these products work for you if you try any of them! 🙂