I typically change up my skincare routine every season, with the exception of a few items. I do this for a few reasons: 1. Living in New England means the weather is always changing, and therefore my skin needs are changing as well. and 2. I enjoy trying new products! I don't feel your skincare routine needs to stay the same for years and years. I have a few products I can't imagine ever leaving my routine, and others I rotate in and out depending on the season. Skincare is one of those things where it's not a one size fits all, but I like to share the products I enjoy in case you're looking for something new!
My current summer skincare routine looks a little different than it has in the past, but that doesn't mean I dislike products I was previously using. This is just what I'm using right now, in this moment! A few of my favorite brands include Drunk Elephant, Biossance, Farmacy Beauty, Sunday Riley, Elemis, and PCA Skin. Note: these are just a few! I have several other brands I love!

Morning Routine
I apply the following products in this order!
Sunday Riley Ceramic Slip Cleanser: This cleanser is super gentle and doesn't dry out my skin. I really feel it's helped balance it out a bit, too. I use this in the morning!

Origins Dr. Andrew Weil Mega-Mushroom Relief and Resilience Soothing Treatment Lotion: I use this as my toner, and swear by it. I've used it religiously for over 2 years now and can't seem to find anything that compares! It really soothes my skin.

Biossance Squalane + Peptide Eye Gel: This eye gel is great! I feel it really hydrates my under eye area, which is really important prior to applying concealer!

PCA Skin Hyaluronic Acid Boosting Serum: This has made all the difference in my skin this past season. Between the water at our old house and the weird weather we had in the transition from spring to summer, my skin was hating me. My friend suggested using this regularly and it really helped my skin retain moisture and hydration.

PCA Skin C&E Advanced: This vitamin C serum intrigued me, so I figured I would give it a try. My skin was reacting to Skinceuticals, but I wanted something that worked a little stronger on my dark spots than Biossance. I've only been using it for a few weeks, so I'll report back when I finish it.

Drunk Elephant B-Hydra Intensive Hydration Serum: I've used this serum for quite some time now and noticed a HUGE difference in my skin when I stopped for a few months. I really do feel it makes my skin look plumper and more hydrated.

ELEMIS Pro-Collagen Marine Cream: I switched back to this for my moisturizer about 2 months or so ago (although time is blending together, so I could be wrong with the exact amount of time!). I swear it makes my skin softer than any other moisturizer, and helps smooth fine lines too. It's a clinically proven anti-aging cream that reduces the appearance of fine lines and wrinkles within 14 days. My mom swears by it too! I also have the SPF version and notice no difference in texture or how it applies. Use the code LAUREN20 for 20% off!

Drunk Elephant Marula Oil: My holy grail face oil, I've used this product for YEARS. I absolutely love how it's not greasy and absorbs quickly into my skin. It's filled with antioxidants and omegas to help moisturize and balance the skin.

Drunk Elephant D-Bronzi Anti-Pollution Drops: I don't use these drops all the time – only when I want a little color to my face! They're great because they protect against environmental stressors while adding a glow (without being a sunless tanner!) I'll mix them with the Marula Oil on the days I use them.

Drunk Elephant Umbra Tinte: This is the daily SPF I use in the summer! It's tinted, so it adds a little color!

Colorscience Total Eye 3-in-1 Renewal Therapy: My esthetician recommended this product for my dark circles! It's tinted, so it provides some additional coverage while treating the eye area and also providing sun protection. It's made a significant difference in how my under eyes look! Highly recommend for those of you with dark circles like me!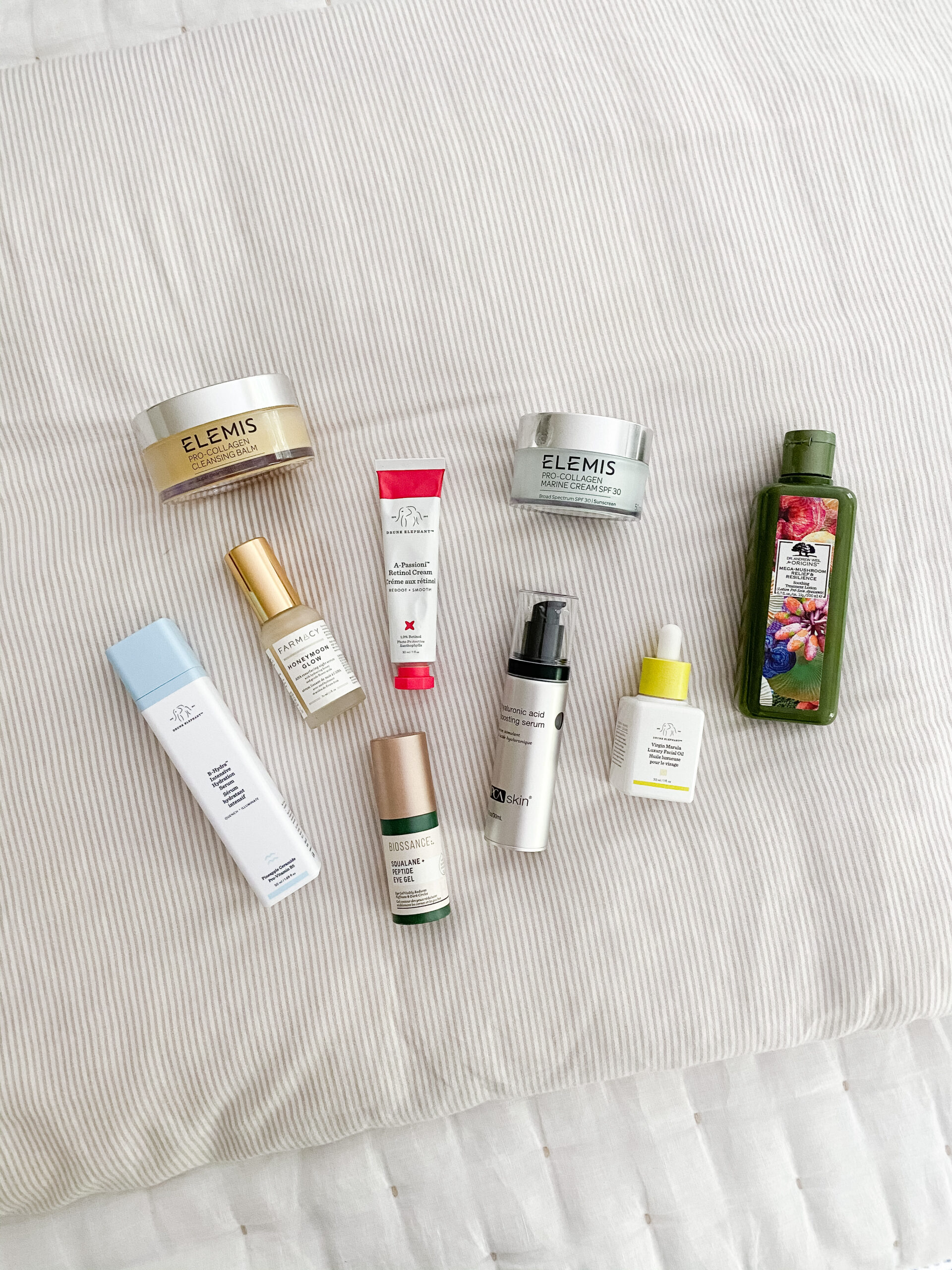 Evening Routine
I use many of the same items in the evening, so i'll just simply list them here!
Elemis Pro-Collagen Cleansing Balm: This is the holy grail of all cleansing balms. I've tried several and none perform as well as this one! I use a makeup eraser as well, but it's great even with a regular face cloth (I just like how soft they are!). This is what I use to take my makeup off and wash my face every night! You can even put it on as a hydrating mask. Use the code LAUREN20 for 20% off!

Origins Dr. Andrew Weil Mega-Mushroom Relief and Resilience Soothing Treatment Lotion

Farmacy Beauty Honeymoon Glow: This is my favorite resurfacing serum! It TRULY makes your skin GLOW in the morning, it's crazy! It helps refine pores, resurfaces dull skin, and gentle exfoliates as well. I use it 2-3 times a week currently. I use this on the nights I do not use the retinol. And Pharmacy gave me a code for you, too! Use LAURENMCBRIDE for 20% off!

Drunk Elephant A-Passioni Retinol Cream: I've been wanting to try this retinol for awhile, but held off until I was done nursing. I recently started introducing it into my routine, so I can't fully report back on results just yet. I've been using it once a week while my skin adjusts to it. So far I have no complaints!

Biossance Squalane + Peptide Eye Gel

PCA Skin Hyaluronic Acid Boosting Serum

Drunk Elephant B-Hydra Intensive Hydration Serum

ELEMIS Pro-Collagen Marine Cream: I would not use the SPF one at night! I would stick to regular. Also, Elemis does have an Overnight Matrix that is specifically meant for nighttime, but I just use the Marine Cream! Again, my code is LAUREN20.


Again, this is just my current routine for the summer! I truly enjoy trying out new skincare products and switching things up a bit.