Over the past several years we've been slowly adding to our home gym. This started back when my husband was working crazy hours and couldn't make it to a CrossFit class, so we essentially starting building a CrossFit gym in our garage. Years later it's become quite the workout space, and if the pandemic has taught us anything it's how to make things work from home! Both of us are no longer attending Orangetheory and are more than comfortable working out in our basement. Below is all of the equipment we have, but please know all you really need is a mat and dumbbells! This is just what we've acquired over time. Also please note these are not pretty photos, but they're a real life basement home gym haha. We make it work!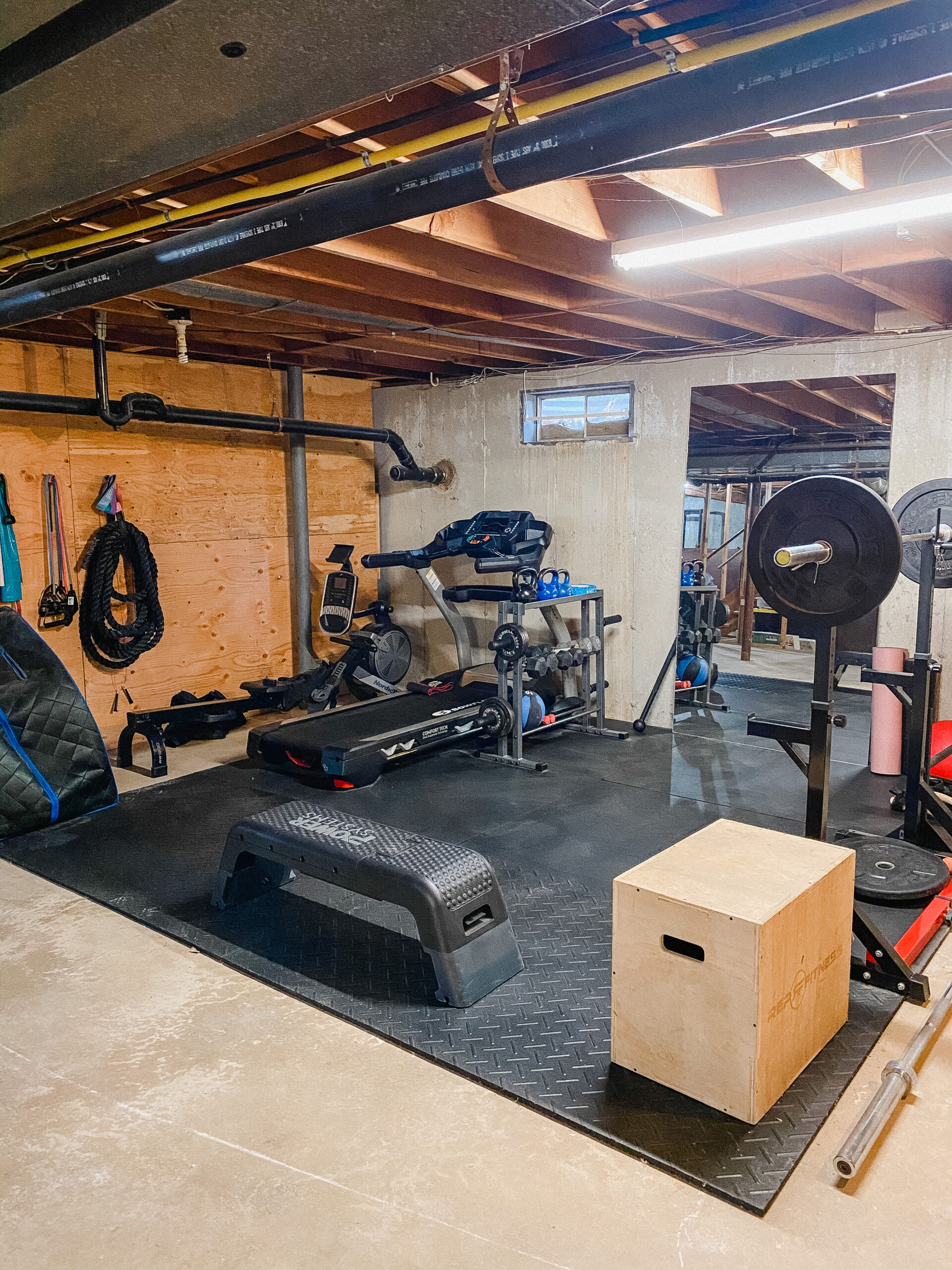 RUBBER MATS: We use these stall mats from Tractor Supply Co for our flooring because they are SUPER heavy and don't budge with movement. We also like their thickness. We have several of these pushed together to create our workout space.
DUMBBELLS: We have a variety of dumbbells sizes, but I mainly use the 10, 15, and 20lb weights. I personally like these rubber hex hand weights.
KETTLEBELLS: We also have a variety of kettlebells in different weights. These aren't completely necessary, but we like having them.
WEIGHT RACK: We recently purchased this weight rack to clean up the space a bit and contain our dumbbells and kettlebells.
MEDICINE BALL: Again, not completely necessary but we invested in a 10lb med ball to have for some workouts.
WALL BALL: My husband had purchased one of these weighted wall balls back when he was doing Crossfit. Again, not necessary but nice to have occasionally.
WORKOUT BENCH: This was an investment I made this year because I really missed the benches at OTF. This bench has been worth every penny – I use nearly every workout! I like that I feel safe on it as well. It also lowers as a step, as well as inclines.
PLYO BOX: My husband had bought this when we were more into CrossFit. Honestly, not necessary…I use my bench more!
MINI BANDS: I use these often for the workouts I'm currently doing, and they're great! These would definitely be a great addition to your home gym because they're so much you can do with them!
RESISTANCE TUBE BANDS: These have been a great addition to our home gym! I just invested in these this year and have zero regrets. I bought the trio so I have all 3 resistances.
RESISTANCE BAND DOOR ANCHOR: I recently bought this anchor to attach the resistance bands to (I was using a beam in the basement before).
TREADMILL: I have this Bowflex treadmill, and it does the job! I wish it had a few different features, to be honest, but it's been good.
ROWER: My husband loves rowing, so this was a gift a few years back. I wish I had gotten a different model, but again it does the job.
We also have an olympic lifting barbell and weight set that we acquired from some CrossFit friends years back. I don't use these as often now, but they're nice for heavier squats! We also have a rower and a treadmill, which makes cardio at home nice and easy! We also repurposed the giant mirror that used to be in the upstairs bathroom as our mirror in this space. It works! I honestly don't know where I would've found a mirror this large otherwise, haha.
Overall we're very happy with the set up we've built over the years! If you're looking to create a home gym for yourself, my TOP recommendations would be a few sizes of dumbbells, a mat, and some resistance bands! If you want to take it one step further, I highly recommend a bench too! Hope that helps! 🙂