DISCLAIMER: I'm about to share the process used for our hardwood flooring with you. PLEASE KNOW, not all hardwood floors are created equal, which is why it's highly, highly recommend you hire a professional. This process might not achieve the same look for you. There are varying types of wood, grades of wood, etc. that can effect the outcome. If you're in CT, we highly recommend Coastal Concepts! 🙂
I had always wanted to refinish the floors more to my liking in our old house, but it's quite a process when you're already moved in. That's why we knew we wanted to use the gap in between the closing of the new house and old house to have the new house floors refinished – before any of our stuff was actually in! The new house floors were very orange in tone – they're RED OAK floors, and I'm unsure what the stain was prior. My vision for this house is a modern coastal beach home, so I knew I wanted to change the floors to something lighter and cooler in tone. I've always loved the white washed look, so my friend Travis from Coastal Concepts (same company we used for the carpeting in our last home!) helped me come up with a plan!
Here's a before of the red oak floors in the new house.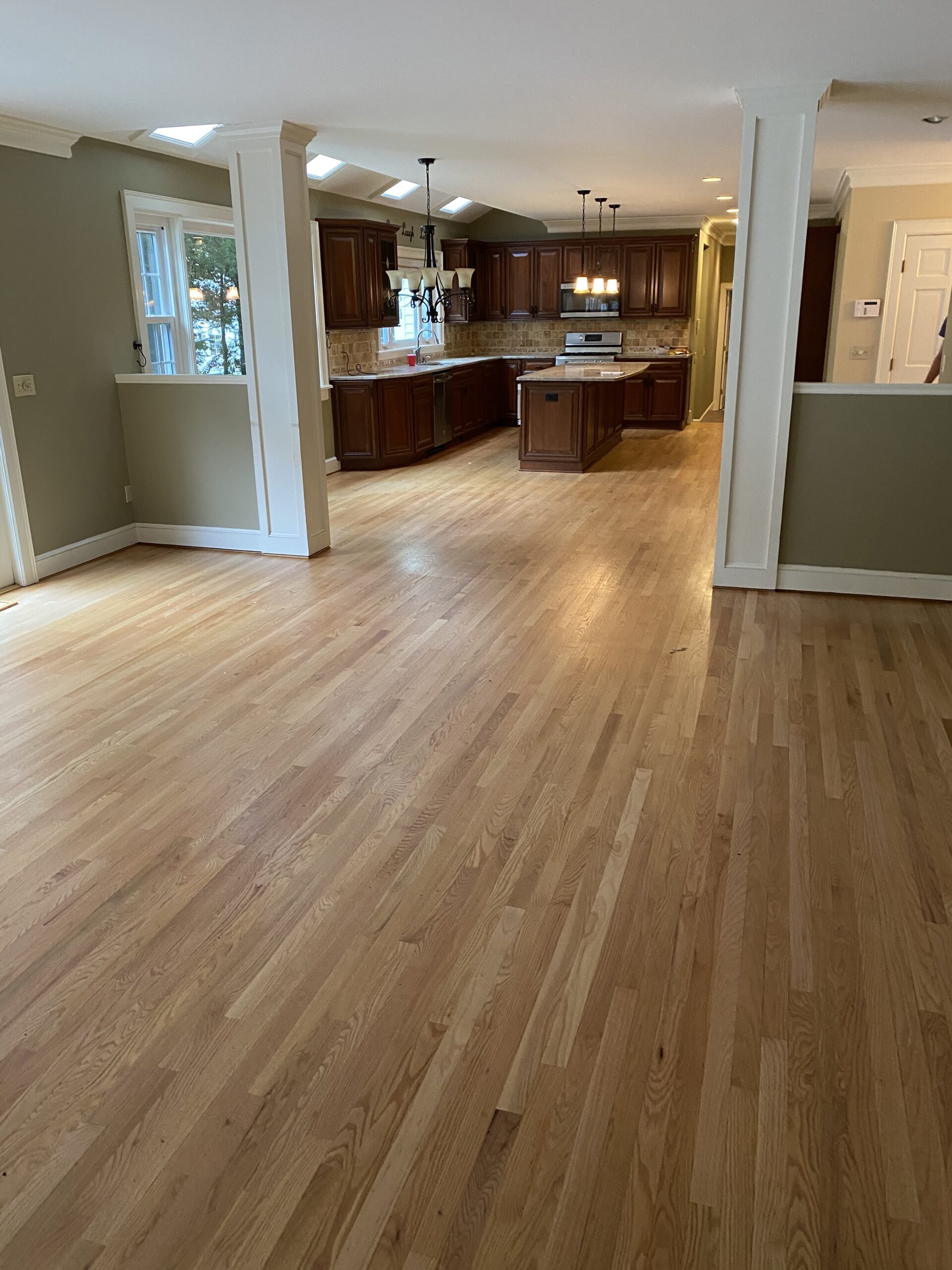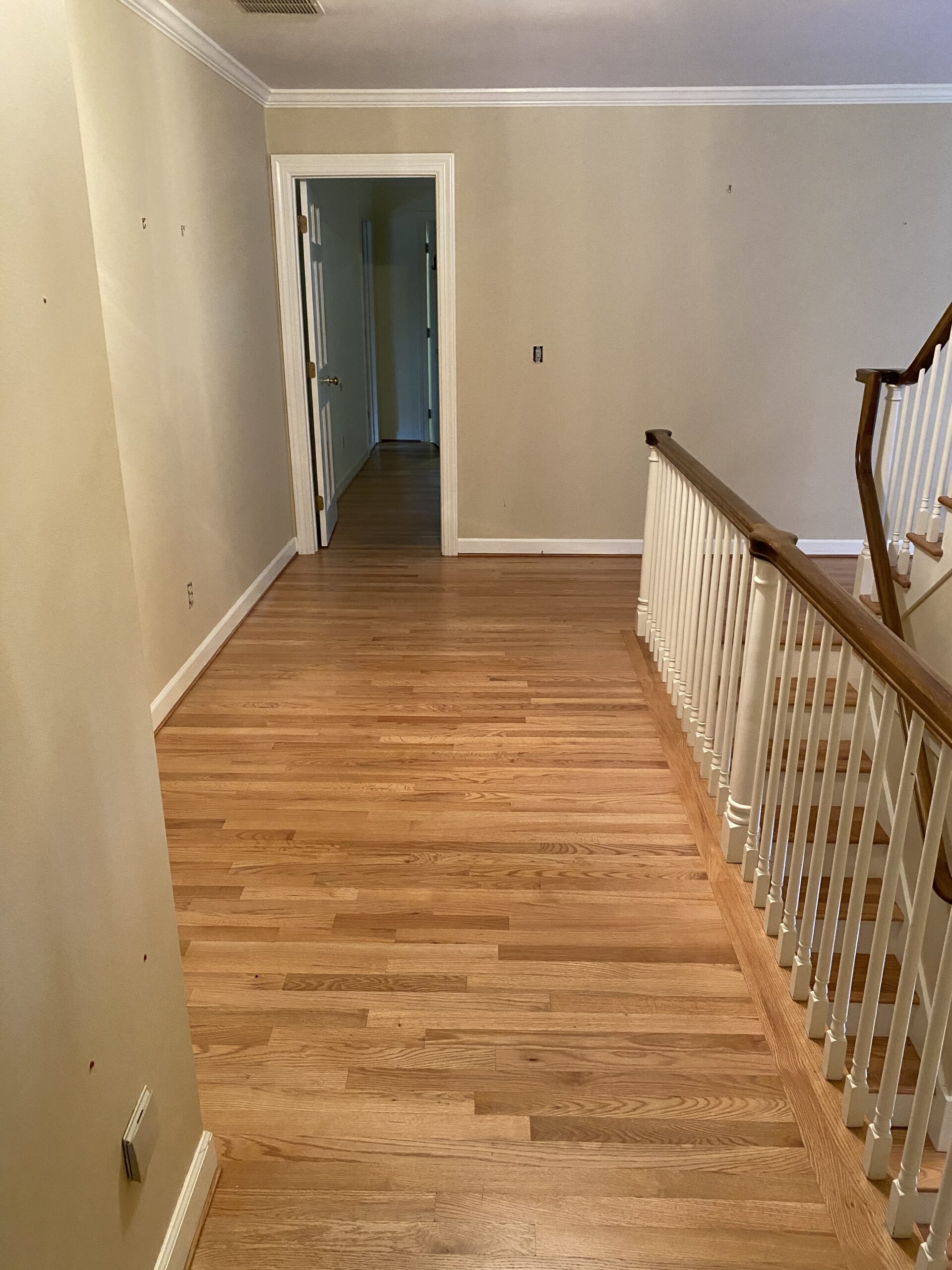 I am super appreciative of the time Travis and his crew took to help me decide on the exact stain I wanted. The floors in this house are red oak, and I really wanted to eliminate the orange color that typically pulls through. The guys were kind enough to test out SEVERAL stain options for me, including different treatments that would effect the stain color. For instance, using bleach was one treatment but another was alcohol. They set up a little grid on the floors so we could see how each color pulled. Thats my biggest tip – make sure you test the stain on YOUR particular floors prior to making a selection! Your floors might look entirely different than a photo you found of the same treatment.
You can see below what I mean about the grid. They did one row with an alcohol treatment, another with bleach, and another without. They also added the water based poly I chose so we could see how it enhanced the stain.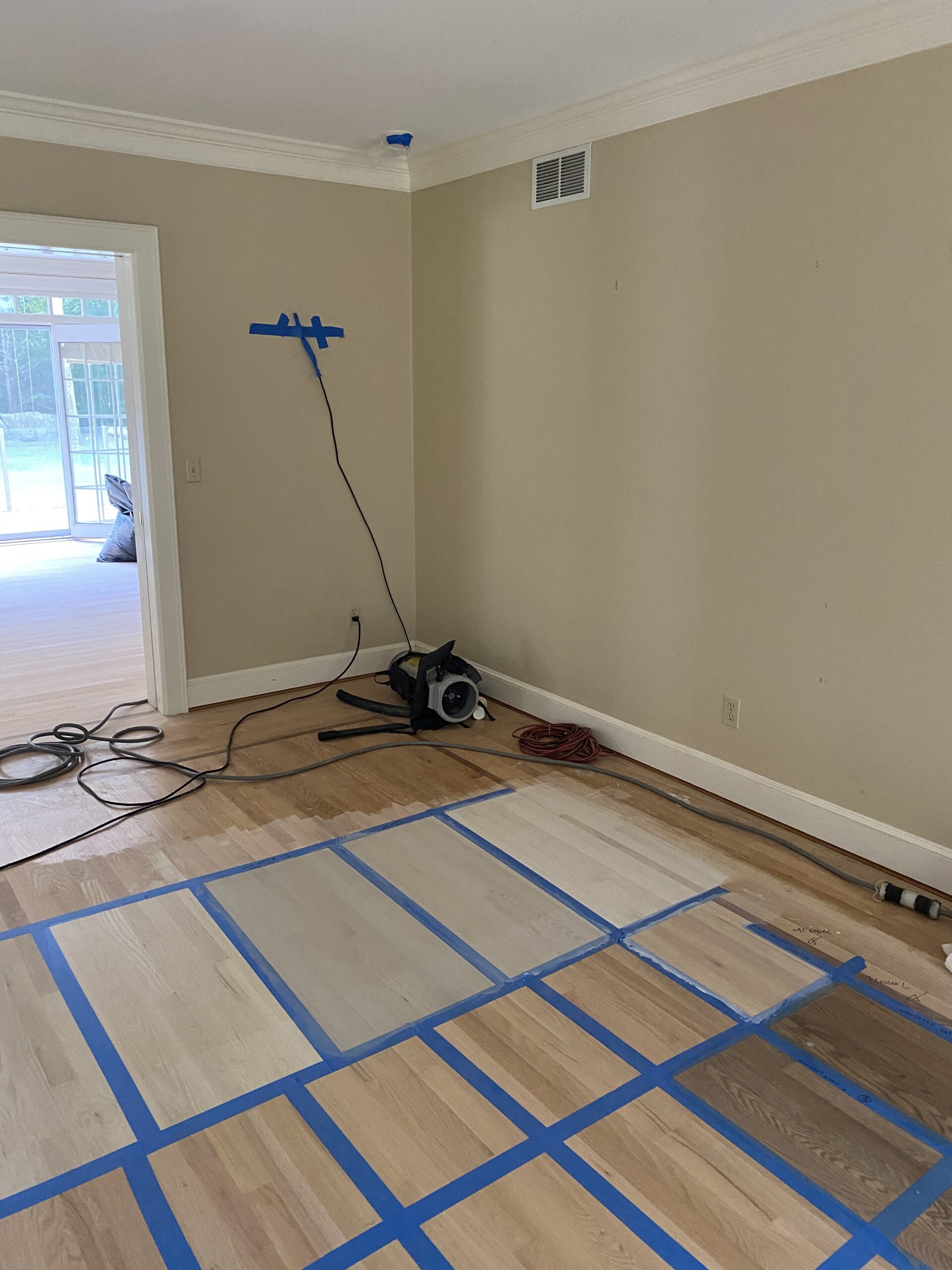 And speaking of poly, that plays a big role in how the stain looks too! I wanted a water based poly because a standard oil based poly can pull slightly yellow. After a little research and discussion with my floor guys, I learned that Bona High Traffic HD water based poly is the best water based poly out there and very comparable to oil based with how it performs.
For a split second, I almost changed my mind, but my mom told me to go with my gut and stick what what I originally wanted. After mixing a few stains, we decided to go with bleaching the floors (they used a professional wood bleaching process) and applying a stain of 1/2 part DuraSeal "Country White" Oil Based Wood Floor Stain and 1/2 part DuraSeal "Neutral" Oil Based Wood Floor Stain, topped with Bona High Traffic HD water-based poly in a Satin finish.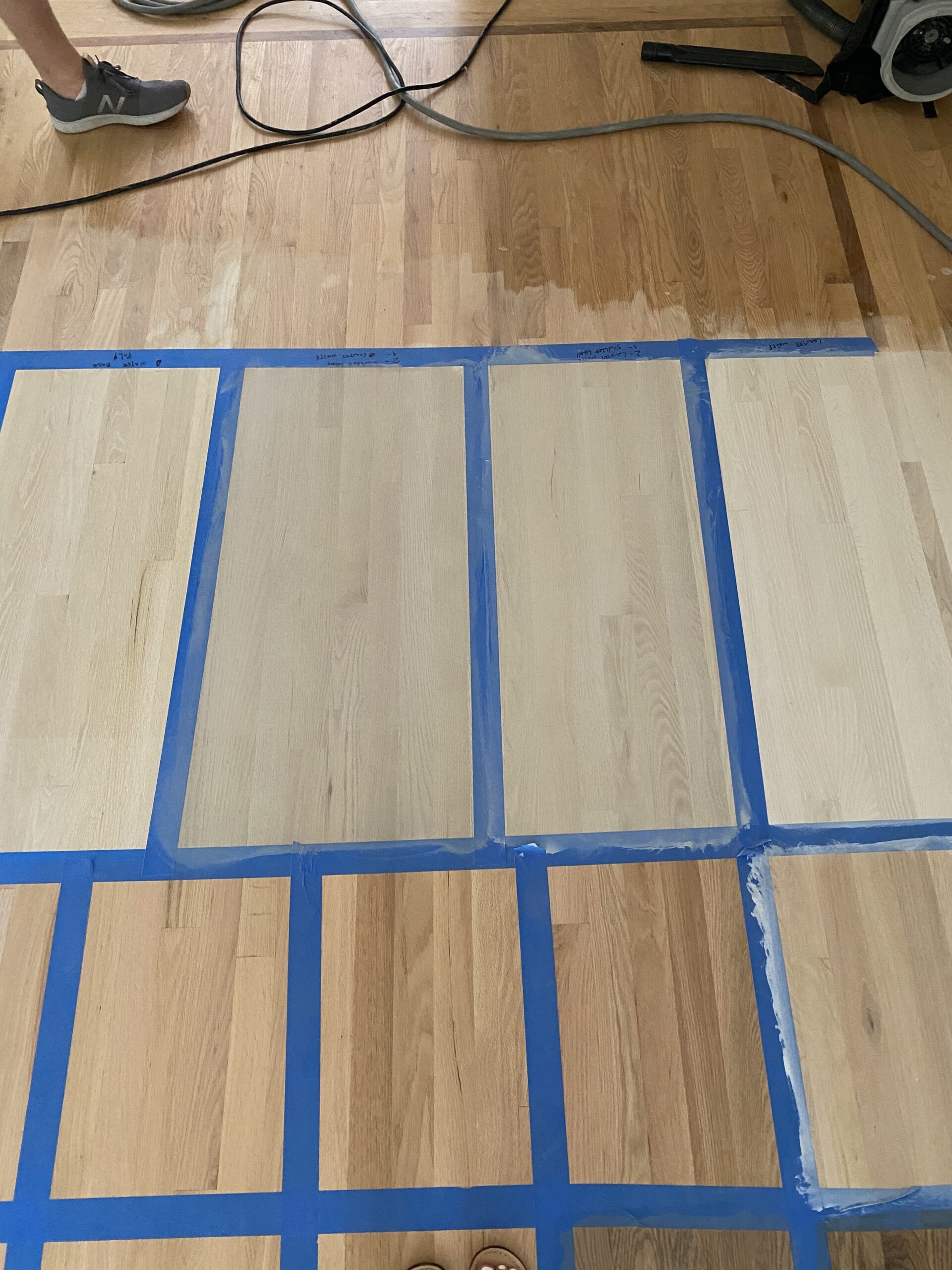 If you're having your floors refinished, keep in mind that you essentially have to move out of your house (and everything in it!) for a fair amount of time. That was part of the reason we chose to complete this project when we did – prior to our actual move in date and closing on our original home. The process takes several days to complete each step, and then approximately 3 days of curing time once complete. Area rugs cannot be placed on the floors for 10 days (but furniture is fine after 3 days!). These are all very important details to be aware of and why I highly recommend a professional. If the poly isn't cured, you're at risk for scuffing and marring. The process took about a week for our home.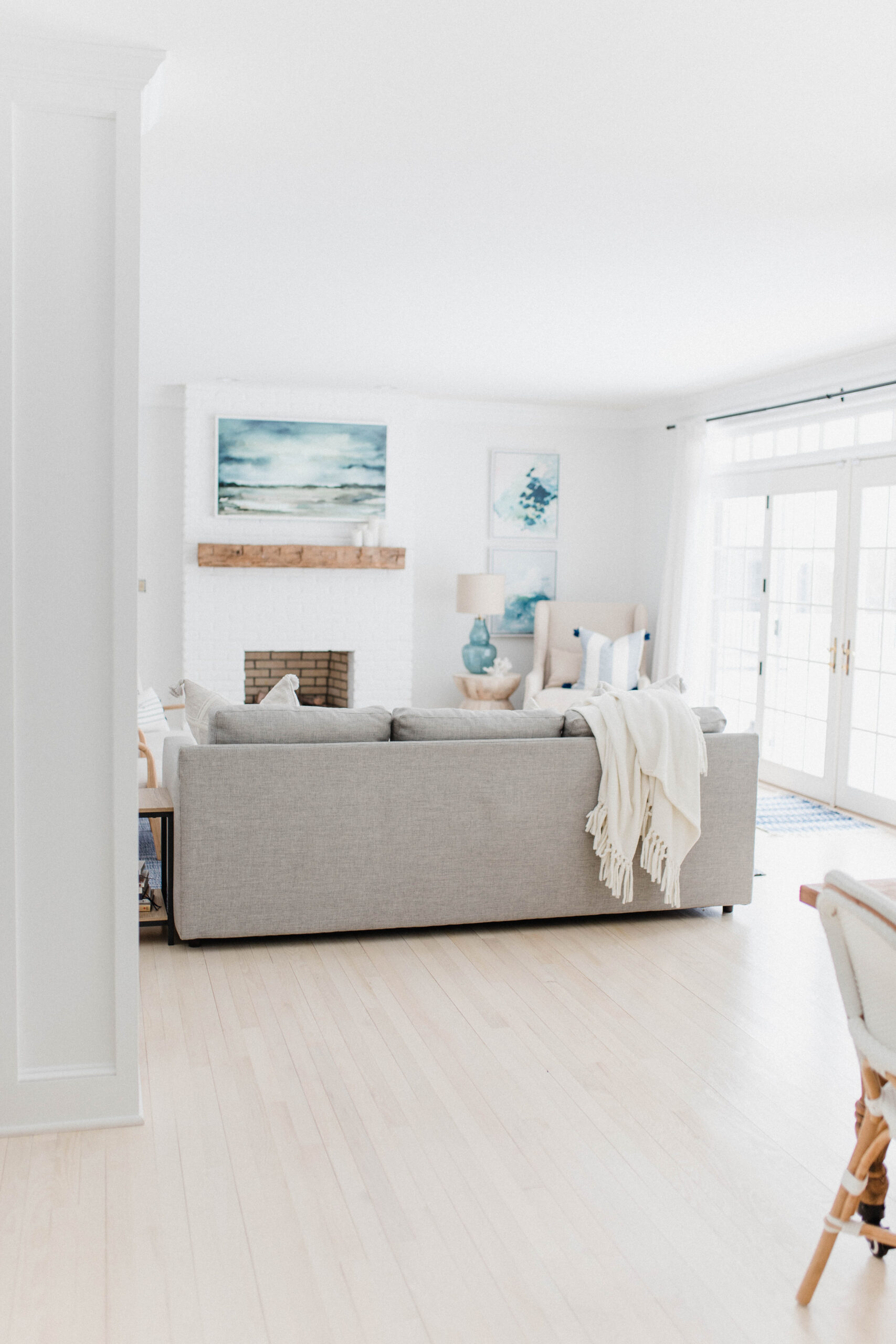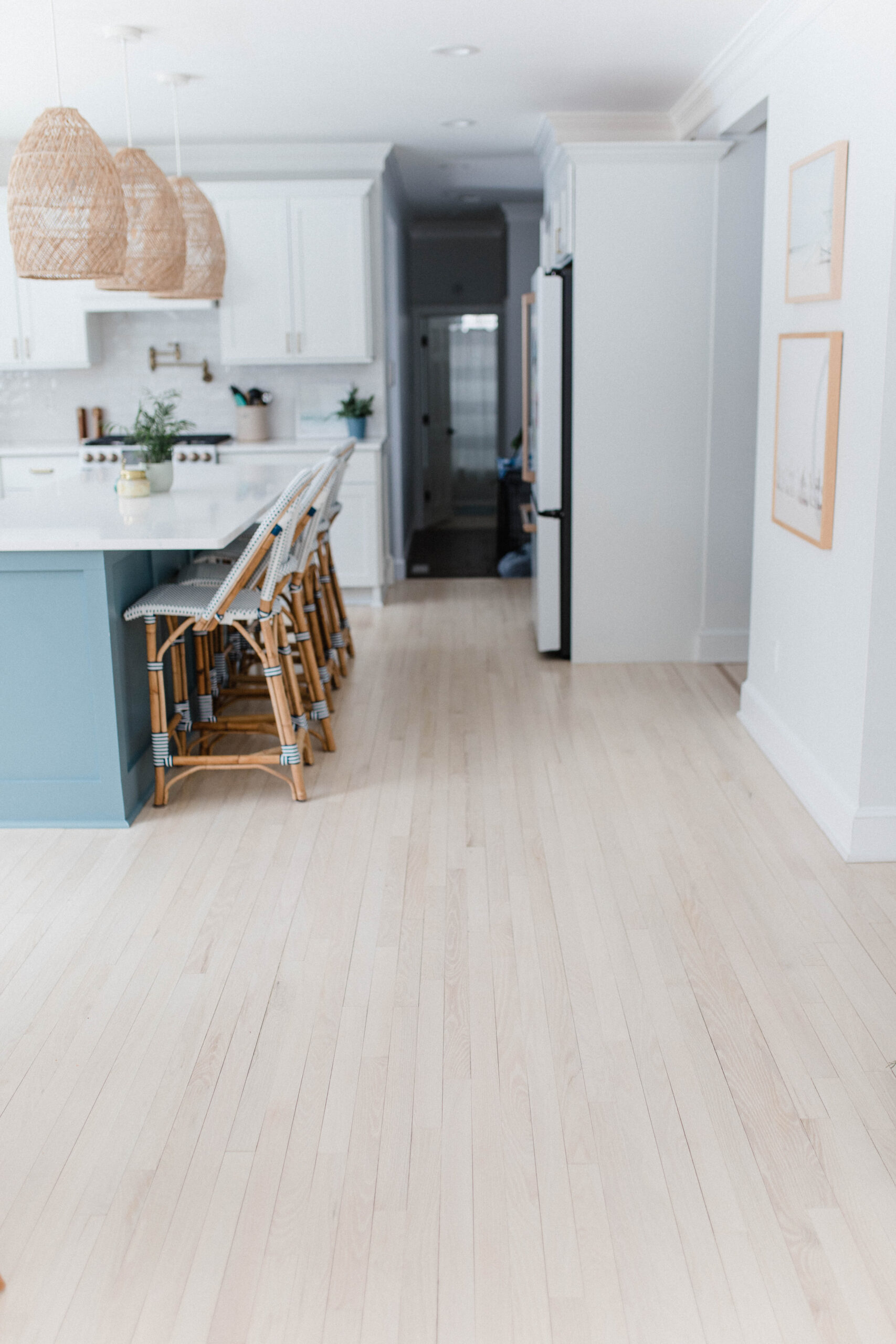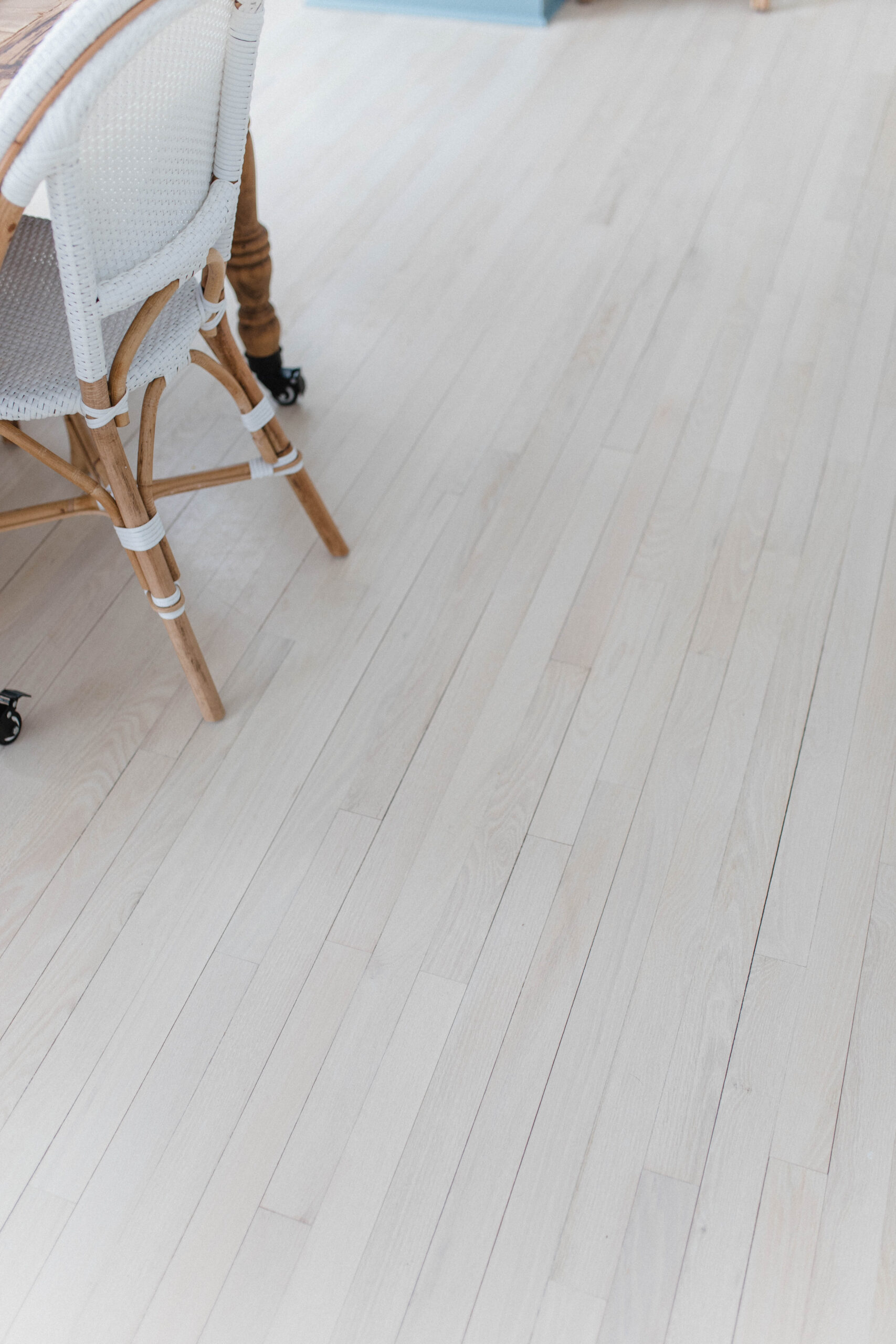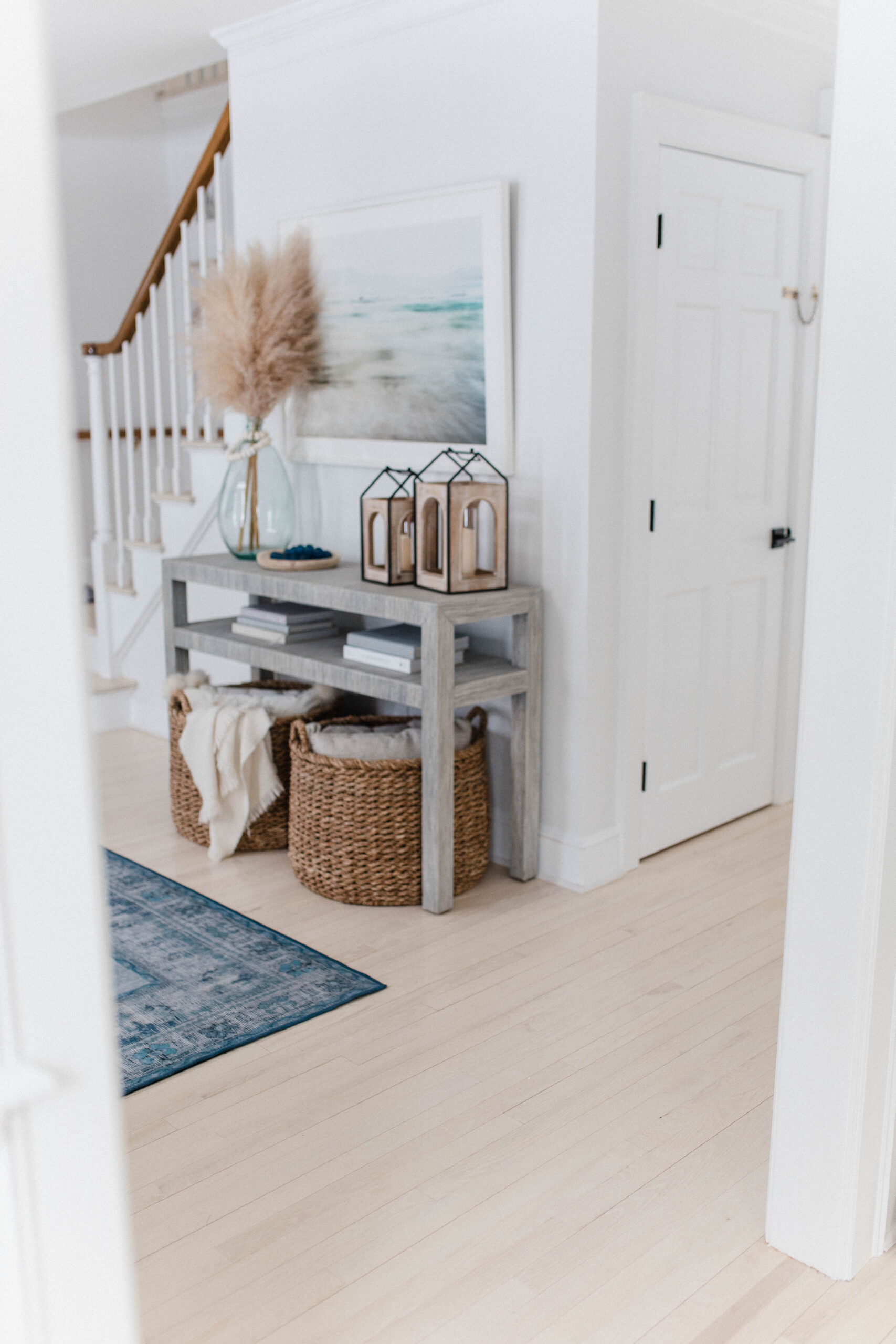 I am so pleased with the final results. We've been living with these floors for over 6 months now and I have zero complaints! I absolutely love the color, and it gives such serene coastal vibes. We specifically clean the floors with Bona Hardwood Cleaner with their mop or a microfiber rag, and NOTHING else. Other cleaners can potentially ruin the floors!
If you're local, I cannot recommend Coastal Concepts enough! They were so professional and also patient with me as I made decisions. I truly appreciate when businesses care about their customers and don't rush decisions! I hope this post was helpful if you've been interested in the process of our floors! 🙂