I can't really remember the reason I stopped reading…I used to be an avid reader, and then maybe life just got in the way and I put it aside for years. I'm talking, YEARS. I cannot remember the last time I read as much as I have been the past few months. In fact, I always joked that I only came to book club for the wine. But something clicked in me this year, and I'm so incredibly grateful to have picked up reading again. It's become a way to escape into someone else's world for a bit and calm my mind. I cannot even stress how much it's helped with my anxiety this past year. I've read about 60 books this year, and I'm listing my top 10 favorite of 2021 below! Also, please know how hard this was for me to choose….there are so many others I would add to this list, I feel 12 is an unfair number haha! Also this is in no specific order…that's asking way too much of me, I can't even choose favorites!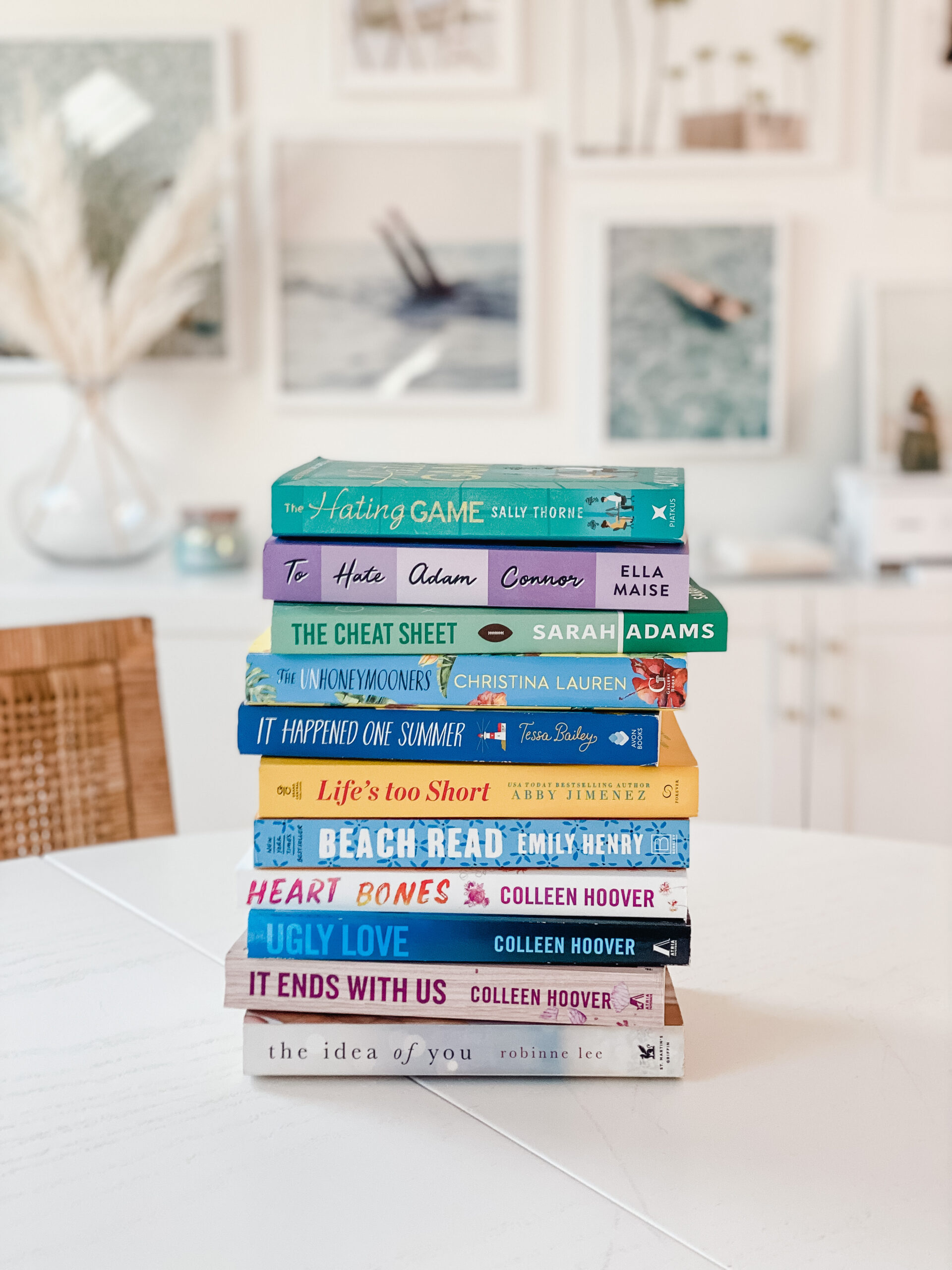 This book is what got me back into reading, and for that it will always be my favorite. But it touched me in a way I didn't expect. Trigger warning: it involves domestic abuse, but this story is one of hope and I think it's one every woman should read. My emotions were so up and down through the whole book, but in true Colleen Hoover fashion (as I've now learned) the ending is always perfect. It might not be wrapped up in a pretty bow, but it's perfect. I would love a second story to Lily and Atlas (PLEASE, COLLEEN!!!!!). Also – I cannot wait to see the movie that's in the works!
This was so hard for me to narrow down because I loved all three of The Friend Zone books, but this one spoke to me personally the most. This story was just so sweet, I loved the main characters so much! Such a feel good book with beautiful messaging – one I think we all need! Definitely some steamy scenes, but they aren't the focus of the story. I highly, highly recommend reading ALL THREE, in order, because Abby brings characters from the previous books forward a bit!
I was unsure of this one at first because of the age difference between the characters but hot DAMN was it good. The story was SO incredibly well written and I was so unprepared for the ending and immediately wanted more (PLEASE ROBINNE!!!!!!!!!). Another one that will stick with me forever. If you like steamy romances, this one TAKES THE CAKE. Trust 😉
Holy moly this was good. Think Schitt's Creek but sexier – socialite girl means a fisherman in a small town. An unlikely pair, a lot of sexual tension, and a great character arc. These scenes are steeeeaaammmmyyyyyyy, but the plot is so great! I remember getting to one certain scene and being like OH HOT DAMN. 😉 Tessa Bailey might be the queen of those scenes! I loved the ending, and I can't wait for the next one in the series (like I'm counting down the days!!!).
I just loved this book so, so much. Emily Henry is witty in her writing, and creates these relationships between characters that's just so perfect. I loved every single thing about this story and I wish I could read it again for the first time! Some steamy scenes in this one, too, that don't disappoint!! I also highly recommend People We Meet on Vacation by her as well – I could totally see that one being a Netflix series. She has a new book coming out that I CANNOT WAIT to read! Emily Henry quickly became one of my favorite authors this year!
Probably my second favorite Colleen Hoover book! Miles and Tate are one of my favorite book couples, and their story (and Mile's back story) was just so heart wrenching and perfect in every way. I loved watching Miles let his walls down and letting Tate in…it's just such a special story. Highly, highly, highly recommend!
If you need a great rom-com, this book is laugh out loud funny! I loved the story line, the romance was hot, and it was flat out hilarious. Give it a few chapters to get to the really good stuff, but I promise you won't be disappointed. There were so many times I was legitimately cracking up and my husband was looking at me like I was crazy! A great beach or vacation read, or if you need something light and fun!
Another hilarious book (that was just made a movie!) that was laugh out loud funny! Enemies to lovers with so much in between. I loved the banter between Lucy and Josh, and absolutely loved how this book ended. A feel good read, and then you must watch the new movie after!
Another favorite by Colleen Hoover. I think this book is underrated and deserves more praise. I read it in one sitting, I was so hooked! There's a big twist in this book, but the ending is just so perfect. If you're looking for a good CoHo recommendation, DEFINITELY pick this one up!
This book started my obsession with sports romance. Hot damn! The entire Off Campus series is a must-read (Tucker in particular is my favorite…the 4th book!)! This series is about college hockey players who go from "players" to lovers. So so good, but The Deal is my favorite because it sparked my love for this series. Also, Graham is a total winner 😉 There's 5 books total, all of them steamy and amazing.
If I could pick a book boyfriend, it would be Adam Connor. Oh. My. Gosh. I was so in love with this story and wish I could read it for the first time again and again. Lucy and Adam are one of my favorite book couples EVER, and more people need to experience their love. Read the fist book, To Love Jason Thorne (also freakin amazing), first for some insight, and then quickly move to this one! If you think you love Jason, just wait until you meet Adam. All the heart eyes. And definitely steamy scenes!
I've read a couple of books by Sarah Adams now and I just love her writing. It feels like I'm reading someone's journal or talking to a friend – playful, funny, enticing, and so so fun. This was my first book by her and I freakin LOVED IT. It's a romantic comedy that's laugh out loud funny. I loved Bree and Nathan's banter, and I felt like Bree could easily be my friend. Highly recommend!!!!
There were so many other books I want to include but I had to cap it here! Again, these are in NO particular order! Have you read any of them? What are your thoughts?! If you have any recommendations for me that are similar, drop them in a comment below!! Happy reading!