I've said it over on Instagram, but I'm not sure how this new version of myself has been unlocked where all I do is read in my spare time!!! I read 15 books in January, which is INSANE to me. I'm so grateful to be back into reading and escaping into someone else's world for a bit! This post is mini-reviews of all the books I read this month. I shared more over in my BOOKS highlight on Instagram. I also mention which books are free on Kindle Unlimited!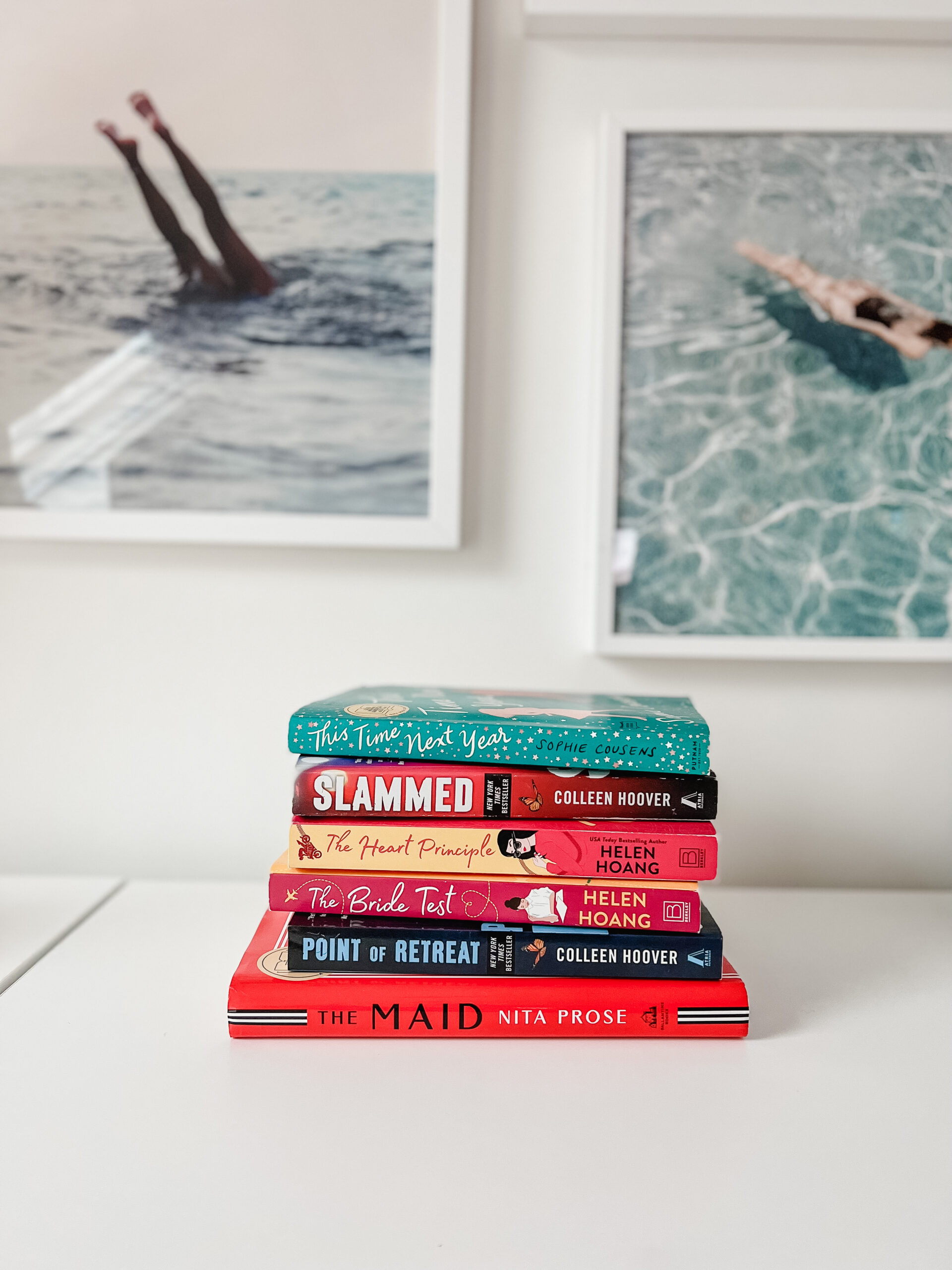 I think I was hoping this book was going to be a little steamier than it is. But if you're NOT into that, this story is great! A quick and lighthearted read, and I loved watching the main character turn her attitude towards life around. A good underlying message.
I loved Punk 57 more than this one, but this was still a great read! Definitely some steamy parts, although I had to get over the age difference between the characters (which is the main focus of the book). However, I loved the overall message that age isn't anything but a number and love is love. This one is free on Kindle Unlimited!
This was such a cute Kindle Unlimited find!!!! It's book one of a series, and another great read if you aren't into steamy scenes. It's funny, lighthearted, SUPER cute, and pulls you right in. I loved the "secret" relationship between the two main characters, but I also loved seeing Lucy get her happily ever after. I'm definitely reading the next one, which is about her best friend!
Going to be honest…this wasn't my fave CoHo! It's still really great because she is just fantastic in everything she does, but I loved so many of her other books more. However, knowing this is a series, I'm going to read the next two and re-evaluate! 😉
This book was another Kindle Unlimited find and OMG IT WAS HILARIOUS. I'm talking laugh out loud, tears streaming down my face funny. I absolutely LOVED this story, the dialogue, the banter, the writing…everything about it! Such a lighthearted, funny read that will have you laughing and smiling the whole time.
This is the second book to The Kiss Quotient, and I'll be honest…it wasn't my favorite. This one just lacked a little for me, but I was determined to complete the series! However, I do love the insight into these characters on the spectrum.
This is the third book in The Kiss Quotient series, and probably my favorite. I loved Quan's character in this one, and the struggles he personally faced along with Anna. Different from the other two, but again gives insight to characters on the spectrum. I really enjoyed this one. You do NOT need to read the other 2 to understand this one, if you wanted to skip them!
This is like my love for Outlander and steamy books in modern day form haha! I LOVED this one! Someone told me the audible is fantastic because of the Scottish accent! So adorable, an easy lighthearted read! Free on Kindle Unlimited!
Oooooo I LOOOOOVED this one! Meghan Quinn's latest release did NOT disappoint. A night in Vegas gone wrong but turned right, and oh man Pike stole my heart! Very steamy in the best ways. I love how Meghan Quinn always adds humor, too. She's quickly becoming a favorite! Highly recommend this one! Free on Kindle Unlimited!
This book was a friend's choice for our book club this month, and I was really surprised by it. A few chapters in, I had texted our group saying I wasn't feeling it…but after getting a little over halfway through it really picked up! There was quite a twist at the end, as well. If you love mysteries and a good whodunit, this is a great choice!
This is the second book of the Slammed series, and I actually enjoyed it more than the first one. I really loved getting Will's perspective this time, and seeing these two conquer quite a few hurdles together. Not steamy like some other CoHo books we all love, but definitely a great romance. Also, if you like slam poetry, this entire series is great! It gave me an appreciation for it.
I didn't realize this was a series, so I went backwards here but I LOVED this book (one ahead of Put Me In Detention!). I'm going to complete the whole series because I fell in love with these characters! So fun, I felt like I was reading about my friends. That's what I love about Meghan Quinn – she's hilarious, it's light, and a feel good romance! Also free on Kindle Unlimited!
Okay HOT DAMN, this book. Like 50 Shades but with a much better plot and character depth. It starts off with a bang, literally, but it's such a great story between these two characters. Be prepared to stay up late reading this one, I could NOT put it down. Also, the spiiiiiiice!!!!!! Free on Kindle Unlimited!
I loved this one even more than The Stopover!!! Tristan might be my favorite Miles brother. The main character is a widowed single mom, and as a mother myself, I could relate to so many things she said in this book. Also, the scene where Tristan meets her boys – laugh out loud funny! And something I feel like I would see in my own home. Highly recommend, you'll enjoy it even more (and get a peek of where Emily and Jameson from the first book are!) Free on Kindle Unlimited!
As if I didn't love Jameson and Tristan enough, Elliot gets added to my list! Elliot is a closet second to Tristan – I loved seeing his character develop and change over the book, and the twist at the end was just so special. Highly recommend finishing out this series with this one! You get another peek into Emily and Jameson and Tristan and Claire (I would LOVE to read more about them in the future, too!), as well. Free on Kindle Unlimited! I freakin LOVED this series!!!
I'll keep sharing monthly as I go! If you have any recommendations for me, leave them in a comment! 🙂