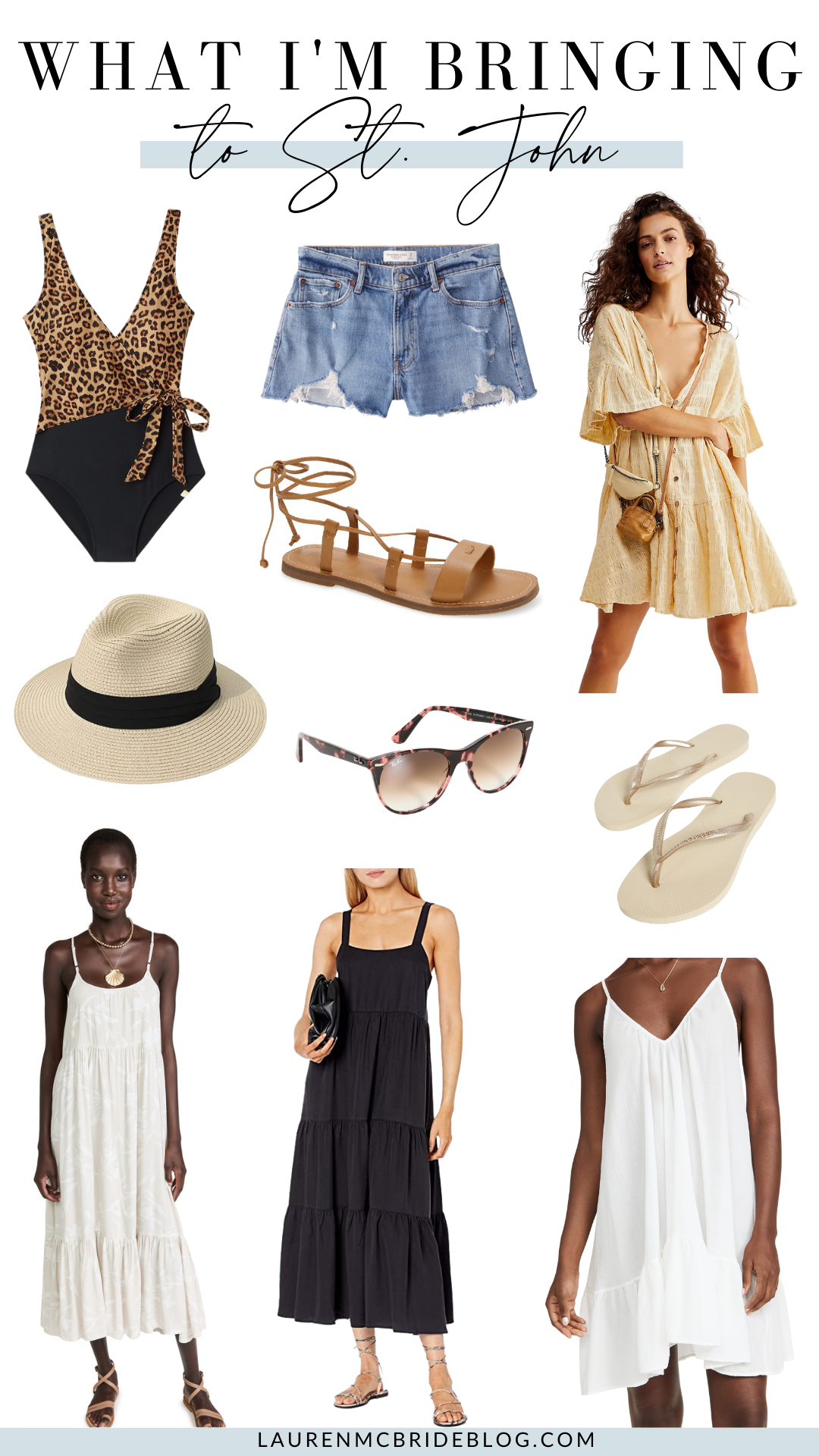 The Perfect Wrap One-Piece | Mid Rise Mom Shorts | Free People Kaylani Tunic | Lace-Up Sandal | Fedora Beach Sun Hat UPF50+ | Ray-Ban Wayfarer II Sunglasses | Flip Flops | Floral Dress | Tiered Maxi Tent Dress | Mini Dress
What I'm Bringing To St. John
Britt Tiered Maxi Tent Dress: I love this simplicity of this dress! I actually bought it in two colors and brought both. Paired with some fun earrings and sandals, you've got a complete look.
Summersalt The Perfect Wrap One-Piece: This bathing suit is GORGEOUS and fits perfectly. It comes in a variety of color combos, but I'm a sucker for leopard!
Free People Kaylani Tunic: This tunic is great as a coverup or a dress! I love pieces that are two in one – makes for lighter packing. Comes in several colors, but I loved this cheerful yellow.
Z Supply Lido Floral Dress: I love anything Z Supply, and this adorable floral dress is perfect for the islands! It's super soft, too.
Abercrombie Curve Love Mid Rise Mom Shorts: One of my favorite styles of shorts! Great for those of you who have short torsos, like me.
Madewell The Boardwalk Lace-Up Sandal: I love a good pair of lace up sandals! This pair is my favorite because they stay in place and also have a rubber sole.
9seed St. Tropez Mini Dress: This cover up washes super well! I brought it last trip and I'm bringing it again.
Ray-Ban Wayfarer II Sunglasses: I recently bought these sunglasses and LOVE THEM. I love my Ray-Ban aviators, but I like a pair like this to easily plop on my head and not get caught up in my hair.
Wide Brim Straw Panama Hat: My FAVORITE beach hat. Packable, doesn't lose it's shape. UPF50+ for sun protection to your face, and can get wet! It's the BEST and so well priced.
Havaianas Slim Flip Flops: I love these simple flip flops for the beach! This color goes with everything.
Follow me over on IG as I share our trip! 🙂