Need a little home decor refresh? I am sharing a few of my top Amazon Home Decor Finds that I have been loving to incorporate in our home for a instant home decor refresh!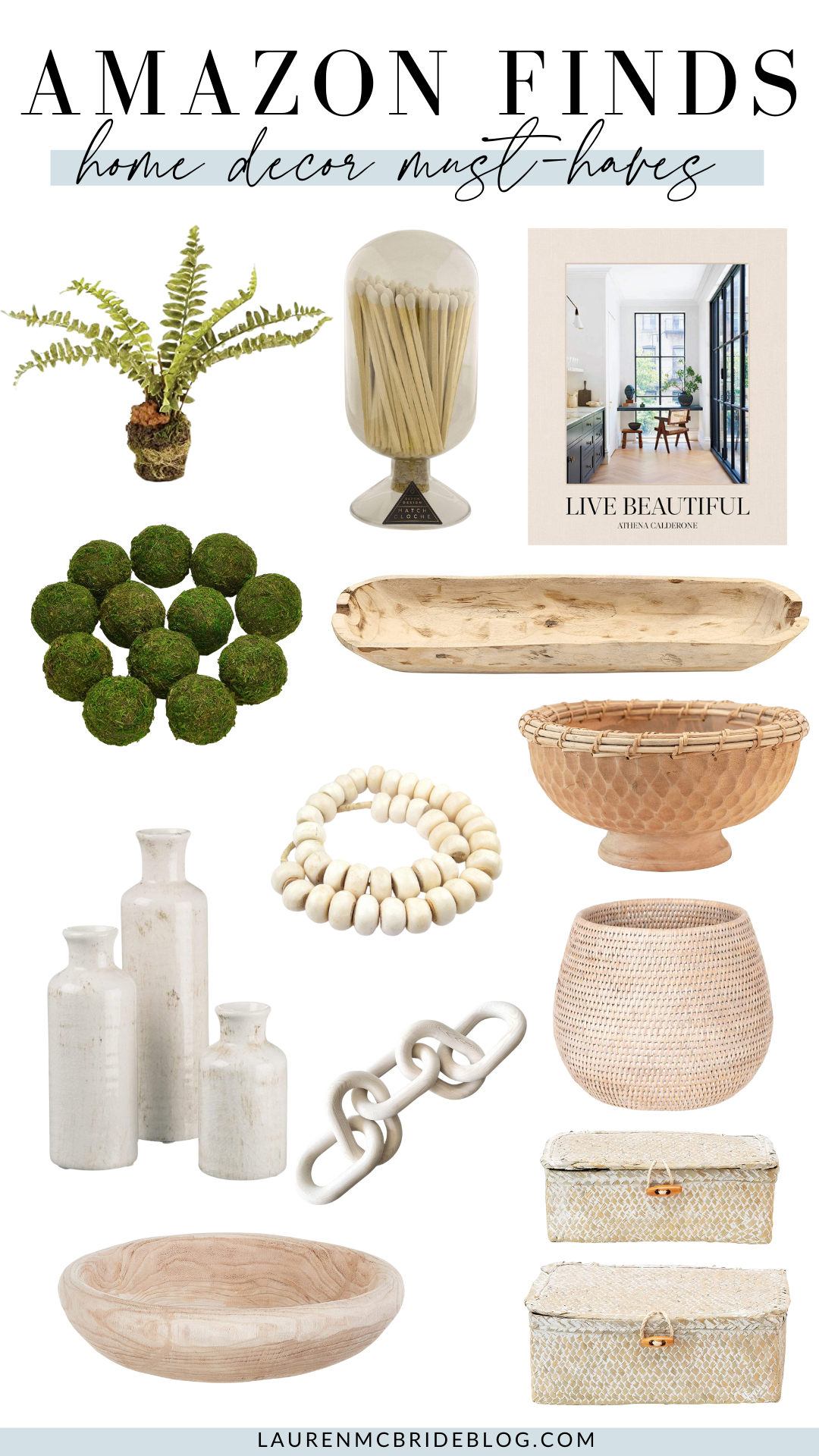 Fern Plant | Glass Match Bottle | Live Beautiful Book | Decorative Moss Balls | Oval Wooden Bowl | White Bone Beads | Hand Carved Mango Bowl | Ceramic Vase Set | Wood Chain Link Garland | Rattan Planter Bowl | Wooden Paulownia Bowl | Seagrass Storage Box Set
I've recently found some great home items over on Amazon! Several of the above I've added to our own home, and I thought I'd share them with you below. You'd be surprised what you can find by spending some time browsing, but I took the time and did it for you!
These faux ferns are super realistic looking – I have a few around our house in places real plants won't work (like our laundry room – there's no windows in there!) I've also tried keeping plants alive on our bedside tables and have failed, so I opted for these ferns that can't die instead! They have a few different sizes available.
I love the look of bone beads, and have them in various places in our home. They look beautiful draped over a vase like we have here in our entryway. I also have them in bowls and on books for a little something extra.
This oval shaped paulownia wood bowl is currently on our dining table with some shells and beads inside. I love the color of paulownia wood – it reminds me of driftwood! The long shape works well on console or dining tables.
These moss balls make for great fillers in a vase or bowl like linked above! They are a tad greener in person compared to the product image. It's an easy way to add greenery to a space.
Let me know if you'd like to see more in the upcoming weeks! 🙂