If you're thinking, wasn't she just in St. John? You aren't wrong. We were, and you can find that blog post right here! As I stated back then, this little island left a mark on my heart like no other. My husband and I have decided we want to explore purchasing property on the island, and therefore are visiting quite a bit to find the perfect spot! We ventured to the Coral Bay side of the island last trip, but wanted to get a full week's experience to see which side we preferred. Spoiler alert: they're both amazing. This post is all about our week in Coral Bay on St. John, USVI.
As a reminder, if you do choose to visit St. John, PLEASE remember to be respectful of this place! It's 70% National Park, which means it's an extra special place. Also, etiquette is important to locals. Starting your conversation with "good morning," "good day," or "good evening," will be well received. 🙂 Don't forget that island time is a real thing!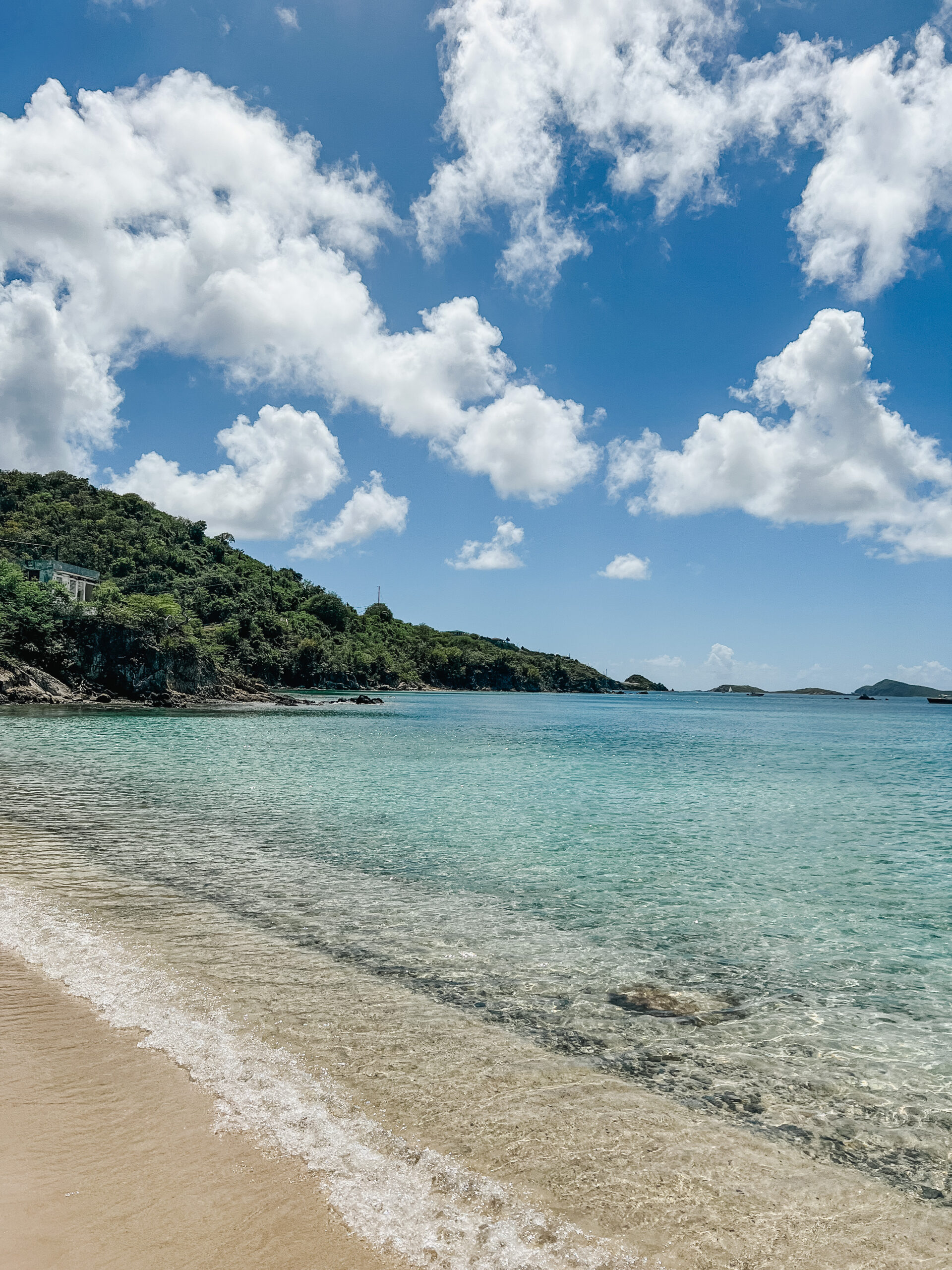 How to Get There & Transportation
The most important thing to know about getting to St. John is there is no airport on the island. You have to fly into St. Thomas (STT) and then take a ferry to St. John. For our last trip, we booked a private taxi from the airport to Red Hook, which is where one of the public ferries is located. The ride from the airport to Red Hook is about 40 minutes or less. The Red Hook Ferry has frequent ferry times, and it takes only 20 minutes to get to St. John. This sounds a little more complicated than is actually is – we had a very smooth experience. I purchased our ferry tickets online right here. There is another ferry as well, including a car ferry, but we rented our car on St. John.
For this trip, we actually booked Dolpin Water Taxi through Antares, the ___. Dolphin Water Taxi provides private transportation to the island. We were arriving a little later in the evening, and I wanted to get us to the island as soon as possible without having to wait for the public ferry. Dolphin Water Taxi transported us from the airport to the dock via taxi, and then to St. John via private boat. It was definitely an expense, but I'm glad we did it!
One this to note, Coral Bay is about 30 minutes (depending on where you stay) from the ferry dock in Cruz Bay. So just know you'll have a little bit go a drive if you're staying on that side of the island. Worth it, though! 🙂
Renting a car is a must on the island! Preferably something with AWD or 4WD, as the roads are very hilly and steep. Book it ASAP after you book your trip because they run out! There are a variety of Jeep rentals on the island. I advise finding a company that will pick you up at the ferry, or one you can easily walk to from the ferry dock. They're all pretty much right there anyway! Also, if you need car seats, I recommend either bringing your own or renting from Island Baby. They delivered car seats right to our car rental company, as well as picking them up at the end of our trip. It was no extra time and worth every penny! They have other baby items you can rent as well!
Also, as a reminder, you do NOT need a passport if you're from the US! However, having them helped expedite our airport experience on our way back home. We only needed a negative PCR Covid test within 5 days of arrival to the island that we needed to submit through the USVI Travel Portal as well as show proof of upon arrival. We did not need a test to return. However, these guidelines recently changed. Please check here for current guidelines!

Why Coral Bay?
St. John is divided into two main parts of the island – Cruz Bay and Coral Bay. Cruz Bay is where the ferry dock is, and therefore it's a busier side of the island. There are more shops and restaurants, even though the area is still smaller than other islands. We absolutely LOVED Cruz Bay, but wanted to see what Coral Bay was all about. It's about a 20-30 minute drive from Cruz Bay to Coral Bay, depending on where you're going. Coral Bay is much quieter than Cruz Bay – there are still shops and restaurants, but not as many and a little more spread out. It felt more remote, while still having everything we needed. There's also a lot more wildlife on the Coral Bay side of the island. We saw wild donkeys, chickens, goats, and peacocks, amongst other animals. At one point the donkeys even ventured down to the beach our villa was on! I also felt the beaches on the Coral Bay side (South Shore and East End beaches) were quieter than the North Shore beaches near Cruz Bay. I'm really glad we stayed in Coral Bay this time! We will definitely return here!
Where We Stayed
We used Antares Property and Hospitality to book this trip in Coral Bay and stayed at the most beautiful villa called Coral Cove. The villa is in Johns Folly Bay, which is definitely a more remote location in Coral Bay. If you want to be closer to action, this would not be the place, however we LOVED feeling like we were on the island by ourselves. It was such a special spot! It's right on a point, so we had amazing breezes and were right on the beach. The beach is not swimmable, as it's all coral, but we enjoyed walking it and exploring a bit. The landscaping at this villa was absolutely stunning. My kiddos loved finding hermit crabs all around yard, searching for seashells, and learning about the various plants on the property. There was even a little fish pond where they could feed the fish every morning!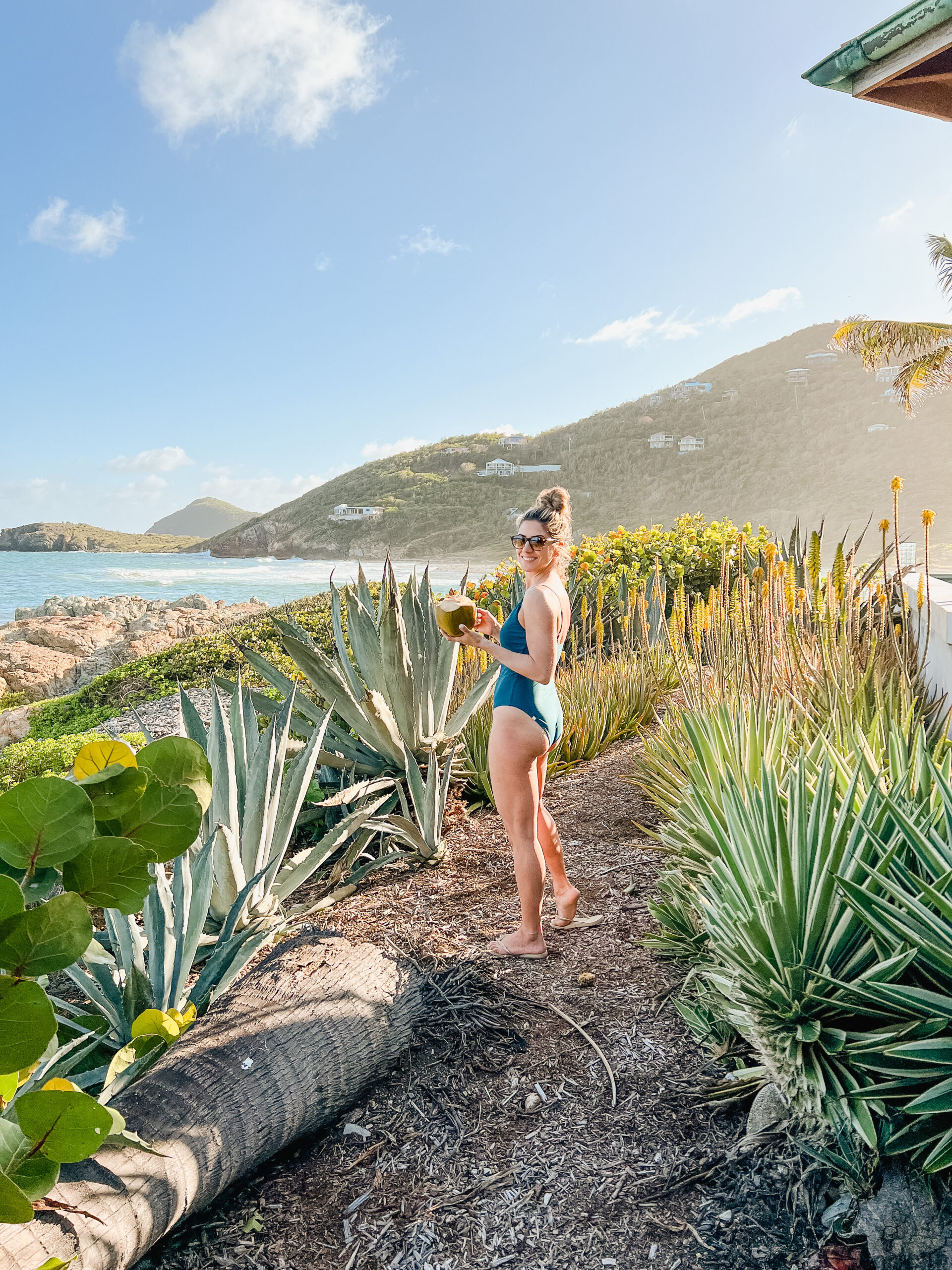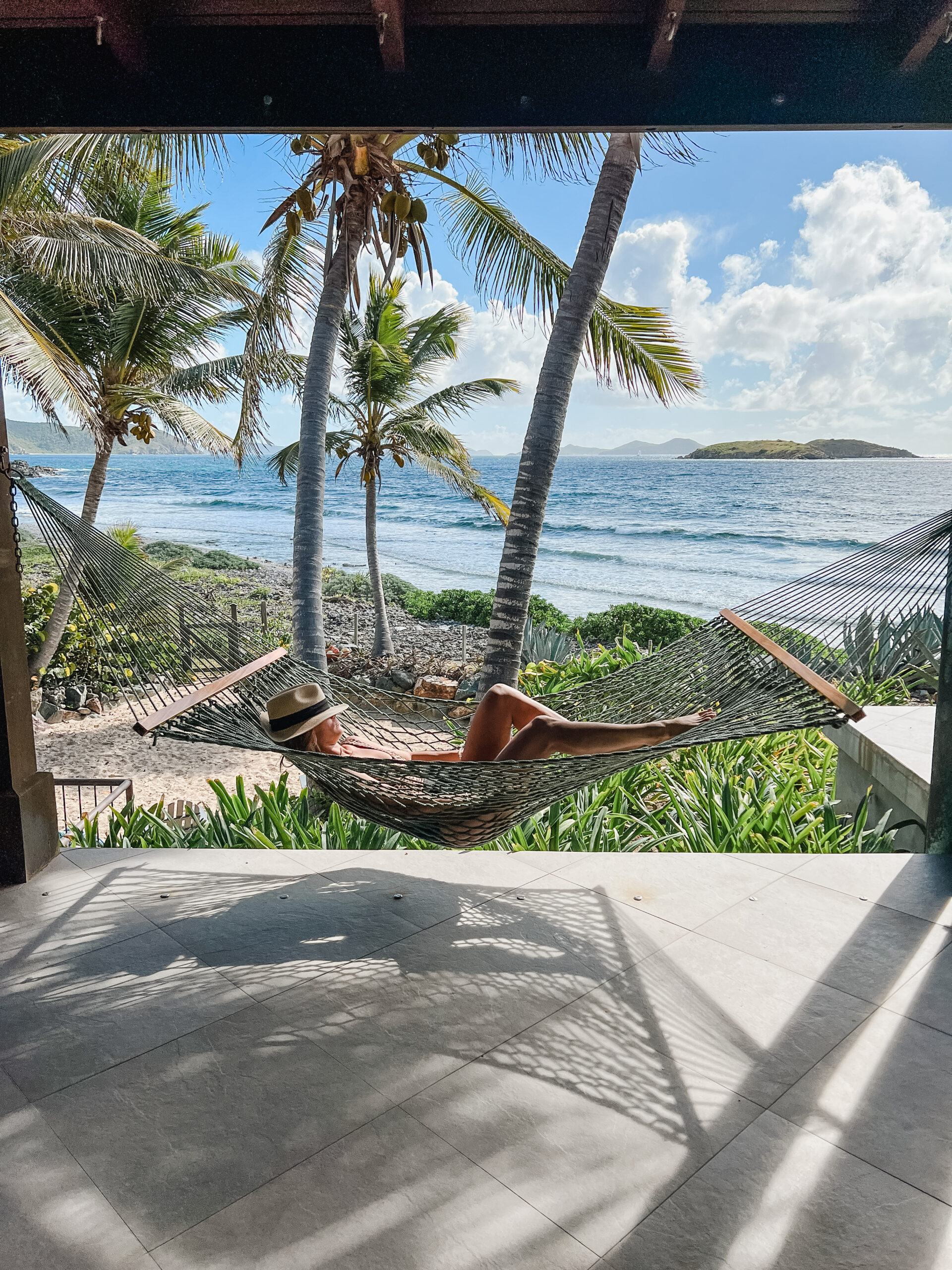 This villa has separate pods the bedrooms are located in, which is something to keep in mind if you have small children. We had other adults with us who shared rooms with our older two, so we did not mind this feature! Each room has AC, its own full bathroom, and a closet. It's the perfect home for large or multiple families. Everyone has ample space to move around. There's also a stunning pool, hammock, and private beach! The house had pool towels, coolers, beach chairs, and pretty much everything we needed. Highly recommend this property! Antares can book it for you (amongst other things….they were incredible to work with and we are booking through them again later this year!)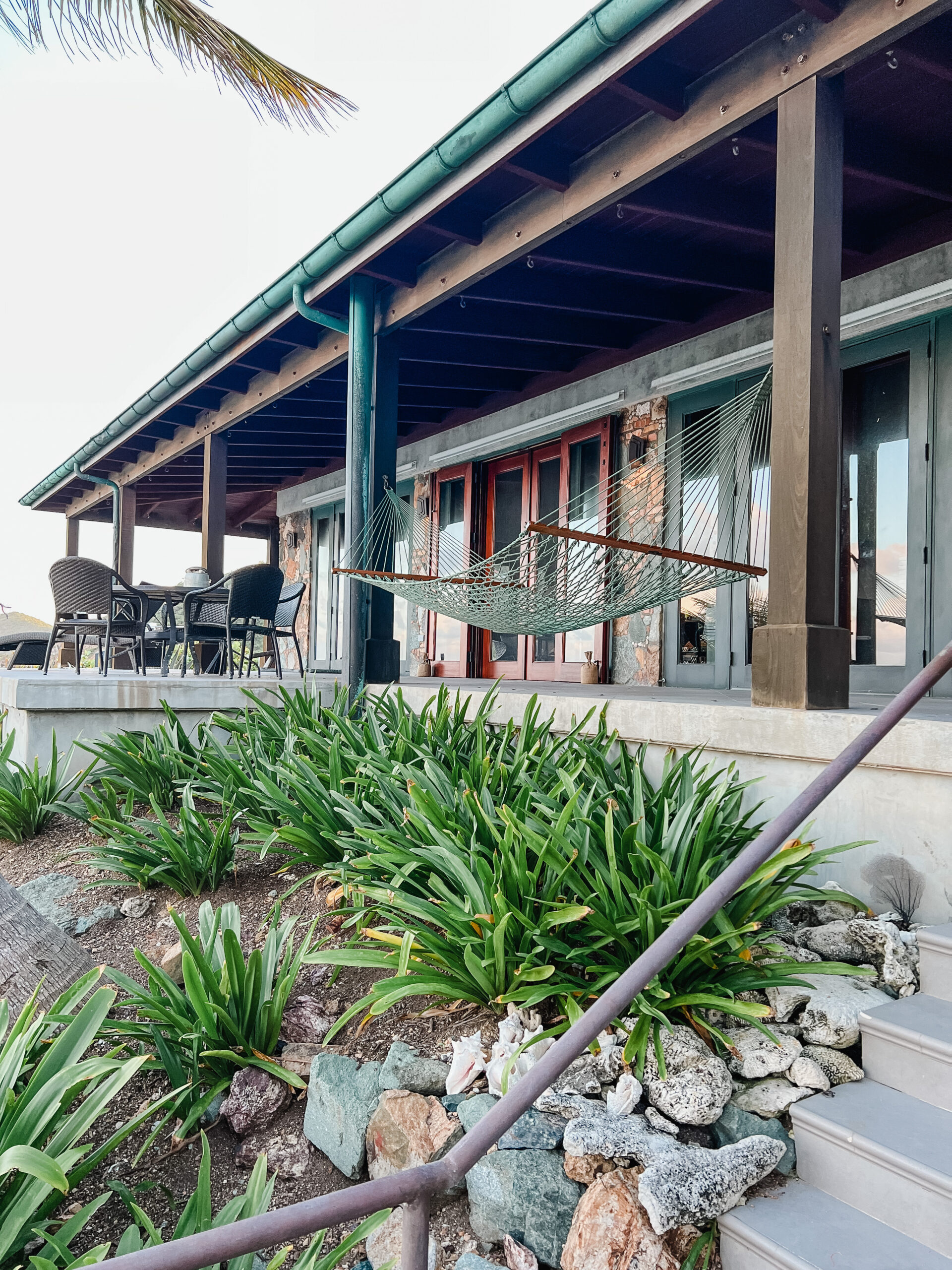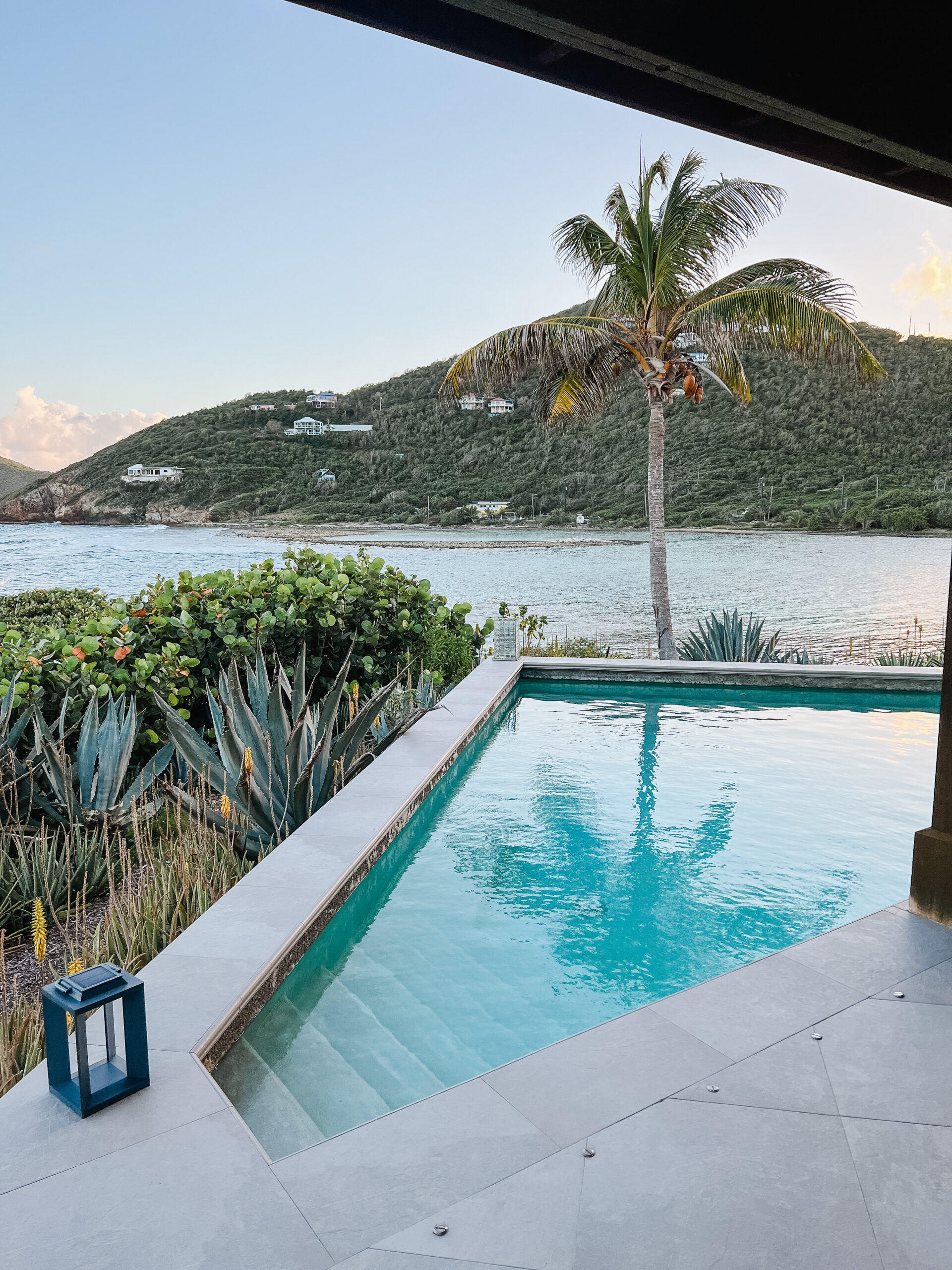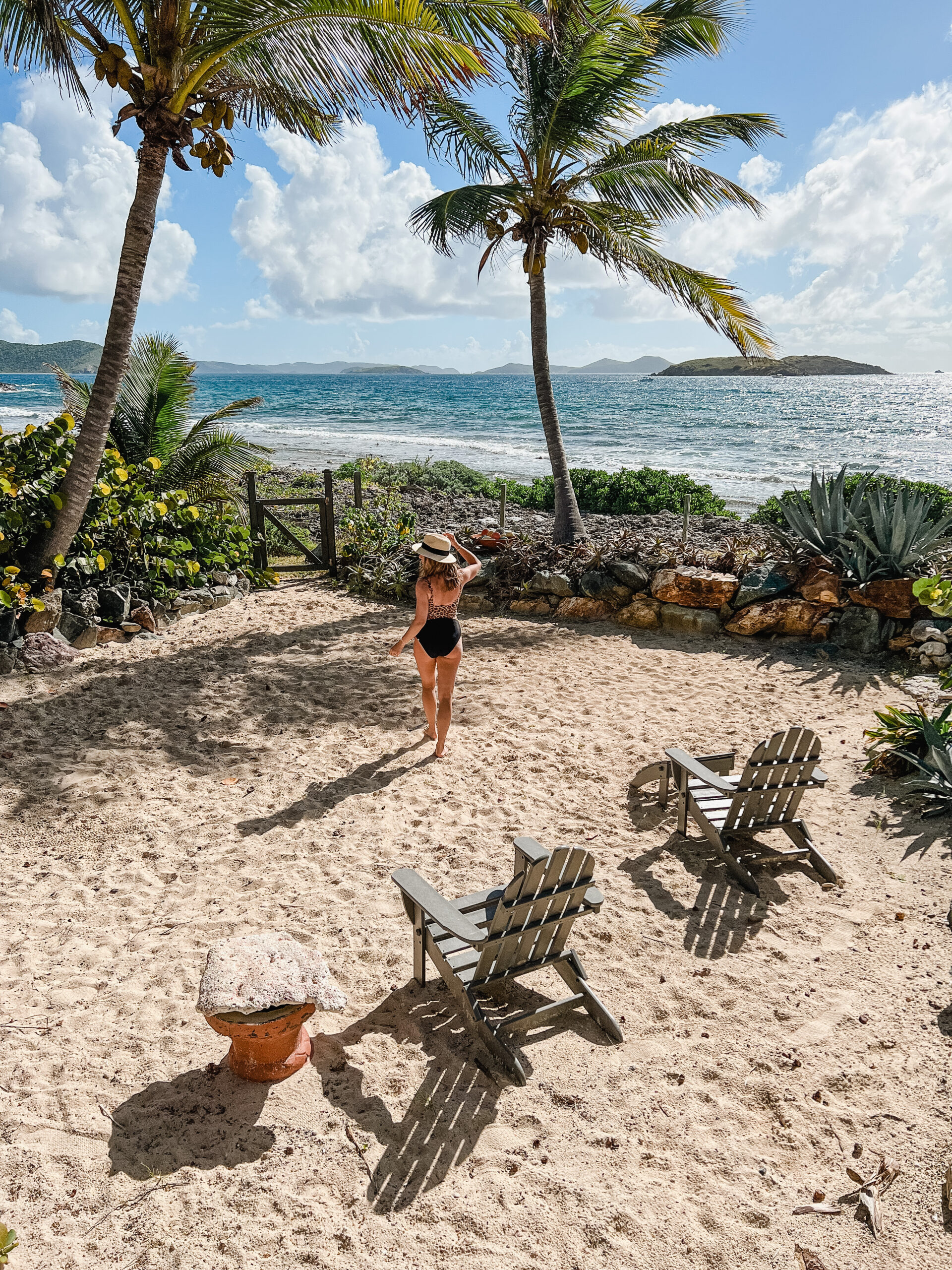 Where to Eat
As I mentioned in my last post, you will need to grocery shop if you're staying in a villa. There are several companies who will provision for you ahead of time so that groceries are present upon your arrival. We hired Landlubber Logistics this go around and will absolutely use them again. Not only do they shop for you, but they'll pick up arrival meals from to have hot and ready when you get to the villa! We took advantage of this since we were arriving much later in the day and knew we would all be starving by the time we got settled! Highly recommend, they were great!
We hit up some new restaurants this trip, as well as some we loved from our last stay!
SKINNY LEGS: A great little spot for burgers! We ate here before heading out on Salt Deck because the dock is right there! Stop by for lunch early if you have an afternoon charter. I had a grilled chicken salad this time, and it was delicious! Fun vibes in this place.
SALTY MONGOOSE: We take pizza very seriously in our house since we live near the pizza capital of the US, and my kids LOVED this pizza! Another place with chill vibes, it's all outdoors and very casual. Drinks are great, they have pizza and salads, and it's overall just a great time.
HIGH TIDE BAR & SEAFOOD GRILL: We loved it here last time, so we stopped by again! It's right on the beach, and you can take your drink and sit in chairs watching the ferry coming in and out of the Cruz Bay dock. Food is great, it's near shopping, and it's very relaxed. We love it here!
MORGAN'S MANGO: My husband and I actually had a date night here with some new friends one evening! The food was phenomenal – HIGHLY recommend making a reservation if you can get one. I even tried ceviche (I don't eat seafood!) and though it was incredible. It was red snapper, and it came with plantains drizzled with balsamic…oh my word. So good! It won't disappoint.
WINDMILL BAR: We were told to come here for the sunset! It's on top of a big hill overlooking the water and the view is STUNNING. It gets super crowded at sunset, but it was still a great time. We had burgers and drinks, and they had a place for the kids to run around and go on swings.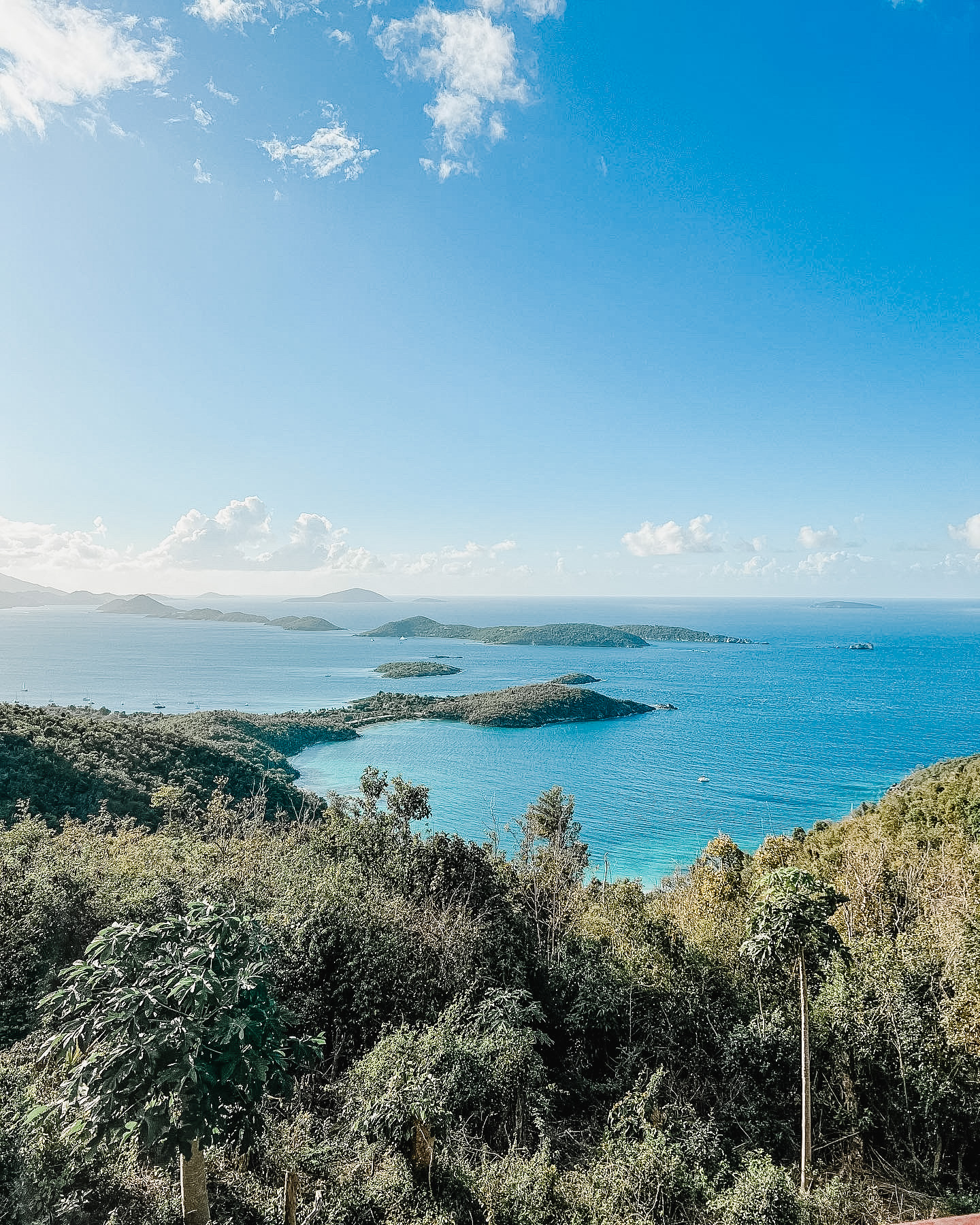 HOMEMADE MEALS TO GO: This little spot is right in Coral Bay and has exactly that…homemade meals to go! We stopped in after the beach one day and grabbed some of their vegan ice cream, conch fritters, and chicken. If you're in the area, you MUST try their coffee ice cream with chocolate covered espresso beans. OH MY WORD. I ate an entire container because it was that delicious (and dairy free!!!). Great spot to quickly grab a homemade meal to have back at the villa.
GREENGOS: We happened on this restaurant in Mongoose Junction one evening when we were struggling to find a place with seating (we were a larger group, which makes it a little challenging if you don't already have reservations! Poor planning on my part). Anyways, we ate here for some good ol' Mexican food! I had a taco bowl that was delicious. Pat had the biggest burrito I've ever seen and also said it was great! An easy spot for dinner if you want to shop at Mongoose Junction after! Hit up St. John Scoops or Irie Pops after for dessert!
You can read about more restaurants we've tried in my previous St. John post right here!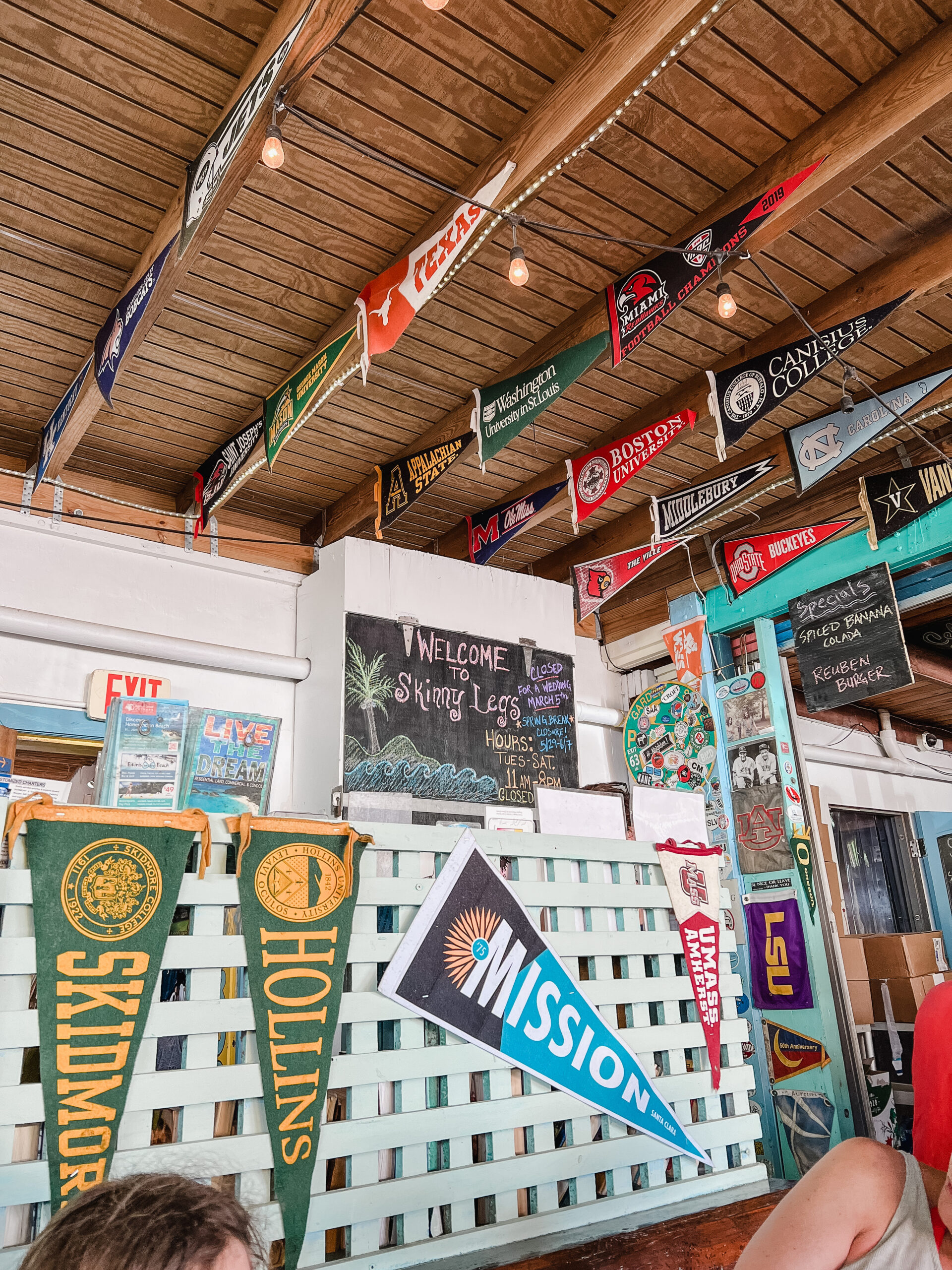 St. John Beaches
Last trip we explored the North Shore Beaches, which you can read about here. This trip, we stayed mainly in the South Shore and East End to see what these little beaches were all about!
SALT POND BAY BEACH: The villa we were staying in was actually super close to this beach! There's a bit of a hike to get to the beach (and just remember, you have to hike back to get to the car!) that was about 1/4 mile. It's 100000% worth the hike, though! This beach was very calm and shallow which made for great swimming for the kids. They were also able to snorkel right off the beach. This beach is also right near Ram Head Trail, which we have yet to hike! Next time. 😉 I really loved how calm this beach was, and there weren't many people on it! Highly recommend checking it out.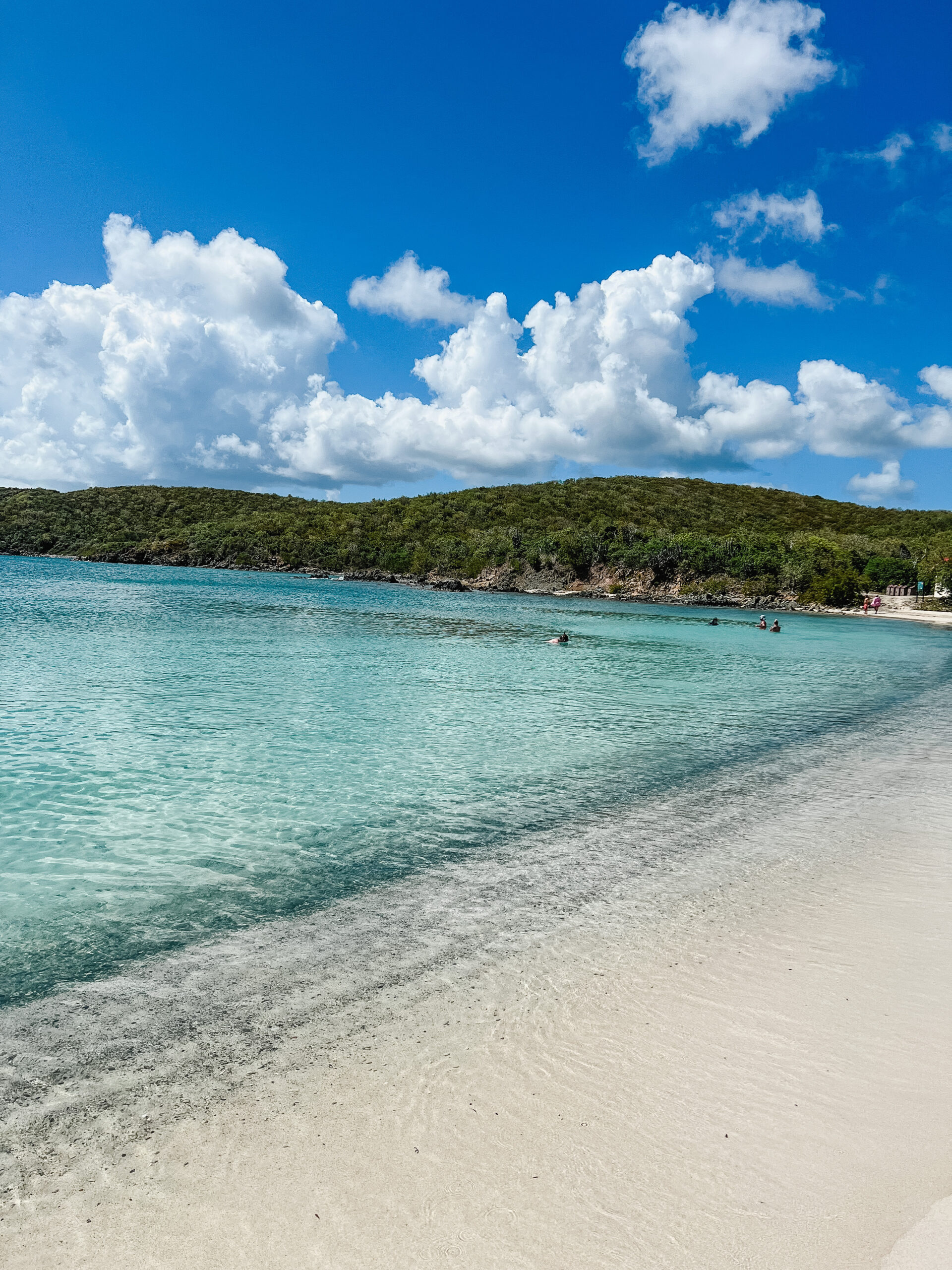 LITTLE LAMSHUR: This beach is definitely an adventure to get to, and we learned later on that some car rental contracts say to NOT go here as a result (that we admittedly did not read, whoops). There's quite a bit of off roading, and you definitely need a 4×4. However you'll reach a very remote beach with some really gorgeous views! There's plenty of shade, grills if you want to cook, and a small trail to the Sugar Mill Ruins. It's an easy hike, as they make sure it's preserved and renovated for easy access. My kids really liked exploring up there! The beach was very calm and shallow, which was great for the kids. It also had some great snorkeling spots!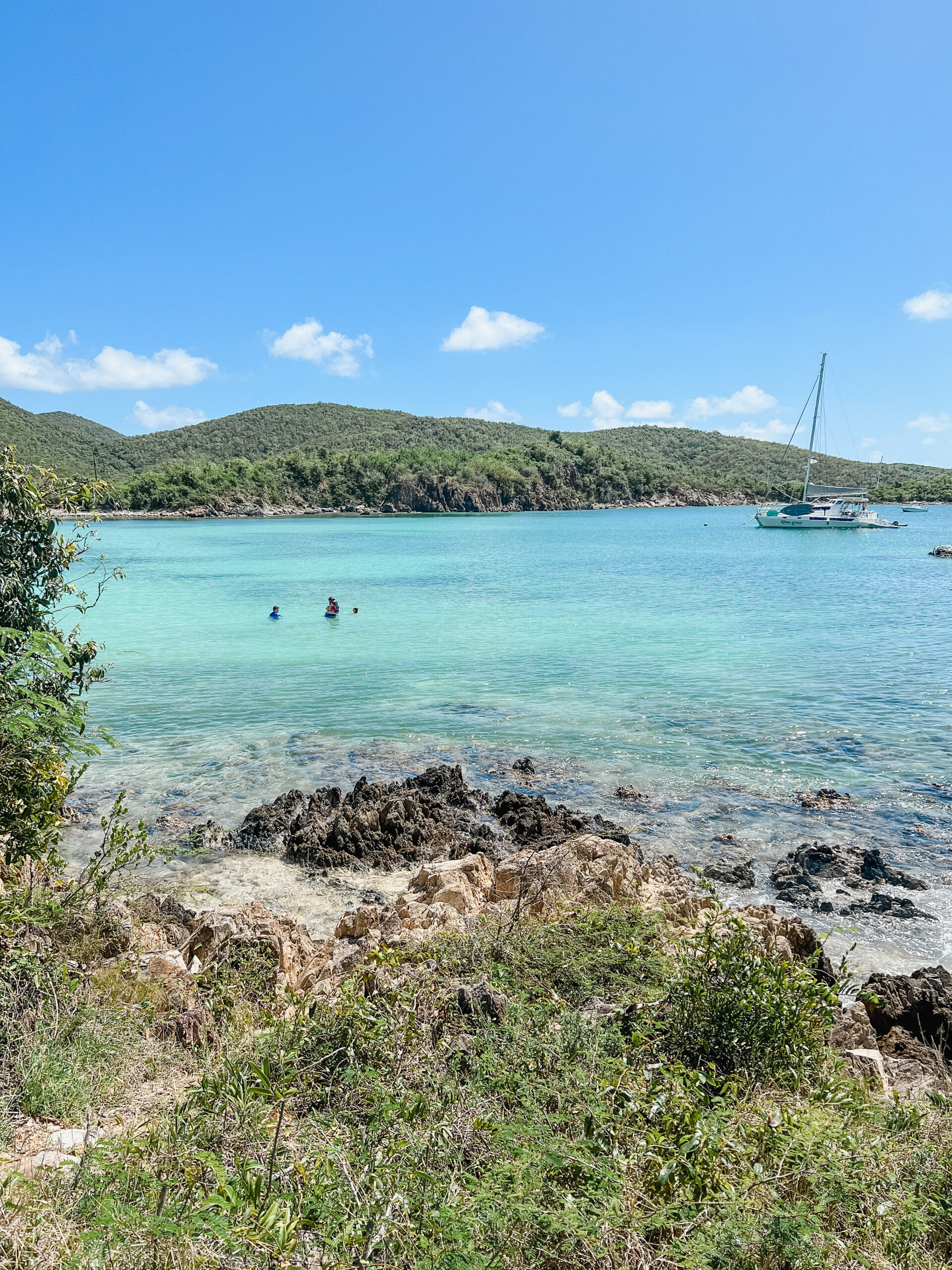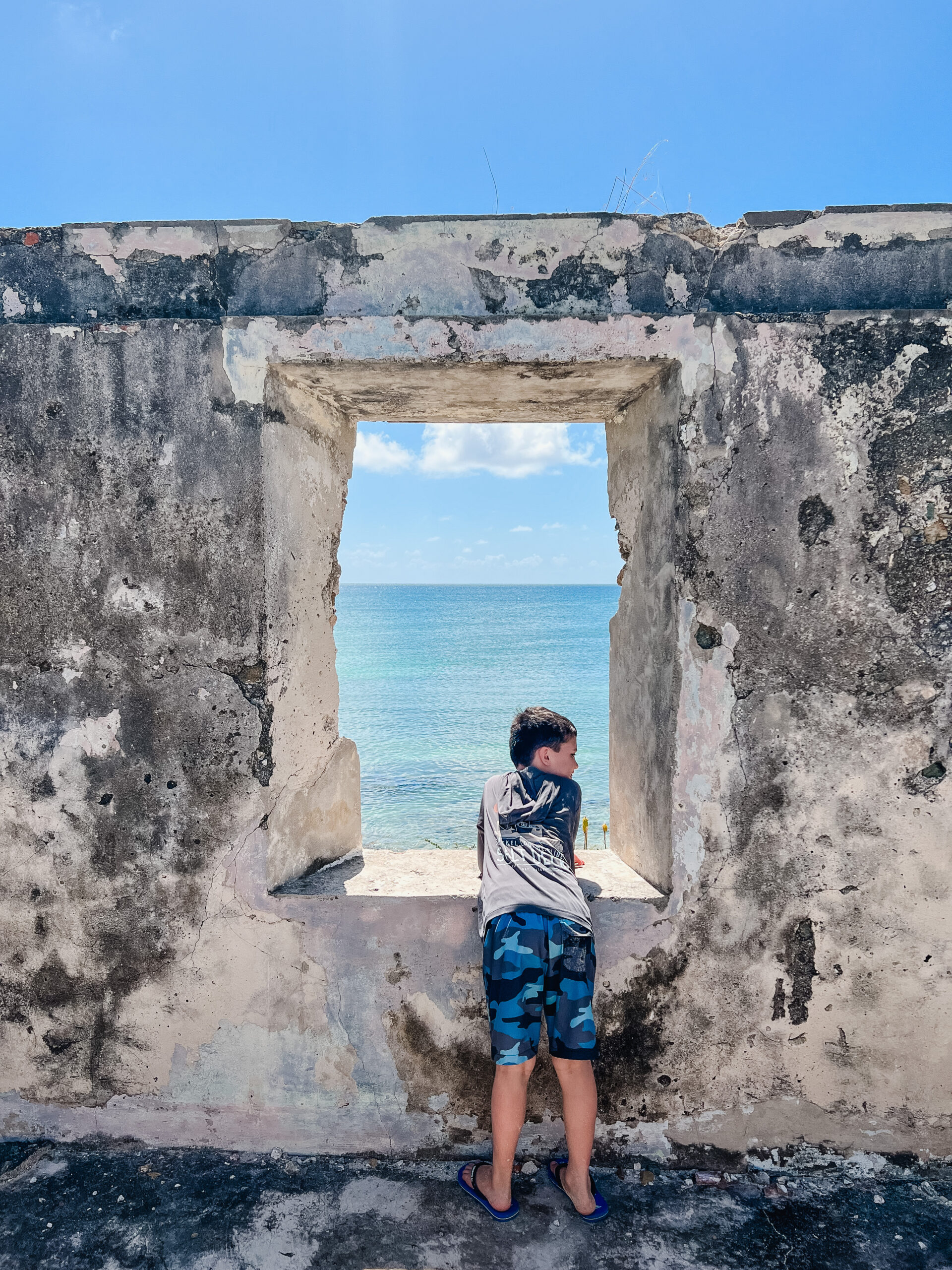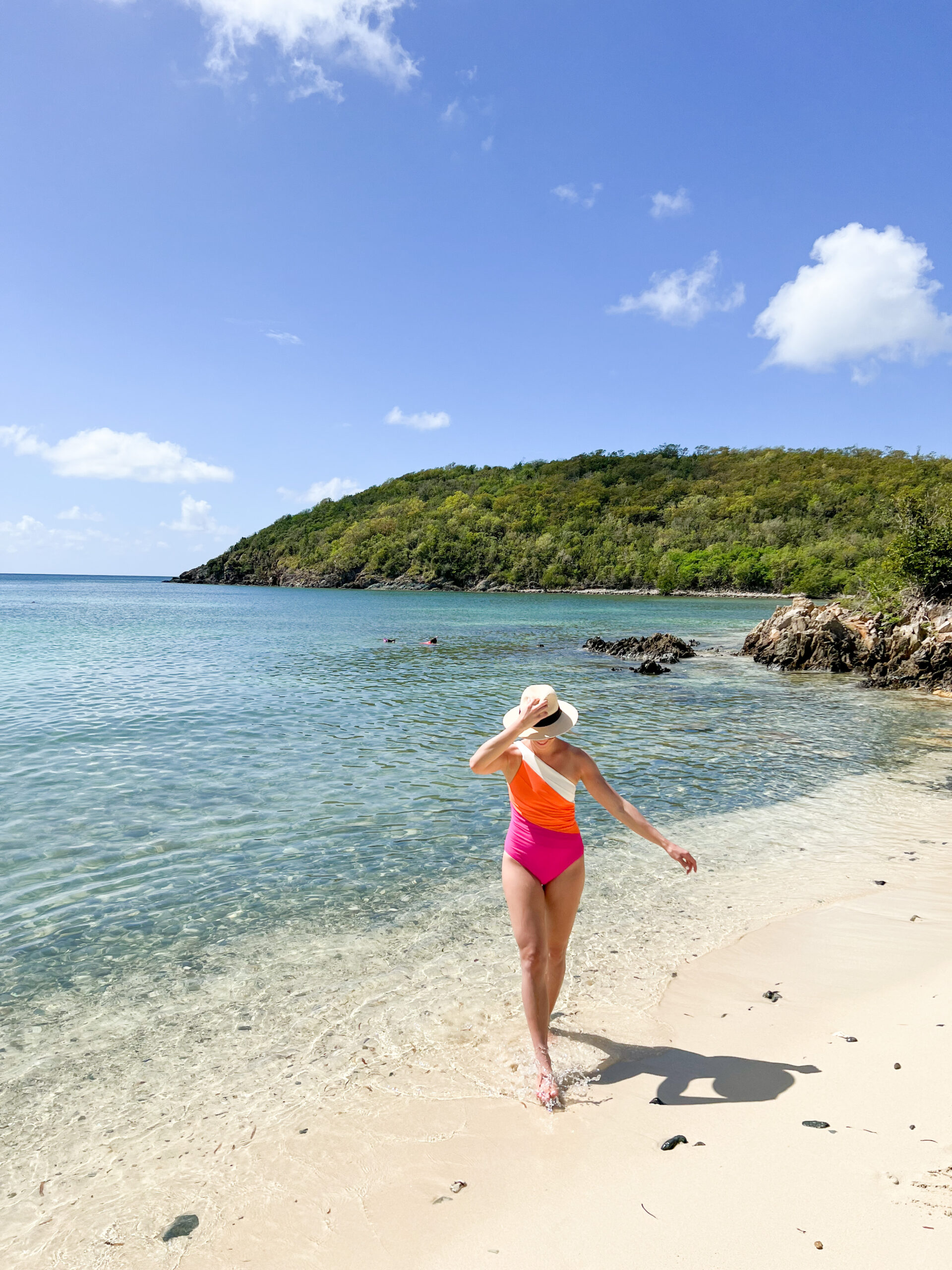 MAHO BEACH: We went back to Maho this trip because the boys didn't come with us last trip and my oldest was super disappointed about missing the turtles. Maho is a guarantee sea turtle sighting! I'm so glad we went, too, because we snorkeled with the most massive sea turtle I've ever seen! See the video below! The video doesn't even do it justice – it's shell was easily over 3 feet wide. Such a good experience! There's also bathrooms and food at Maho, as well as water sport rentals. The only thing I will say is this beach gets CROWDED. The parking can be tough, and there's a lot of people in the water. My recommendation is going early and leaving early to avoid crowds and get a decent spot.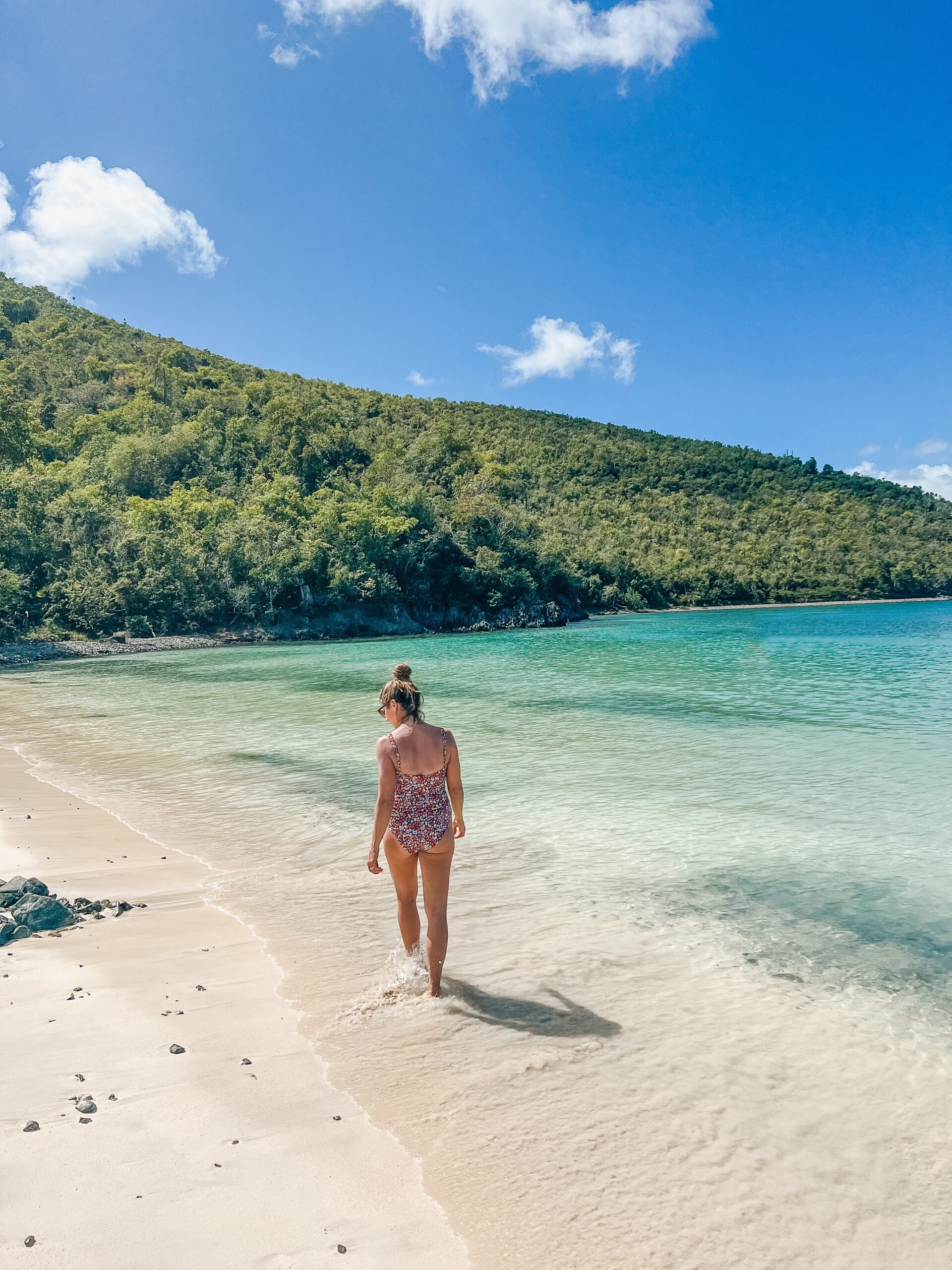 HANSEN BEACH: We had actually planned to go to a different beach this day, but ended up here instead and I am SO happy things worked out the way they did! What a gem of a spot this place is! It's definitely far into the East End of the island, but it's so stunning. It's runs entirely on donation (it has a private owner who opened it to the public..and she was so sweet!), and we made sure to leave one! Parking was easy, and she had some water activities available to rent. We are absolutely spending a day here when we come back in April!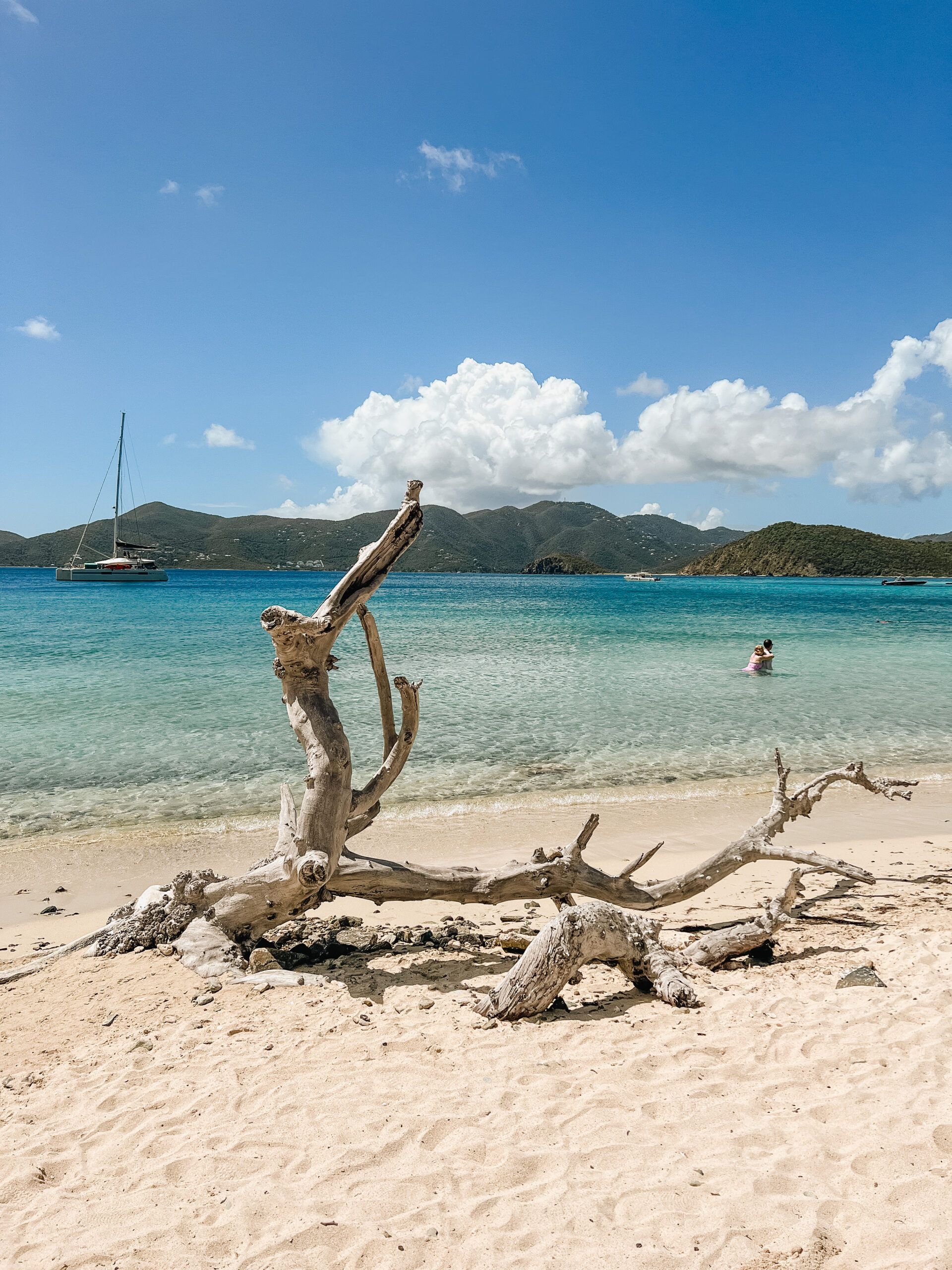 Things to Do
We actually kept our activities to a minimum this trip, which was fine by me! We explored the shops in Coral Bay and also spent time in Cruz Bay. There are a variety of hikes I still want to go on, but we wanted to relax more this trip. That's the best part of this island – it's what you make of it! If you want something more active, the opportunity is there. If you want to relax, you can! We did take another trip out on Salt Deck with Salty Daze Charters because we loved it so much last time. I highly recommend this charter, especially for families with small kiddos! The water slide is always a hit, and they offer half day charters (which is best for our kids). They'll take you out to Lime Out, the floating taco stand, too! You can read more about our experience in my last post. If you do take a trip with Salty Daze Charters, ask for Captain Landry or Captain Justin and tell them the McBrides sent you! 🙂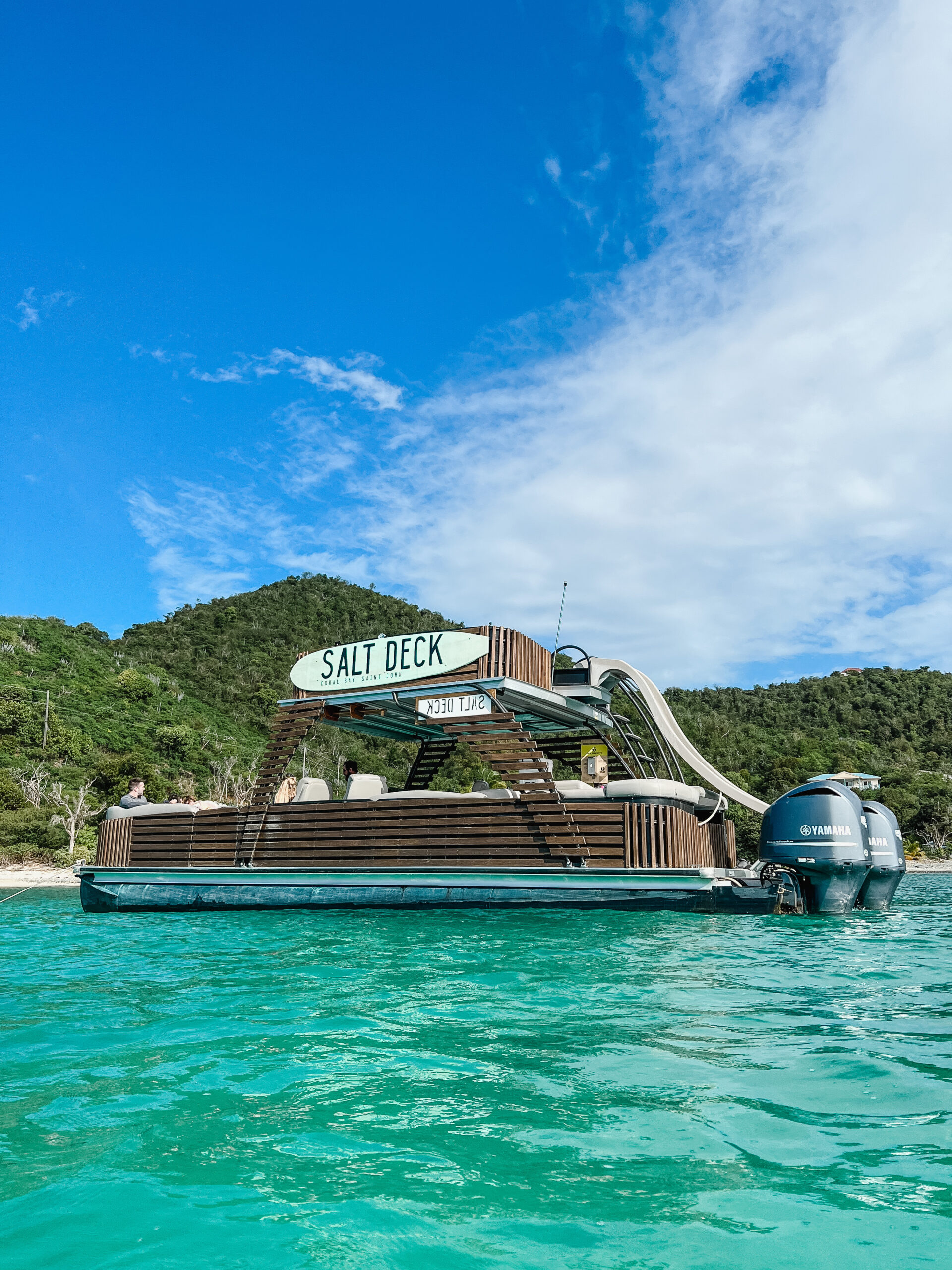 And now the question of the trip….which did we like better, staying in Cruz Bay or Coral Bay? Well, I can't really answer that! I think first timers will enjoy being in Cruz Bay better because it's closer to most of the restaurants and popular North Shore beaches. Coral Bay is a little calmer! But if you asked me to choose, I can't! I love the whole island so much that I'm happy to be anywhere! We are staying along the North Shore next trip and will also be back in Coral Bay around Thanksgiving. We're hoping to own property on the island soon! 🙂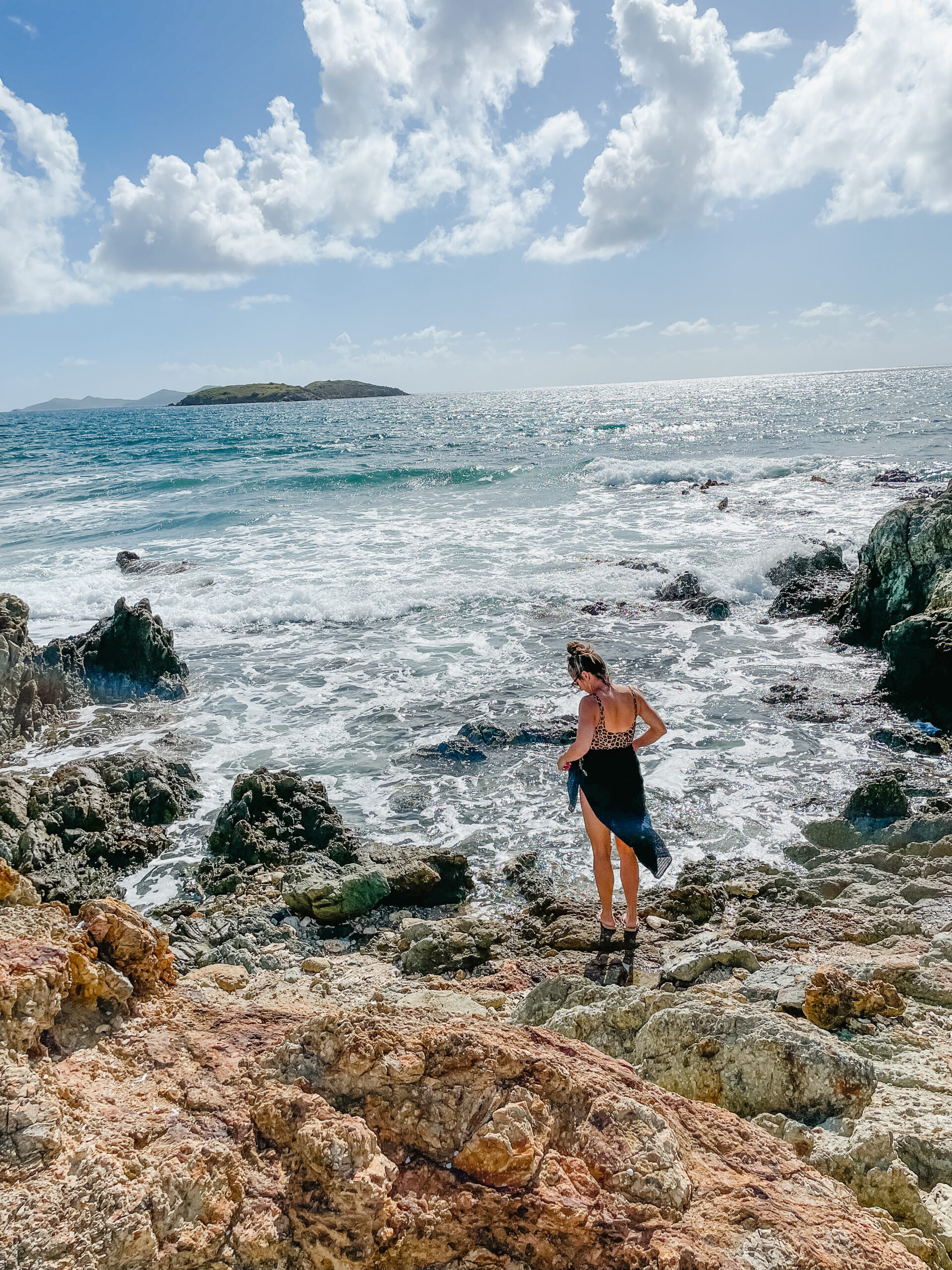 Let me know if you have any questions I didn't answer in a comment below! And if you book a trip because of us, please tell me! I want to hear all about it!!!