Daisy Jones & The Six is not so secretly my current obsession. I have a series going on Instagram right now all about fashion inspired by the show. So, I thought I'd take some time here to talk about the awesome decor!
Mid-Century Modern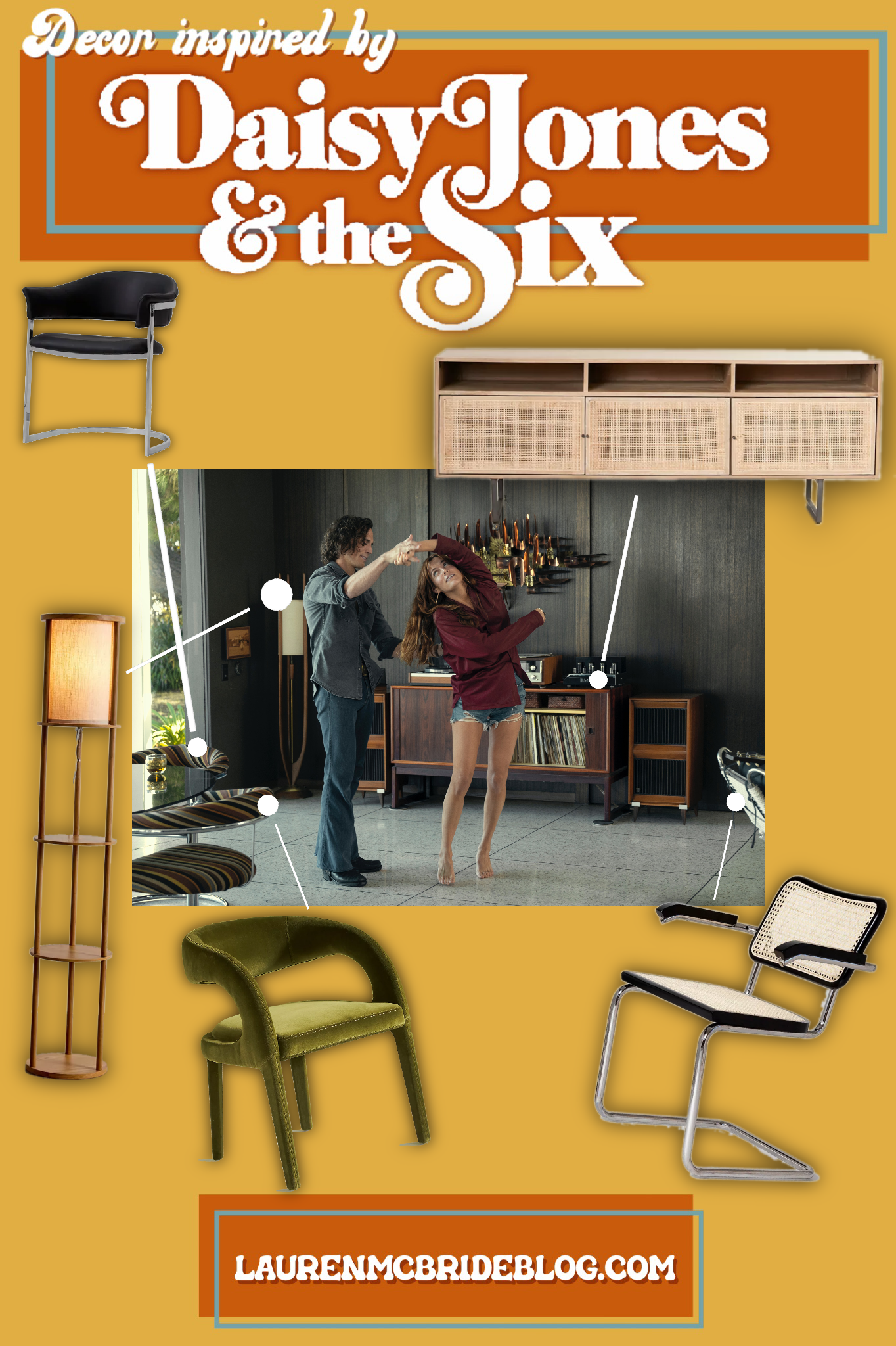 Here they have a pretty dark, mid-century modern vibe going on. It's very different from that light rattan 70s boho that we're all used to (though we will get into that soon). These beautiful kitchen chairs boast the Giotto Stoppino look that was huge in the 70s and 80s. Luckily, I found some chairs on Anthropologie and Wayfair that pay homage these great pieces! This media console comes in a set of three, but I found one that combines both the middle and side tables on Urban Outfitters. Going back to chairs, you can see a fraction of a rattan one on the bottom right corner of the screen. This rattan is still that dark, mid-century design and luckily Urban had something really similar. Lastly, we stay at Urban for this awesome floor lamp. I honestly like this one better than the one in the show (don't tell Daisy) because it has built in shelving too!
Rattan Everywhere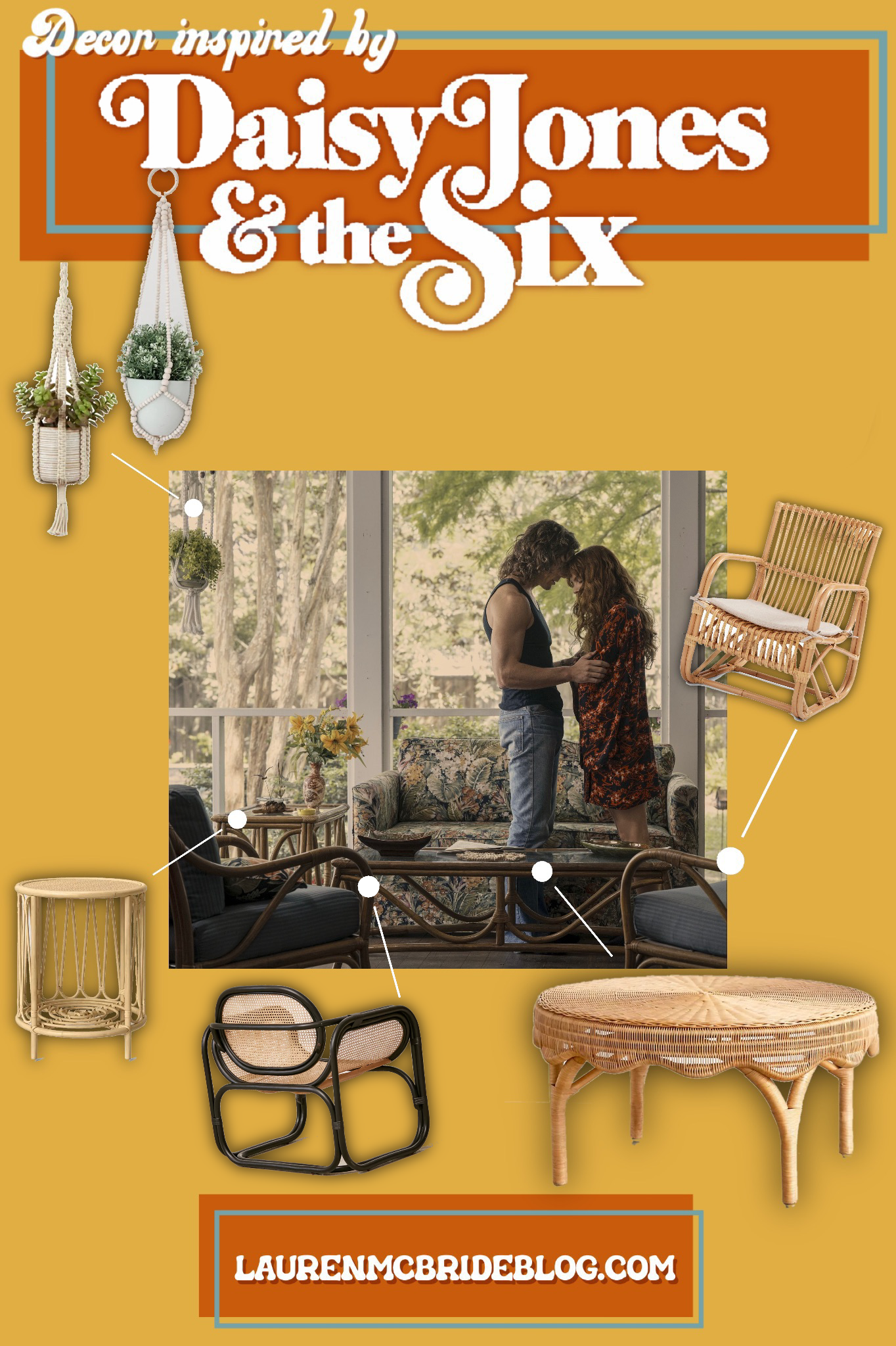 Now this is the 70's decor we're used to. Just a total dedication to rattan, rattan, more rattan…and some macrame. This coffee table from Urban Outfitters doesn't have the same glass top as the one in the show. But, it does have the same look and feel! And…it's 50% off right now. I decided to pull two chairs that reminded me of this set, one from West Elm and one from Urban Outfitters. I think the shape of the Urban one is pretty spot on, but the coloring of the West Elm one is more accurate. Either way, they're both great! This side table from Target poses the same drawbacks as the coffee table, but it still does the job. Last but not least, the hanging macrame planter. This one from Wayfair is more accurate to the one shown here, but this one from Shop Dal Mare has the two plant option!
Tour Bus Chic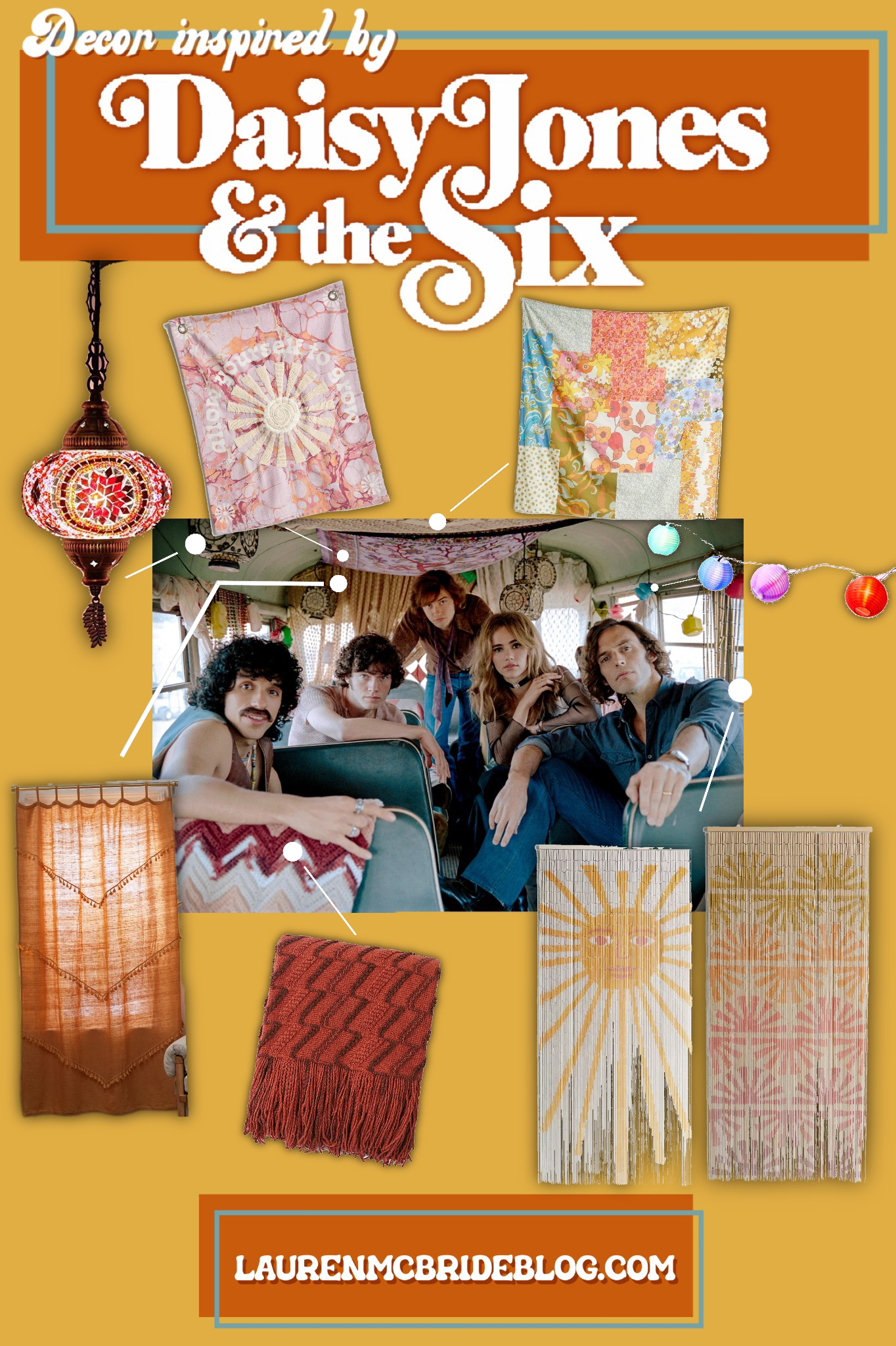 Now I know this isn't really a room that most of us can emulate, but the wall decor was too pretty not to talk about!! These Turkish lanterns from Amazon are so cool and such a unique, retro alternative to normal pendant lights. This knit blanket, also from Amazon, has that cozy knit style that really transports you back in time! These lantern string lights from Lights.com are almost identical to the ones from the show! Urban Outfitter's tapestry and curtain section took a big page out of Daisy Jones' book (or maybe it was the other way around). Either way, there are a ton of options on their site if you want to capture the vibe of this picture. For this collage, I pulled these fringed orange curtains, sun bamboo beaded curtains, sunrise bamboo beaded curtains, allow yourself to grow lavender tapestry and luanna multicolor tapestry. Those were just what stood out to me but it's definitely worth a few minutes to browse their wall art section if you're looking for some boho decor.
70s Cigar Bar

The dark, maximalist design of this room just reminded me of a dive bar. I'm kind of shocked there's not wood paneling all throughout the room. I thought this dresser from Urban Outfitters brought that dark mahogany energy in a more modern way. This side table, also Urban, is a little light for this room's design aesthetic, but I just felt there were too many architectural similarities to pass on it! Staying with Urban Outfitters, this abstract wall hanging and wavy table lamp are perfect companions to the pieces from the show! One of the most unique, and most 70s, aspects of this photo is the fringe lamp shade. I found this one from Wayfair that is very spot on to the color & patten of the original, but it comes with a pretty hefty price tag (though it is on sale right now). This one, from Amazon, is a less pricey lookalike that doesn't have the same pattern, but would still add that retro fringe detailing to your space.
I hope you guys liked this decor breakdown of some of the sets from Daisy Jones and The Six! Follow along on Instagram to see my fashion breakdowns and stay tuned for more Daisy Jones content all week long! You can also join my newsletter which shares links, giveaways and compilations of content across all platforms every week!