Last July we visited Grand Velas Los Cabos, one of Mexico's top luxury resorts. We had such an incredible time that we knew we wanted to return! Our vacation rental in St. John was booked for our spring break (we are so happy to be hosting guests!), so we decided to visit a new Grand Velas location – Riviera Nayarit all-inclusive resort near Puerta Vallarta, Mexico. This was our family's first time visiting Riviera Nayarit, and we were looking forward to experiencing the luxury of Grand Velas again!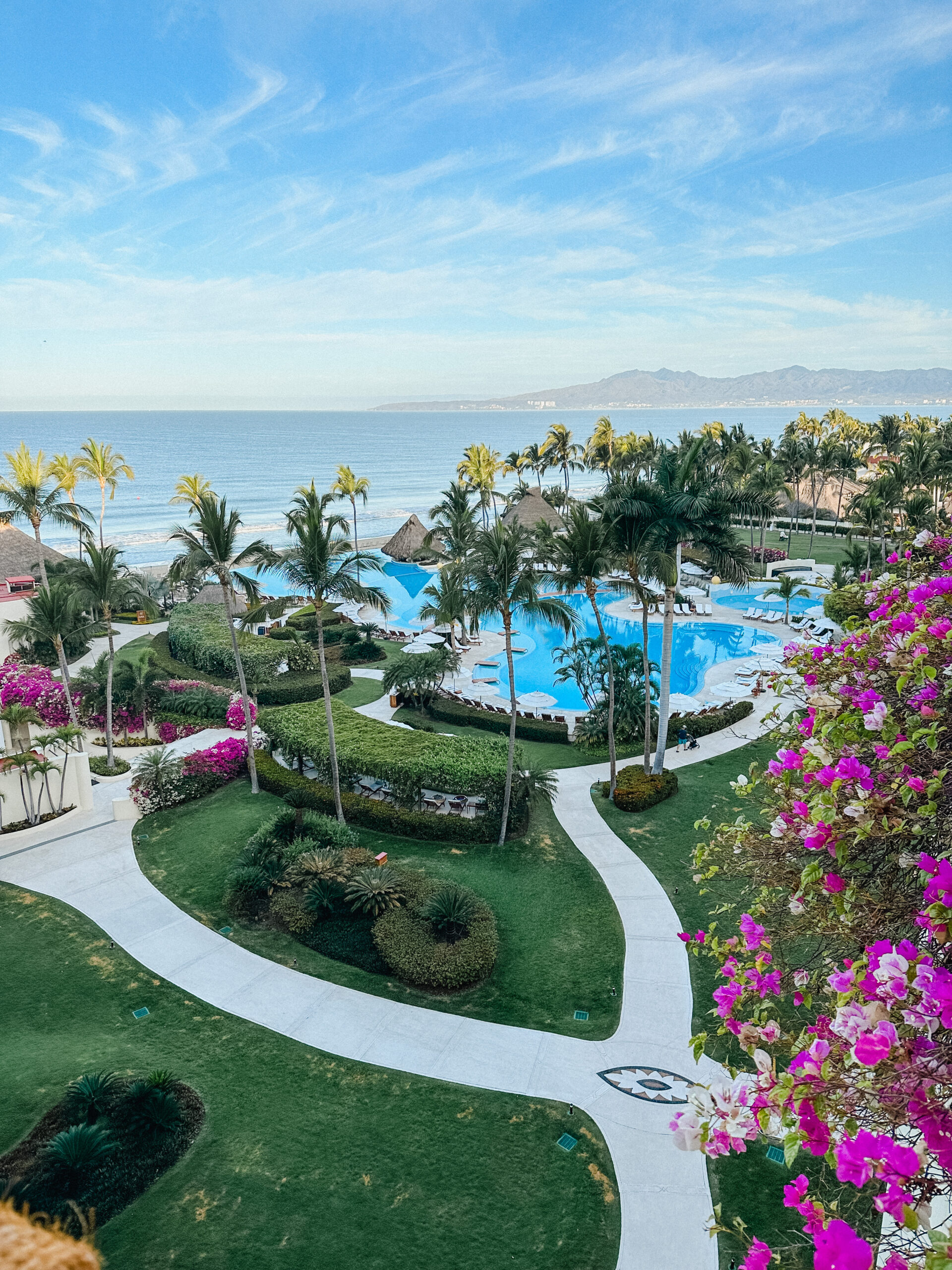 Grand Velas is a luxury all-inclusive resort with various locations in Mexico: Los Cabos, Riviera Nayarit, and Riviera Maya. They offer world-class spas, gourmet restaurants, incredibly gorgeous landscapes, and an amazing hospitality experience. We've truly never had customer service as stellar as we've experienced it at Grand Velas! They are a AAA Five Diamond Award Resort and amongst the top luxury resorts in Mexico. Having visited twice now, we can truly say we agree!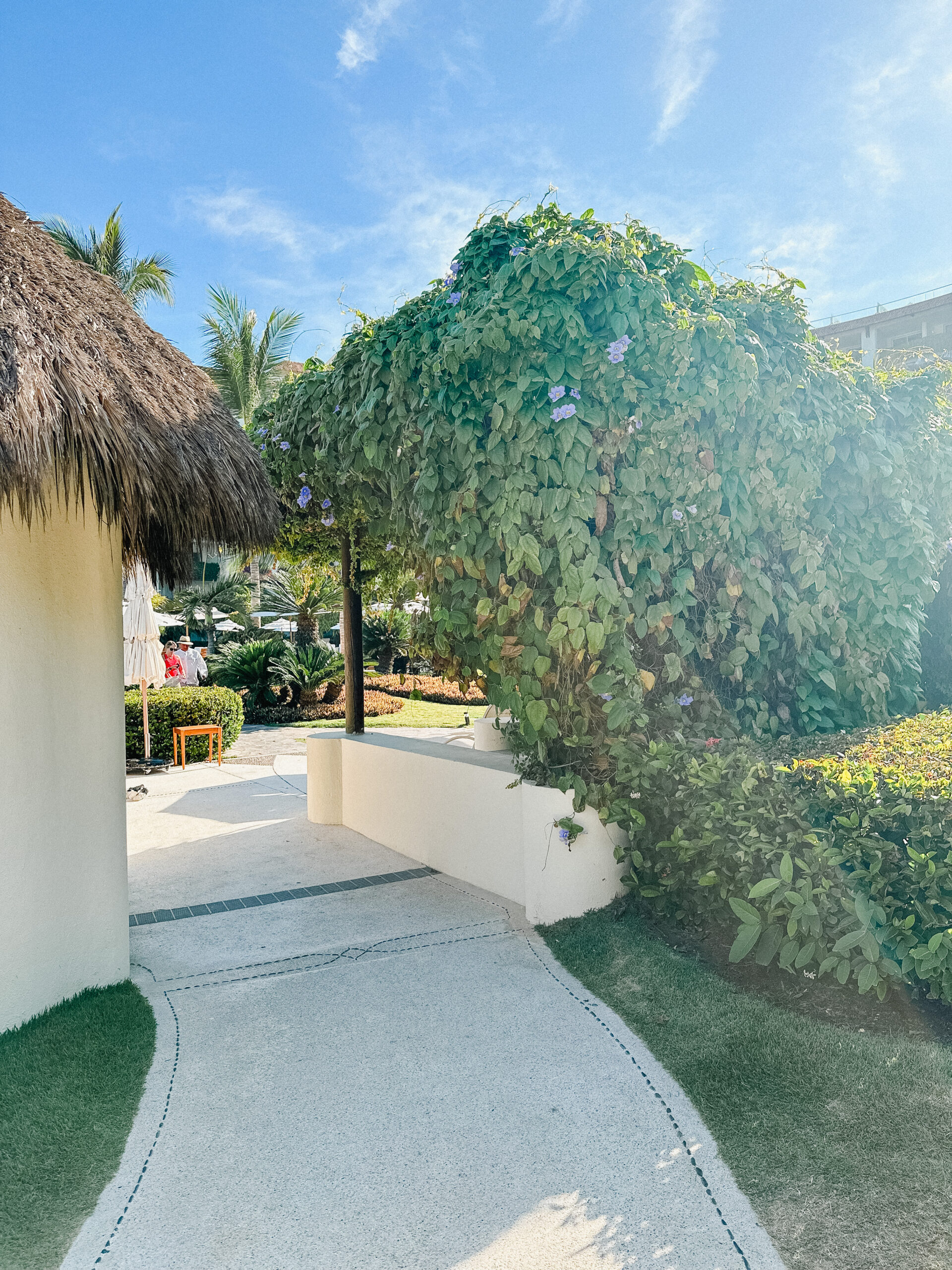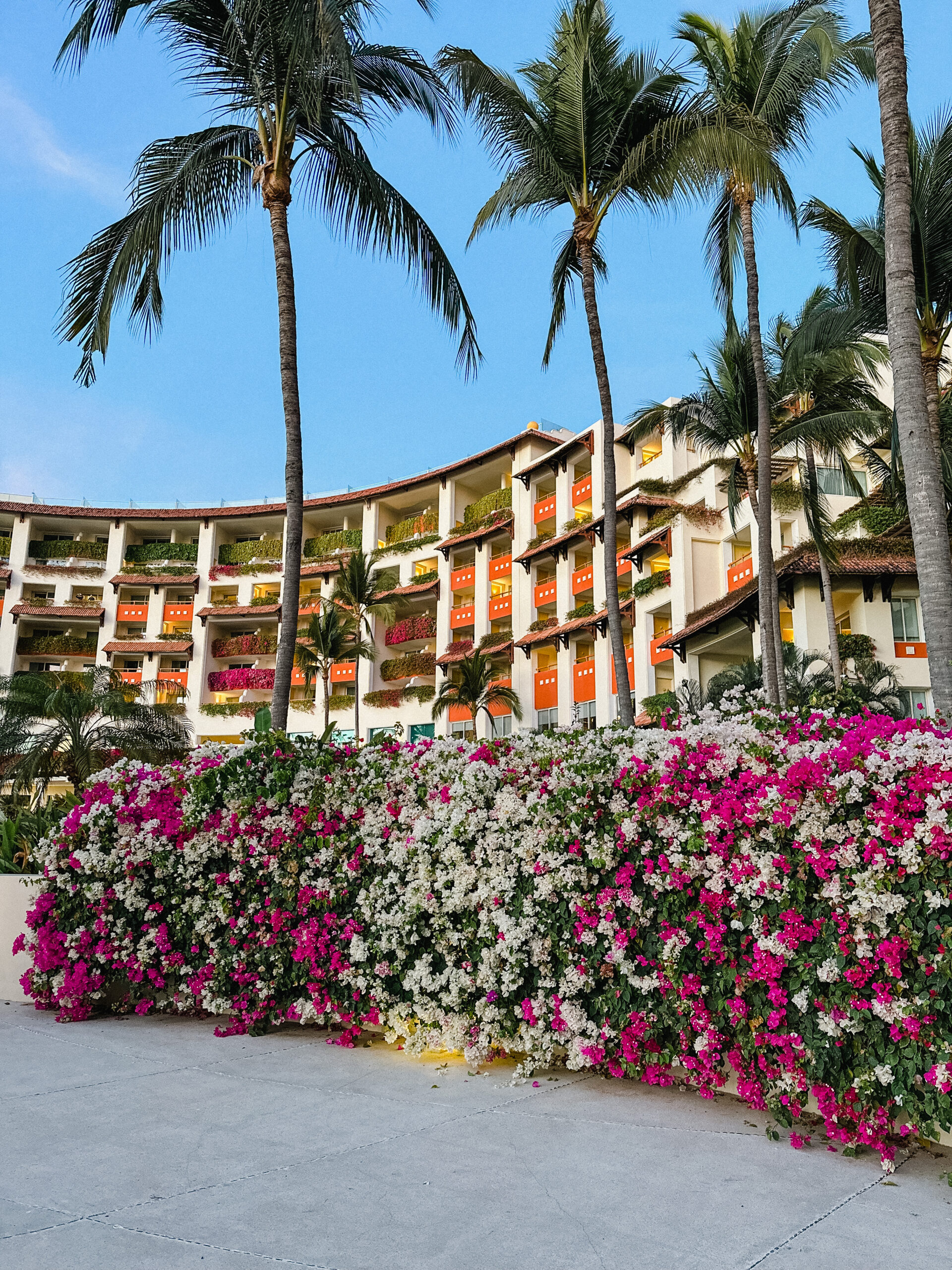 The Suite
We stayed in a Two Bedroom Family Suite during our trip to Grand Velas Riviera Nayarit, which felt enormous! There was one bedroom with two queen beds, a living space with dining area, another bedroom with a king bed, a large balcony, and a separate balcony off the king room with a hot tub. There were three bathrooms total in the suite. It was huge! We loved having the living and dining space for our family – we could hang out in the living space or on the patio after the kids went to bed. The kids also loved the hot tub in the evening. The balcony offered gorgeous sunset views and overlooked the lawn and pool. It was more than enough space for our family and we absolutely loved having it. There are a variety of room types available, but this was a nice treat for our family of 5.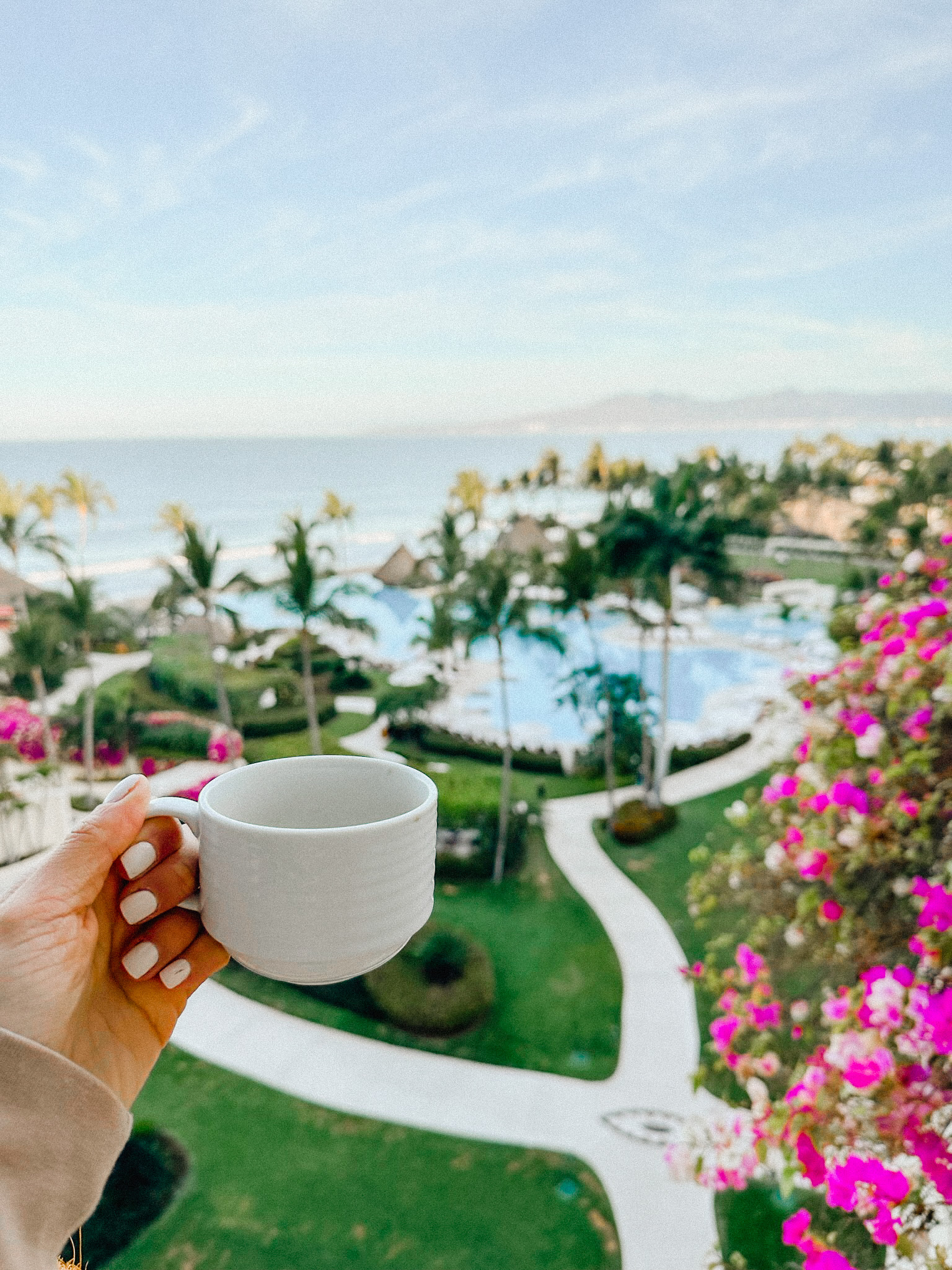 The Food
If we had to choose one thing that made our visit to Grand Velas properties memorable, our family would all agree it was the food. There are several restaurants, ranging from casual to dine dining, throughout the property, all with absolutely exquisite meals. They are also incredible with food allergies! They accommodated my dairy and gluten free requests without issue.
Our family favorite is Frida, which is was inspired by the legendary Mexican artist Frida Khalo. It's family-friendly, offers true Mexican cuisine, and delicious hand-crafted cocktails. Our kids still talk about the steak!
Another family favorite was Lucca, which is delicious Italian-Mediterranean cuisine. We had an amazing Italian meal here, and the kids were able to get a yummy pizza!
Sen-Lin offered delicious Asian fusion cuisine, with yummy fried rice bowls, pad Thai, and more.
My husband and I had an adults-only dinner at Piaf, which serves classic French cuisine. This is an adults only restaurant and is finer dining than the previously mentioned. It was delicious! They even made me dairy free mashed potatoes.
Selva Del Mar was the poolside cafe that overlooked the ocean, as well as where you order from if you choose to dine at your lounge chair. We ordered from here every day, whether we sat inside the actual cafe or ate while lounging by the pool. They offered everything from burgers, tacos, salads, to ceviche. They also had popsicles!Everything was absolutely delicious!
Azul has ocean-front casual dining right near the pool. They offered buffet style dining all day, which is nice because you don't have to wait!
Koi Bar is an adults only bar which was nice to start the night at before heading to dinner!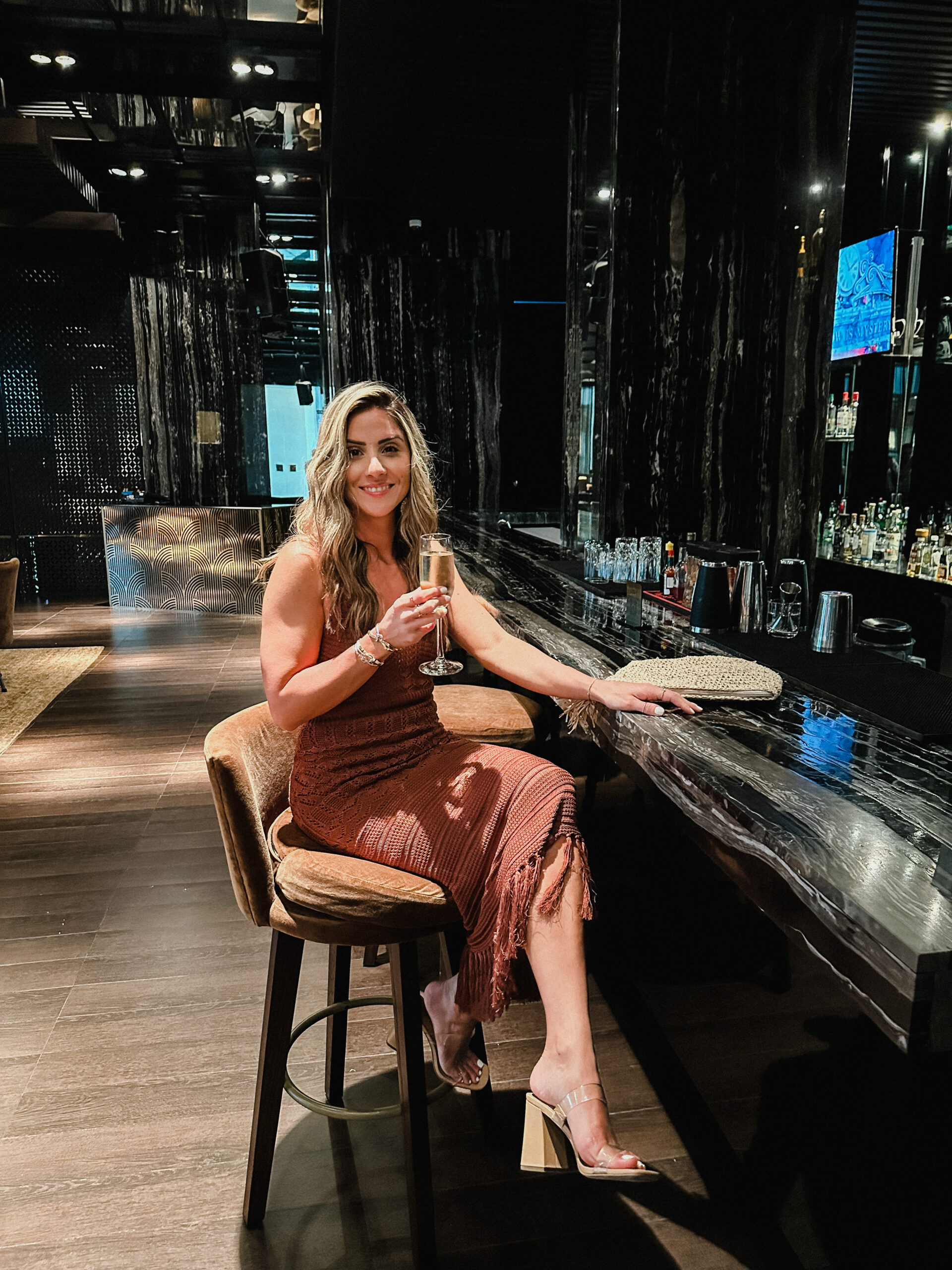 One thing to note about the family-friendly restaurants at Grand Velas is their kids menu. It's so much more than chicken nuggets and fries! They offered steak, grilled chicken, vegetables, and more according to the style of restaurant. Each restaurant was also able to accommodate random requests, too (for instance, a pizza at the Asian-fusion restaurant).
We also took advantage of in-suite dining every morning (I love room service breakfast!), and for the kids some evenings (specifically dessert!) The breakfast at Grand Velas is phenomenal – our kids loved their waffles and French toast! Highly recommend dining in the room to start your day, especially if you have early risers like we do. You can select a time for breakfast to be delivered – it promptly arrived between 7-7:15am every morning for us!
Another fun thing we spotted – a Nespresso cart appeared by the Koi Bar every morning! Delicious coffee before heading by the pool.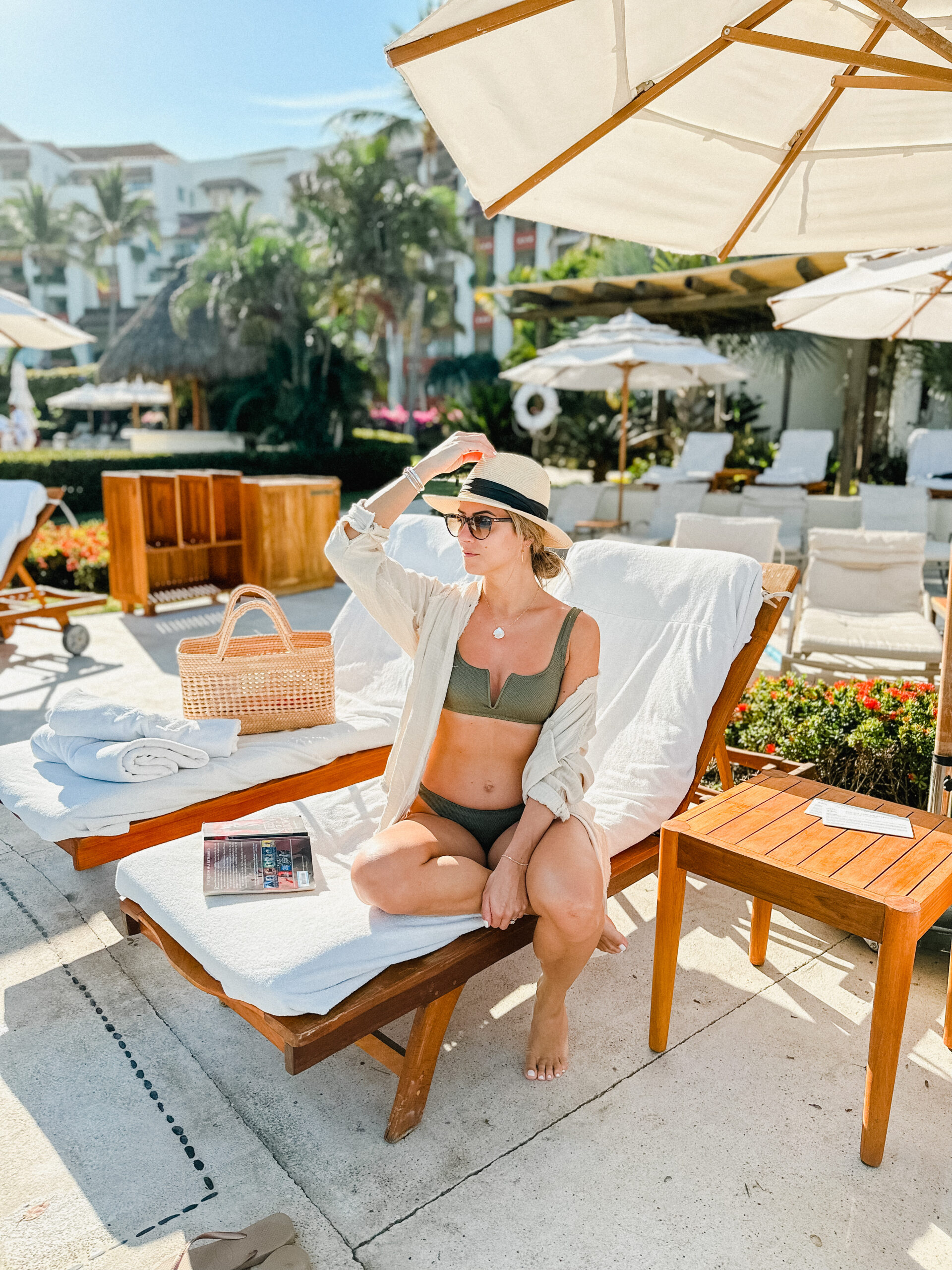 The Activities
I'm going to start off with the Kids' Club because it was a huge hit with my kids. There are two clubs – one for kids and one for teens. The kids club was geared for ages 12 and under, and there was a variety of activities indoors and out. They even had little video game pods with Nintendo Switches – my kids enjoyed playing some Mario Kart when they needed a break from the sun! They also had daily crafts and an outdoor picnic for lunch every day. There was always a fun show with games during the picnic as well. We saw an Aladdin and Toy Story performance during the week. The kids looked forward to it every day! They did not need to be apart of the kids club to attend the shows, either. They took place on the main lawn for all to see. The kids club also had an outdoor area with a small rock climbing wall, amongst other outdoor activities. It was nicely shaded, too! We felt incredibly comfortable leaving our kiddos in the kids club – they have precautions in place to ensure safety! Our three asked to go for a bit every afternoon, which was great for some shade.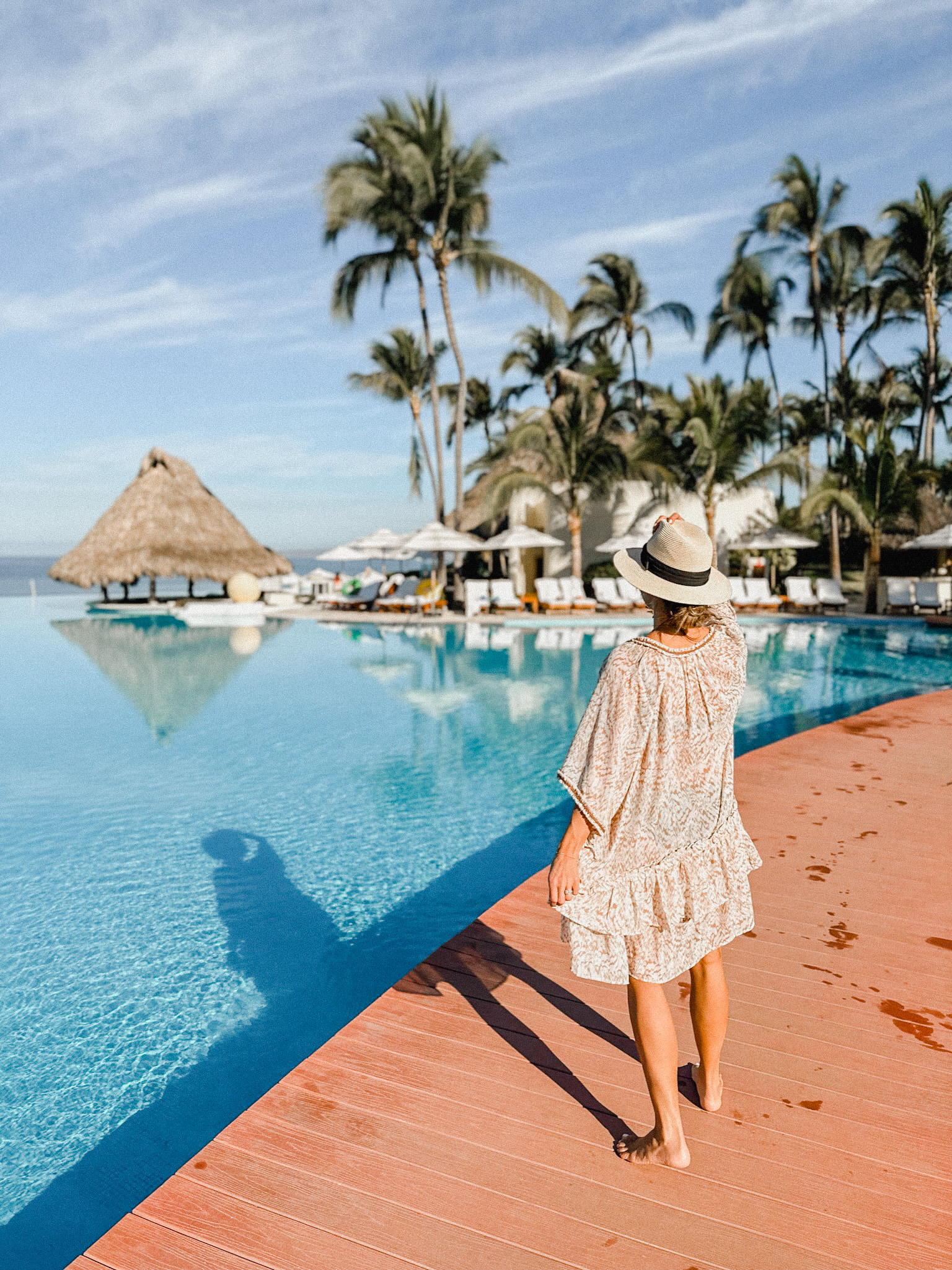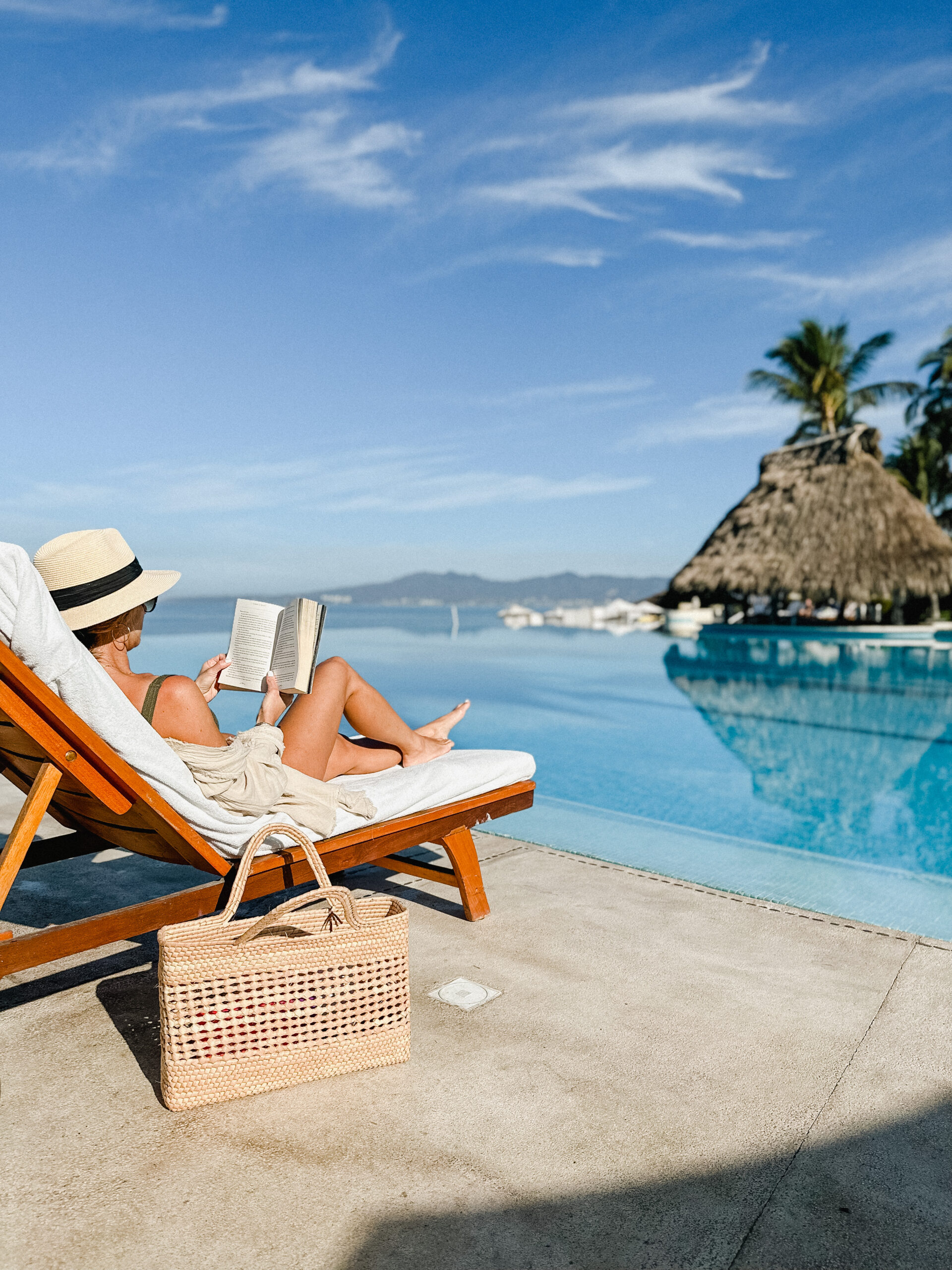 Activities also took place in the pool and at the beach every day. Our oldest took part in pool and beach volleyball, pool basketball, beach football, amongst other things! They also did water aerobics! The activity coordinators are fantastic at gathering people to join and ensuring everyone who wanted to play could be involved! (These photos were taken early the morning before the pool was busy!)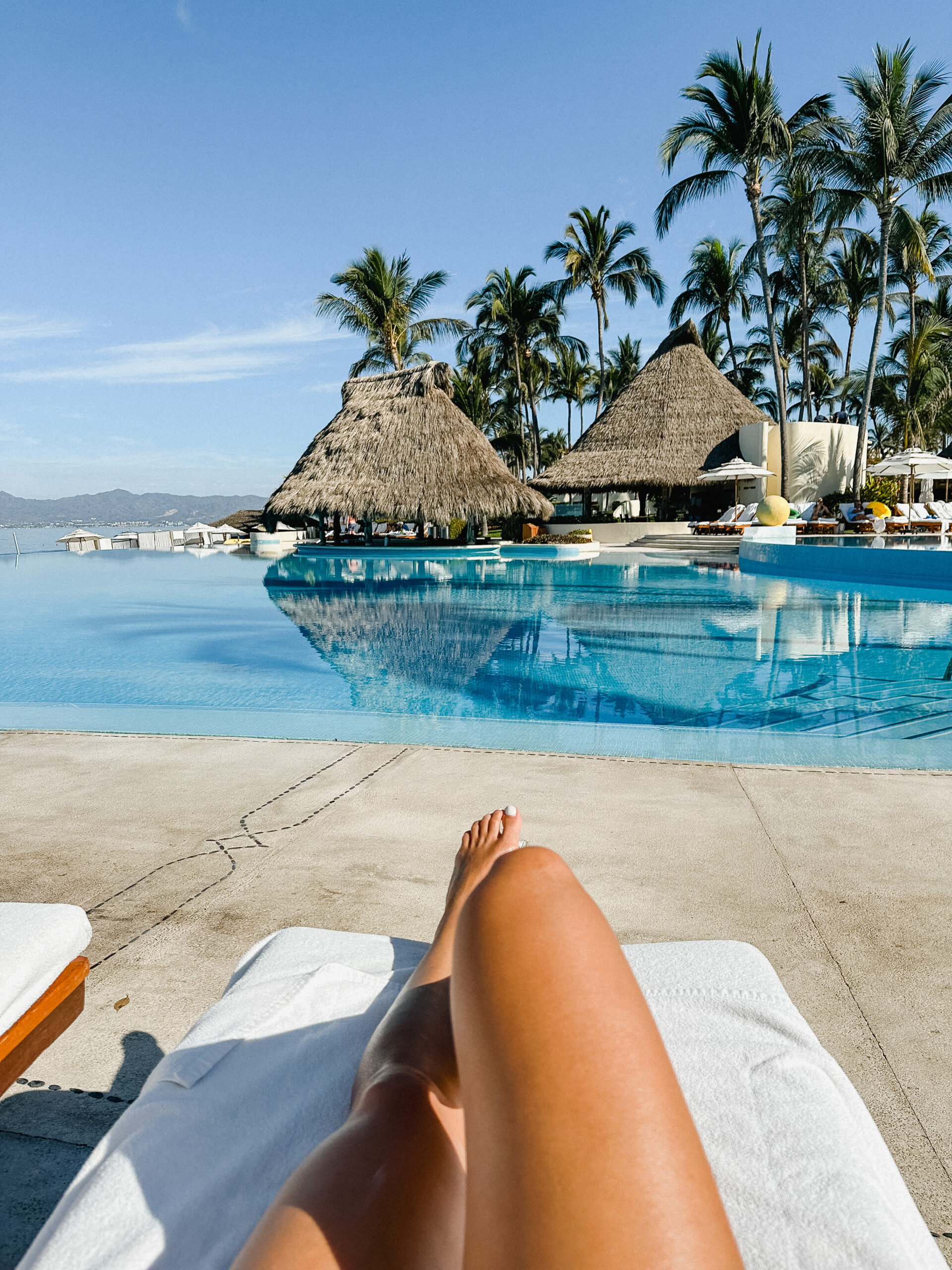 Another activity offered at Grand Velas Riviera Nayarit was pottery painting. My kids asked to do this every day (which was fine by me – I'd rather pay for pottery than a stuffed animal from the gift shop!). They painted their piece of choice, and then would get it back the next day after it was placed into the kiln. The kids loved this so much, and they have adorable hand-painted souvenirs as a vacation memory!
While we weren't able to go in the water at the Grand Velas Los Cabos location, the beach was very active at the Riviera Nayarit resort! The resort had boogie boards and surf boards available to rent, and lots of beach activities happening throughout the day. There were cabanas available as well on a first come, first served basis.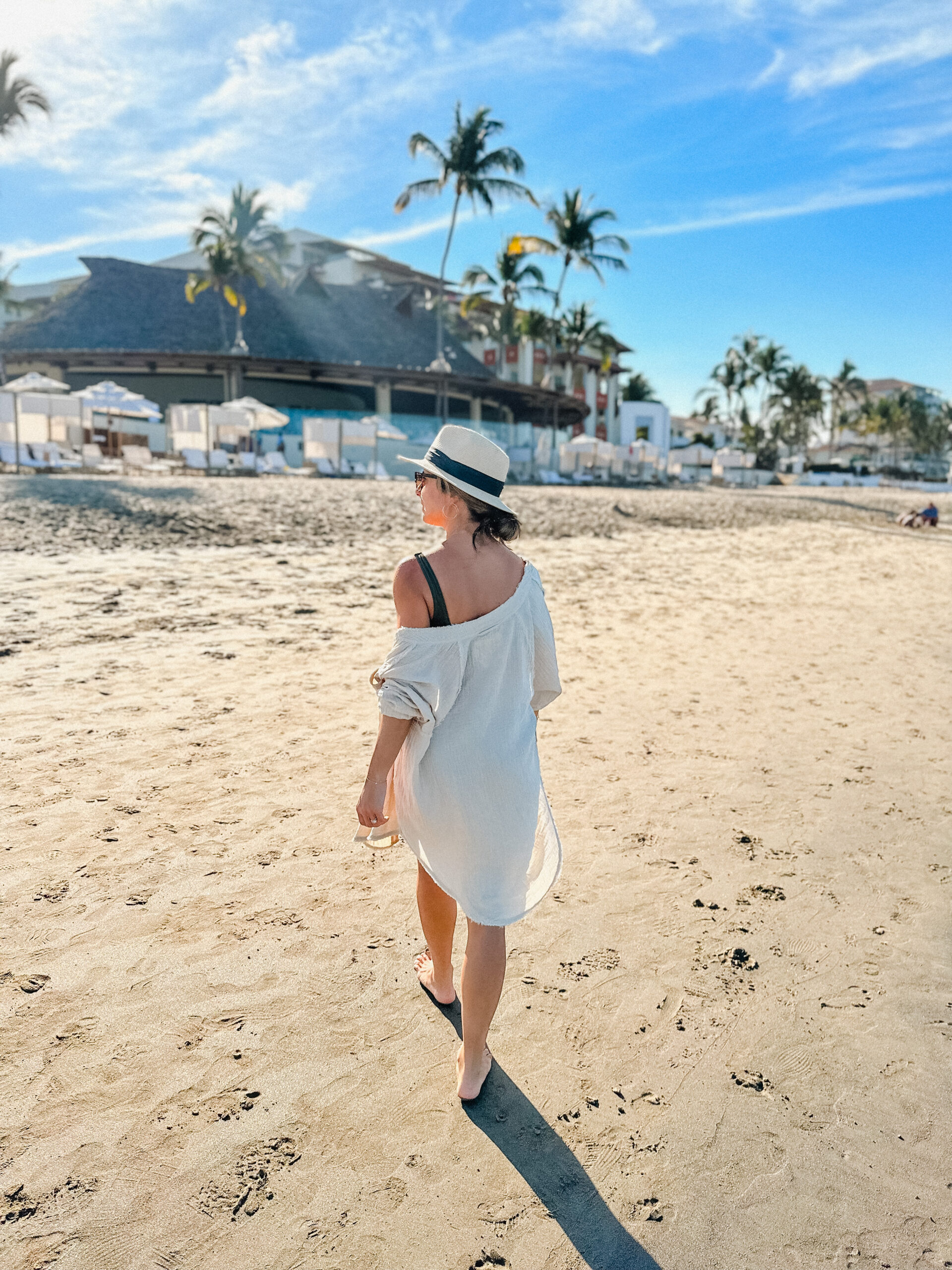 You can also book several activities for an additional cost! Our family did a beach bonfire complete with appetizers and s'mores at sunset. It was so beautiful! They also have a fun family movie night and more. I love that they offer so many special activities to make your vacation extra memorable.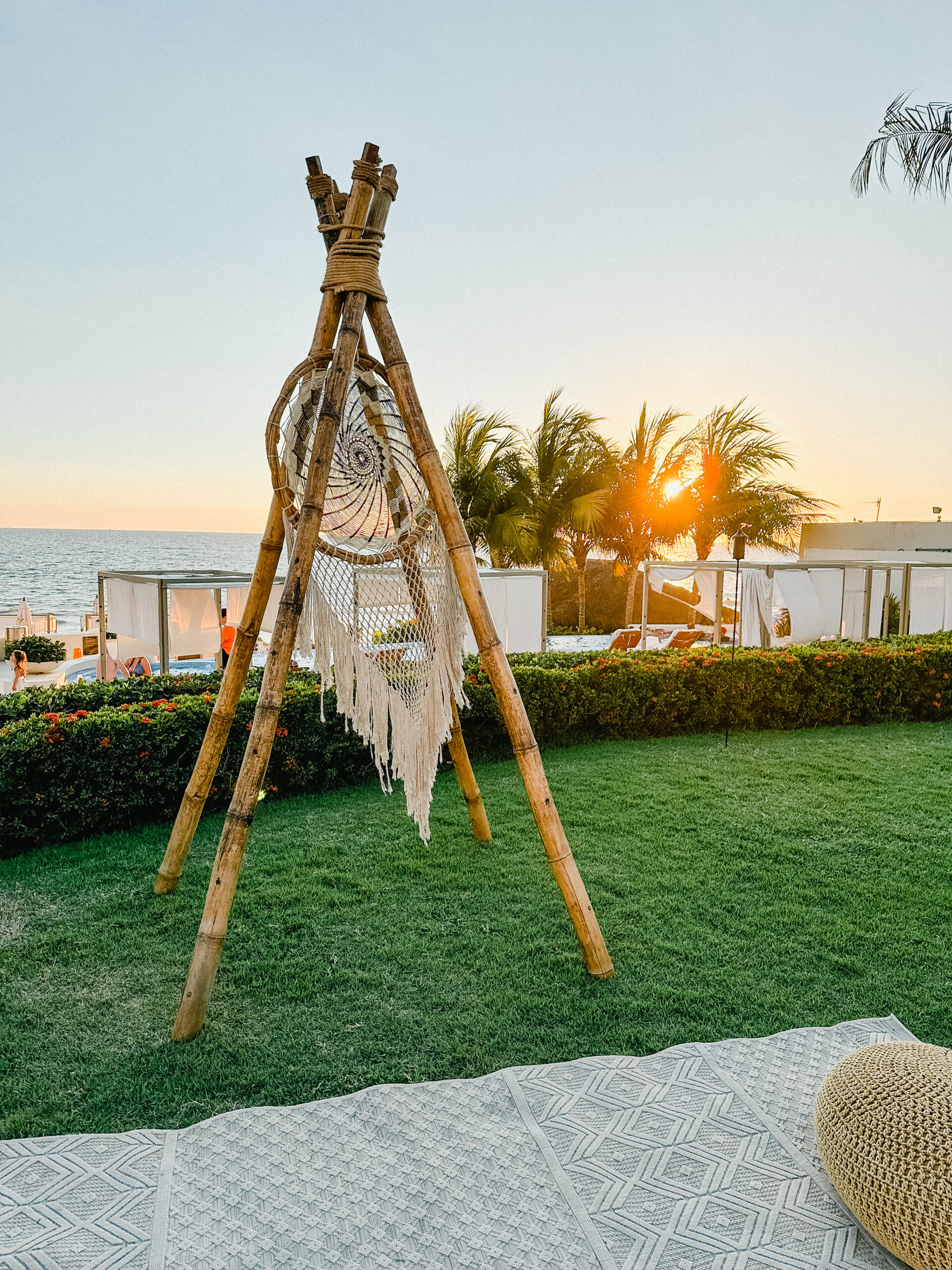 The Spa
My spa experience at Grand Velas Los Cabos was amazing, so I knew I wanted to book an appointment again and have my husband experience it too! The spa offers a unique water journey experience that is just incredible – you move between a series of hot and cold rooms (sauna, cold pool, steam room, etc). before ending in a hot tub. The spa at the Los Cabos resort was much larger, but the experience was the same at Riviera Nayarit! We ended our water journey with an incredible 50 minute massage. I swear it was the best massage I've ever had – ask for Susana! I highly recommend experiencing the spa at any of the Grand Velas locations. Worth every penny (it's an extra cost!)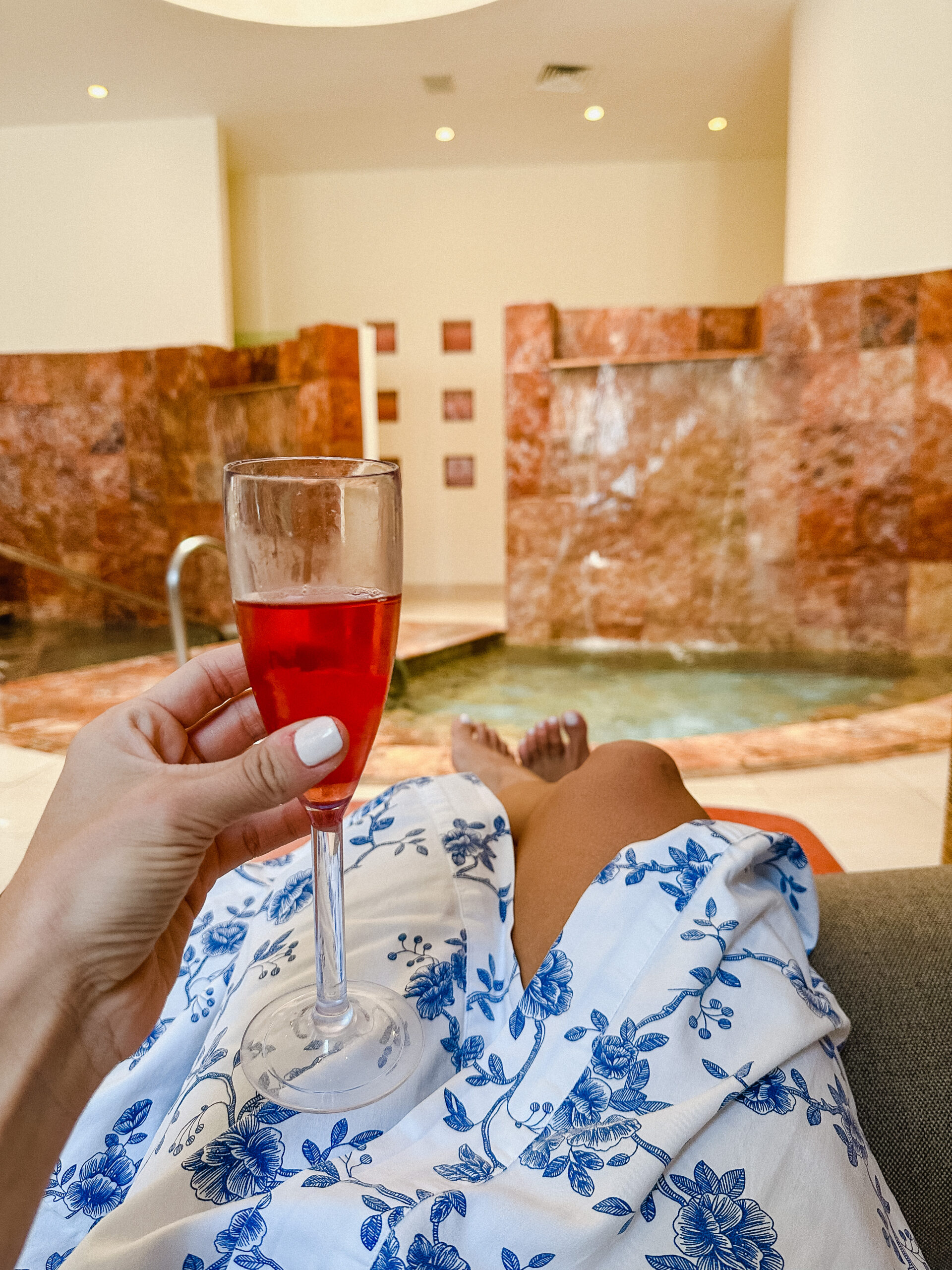 Our family absolutely loves Grand Velas luxury all-inclusive resorts, and we are looking forward to trying another location in the future! We highly recommend Grand Velas Riviera Nayarit all-inclusive luxury resort for a family vacation!