Thank you to Faherty for sponsoring today's post. As always, all thoughts and opinions are my own.
Spring is finally in bloom, and I'm switching out my closet with clothing for warmer weather! While summer is still my favorite month, I love that spring means it's right around the corner. I recently added some new pieces from Faherty to my wardrobe that can be styled and restyled multiple ways throughout the spring and summer seasons. If you love Faherty, or you're looking to try a new brand this season, I've got a 20% off coupon code for you as well! Use the code MCBRIDE20 for 20% off your purchase for the next 72 hours. Here are some new looks I'm loving!
Outfit 1
I love a great sweater tank and a pair of linen pants, and both of these options from Faherty are incredibly comfortable and high quality. These Monterey Linen Pants come in several color options, but I'm loving this Washed Black. They're lightweight enough to carry into summer, and soft enough to wear all day. I love how they look paired with this Miramar Linen Tank in Natural. Faherty's clothing fits me true to size, so I'm wearing an XS in both the top and bottom.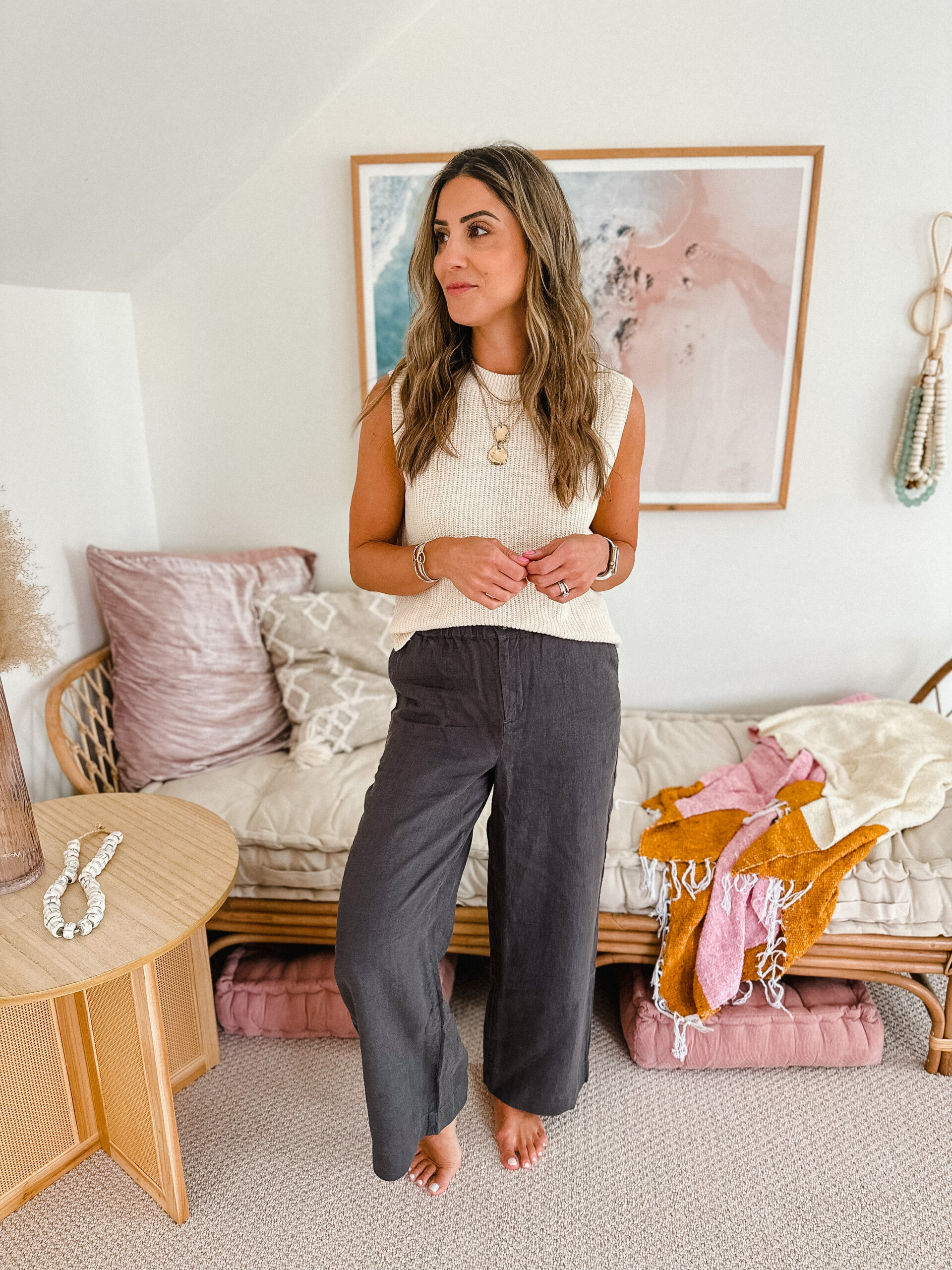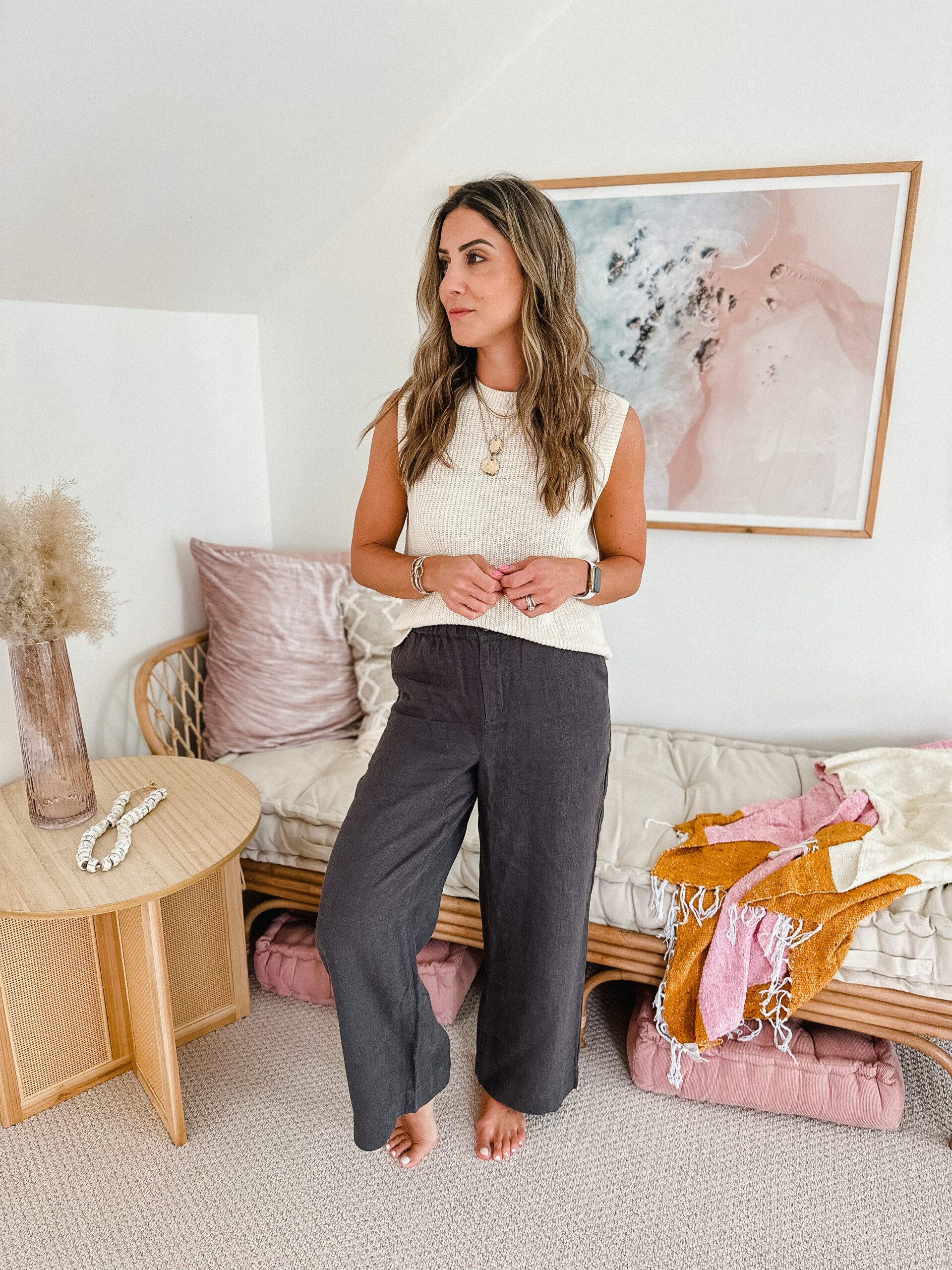 Outfit 2
This next look is great for a casual daytime look, but can also be considered casual office attire (great for teachers!). These Stretch Terry Wide Leg Pants in the color Sea Spray are insanely soft – they almost feel like wearing sweatpants! I love the slight wide-legged look – they're like a combination of a straight and wide legged pant. I also think the pockets on the front are incredibly flattering. I have them paired with the Gemina Top in White which is a pretty and flowy button down linen top. I love the button details. I'm wearing a 26 in the pants and an XS in the top.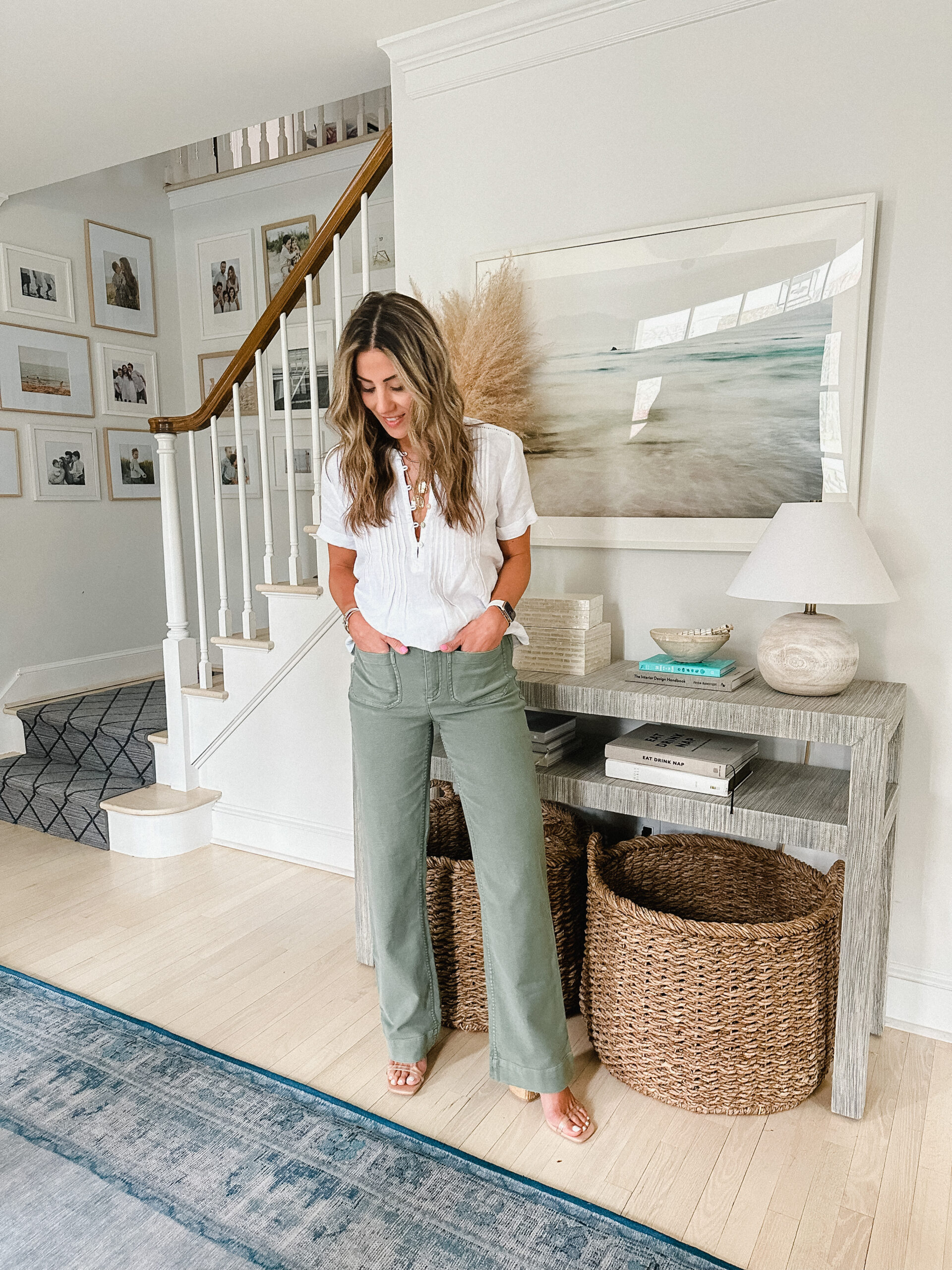 Outfit 3
I love this simple spring dress from Faherty! It's their Gemina Dress in Washed Black Sierra and has a delicate black stripe. This dress has a relaxed fit, but I added a simple rope belt to define my waste a little more. I think it makes the dress look even more youthful! The dress is also lined, so it's not sheer whatsoever. The pintuck detailing is super flattering, and it's very lightweight and comfortable to wear. I'm in an XS here.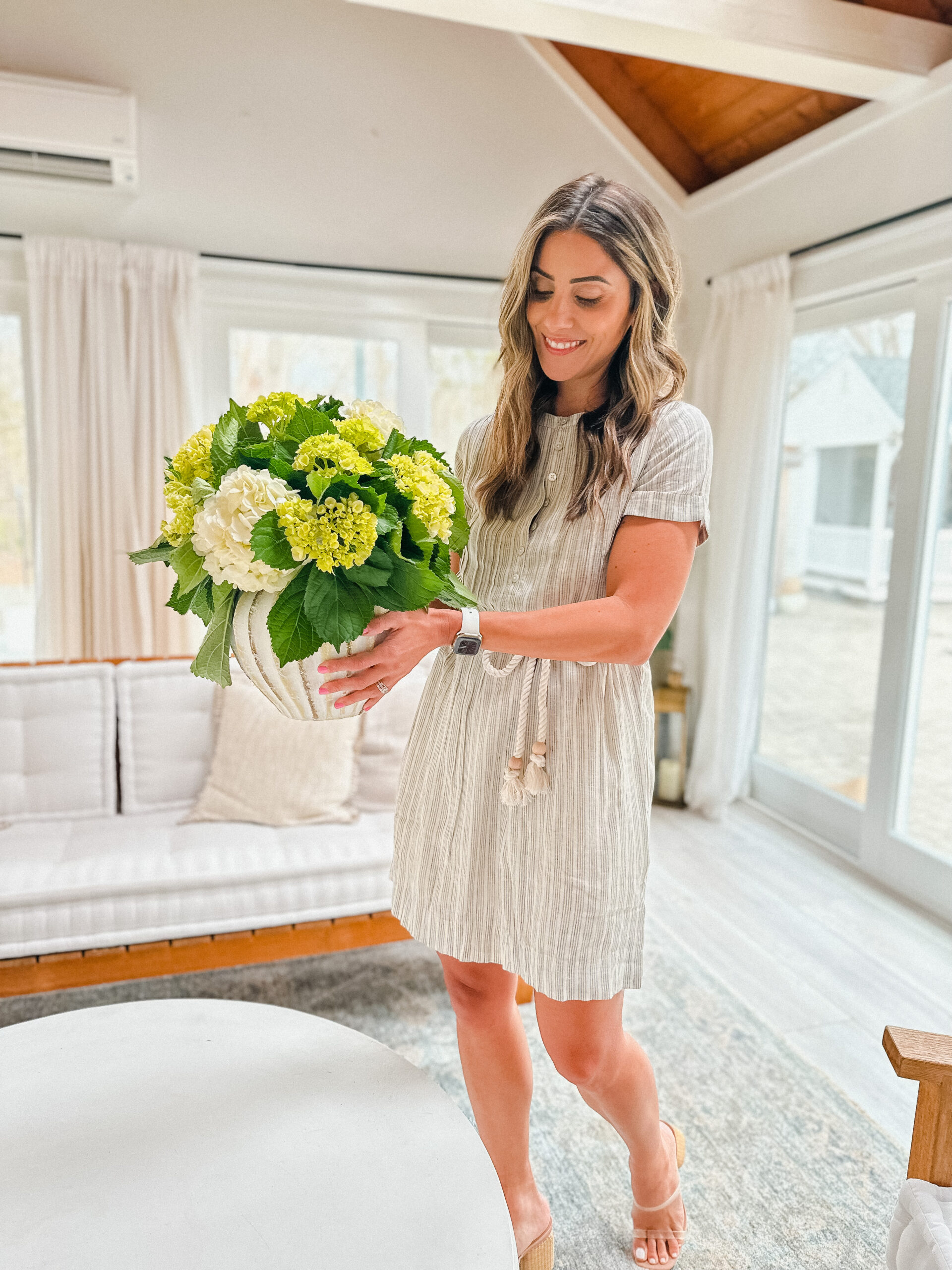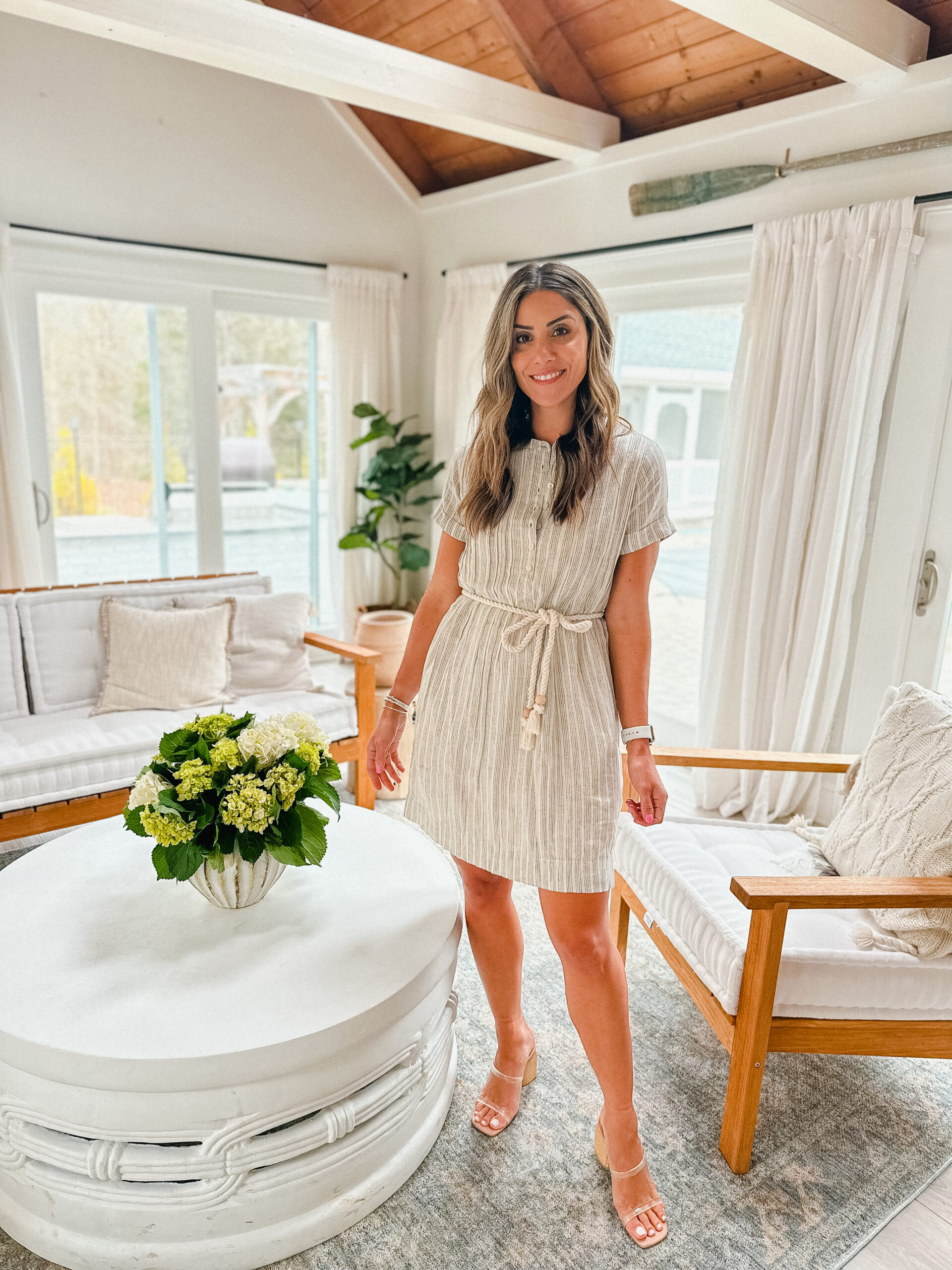 Faherty has several great options for your spring and summer wardrobe! Don't forget my code MCBRIDE20 gets you 20% off your purchase for the next 72 hours!