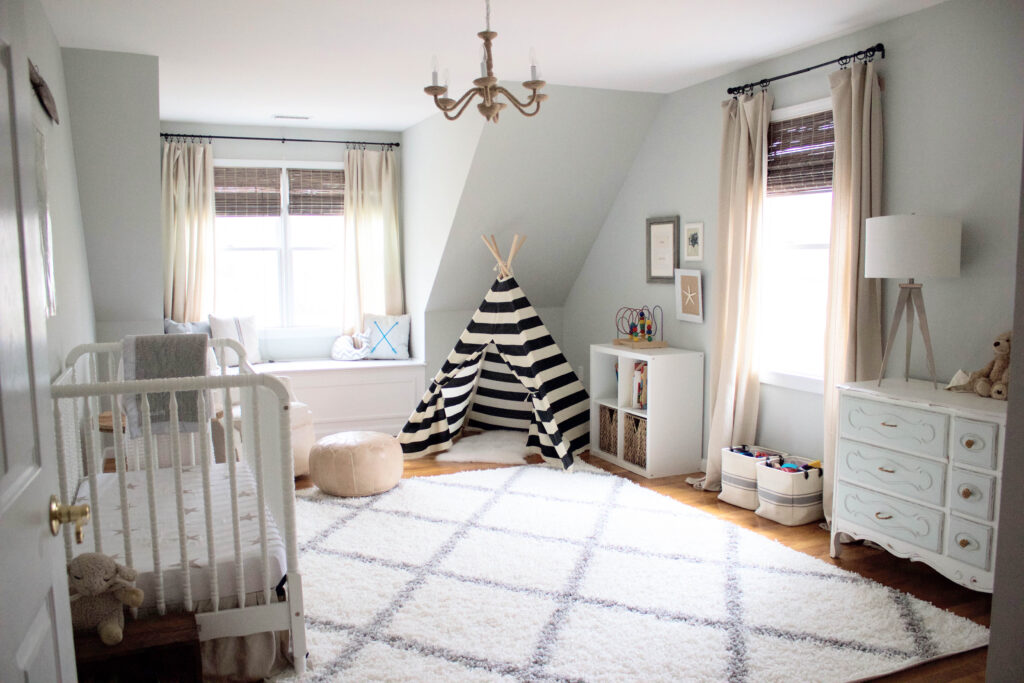 I loved Landon's room so much in our last home that I wanted to keep it the same here at the new house. I also did this to help him with the adjustment period of moving to a new home. His room was the first room in the house to be complete because I wanted him to have a place that was all his, especially with the addition of a little sister.
One of the features we loved about this home is the bump out windows in the front. We have one in our rom as well, and I love that there's a window bench with storage. It's an adorable little reading nook, and I plan to read to him there before nap time once I have a bench cushion made that fits specifically to the seat.
Landon still loves his crib and has yet to try and climb out, so we aren't rushing the toddler bed just yet. It's usually filled with all the toys he sleeps with, but I removed those for photo purposes 😉 I absolutely love his Jenny Lind crib. It's got the perfect vintage look and is great for both boys and girls.
What I love most about Landon's room is the mixture of modern and vintage. Each vintage piece (his dresser, the oar, the spool side table, the crates) has a story behind how my husband and I found it in our pre-children days. That makes it extra special for me!
The newest addition to his room is this gorgeous shag rug from NuLOOM. His room is a massive size, so we needed a large rug to take up the majority of the space. NuLOOM was kind enough to send me this one to try out, and we love it! We purchased a similar one for his room at the condo, so I knew I wanted something the same style. It's so soft and he loves playing on it with his toys. Having plush rugs in the kids rooms is an important detail to me because they're always on their hands and knees playing!
NuLOOM has been kind enough gift one readers with a 5×8 rug of their choice, OR $200 off the right of their choosing! Head over to my Instagram to enter!
All room details can be found below.
Rug: c/o NuLOOM
Crib: Jenny Lind
Dresser: Antique
Chair: Sam Moore
Ottoman: All Modern
Teepee: Be Little You and Me
Curtains: Ikea
Rods: Walmart
Wood Blinds: Home Depot
Lamp: Kenroy Home
Chandelier: Handmade by me, tutorial here
Map: Antique off Ebay
Oar: Vintage
Growth chart: Made by a friend
Baskets: Homegoods
Noelle's room is getting finishing touches (I'm indecisive), but will be up soon!