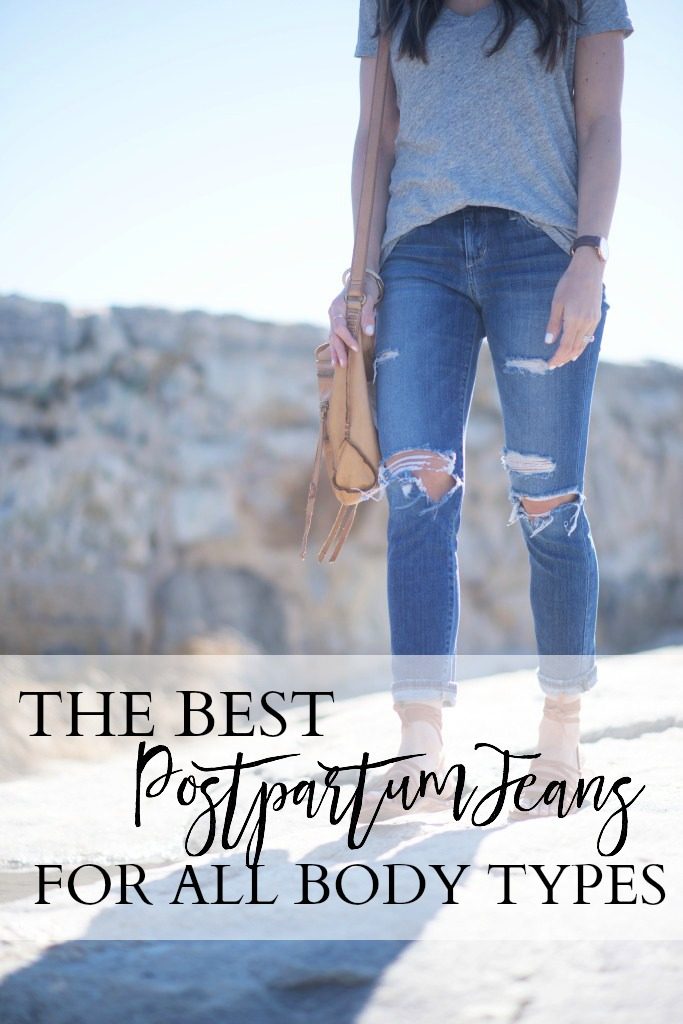 I recently asked many of my mama friends what's the ONE item they have trouble finding that fits their postpartum body. The general consensus? Jeans! And girls, I feel you. All I wanted to do was find a pair of jeans that kept my mom pooch contained with no muffin top hanging out. My body bounced back pretty quickly after my first kid, but it's taking significantly longer after the second. I knew it from the start because it took longer (actually, I'm still in the process) to not look pregnant anymore. I learned real quick that the best way to hide that was to wear compression leggings and high waisted jeans. So a few months ago I ventured out to find the best postpartum jeans, and I found a solid 4 pairs that I need to share with you!
Old Navy Mid-Rise Rockstar Skinny Jeans: I own a few pairs of these Old Navy jeans, and I have to say I'm really impressed with this style. I used to not be a big fan of ON jeans, but whatever they did to improve them has swayed my opinion. These fit like BUTTER, don't sag in the ass, and are sooooooo soft. I own a pair of black and distressed white, and they're still two of my favorite pairs. I also love that the ankle isn't super tight (sometimes I don't like that) and looks really great cuffed. They come in low rise, mid-rise, AND high-rise, so if the mid-rise still has stuff hanging out, I suggest trying the high-rise. They really hug curves and look great on everyone. They also make a boot-cut version, because I know not all mamas are fans of skinny jeans!
Levi's 721 Distressed High Rise Skinny Jeans: (also here!) This pair is amazing and makes your butt look on POINT. They hit right at the belly button, which means they keep everything that wants to hang out packed away. They're really comfortable as well, and don't feel too tight and restricting. There's also no ass-sagging. I also love the distressing at the knees; it's the perfect amount without being too overboard. These price in at $88 which is a STEAL for a great pair of denim.
Express Mid Rise Jeans: I've been wearing this pair, but Express jeans have always been a favorite of mine. They have a variety of styles for your body type (boot cut, flare, whatever your heart may desire) in mid-rise and high-rise, and they're really well priced! And if you're reading this around the time this post went live, they're currently buy one, get one $29.50! So stock up! They also have a variety of colors, which is great because I'm a black jeans kind of girl. And I love these "girlfriend" jeans!
Joe's Jeans: (more styles found here) I have one pair of Joe's Jeans and they're my most worn pair. Mine have a mid-rise waist, but they come in high-rise as well. These jeans literally feel like butter…they're so soft! I feel like I'm wearing leggings every time I wear them. They have a slight stretch, so the hug curves without making you look like a sausage. The price tag on these can be a little high, but I promise you they're well worth it! Here's a great pair of slight flares for my mamas who don't like skinnies! Shop a variety of styles, including boot-cut, here.
SHOP THE BEST JEANS
Do you know of any additional brands that should be included in this list? I've only included the pairs I've tried myself, but leave a comment below if you have a pair to share! Next up, the best shorts! 😉