Thank you to Walls Need Love for sponsoring today's post!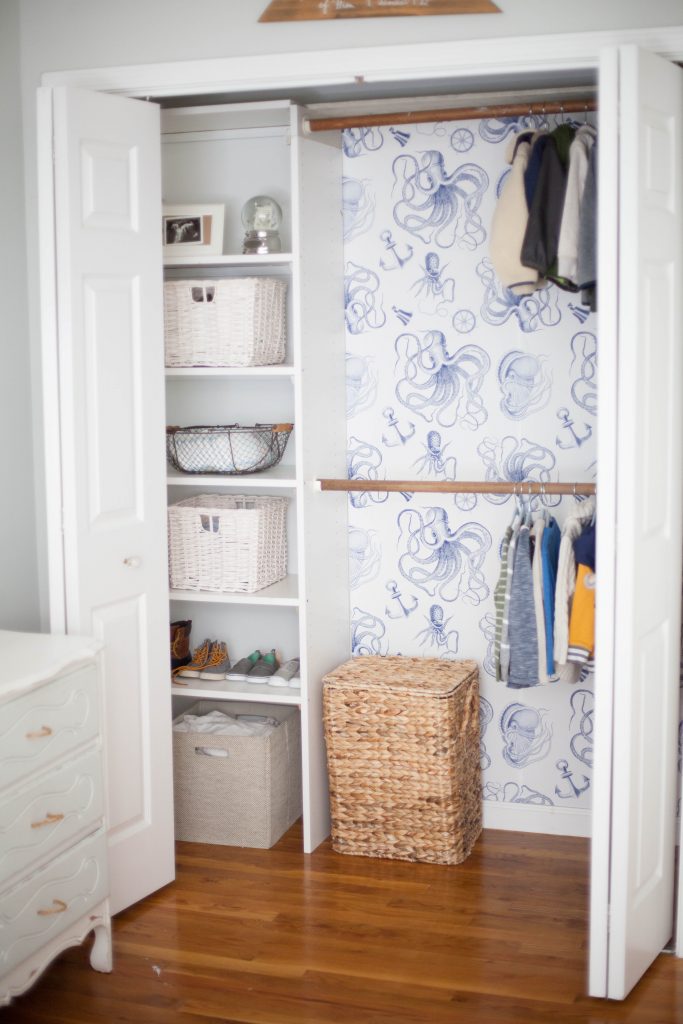 I remember really thinking about how we live and what we were used to having in order to determine the best house for us while house shopping. We were actually debating making an offer on another house before this one and went back to see it THREE TIMES before deciding it was ultimately a no (funny, because we were dead set on it being a yes the first two!) One of the features that made it a "no" was the minimal closet space. We had ample closet space in our condo, and I didn't see how it would be possible to downsize from an already small home. When we saw the house we are currently in, the closet space was significant in each bedroom. This was one of the features that made it a YES!
The kids' rooms have closets bigger than they even need right now, but I'm happy they have them to grow into. They were actually in great shape, had ample room for hanging clothes as well as shelving units for other items. However, they've become somewhat of a dump spot for things I can't find a home for. The paint job inside them was also pretty bad, so I thought it would be fun to give the kids' closets a little makeover to make things a little more organized and aesthetically pleasing.
I got the idea of adding some removable wallpaper to the inside of the closets as a fun and different look for each room. It's like an unexpected surprise when you open the closet doors! I chose to paint the walls and add the paper only to the large part of the closet. I used the Vintage Nautical removable paper for Landon's room and the Goldidots removable wallpaper for Noelle's room, all from Walls Need Love (keep reading for a coupon code!) Landon's room has some nautical accents and Noelle's room is a mixture of pink, white, and gold, so both of these papers seemed to be the perfect fit. I LOVE how they turned out! Using the wallpaper helped create a big impact with VERY minimal effort.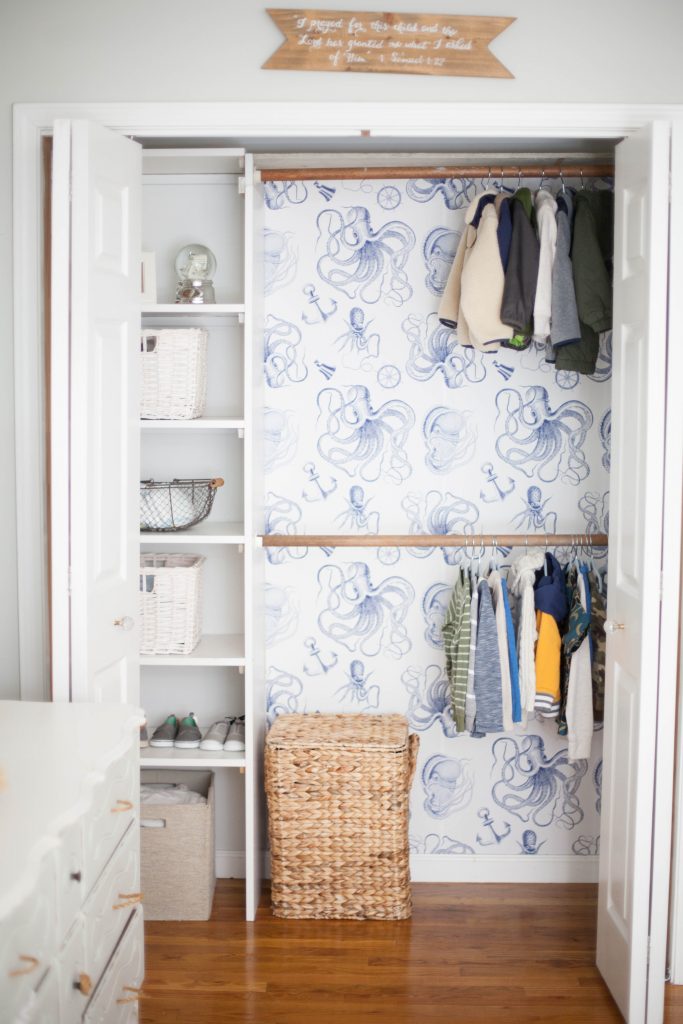 Adding some simple baskets to their closets allowed me some more organization. I keep blankets, my old baby wraps, and other things in there. Our linen closet in our main upstairs bathroom is actually pretty small, so I plan to keep the kids' towels in their closets too.
TIPS FOR INSTALLING REMOVABLE WALLPAPER
Lay it flat before installation. The wallpaper arrives in a roll, and you'll have to make a cut at the end of each sheet (it's well marked, don't worry!). Laying it flat will help the paper from curling as you're installing. Cut as many sheets as you'll need and lay them flat for at least a day prior to installation.
Peel small sections at a time. I made the mistake of peeling the whole sheet and then got myself into some trouble when the wallpaper stuck to itself. I tried to unstick it, but that was just doomed from the start, ha! I found that if I peeled small sections from the top down and gently placed it on the wall, it went on much easier.
Use the little blade it comes with! Walls Need Love includes a little cutting blade to make super easy cuts as you go. The paper cut SO easily near the trim and any other areas with weird cuts.
Use a ruler or something similar to flatten the paper. I ended up with some bubbles in the paper, but I found using a ruler to smooth out the paper helped eliminate them.
Go slow. No need to rush it! Take your time and be careful. And you can always unstick and try again!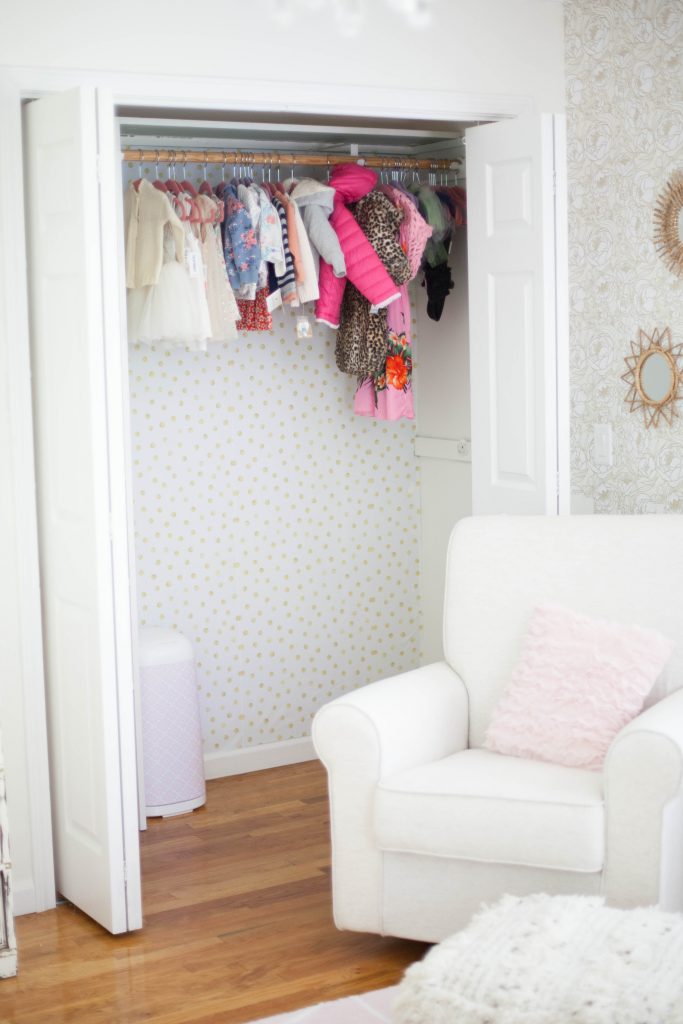 Walls Need Love was kind enough to offer you guys 20% off your purchase of $30 or more! Use code LAUREN20, which runs until October 16th, 2016! There are a variety of paper styles, plus decals and home decor as well. I also LOVE this white brick wall mural and wish I had some place to use it in our home! One of you get it so I can live vicariously through you, k?
If you have any questions about applying the paper, leave a comment below! 🙂