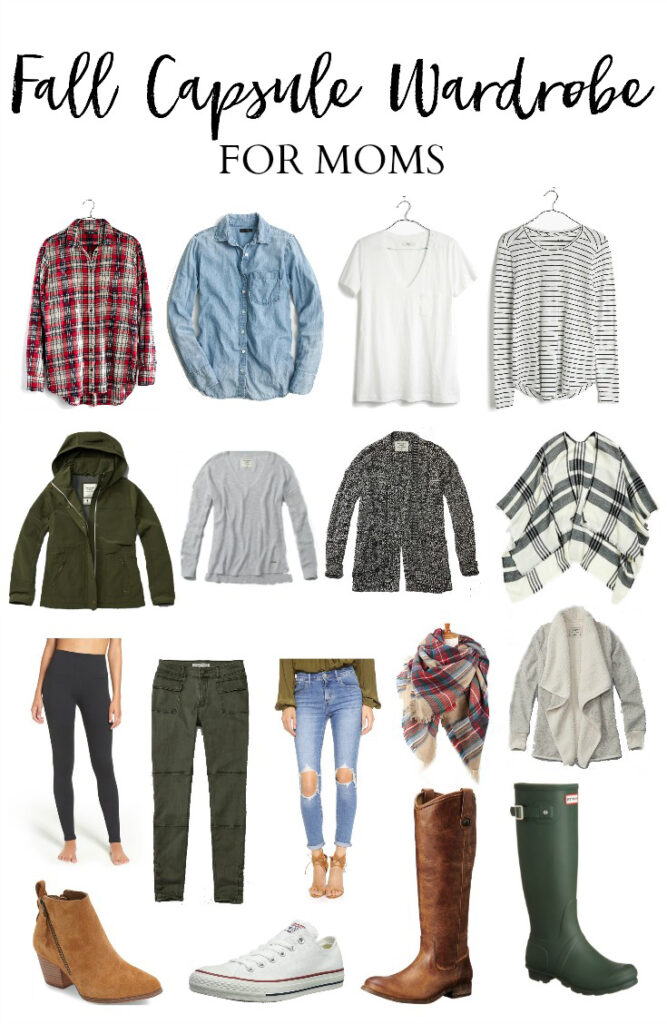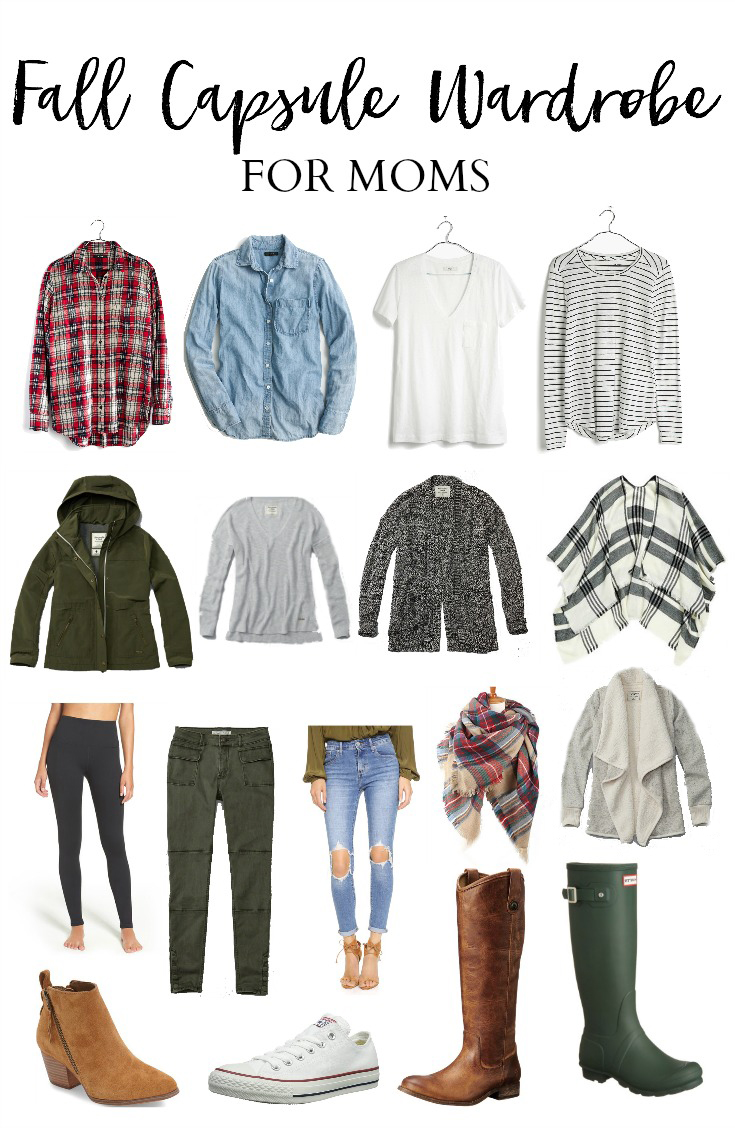 I don't know about you, but there are so many days where I stare at my closet and think "I have nothing to wear," and yet I'm taking over my husband's side of the closet with all of my crap! I've found that I usually stick to the same basic pieces throughout the season because they're classic pieces that I can style multiple ways. Sometimes having too many options can end up being overwhelming, which is why I love capsule wardrobes. I have ZERO time to think of an outfit when I'm home with my kids, so I usually just grab whatever repeat outfit I'm loving at the moment. I'm sure some of you moms can relate, so today I'm sharing with you a little fall capsule wardrobe for moms!
Fall Capsule Wardrobe for Mom
I chose items I currently own or similar versions, and items I wear on the regular. You'll notice all of these items are made for comfort because that's what us moms need when we're with our kiddos! These t-shirts are my staple closet item and you've seen them repeatedly on my Snapchat and Instagram. I love that they're the perfect fit…not too tight and not too baggy. They're also long too and fall near my hips. I have one in every color!
I also can't live without my Converse sneakers, Hunter boots, and the newest addition to my closet…my Frye boots. The Frye boots have a hefty price tag, but I needed a replacement because my old riding boots had seen their last day. I figure if I can get 8+ years out of another brand, then Fryes will last me longer. You can find great deals on Frye boots on Amazon!
I've always loved cargo skinny jeans, and I'm sooooo happy they're coming back! The cargo element adds a bit of a rugged look and changes things up from standard jeans. But if you are buying jeans, these are the pair you need. They're high waisted which is perfect for hiding the mom pooch (yep, I have it too!) and they keep everything sucked in nicely. 🙂 They also look great with everything, and are less than $90! And these leggings are a MUST have.
I love flannels and plaid for fall, so this poncho (less than $40!), this blanket scarf, and this shirt add the perfect amount of pattern and color to this capsule wardrobe. I also love that they can be layered multiple ways with a variety of these items!
I've thrown together just SOME of the outfits you can recreate with this capsule wardrobe, but there are a ton more! I thought I'd give you a head start so you can see just how versatile these pieces are. And the best part, you might already own quite a few of them! 🙂

Chambray Shirt (options) // Boyfriend Cardigan // V-Neck Sweater // Utility Jacket // Flannel Shirt (options) // Plaid Poncho // Leggings // Jeans // Cargo Skinny Jeans // Plaid Scarf // Striped Tee // T-shirt // Sweatshirt Cardigan // Booties // Hunter Rainboots (options) // Converse Sneakers (options) // Frye Riding Boots (options)
Happy Shopping! 🙂
Check out Amazon's Style Code Live right here!