Thank you to Minted for sponsoring today's post! Thank you for supporting the brands that support this blog!
Last time we chatted holiday cards, I gave you some great family holiday photo card ideas. While I would've LOVED to do a funny card this year, we opted for the professional family photo instead. Mainly because our time was a little limited, and trying to instruct two little kiddos to do something other than be themselves it a little challenging 😉 Our family photographer, Tiffany Farley, was in town a few weeks ago, so we had her snap a few photos of us to celebrate Noelle turning 1 and also for our Christmas cards. Today I'm partnering with Minted to show you creative ways to display the holiday cards we had made from these photos! Plus there's a giveaway below, so keep reading!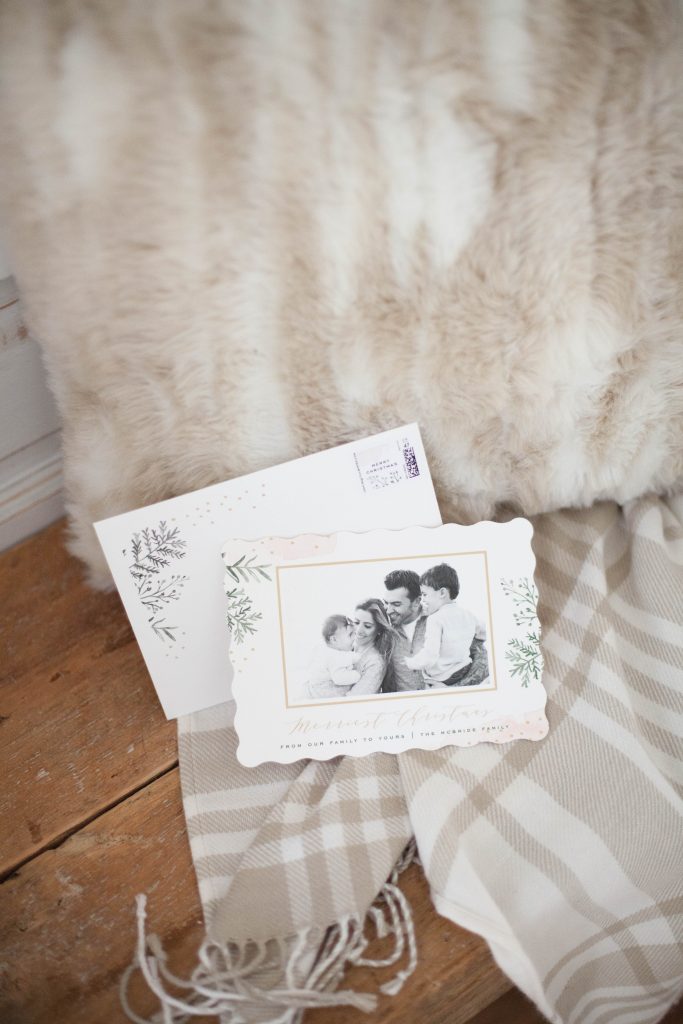 Strung along the mantle. Okay I know, this doesn't seem all that creative, but adding some details like glittered garland and glittered clothespins to attach the cards make it a little more unique than just sticking cards on a mantle. I found these little clothespins in the dollar section of a particular store, and knew I would use them at some point in time. I love how they look against our Happy Holidays garland. You can even use regular clothespins and have the kids dip them in glitter!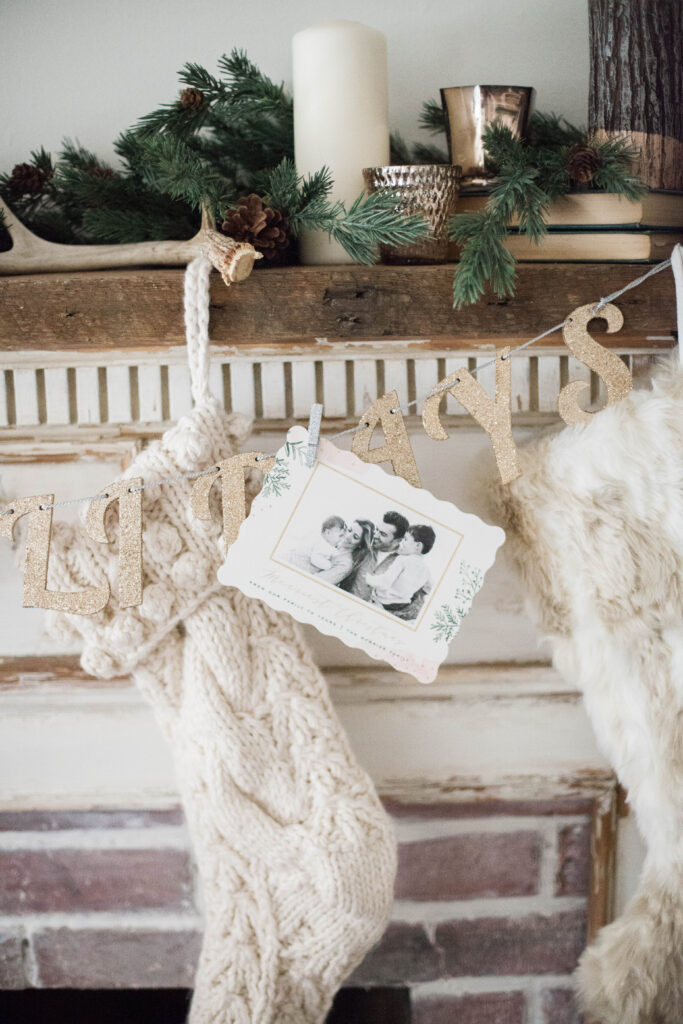 A ribbon. Last year I used some burlap ribbon alongside the built-in in our living room to display our holiday cards. Using clothespins again or even stapling them to the ribbon if necessary is an easy way to get them to stick! The benefit of a ribbon is you can hang it ANYWHERE. I also love the idea of stringing it along the stair railing, or even along a door frame.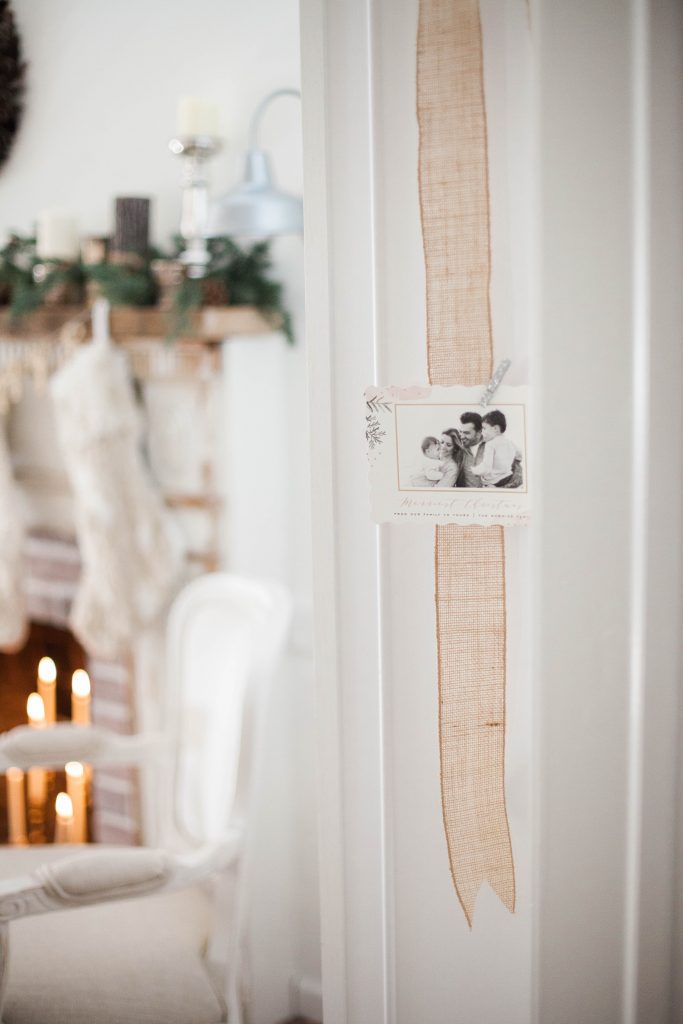 On a little tree. We have a little tree in our living room that we haven't decorated, and I love the idea of tucking the cards into it as a card display. A skinny pencil tree in the corner of the room makes for a unique way to display them!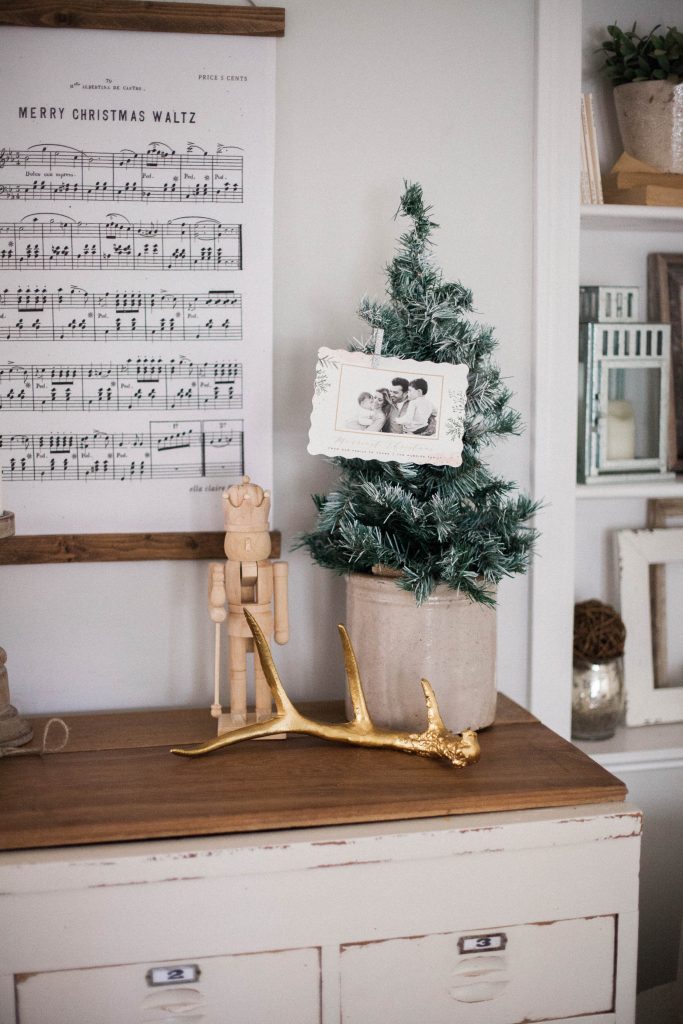 I used Minted for our cards every year because they make it incredibly easy, and basically do the work for me. I spent a little time entering family addresses into their FREE Address Assistant a few years back, and now with a quick click of a button they'll address all the envelopes for me! They now even offer the option to personalize stamps, as well. This year I purchased the stamps to match the cards so that everything arrived together and I didn't have to make any additional stops at the post office for postage. Mom win!
Minted's cards have always stood out because of their thick and luxurious paper stock, and the quality of their photo printing. I also love their find it fast option, which makes it easy to find a card style I like. And did you know you can "Buy Now, Personalize Later?" If there's a deal on holiday cards, you can purchase to lock in the low rate and then personalize when you're ready later on! No need to feel rushed. Minted makes the holidays easy!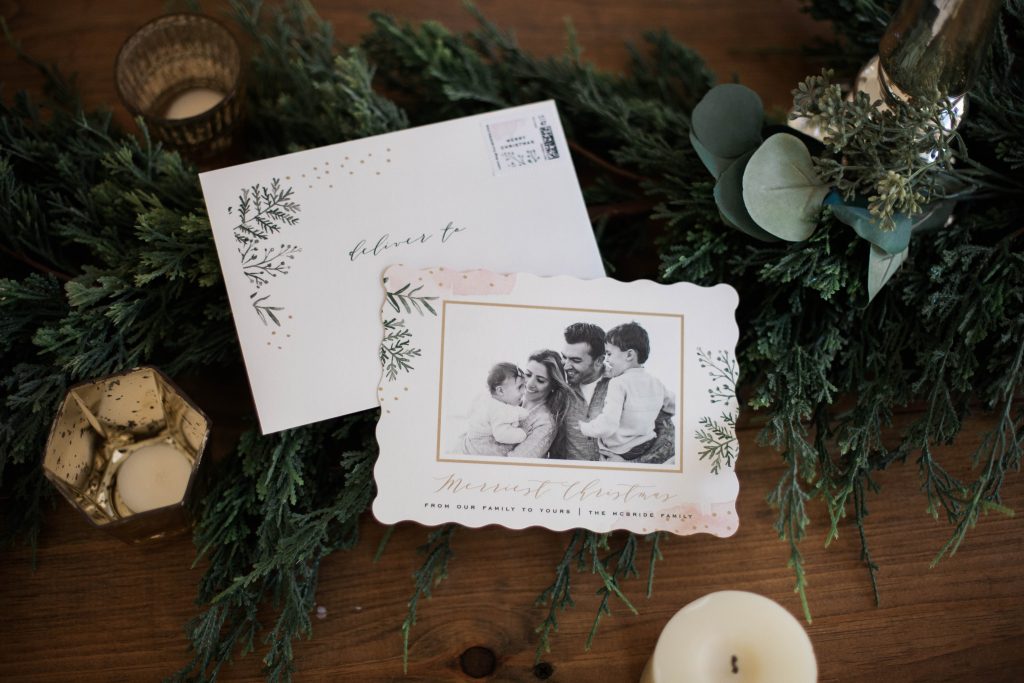 You can check out my favorite Minted selections below.

Minted is also giving away THREE chances to win $100 towards your purchase with Minted! All you have to do is fill out your name and email HERE to enter. The giveaway runs from 12:01AM PT November 14th, 2016 and closes 11:59 PM PT on November 21st, 2016. ENTER HERE! Good luck!