I'm excited to share our farmhouse inspired Christmas living room with you today! The rest of the home is getting Christmas ready for a big photoshoot we have coming up, but for now I'm sharing our simple living room because it's my current favorite spot.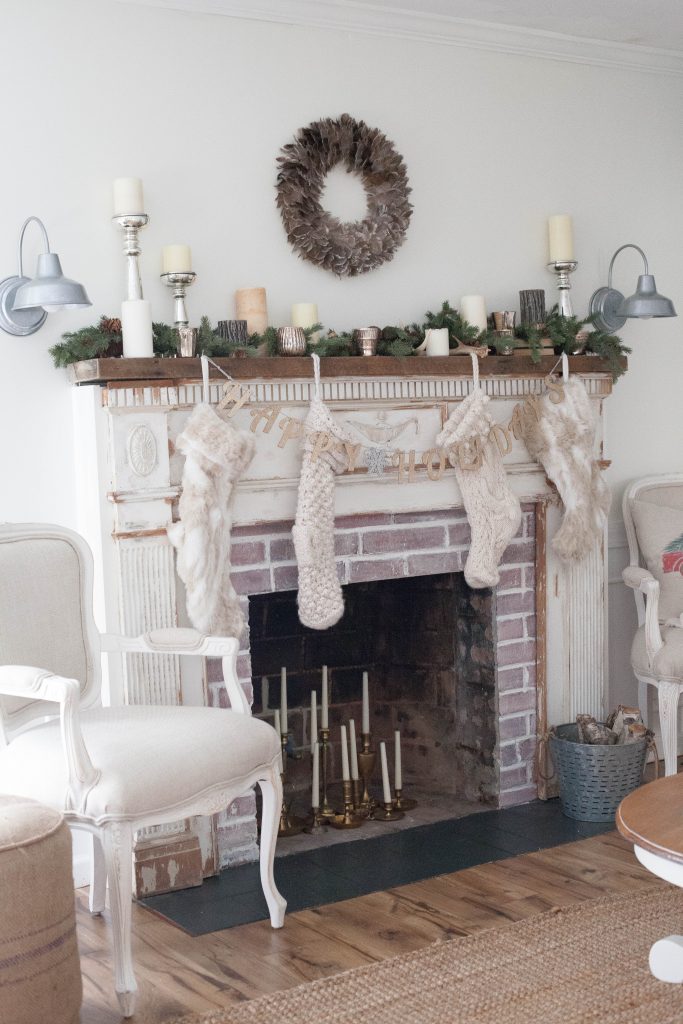 This mantle has been my favorite addition to our home thus far. I think it adds a ton of character, and it's just stunning decorated for Christmas.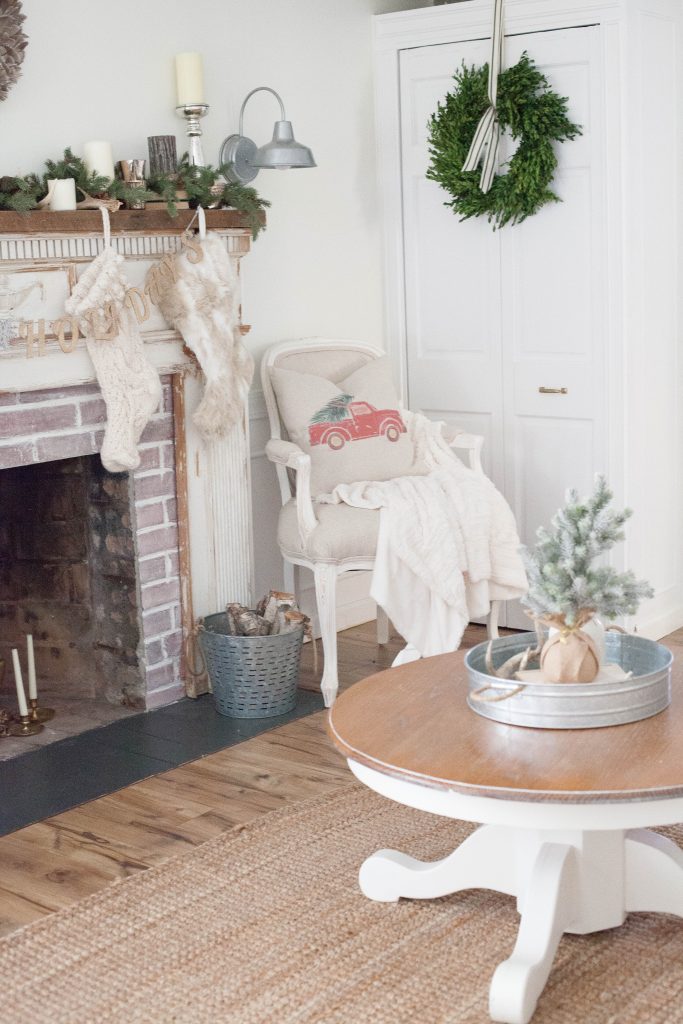 I moved our parlor chairs next to it to make room for our Christmas tree this year. I love how they look next to the mantle!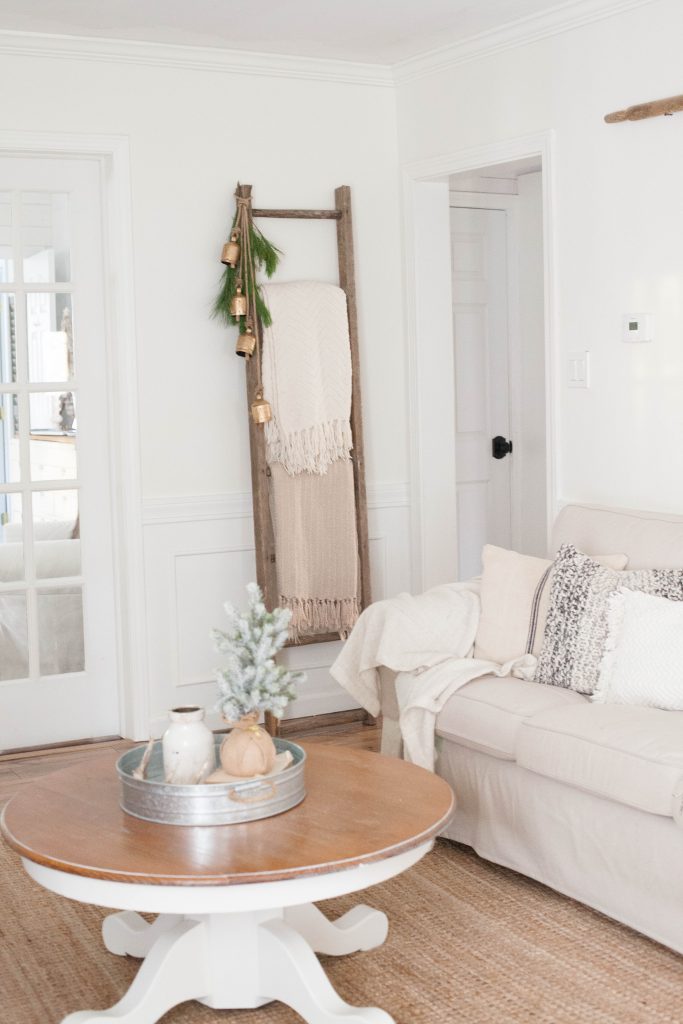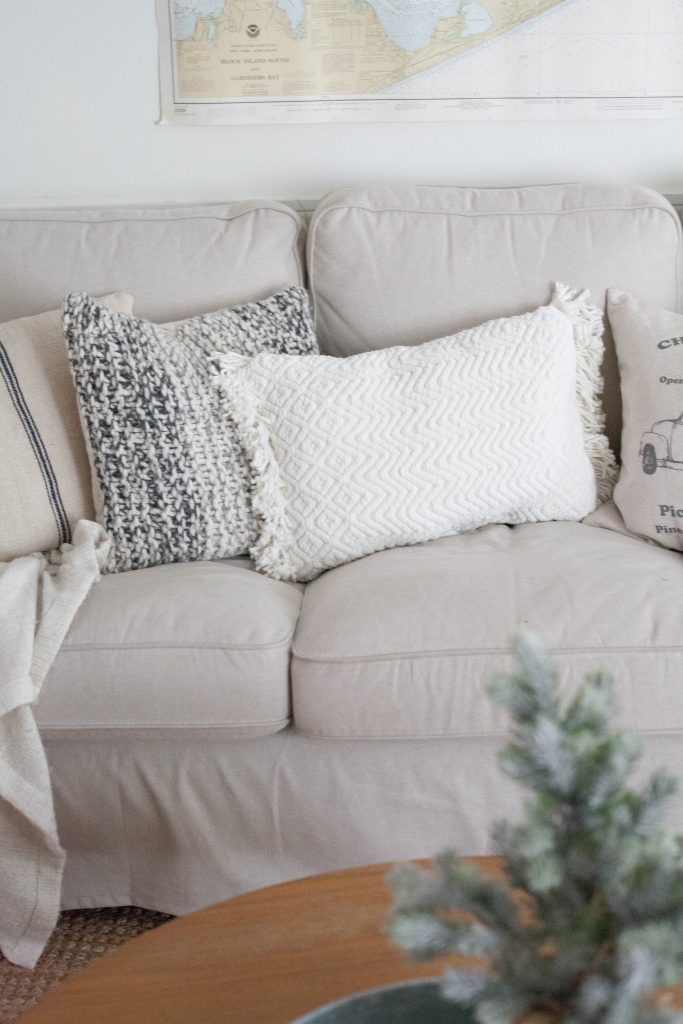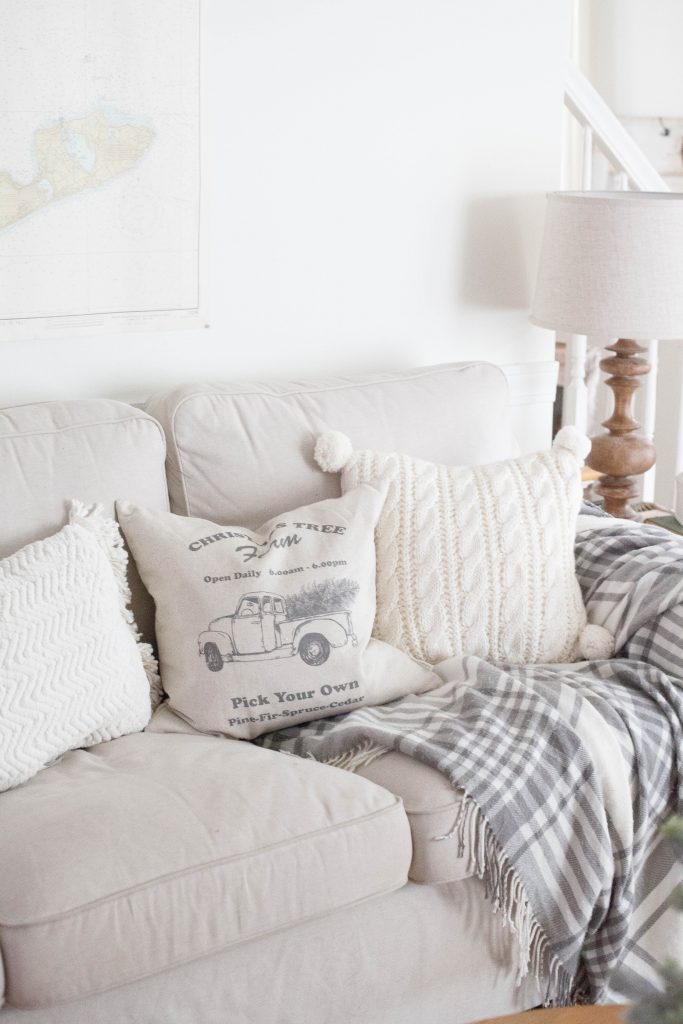 I kept the pillows neutral with some cozy knits, fringe, and pompons. Porter Lane Home makes the best pillow covers, and I love the Christmas charm they added to this room.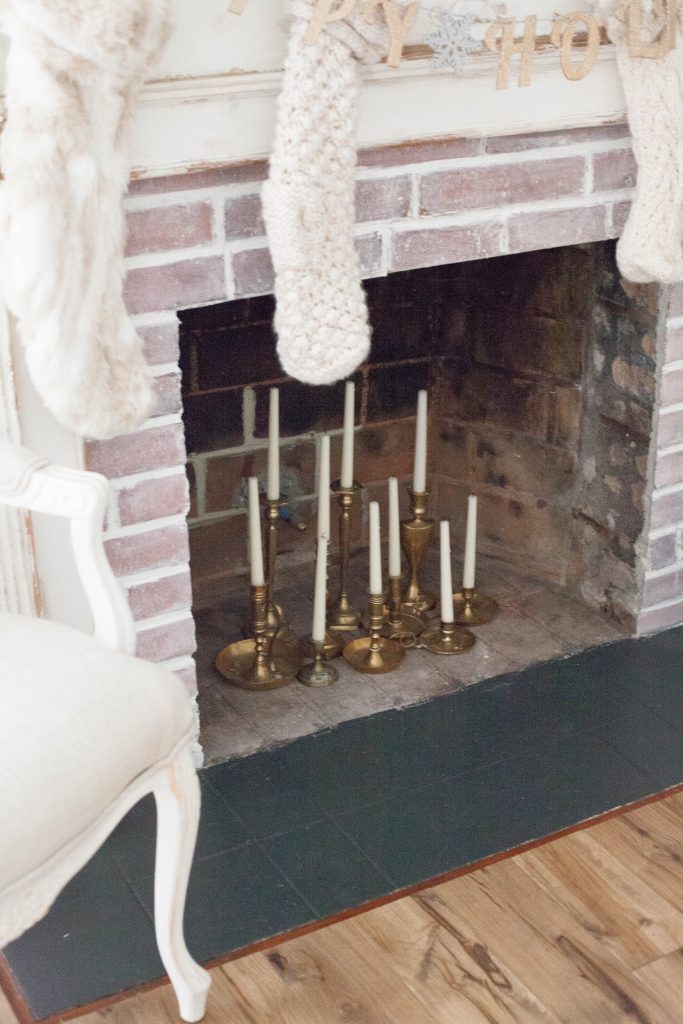 On a whim, I added these gorgeous antique brass candlesticks to the fireplace in lieu of large pillar candles (which was my original intent). I am SO smitten with how it looks that I might keep them there all year. It's so romantic all lit up!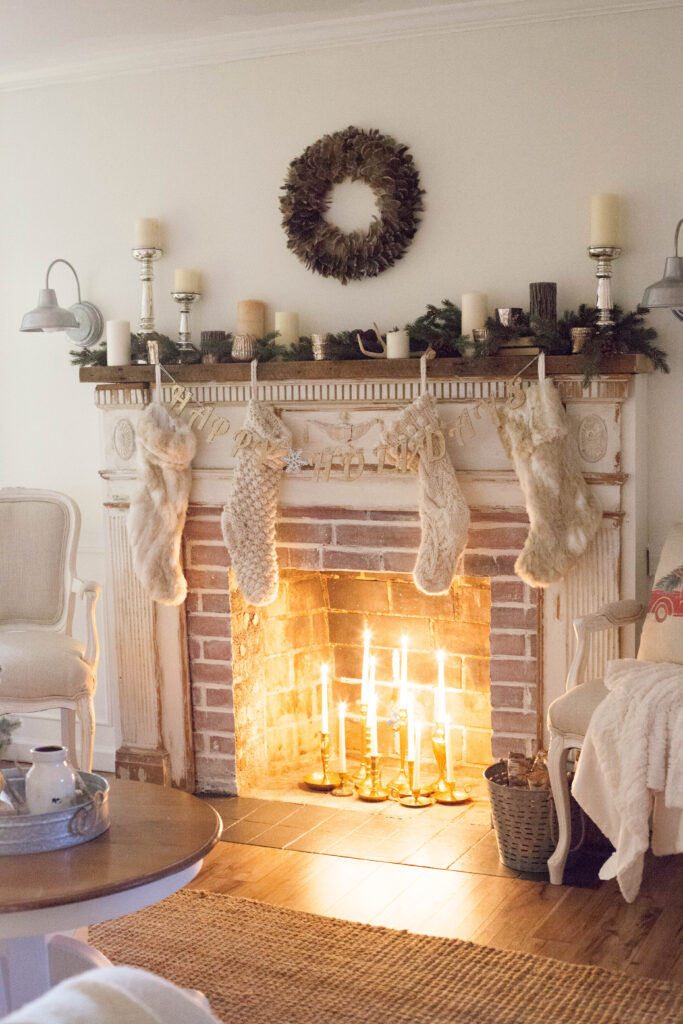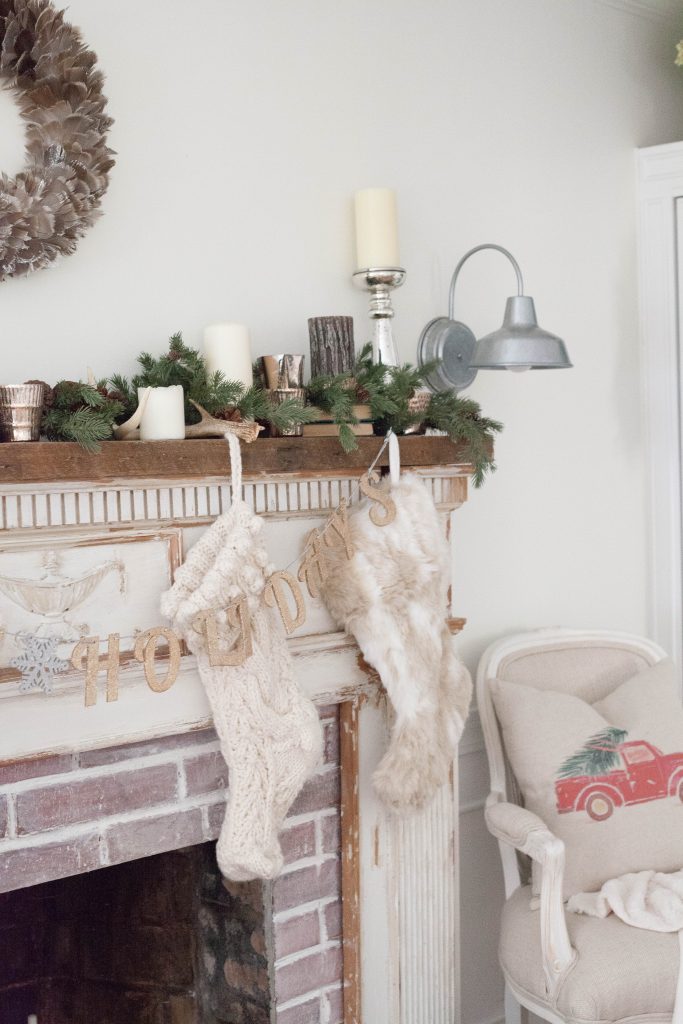 Our faux fur and crochet stockings were an addition last year, and I love how the simple mix of textures looks against the fireplace. I have a post about our mantle coming up soon, so stay tuned!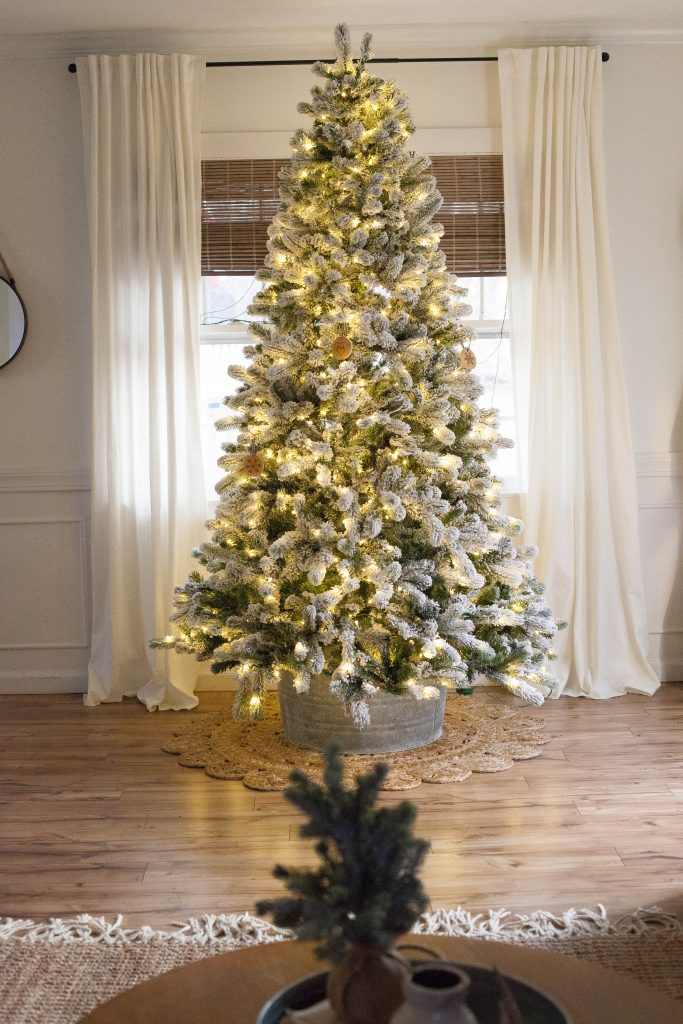 Our tree this year is from King of Christmas, and while it's not decorating yet, I'm loving her in all her nakedness. This is our first flocked tree, and I love how peaceful she looks! We have yet to cut down a real tree with the kids and I'm honestly fine with that. We had real trees as kids, and while I love the whole adventure of cutting one down, I do NOT love the mess they make. So we'll be sticking with fake ones for a bit! We use a vintage wash basin as our tree stand every year. 🙂
And that's our farmhouse-inspired Christmas living room!
SOURCES:
Mantle: All decor from World Market
Christmas Pillows: Porterlane Home
Fringe Pillow: Target
Tree: King Of Christmas
Tree Basin: Vintage
Table: Vintage
Candlesticks in fireplace: Vintage
Chairs: Vintage and reupholstered
Clock: Antique Farmhouse
Sconce Lighting: Barn Light Electric
Please check out the rest of my friends and our Farmhouse Christmas Blog Tour! Their homes are SO stunning for the holiday!