Thank you to the brands who sponsored this post!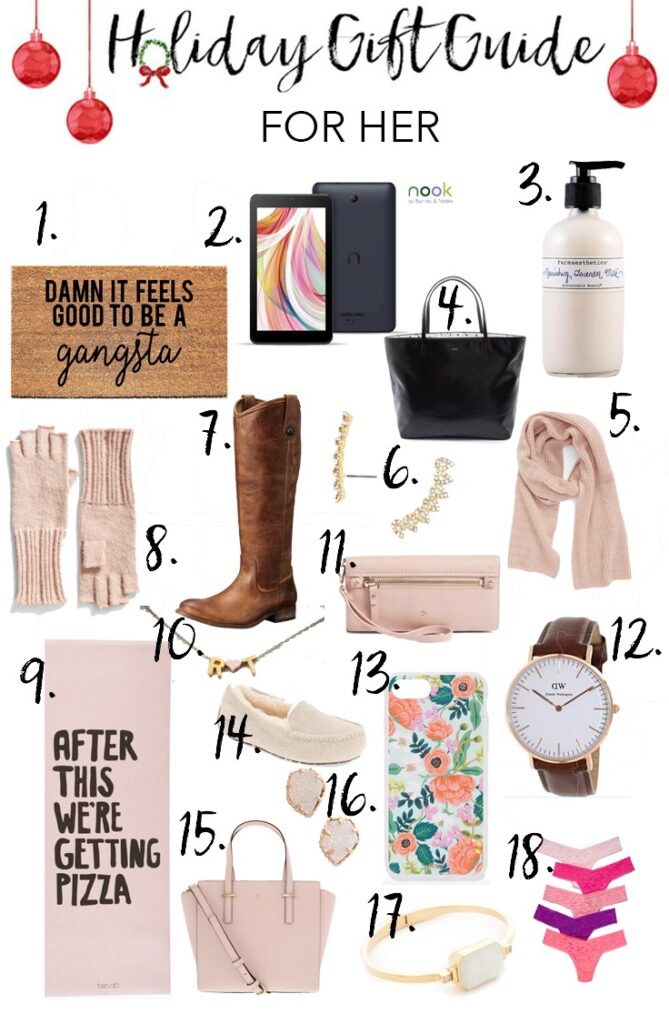 I've got some great gift ideas for the girl in your life today! Maybe it's your mom, best friend, or if you're a dude (doubtful), your significant other! Whoever she is, she's sure to like one of these great items! Read all about my holiday gift guide for her below!
1. Fox and Clover Doormat. I'm totally buying my friends some of these (hopefully they aren't reading!) because they're hilarious! Might grab one for myself, too!
2. Barnes & Noble NOOK. I recently posted about my love for the new NOOK here, and it's perfect for any book lover! At only $50, how can you go wrong?! It's so much more than books, too. It comes with Google Play which gives access to a ton of apps, games, movies, and songs, and it has built in Wi-Fi! There's a camera, too! The new NOOK tablet and a gift card to Barnes & Noble is perfect for anyone.
3. Anything from Follain. I only recently learned of this brand and I am HOOKED. It's a healthy beauty store that carries the highest-performing healthy (clean!) beauty products available. Their products are carefully and thoughtfully curated, and they carry a variety of brands. All of their ingredients are safe for people (and the planet!). Their Restricted Substances List is the most rigorous in the entire industry. Every product also goes through a performance test for efficacy, which I can appreciate because that means each of them actually works. I get frustrated when I spend money on a product only for it to do nothing for me! I'm loving the French Girl Rose Lip Polish, the Farmaethetics Nourishing Lavender Milk, and the Captain Blankenship Avocado and Peppermint Cuticle and Foot Balm. They also just opened a pop-up store in Soho if you're in NYC!
4. SICK Bags. This is perfect for the medical gal in your life! These stylish and chic vegan leather bags are lined with playful prints representing common childhood illnesses (streptococcus and coxsackie being two of them!). A portion of each sale is also donated to leading children's hospitals committed to preventing and finding cures for pediatric ailments. As a nurse, that's super important to me. These are fantastic for nurse, PAs, doctors, or any woman in your life with a medical profession. We could all use a cute work bag!
5. Rib Knit Scarf. This scarf is simple and cozy, and will go with anything! It comes in a variety of colors and is well priced, too!
6. Droplet Pave Ear Crawlers. I actually own these and LOVE them. They're different from standard stuff earrings, but aren't over the top. Perfect for someone who prefers simple and dainty but is looking to spice things up a bit!
7. FRYE Melissa Button Boots. You guys always ask me about my FRYE boots and now's the time to get them. I give you permission to send this link to your husbands saying "I WANT THESE BOOTS!"
8. Knit Fingerless Gloves. I perfect fingerless gloves so I can use my phone without issues, and these are just beautiful. I want the pink and gray pair! They're only $25 a piece!
9. ban.do Exercise Mat. Ummm, I need this in my life. So I'm sure you have another yogi friend who does too!
10. Ava Hope Designs. The entire line is beautiful, but I especially love the necklaces! They're dainty and perfect, and make a great gift for moms, newlyweds, or newly engaged couples. With every purchase, $1 is donated to The Brigham and Women NICU in memory of the owner Terri's niece, Ava Hope. Reading her story brings tears to my eyes, so I love knowing that a portion of proceeds is going to a good cause. That just makes me all warm and fuzzy!
11. Kate Spade Wristlet. This holds all the cards a gal needs, plus some cash, and is convenient to wear on the wrist.
12. Daniel Wellington Watch. I own one of these and wear it every single day. It's by far my favorite watch I've ever owned because of it's classic look. It's less than $100, too!
13. Rifle Paper Co. Phone Case. I love anything RPC, but this phone case steals my heart every time. It's less than $40, too!
14. Ugg Slippers. What gal doesn't need cozy slippers in her life?!
15. Kate Spade Handbag. I especially love this in the pink blush color. Tell your husbands! 😉
16. Kendra Scott Stone Stud Earrings. I love the druzy studs, and these come in a variety of colors. They're simple, yet make a statement, and are downright beautiful.
17. Ringly Aries Activity Tracker and Smart Bracelet. I love the Ringly products because I think they're GENIUS for moms. You can set it up to alert you (the little stone flashes!) when a certain number is calling your phone (babysitter on date nights!), that way you don't feel the need to have your phone out all the time. I can't wait to receive mine! They also have a ring version!
18. Hanky Panky Underwear. I own a pair of these and they're the best underwear ever (and totally worth the money!). I hate spending money on underwear for myself, so I love it when I receive it as a gift! They're also super pretty, so maybe drop a hint to your significant other 😉
SHOP THE POST