Thank you to ThirdLove for sponsoring today's post! All thoughts, opinions, and experiences, including my small ta-tas, are my own. 🙂
Can we just talk about something for a minute? An unspoken part of motherhood?
Why, and I mean WHY, does your boob size shrink after breastfeeding?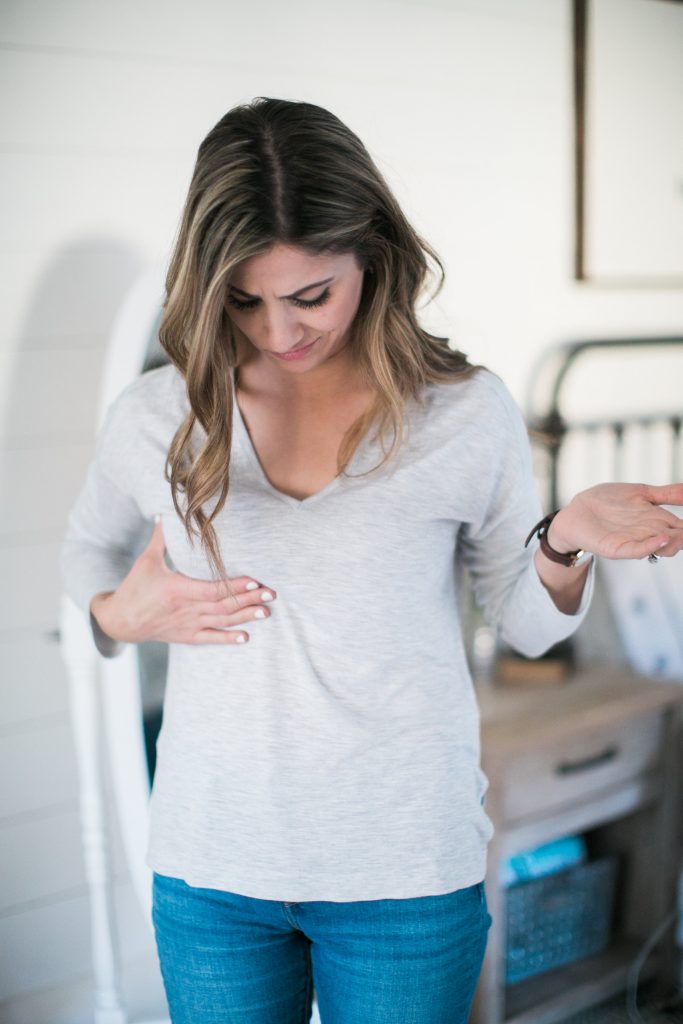 No one warned me of this before becoming a mother. I'm not kidding, I feel like I'm 12 years old again. I was a member of the I.B.T.C. before (that's Itty Bitty Titty Committee for those of you who aren't in the club), and now I've made my way up to CEO! What happened to those awesome pregnancy boobs? Or milk boobs? WHY AM I LEFT WITH NO BOOBS?!??!?!?!!?!
I know I'm not the only one here. I KNOW so many of you mamas agree.
I recently came across a photo of my self with my pregnancy boobs and was like, WHOA. Then I looked down at my chest and was like WHOAAAAA. And for a second I debated having 2354184934 children just so my boobs could look like that all the time. (My husband said no.)
My boobs have been a variety of sizes the past 3 years of child bearing, and at this point all of my bras are old, worn out, and don't fit right. Because what's the point of buying new bras when my boobs are going to shrivel up anyway?! I recently looked in my lingerie drawer and was embarrassed at the site of my bras. I held one up thinking, this is the furthest thing from sexy that I've ever seen. But who the heck has time to go bra shopping and get properly fitted with two small kiddos? That sounds like an adventure I'd rather not have. Landon is pretty well tamed in a clothing store and fitting room, but I've yet to bring Noelle and well….she's a disaster on a good day. Plus Landon is also a three-anger who's mood changes when the wind blows. No, thank you.
Then one day I recently learned about an app that matches you to your perfect bra AND sizes you RIGHT IN YOUR HOME. I know what you're thinking. What? How is that even POSSIBLE? Oh but it is, my friends. ThirdLove apparently heard our plea as busy moms and developed an app to do all of this right during nap time!
Cue the angels singing!!!!!!!
The app is insanely easy to use and takes less than a few minutes. You input a few settings, follow the guidelines for taking a couple of photos (the app does it for you, you just stand a certain way! And yes, it's with a shirt on! No actual boob photos here.), and then BAM!!!!! It gives you your size and bra suggestions, and you can order right from the app!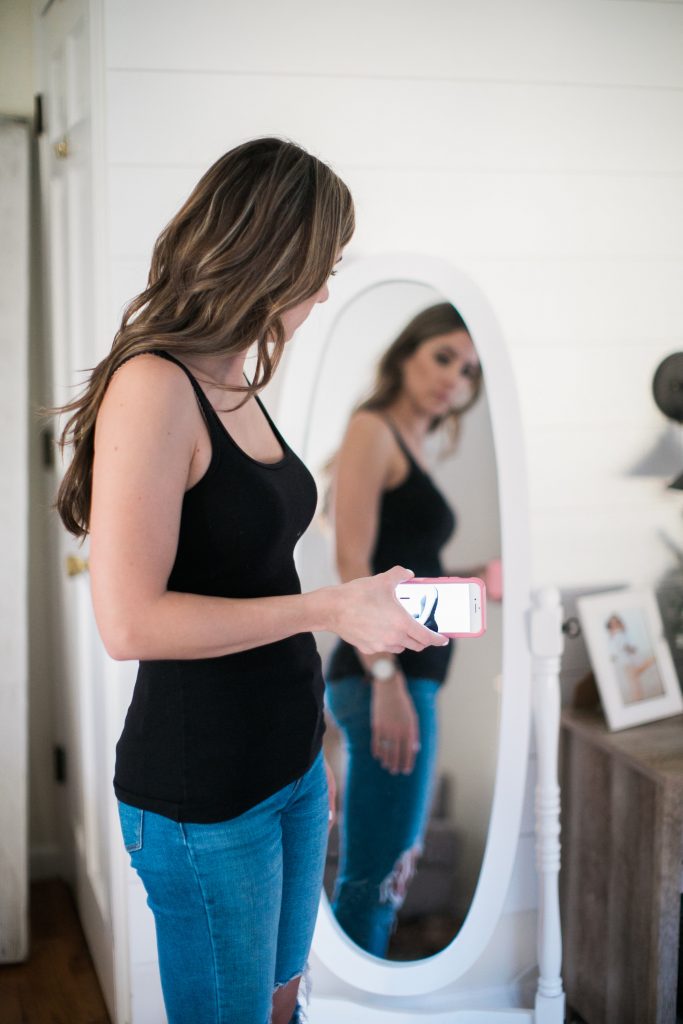 I swear, it's that easy. You know I wouldn't fool you.
Guys, this is freakin' life CHANGING for us moms! After getting my size (a sad realization, I'll admit), I chose to go with ThirdLove's 24/7 Classic T-Shirt Bra, and TWO 24/7 Classic Push-Up Bras (because let's be honest…………..I need it. Badly.) They arrived to my doorstep a few days later, and I was SO surprised to see they actually fit, and fit comfortably, when I tried them on.
ThirdLove also has a "Try Before You Buy" program where you can try the bra FREE (Yes, FREE) for up to 30 days (you can remove the tags and everything!!!!!) from when you place your order. If they don't hear from you in 30 days, you'll be charged the $68 for the bra. If you aren't happy with it, just contact them before the 3o days are over for a FREE return or an exchange! If you return within the 30 day window, you'll never be charged. Guys, how awesome is that?! A true try before you buy experience!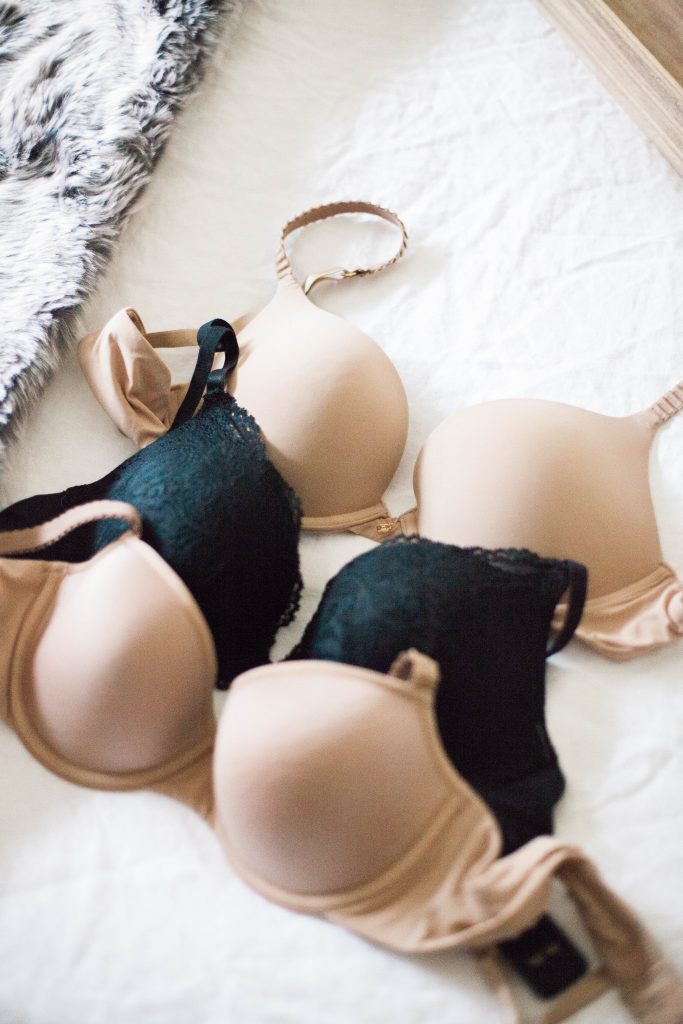 I'm honestly so impressed with ThirdLove's service. I still wish my boobs were bigger, but until I get pregnant again or come into a lot of money (ha!) these small ones will have to do. At least I've got some beautiful, good-fitting bras in the meantime. And yes, I threw out all of those dilapidated ones the second I knew my new ones were a perfect fit.
Treat yo-selves, mamas! Your boobs will thank you. 😉
(Photos by Alicia Ann Photographers)