Thank you to Reversible Co. for sponsoring today's post!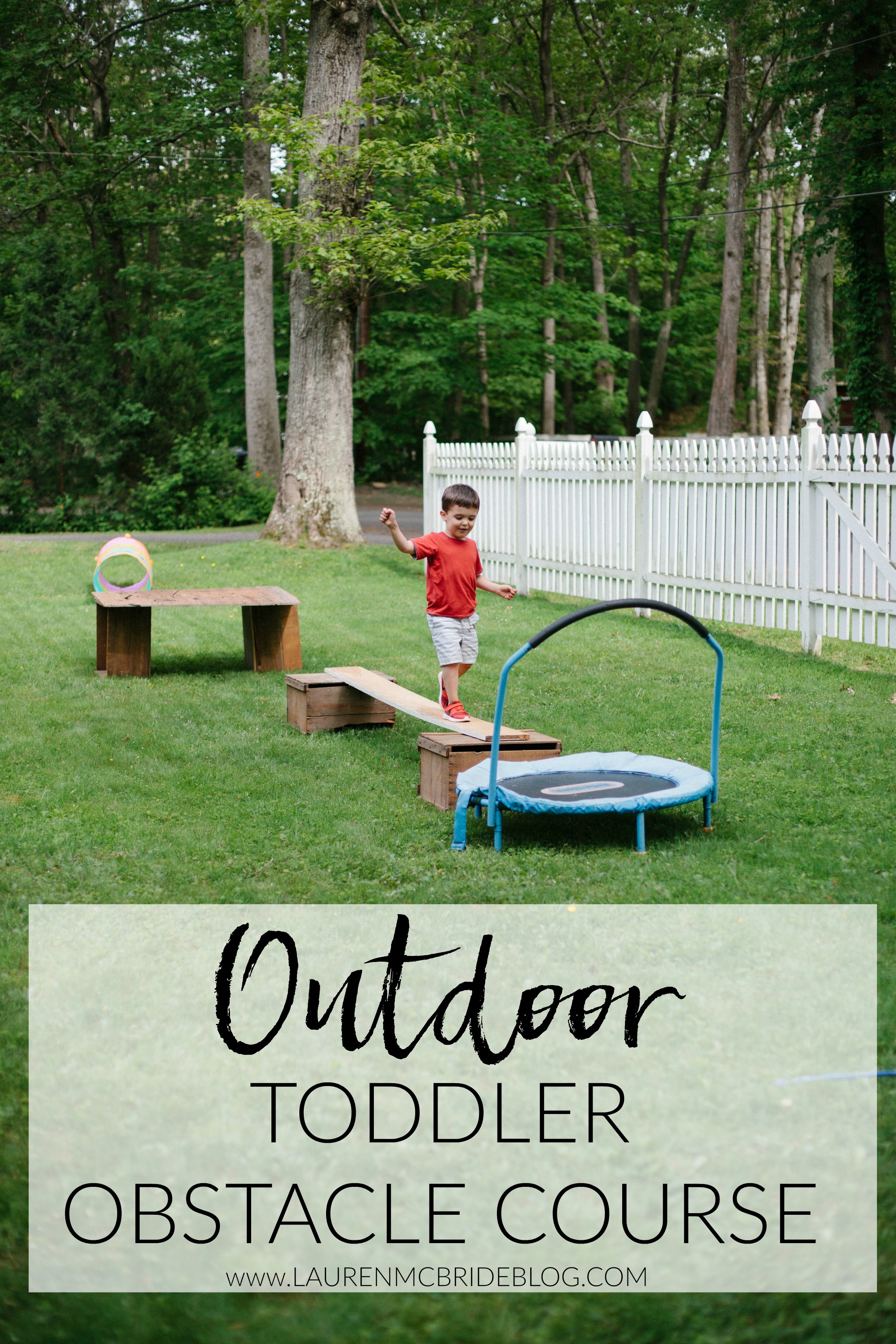 I have a fun post for you today! I've been trying to think of some creative (yet EASY) ways to keep the kids occupied this summer, and creating an Outdoor Toddler Obstacle Course has been on my list! Our family loves watching American Ninja Warrior, and my husband loves to compete in the Tough Mudder and Warrior Dash. Landon is always wanted to jump around like the guys on TV! I wanted to keep it simple and use items we already had at home, so my husband and I came up with a few fun ideas to develop a mini obstacle course for the kids. It's really simple to make, and will keep them occupied for hopefully more than 15 minutes (you know how that goes 😉 ) Today I'm sharing with you how we made it!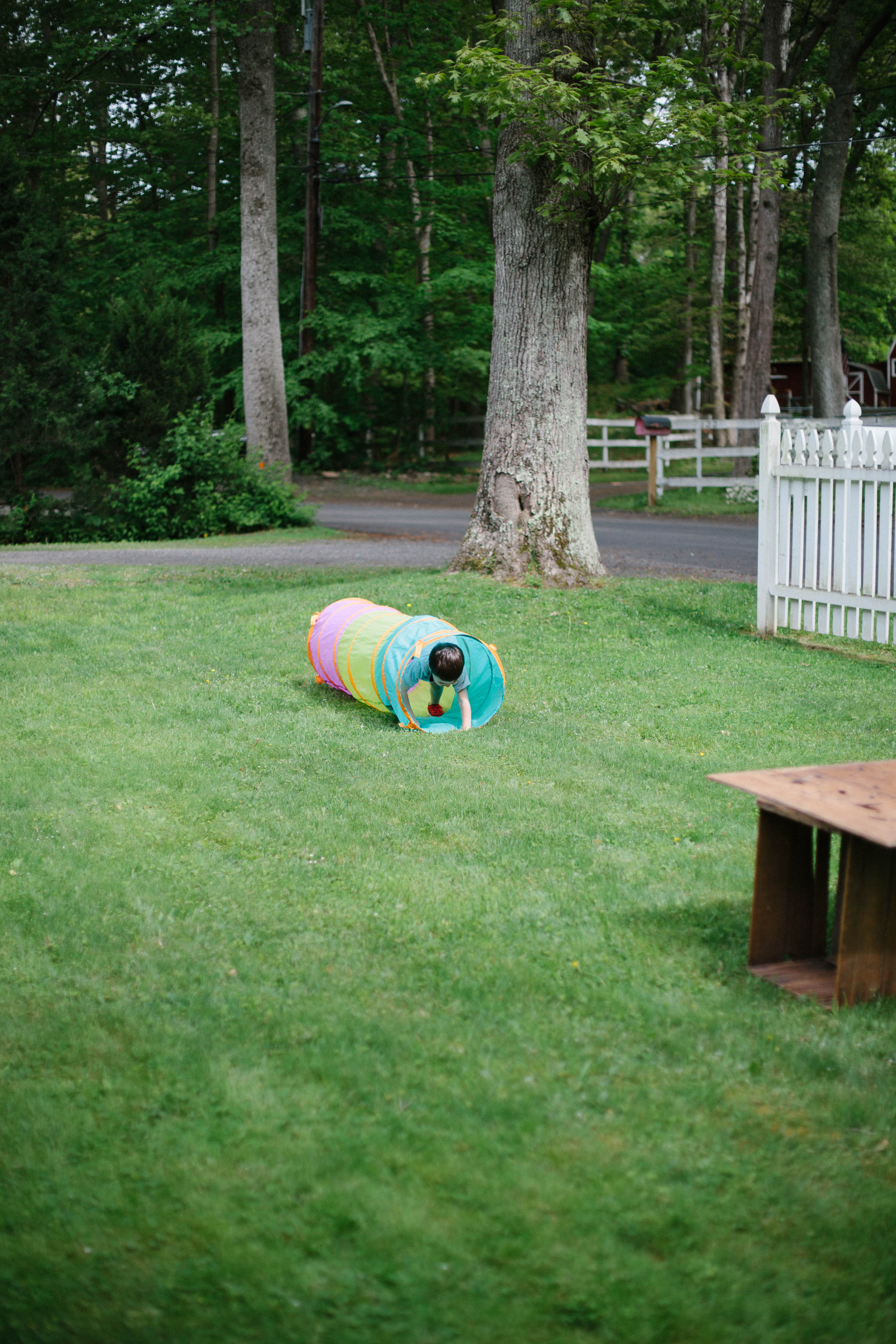 Outdoor Toddler Obstacle Course
We already had this tunnel that was gifted to us by a relative, as well as this Little Tikes trampoline I got for Landon a couple years back. We also had this little basketball hoop that I thought I'd incorporate into the course. Look around your house and see what items you already have that you might be able to incorporate!
Next my husband gathered a few old crates and pieces of wood we had lying around. I wanted to create a few obstacles that would be good for his gross motor skills and involved some jumping, crawling, and climbing! We came up with two easy obstacles that involved him crawling under a "bridge" and then walking on a balance beam. It was a simple matter of placing the wood on the crates and making sure they were safe!
I also wanted him to work a little on coordination, so I thought it would be fun to have him scoop up a basketball with a net and drop it in the hoop.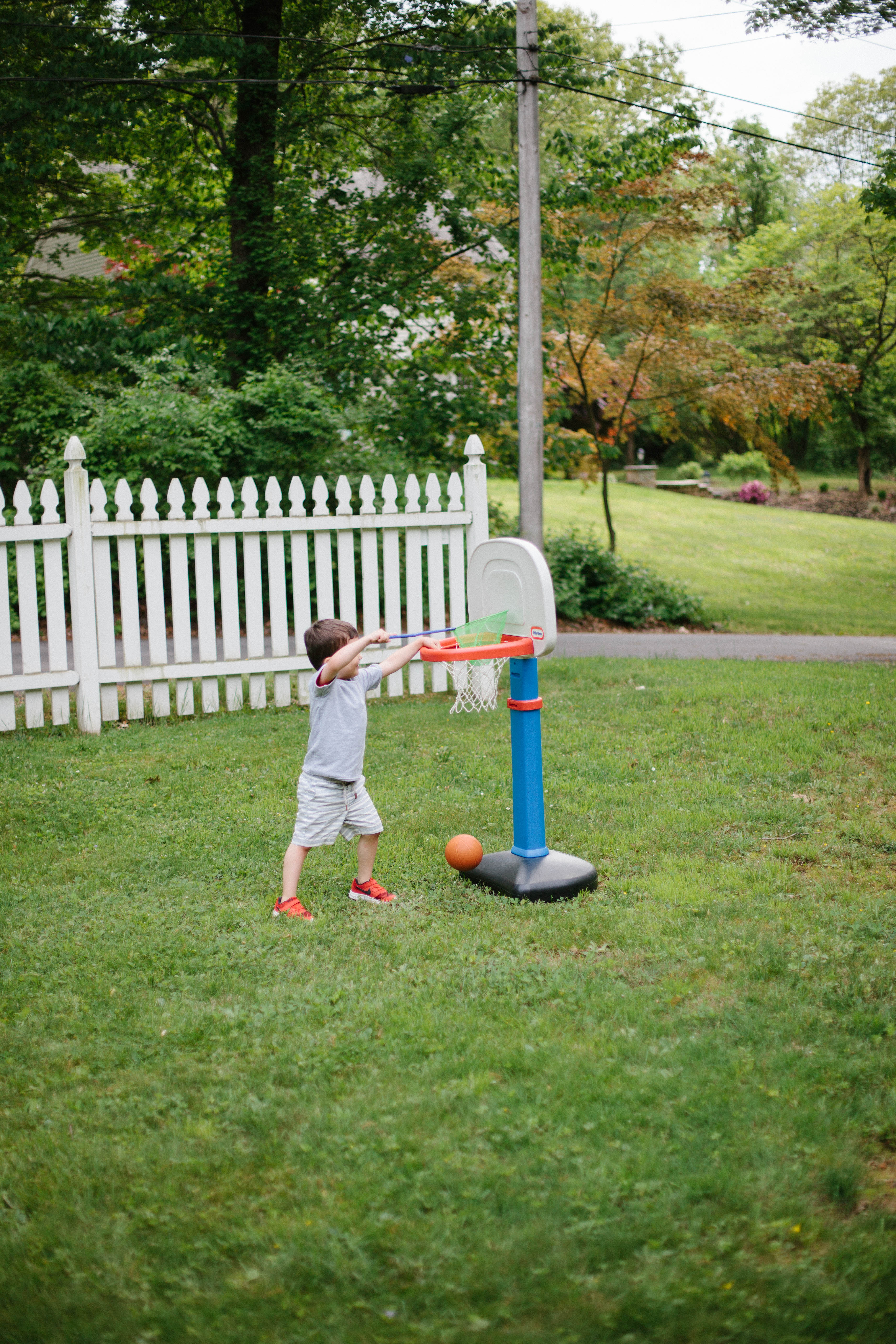 We lined up the obstacles in a row and let him at it! He was SO excited and went back through it like 10 more times. He had a blast, and exerted a ton of energy (which is always a win for bedtime!).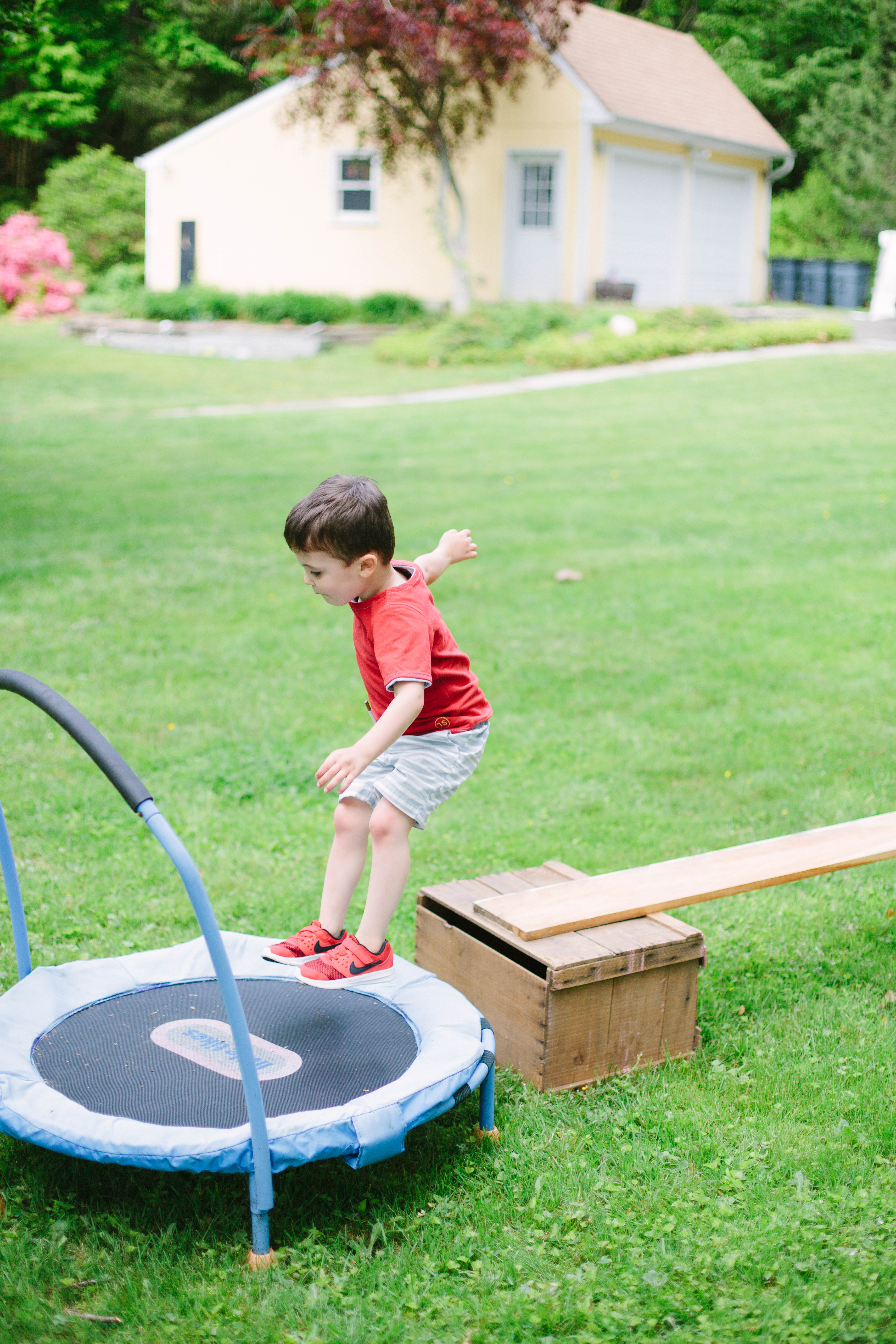 Landon is sporting a top from Reversible Co. in these photos, which is this awesome clothing line with REVERSIBLE clothing! How amazing is that, especially for us moms?! Reversible Co. offers a classic reversible clothing line for us busy moms and kiddos. Landon's wearing this reversible short sleeved shirt! I like that it can be gray for something neutral, or red for a pop of color! He wanted red to match his shoes. 🙂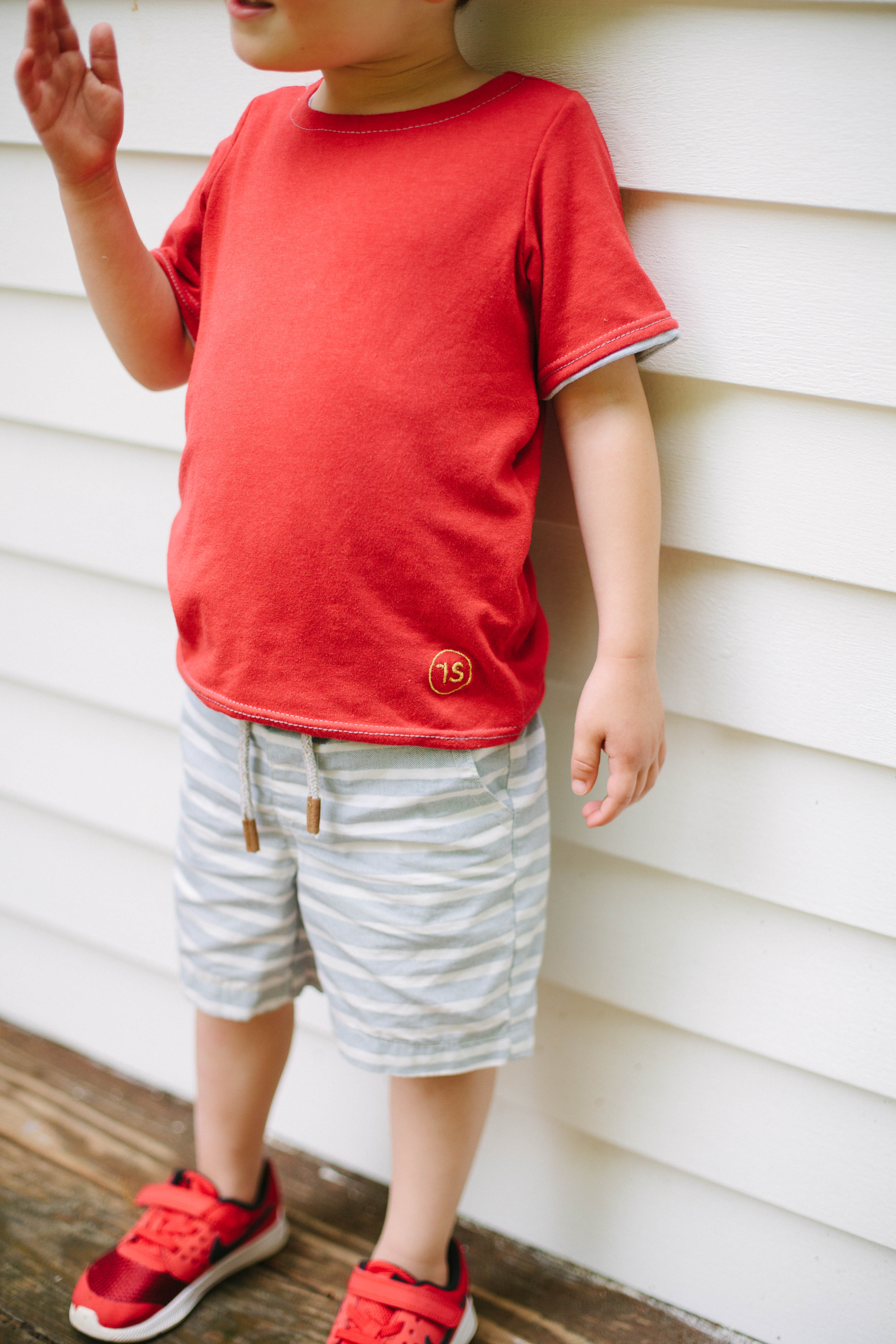 It's two looks in one, and made from bamboo jersey-soft fabric that won't pill or fade. I was really impressed with the quality, and love the classic styles and colors. They can easily be layered and worn with a variety of items, and I love that a simple flip of the fabric creates a whole new look! I also appreciate that it's made in America by two awesome moms!
Reversible Co. is offering 15% off with code REVERSIBLE-15% for Lauren McBride readers! I'm all about classic and versatile items, especially ones that can withstand multiple washes. And the fact that the shirt can be reversed to cover up any mess for the remainder of the day is an added bonus 😉 Anything that makes mom's life a little easier, right? Don't forget to grab yourself something, too! I'm wearing their short sleeved tunic below. I love that it can be gray or black, perfect for my neutral wardrobe! Happy shopping! 🙂