This is a sponsored post written by me on behalf of VELUX Skylights. All opinions are 100% mine.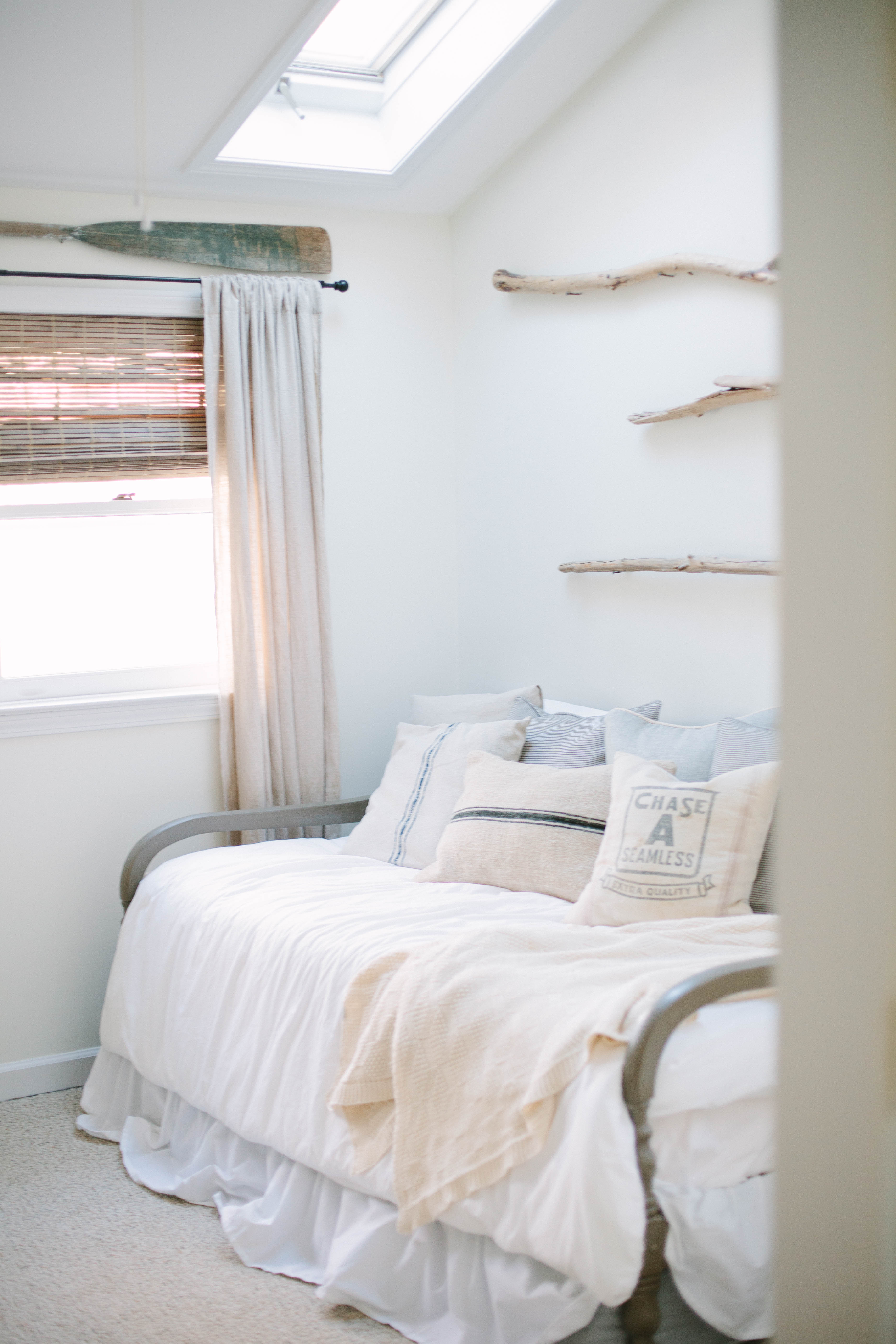 We've tackled nearly every room in our home, but the back bedroom/guest room has kind of been our "dump" room during our never ending projects. One of my plans for this year was to update the space and make it more accommodating of future guests, since I recently moved my office upstairs. The guest room has a great vaulted ceiling, and I wanted to take the time to really accentuate this "fifth wall." Today I'm sharing some of our ideas for planning our fifth wall.
I wanted to keep the room light, bright, and airy since I already love the natural light in it so much. We plan to only make a few changes, but they'll provide high impact. Here's what we're thinking.
Update the skylights. The back bedroom is one of the brightest rooms in our home because of the multiple windows and skylight views. But we've actually never opened either of the skylights in our home. The one in the back bedroom it a standard crank skylight..which makes no sense because how do I actually get up there to do that? And we never located the rod to open the one in the laundry room. Therefore, they've both just stayed shut. But with the recent makeover of our laundry room and downstairs bathroom, and our future plans for updating our guest room, I wanted the skylights functional to let some fresh air in! Especially in the bathroom since there's only one small window.
(Here's the laundry room view from the bathroom)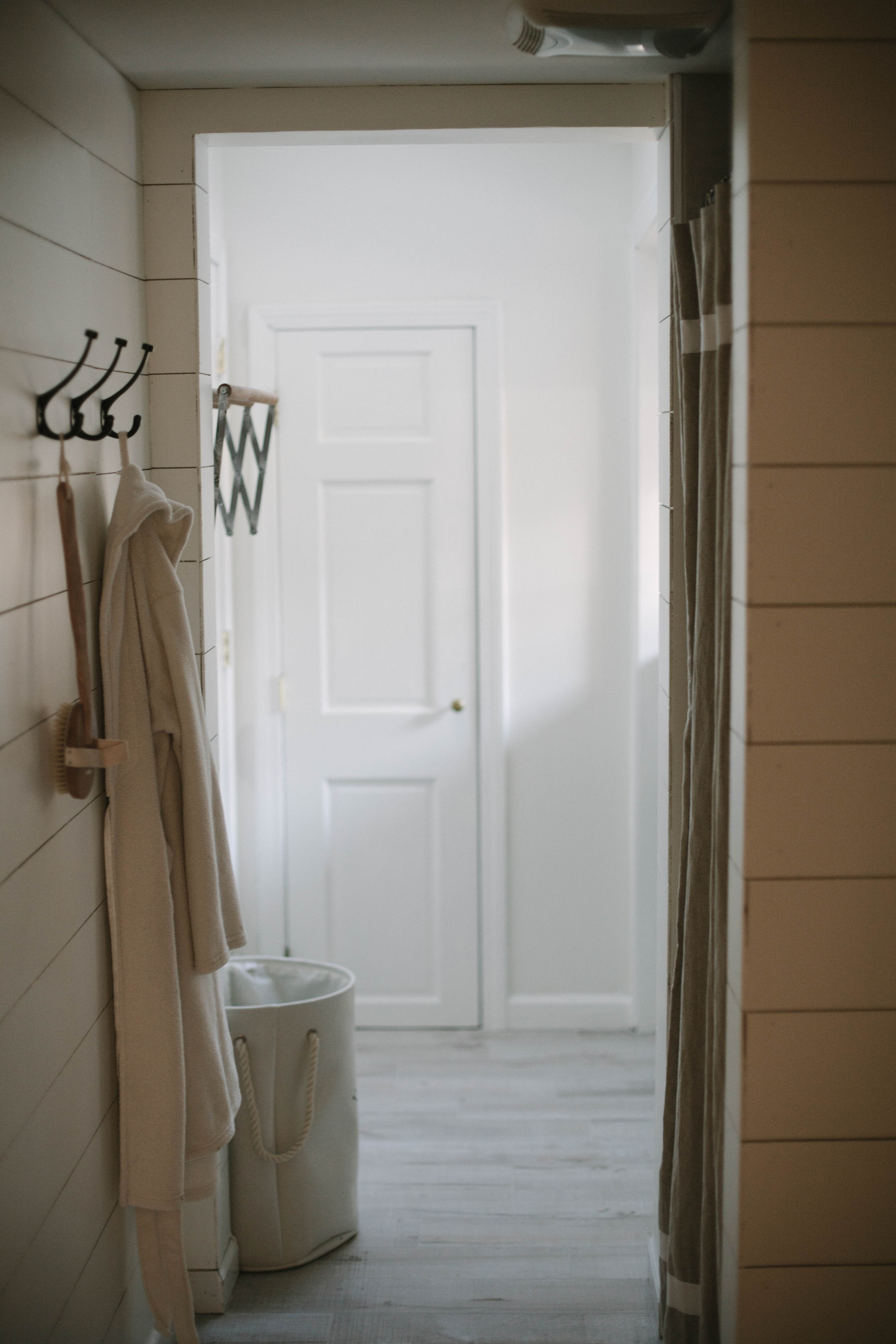 We are working with VELUX to update our skylights to VELUX No Leak Solar Powered "Fresh Air" Skylight, and I can't wait to finally be able to open them! The new VELUX Skylights will be solar powered, so no wiring is required upon skylight installation, and the glass is also energy efficient! They also come with a No Leak warranty on all products, which gives peace of mind. I want to be able to have a functioning skylight to create a nice breeze in this backroom if needed. Because it's the brightest room, it can also get really hot…and having that skylight access will be key in helping it cool down without the need for AC. Plus, guests will love the sky views when they wake up in the morning! The VELUX skylights also have a rain sensor, which means they automatically close if it begins to rain (which is great, because I'll probably forget they're open!). They can also be programmed to open and close on a regular schedule. Pretty neat, right? I'm also impressed by the variety of skylight blinds they offer. You can read more about VELUX at whyskylights.com!
Shiplap the ceiling. You know my husband is THRILLED about this 😉 But given that we have a vaulted ceiling in this room, I would LOVE to add some architectural elements to it. I've been wanting to shiplap the ceiling in an area of our home for awhile now, and since we don't have any shiplap on the walls of this room, I thought the ceiling would look really beautiful. Another option would be wallpaper, but I really want to keep with our cottage vibe throughout the house. This back bedroom has a few nautical touches, and I think the shiplap ceiling will be icing on the cake.
Switch out the fan. We need something a little better looking in here. This fan is very much outdated, and I couldn't tell you when it was last cleaned. I'm still deciding whether to keep the fan or switch it out with a beautiful chandelier since the skylights and windows bring in a beautiful breeze. I don't even think a fan is necessary! This is TBD, but either an industrial fan or chandelier will be in it's place.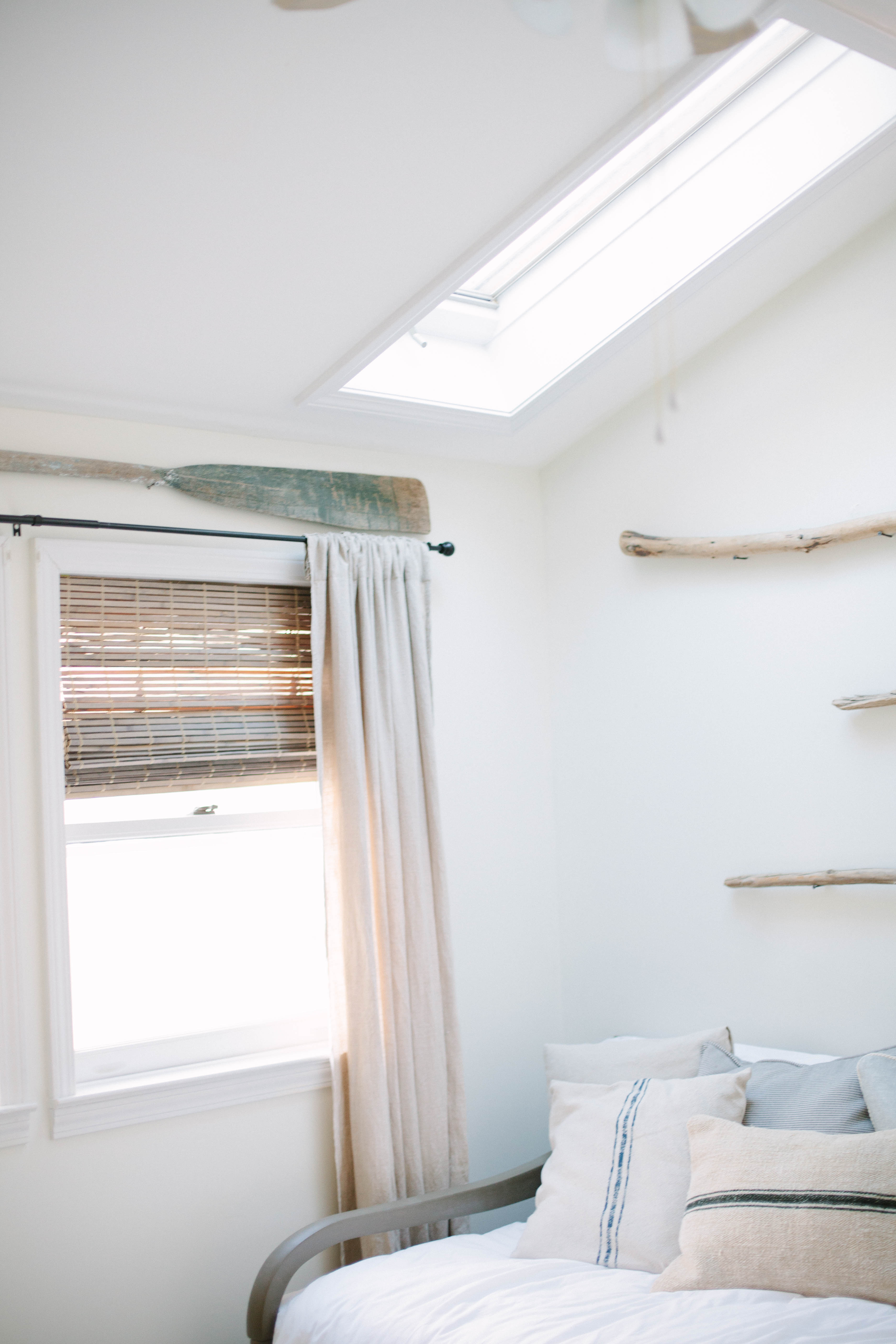 Up next we'll share all about our experience with the VELUX skylight install, and then the completed room! Stay tuned! Find more 5th wall design inspiration at www.whyskylights.com