This is a sponsored conversation written by me on behalf of True Value. The opinions and text are all mine.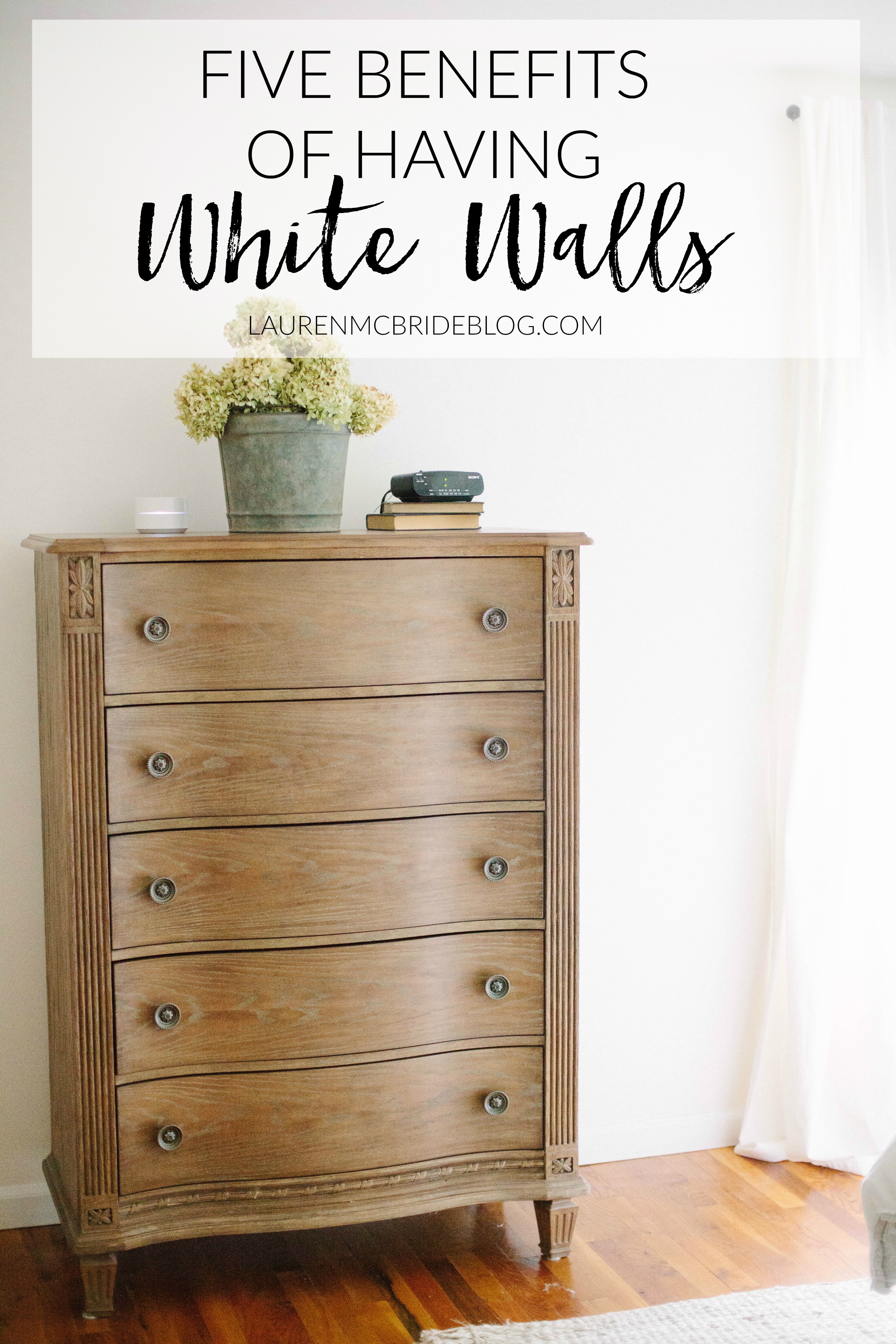 We've been putting off painting our master bedroom for quite some time now, mostly because 1. no one ever sees it and 2. the color wasn't bad to begin with. But I definitely wanted to brighten the room with a nice coat of fresh white paint. Many of you have inquired about why I always choose white paint, so today I'm sharing 5 Benefits of White Walls with you! Many of you have also commented on how I manage to keep the walls clean, so I'm sharing some insight on that as well!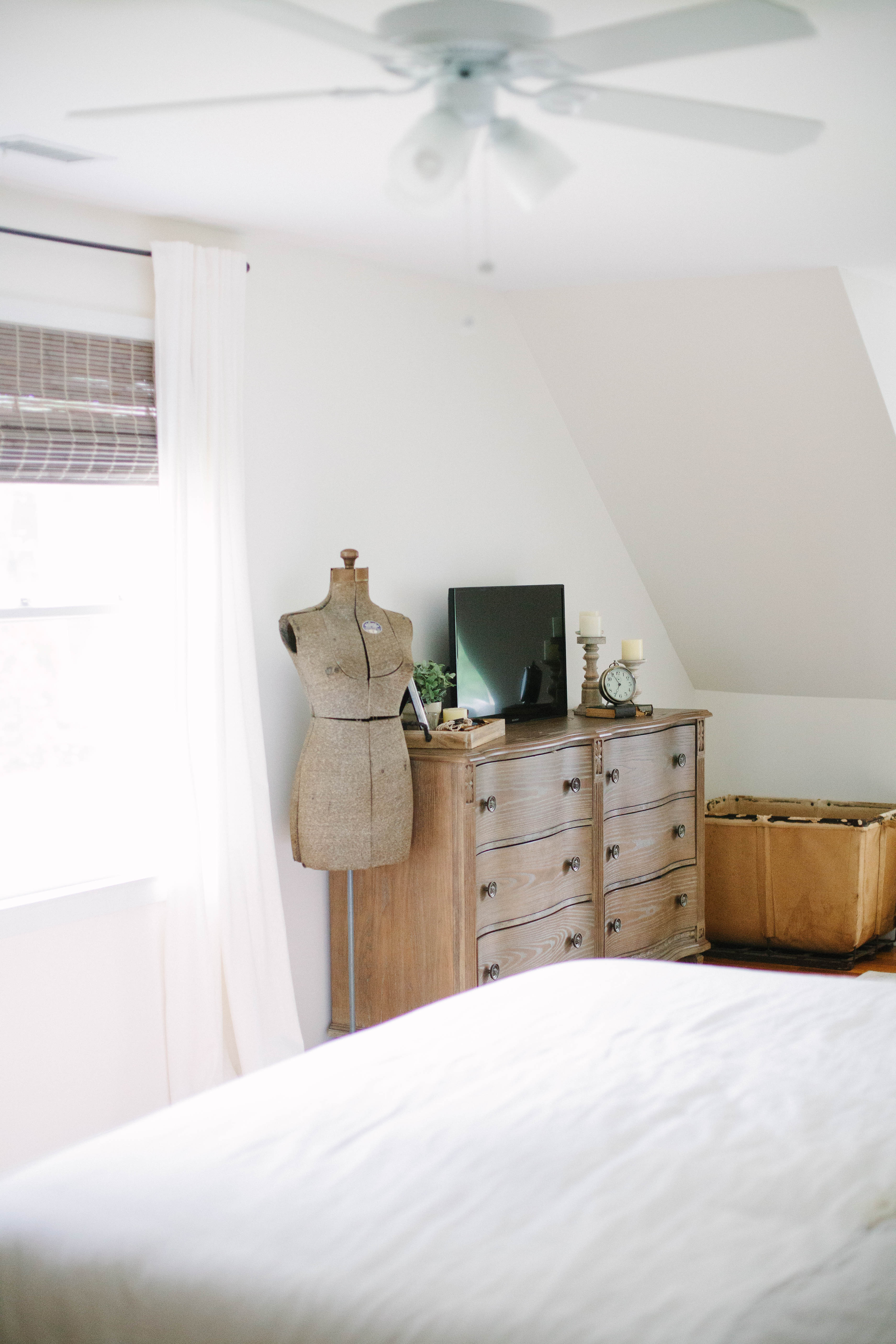 5 Benefits of Having White Walls
They're versatile. I can change up the room any which way and the white walls still work. I also don't get tired of it nearly as quickly as I do an actual color.
They look clean. I know what you're thinking…but HOW do you keep them clean?! Well for one, I don't let my kids run around the house with food unless it's a dry snack. Anything messy is eaten at the table. I also don't keep art supplies out in the open for the kids to have access to. I believe there's a time and a place for art (crayons, markers, chalk, paint, play dough), and that's at the table supervised. Yes, occasionally the walls get marked up, but when you use a scrubbable paint like True Value's EasyCare, it's easy to wipe clean! A little tip: baby wipes remove almost everything!
They brighten up the room. I like things BRIGHT. I need sunshine in my life. I like my home to look calm and serene even admit the chaos of toddlers 😉 White paint on the walls really brightens up the space and gives a fresh and calm look. I never choose stark white…that tends to look a little too sterile for my liking. I'll go with a neutral white with a slight gray undertone because I feel that looks best in our home. White comes in a variety of shades…your best bet is to try a few sample spots on the walls to see what looks best in the room!
It allows you to bring in color elsewhere. I like that I can switch out different colorful pillows or wall art easily and with my constant changing taste. I get board with things really quickly, and I'm usually changing things up with each season. The white walls are a great backdrop for any color.
It makes the room appear larger. Dark walls can make a room feel small in size, whereas white can actually make the room appear larger and more open. White diffuses light better than any color and make the space brighter (like I mentioned above!) Our home is a cozy little cottage, so I like that the white makes it appear bigger than it really is.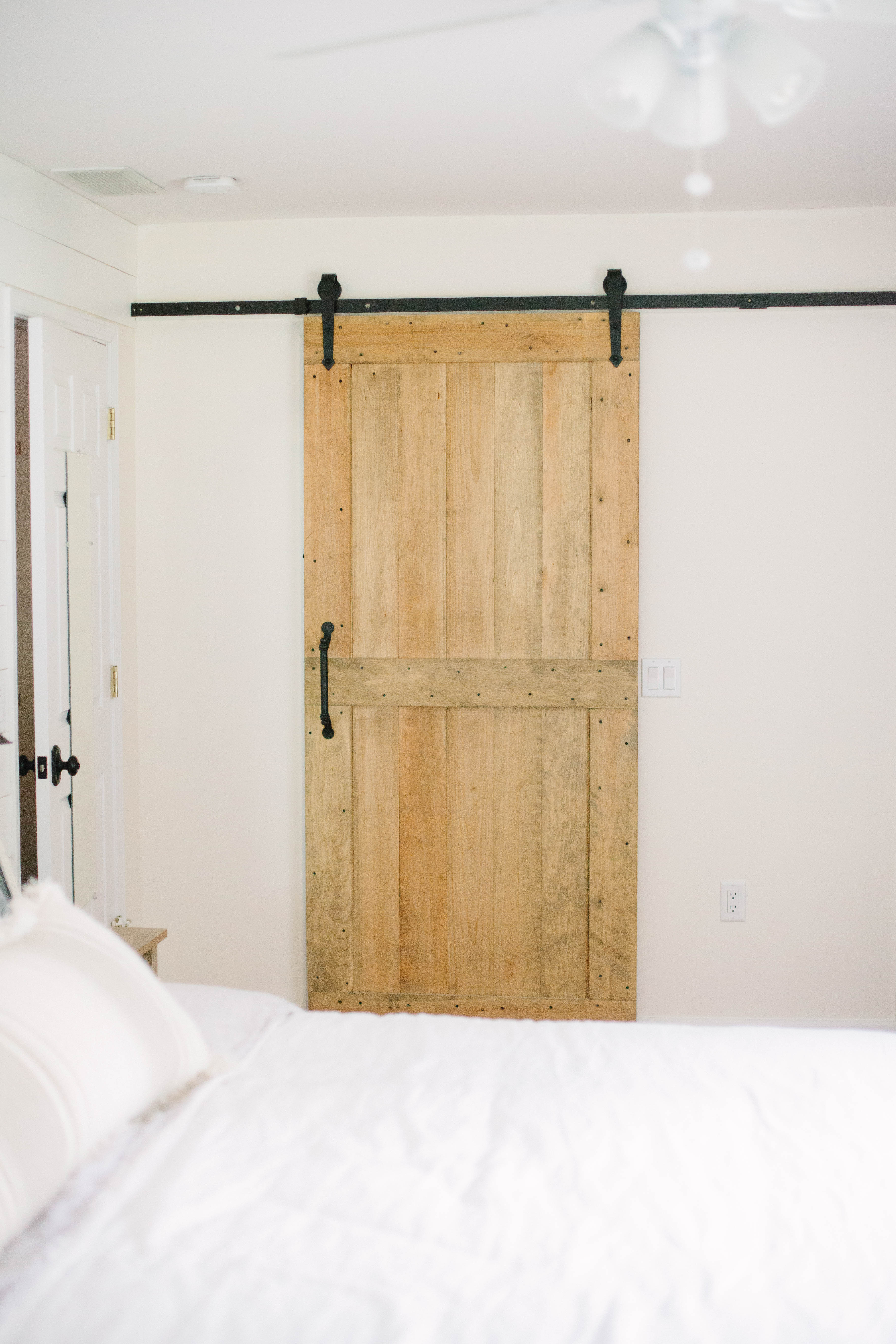 When we moved to our current town, we were significantly further from our usual choice of hardware stores. We were pleased to find there was a True Value right down the street that carried essentially everything we might need! I was impressed at the selection offered, and it's made our frequent trips for home renovation necessities a little more convenient. I recently learned about their EasyCare line of paint, and given that the specs of it were quite impressive, I decided to give it a shot for our master bedroom.
True Value's Easy Care paint is 100% acrylic latex and a low-odor formula (great for painting kid's rooms!), which is always something I look for. With kids in the house, I don't want anything with a strong odor. It's also 2x more scrubbable, which means it's PERFECT for a house with a young family! Washable is always a must-have in our home because it makes my life a little easier. I'm not nearly as concerned about stains or marks when I know it can be easily cleaned. The best part about the EasyCare paint? It only takes ONE COAT. It's a paint and primer in one! The gentleman at my local True Value said as long as the colors aren't drastically different (like dark gray or red to white, etc), one coat is all it takes! Since our bedroom was already a light color, I knew one coat would be enough. Which also makes the job a little easier on our end!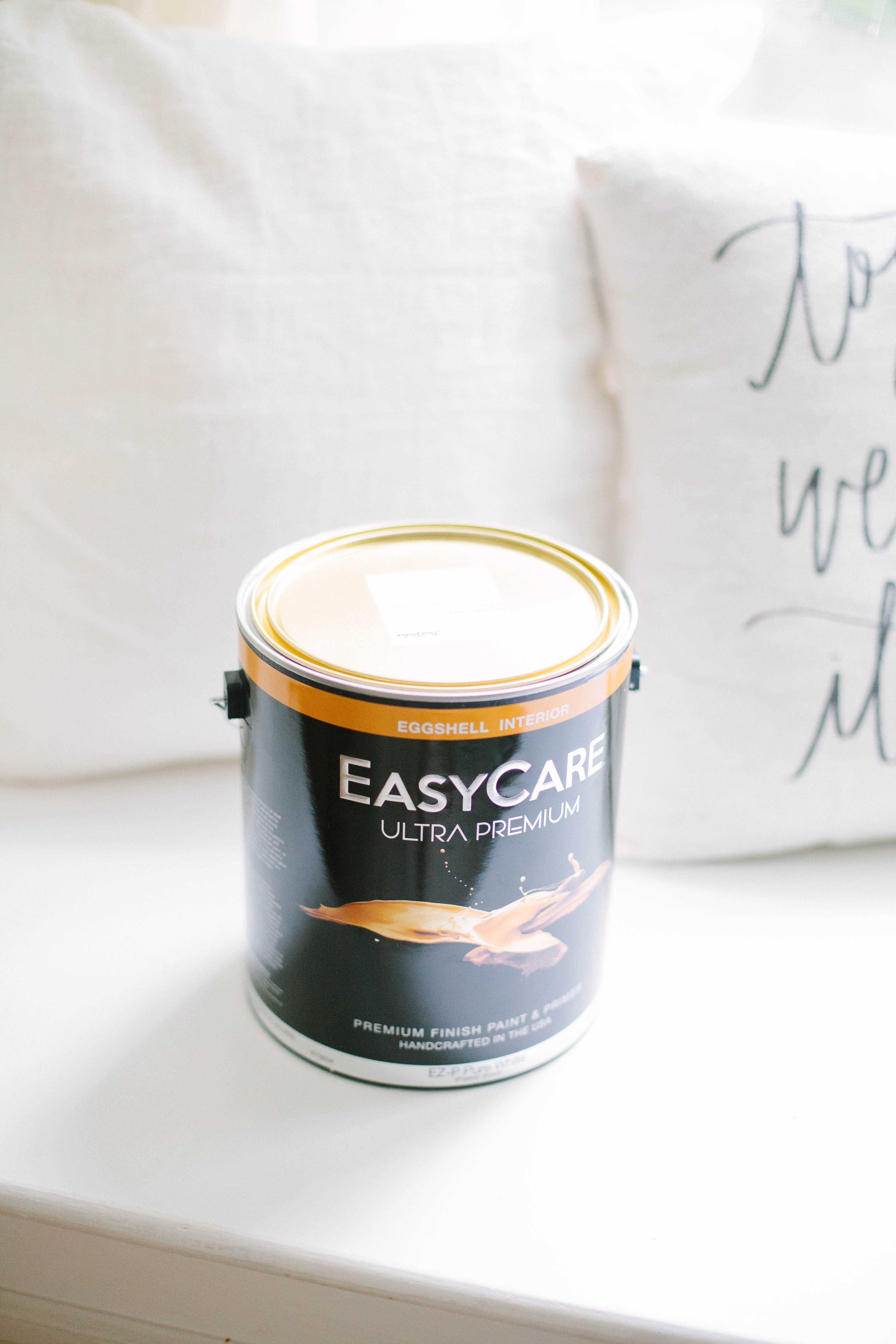 I chose True Value's EasyCare Ultra Premium Interior paint in the color Wedding Cake in an Eggshell finish. Eggshell is the best finish for interior walls, unless the room being painted is one with high moisture (like a bathroom). Wedding Cake looked to be the perfect shade of white for the room because it wasn't too warm or cool in tone. We were really impressed with how easy the paint applied. It was the perfect consistency, and not runny like some paint we've used in the past. We had no drip lines, and the paint applied evenly and flawlessly. And we were right…one coat and DONE! There was minimal odor, too (which was good because we were painting at 9pm at night).
I am THRILLED with the results! The paint color was only a slight change but it really brightened up the room and gave it a fresh, clean look.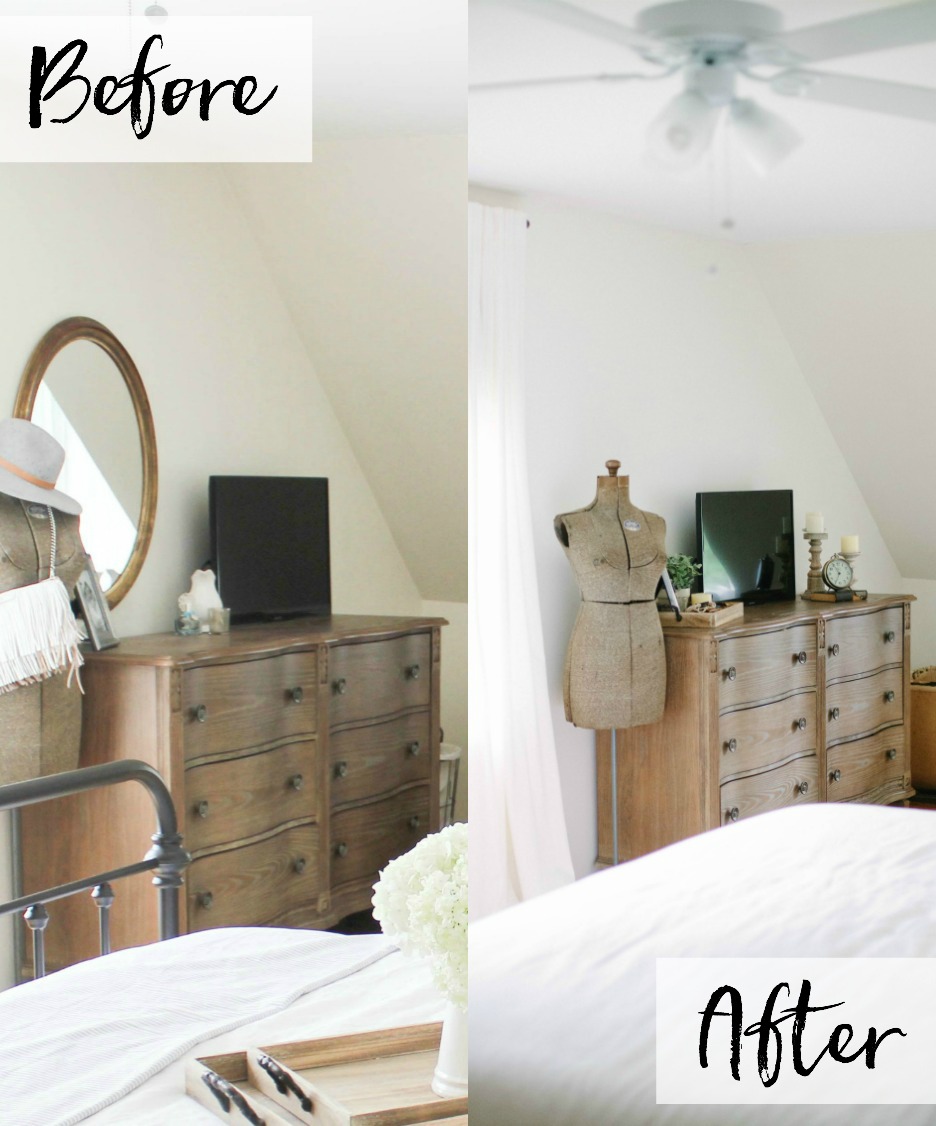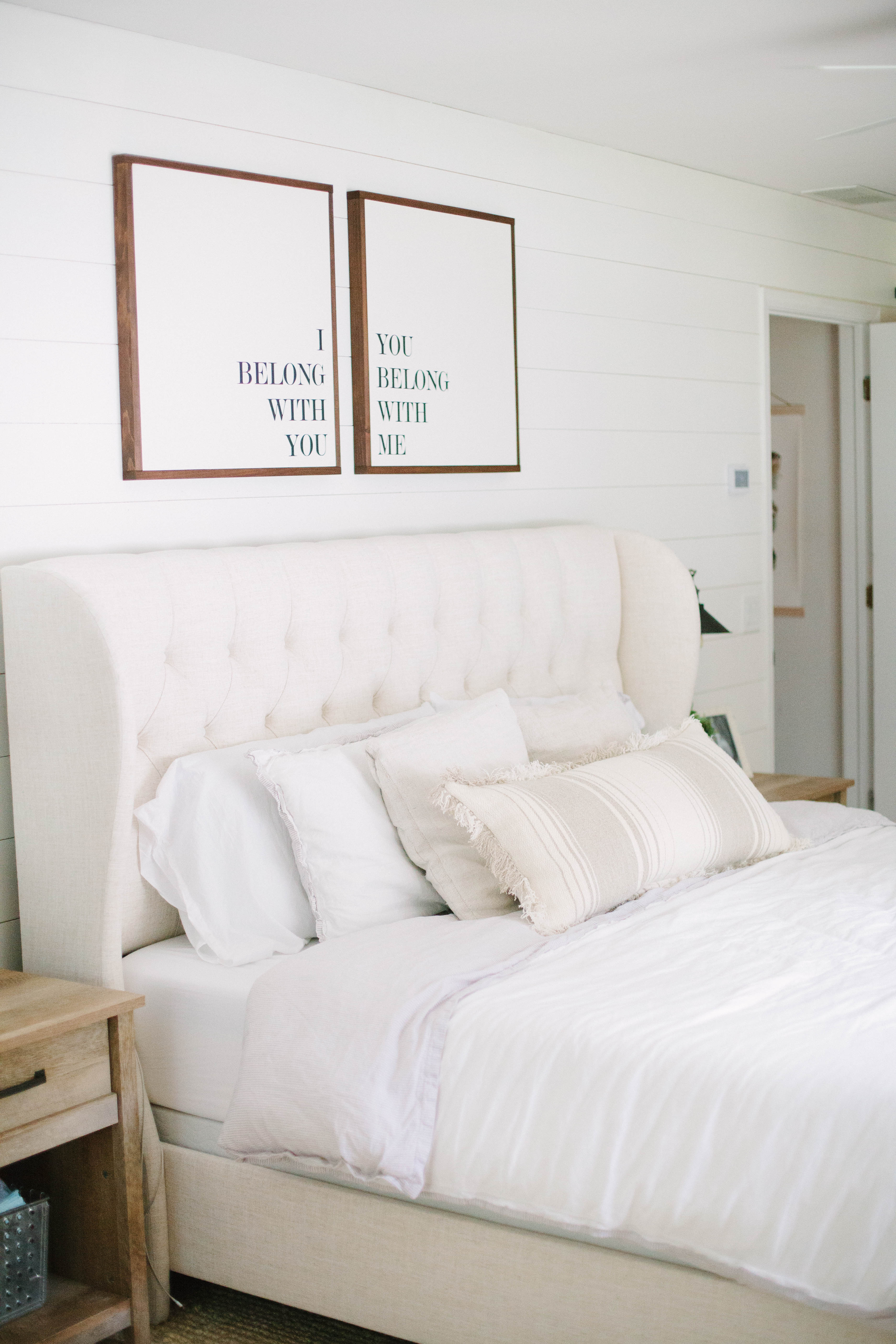 Now the burning question…how do I keep them clean?! It's actually quite easy. Baby wipes and a Magic Eraser! 😉 I have my kids eat messy food at the table, and art supplies is away in a closet and only comes out at a certain time/place. This isn't because I need my house clean at all times…it's not. It's a disaster. But I believe my children need to understand that messy food and craft supplies need to be contained, just like it would when they go to school or someone else'e home. Of course I can't help dirt and grim, but regular cleaning (just like I would even if my walls weren't white) keeps it looking good! You can watch my most recent LIVE video on more ways I keep it clean below:
If you're in the market for paint, try True Value's EasyCare line! The price is on point, too! We'll definitely be using this for a few projects going forward!
This is a sponsored conversation written by me on behalf of True Value. The opinions and text are all mine.