Today marks week 14 of pregnancy #3, and if I'm being totally honest…it's still hard to believe. For some reason I keep forgetting I'm pregnant and then remembering and being like, "wait, am I really pregnant?" I think because it all happened so fast, and that's just something we aren't used to. Clearly this pregnancy was meant to be because it has never come so easily for us.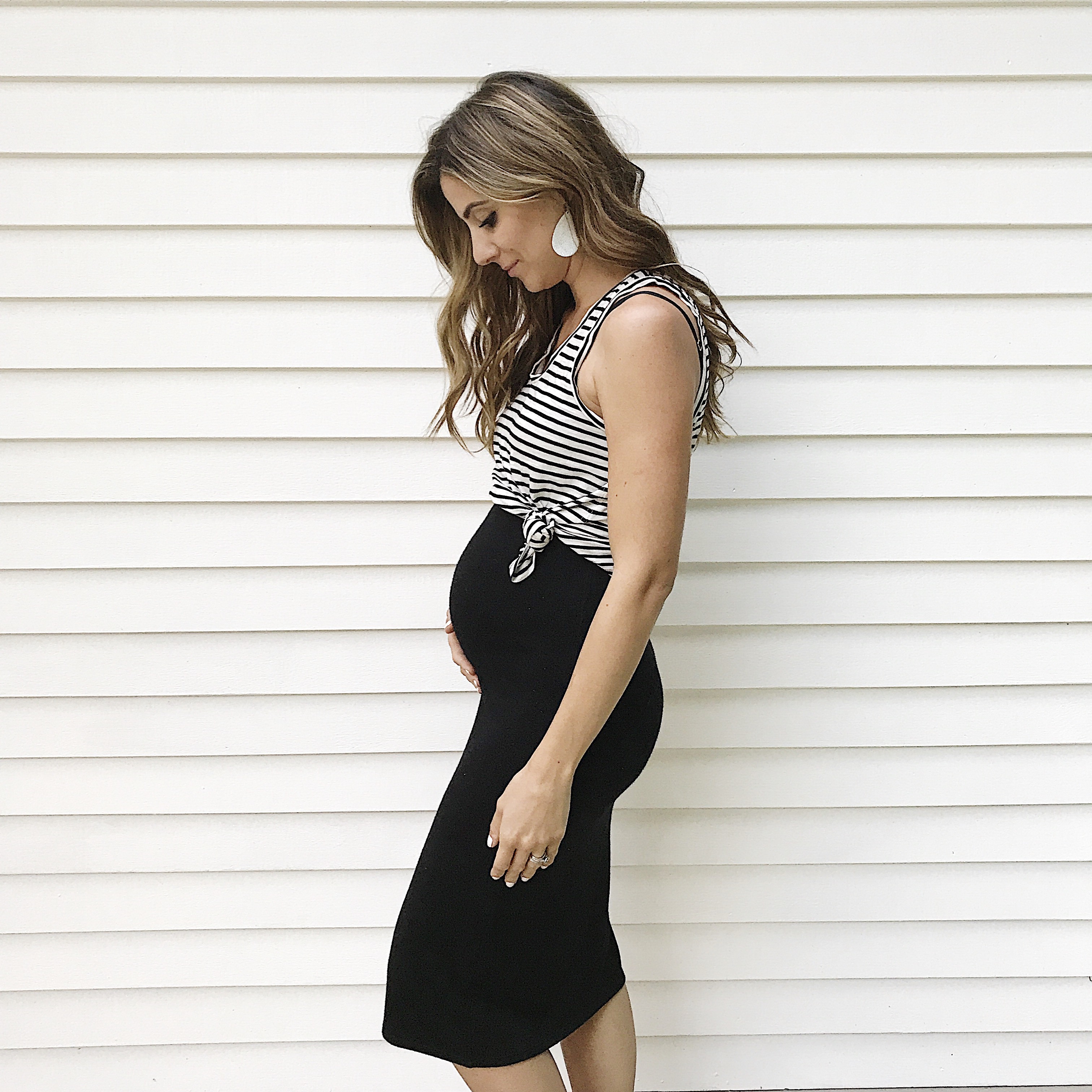 Top: Madewell // Dress: Leith // Earrings: Nickel and Suede
HEALTH
Overall, I'm feeling good. My nausea is subsiding (thank God), and I'm getting some energy back. My insomnia has improved, although I know that will be returning at anytime (I had it SO bad with Noelle). My food aversions are slowly disappearing, and my eating habits are becoming normal for me again. I'm still working out 3 times a week, on a good week ;), but I've scaled back intensity significantly. My bootcamp class is really awesome and the instructors will help me modify as I need to. I also don't rush through workouts, and make sure I'm drinking adequate amounts of water and taking plenty of rest time. I try to monitor my heart rate as well. So far I've gained 3lbs (not quite sure how it wasn't more with all my carb intake during the first trimester!), but MAN am I showing a heck of lot quicker this go around. Muscle memory is a crazy thing!
EMOTIONS
Emotionally, I'm feeling good as well. I'd be lying if I said I wasn't still nervous, but I think that's just the result of having multiple miscarriages. Miscarriage kind of ruins every pregnancy thereafter for you. I've been trying to focus on not becoming stressed out and resting when I need to. I felt really stressed during Noelle's pregnancy with our moving and all, and I don't want to do that again this time. I've been incorporating yoga back into my workout routine, which has always been a stress reliever for me. Yoga just clears my mind and gives my body a good reset. I've also been trying to not work before bedtime and just enjoying some time to myself.
CURRENTLY LOVING
This week I'm currently loving bodycon and fitted dresses for the bump! I picked up a few from the Abercrombie sale that's currently happening since they can be worn throughout the fall as well. This Ribbed Midi Dress and Ribbed Tank Dress are on their way to me! My favorite way to wear this style of dress is with a t-shirt or tank knotted over the bump. You can see how I wore this during my pregnancy with Noelle right here! I was flipping through old blog posts and channeled this outfit today with this cute Madewell striped top. This black dress is by Leith and from the Nordstrom sale, but it's finally back in stock! Shop them below!

Oh, and in case you forgot…we're having a boy! 🙂
This week I'm sharing more of our pregnancy update over on our YouTube channel! Pat is making a guest appearance and sharing why he changed his mind about having a third baby, plus some cool baby swag that the man in your life might enjoy as well 😉
I'd love to know what else you want to hear about this pregnancy! Let me know in a comment below!