Thank you to Nordstrom for sponsoring today's post!
You guys are already aware of my love for jogger pants. I love how comfortable and casual they are without feeling constricting like leggings. They'll be my go-t0 pants all pregnancy during the winter for this reason! They're generally easy to style in a casual, athleisure way, so today I'm sharing How to Style Jogger Pants for Fall and some tips when throwing an outfit together!
(Photos by Victoria Gloria)
How to Style Jogger Pants for Fall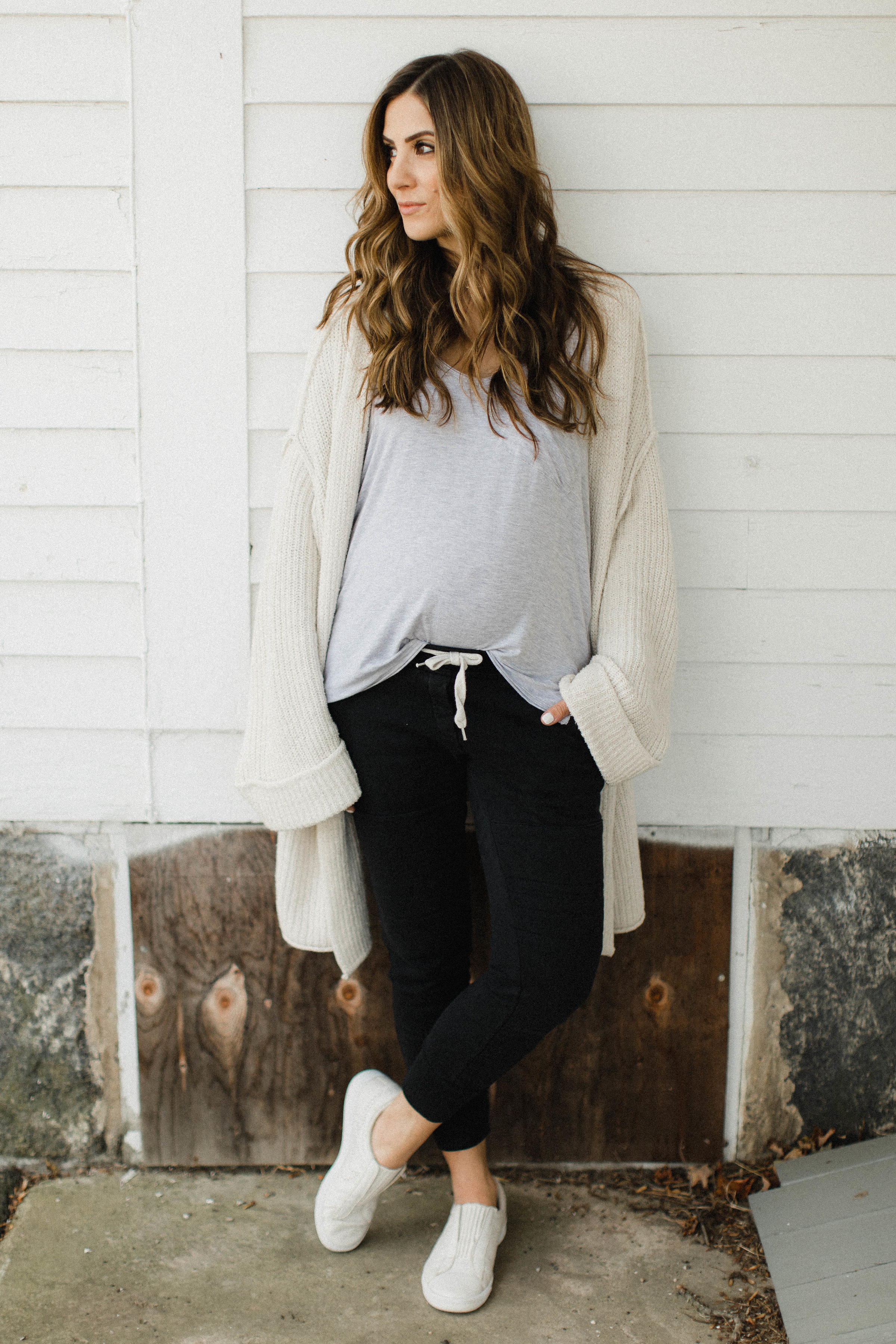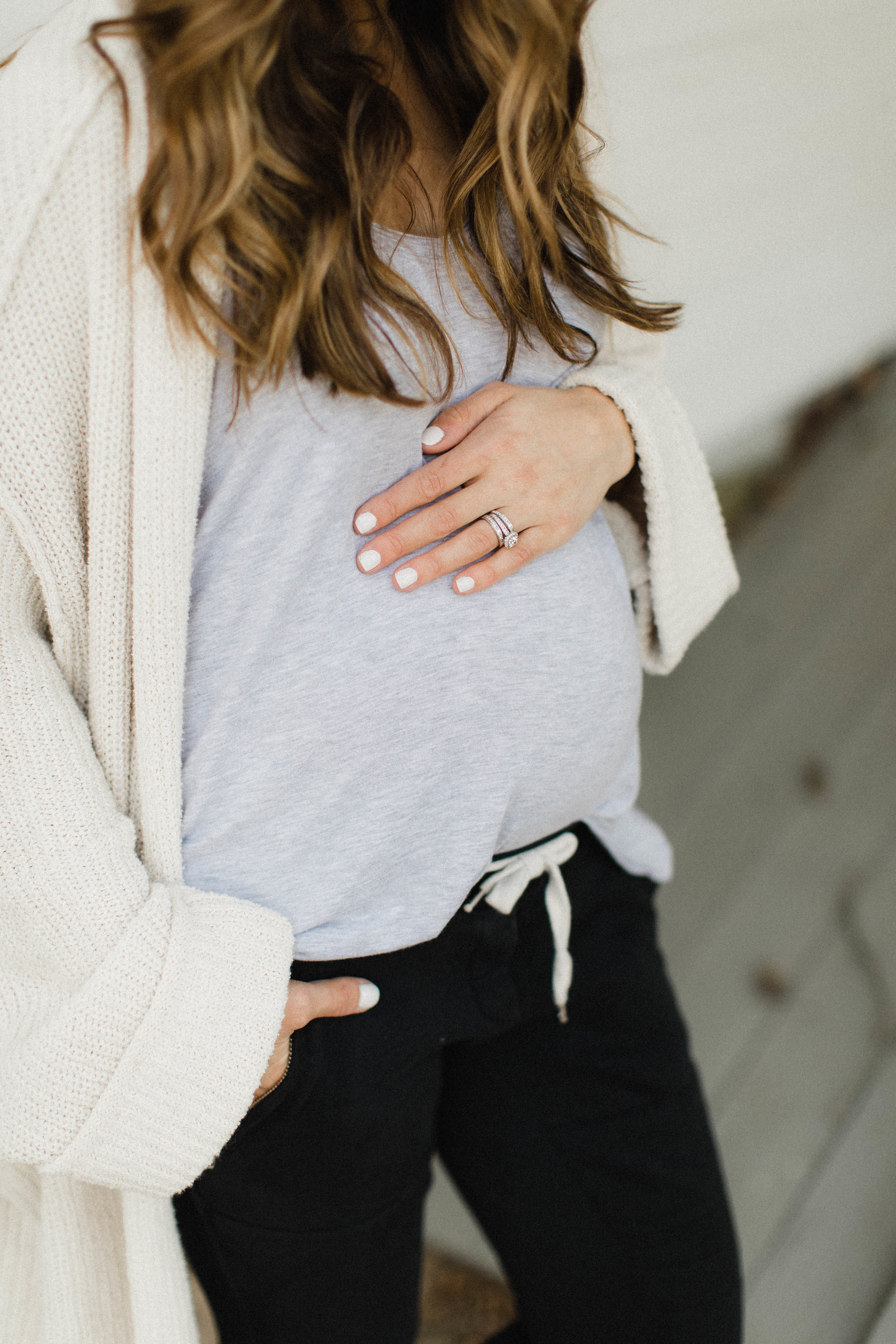 (OUTFIT #1) Sweater: Free People / Tee: Free People / Pants: Sincerely Jules / Sneakers: Nike
This is probably my favorite and easiest way to style, with the addition of a simple basic tee and a cardigan. This cardigan is significantly oversized, but a slimmer option like this one with the sleeves cuffed works for a slouchy look. This is pretty much my staple "mom outfit" during the fall and winter. I prefer wearing a casual pair of sneakers for added comfort.
SHOP THE LOOK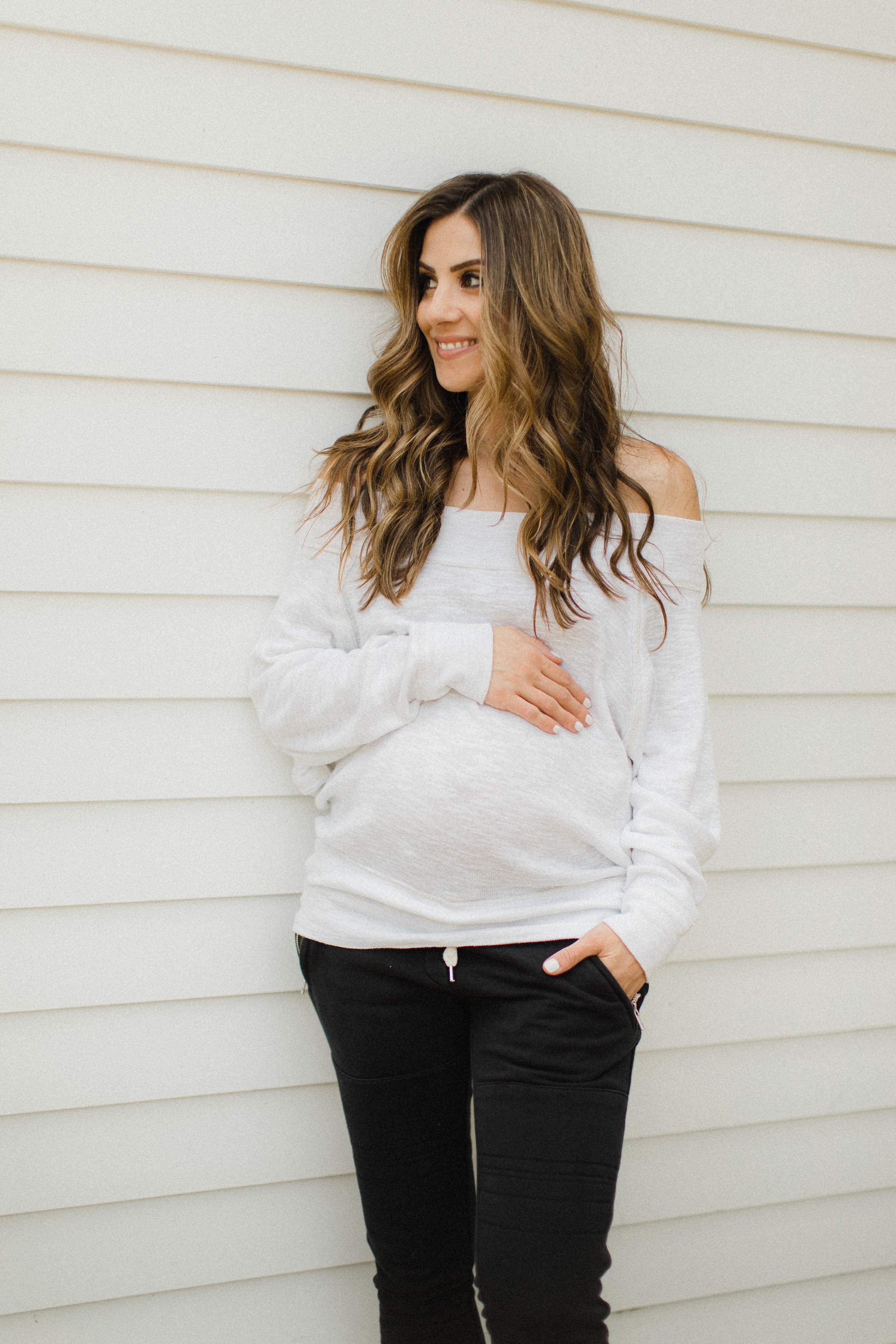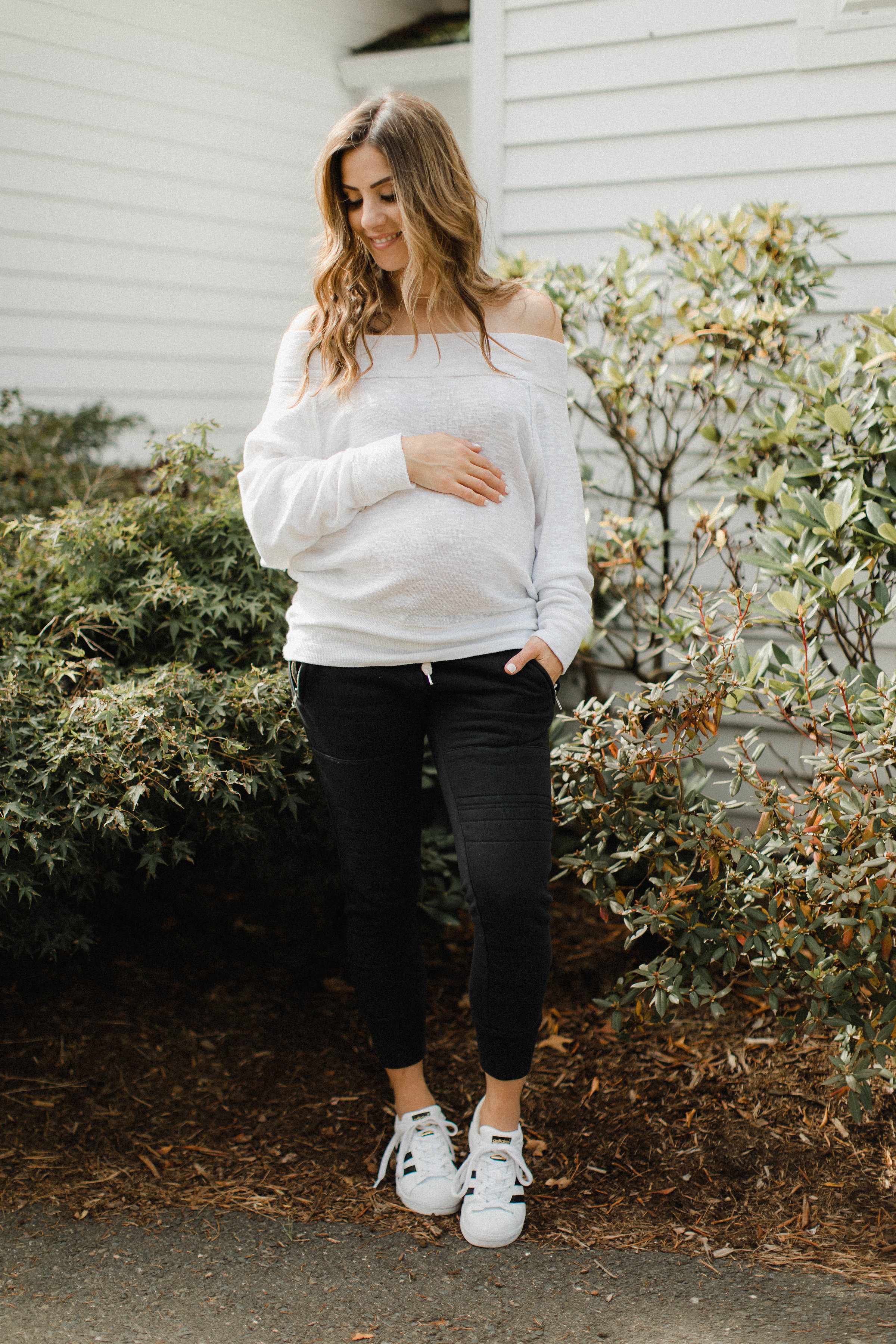 (OUTFIT #2) Top: Free People / Pants: Sincerely Jules / Sneakers: Adidas
Another easy way to style jogger pants is with a simple casual top like this off shoulder sweatshirt. I love that the off shoulder neckline dresses up an otherwise basic sweatshirt and makes it look less like I'm wearing pajamas. A stylish athletic sneaker completes the look.
SHOP THE LOOK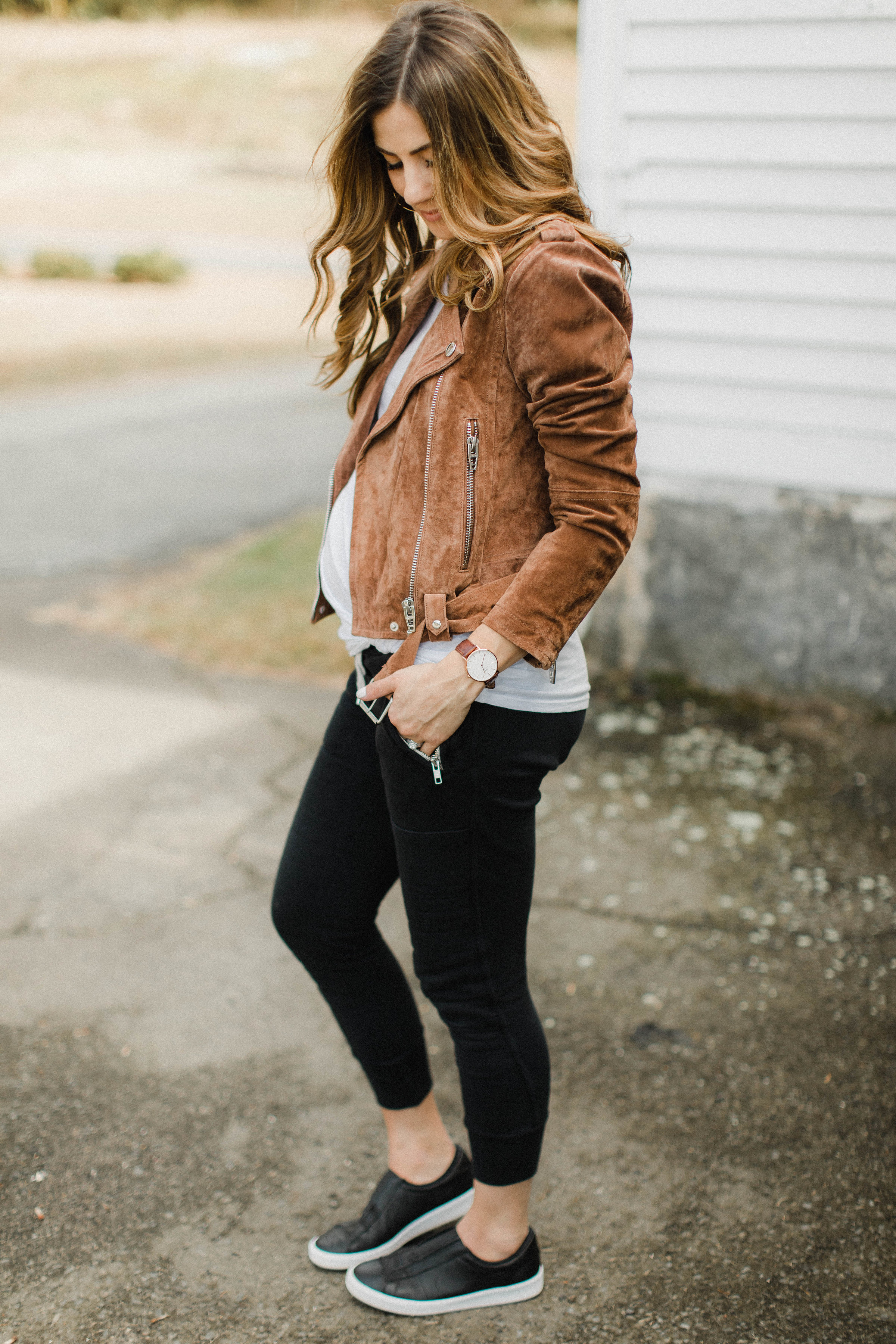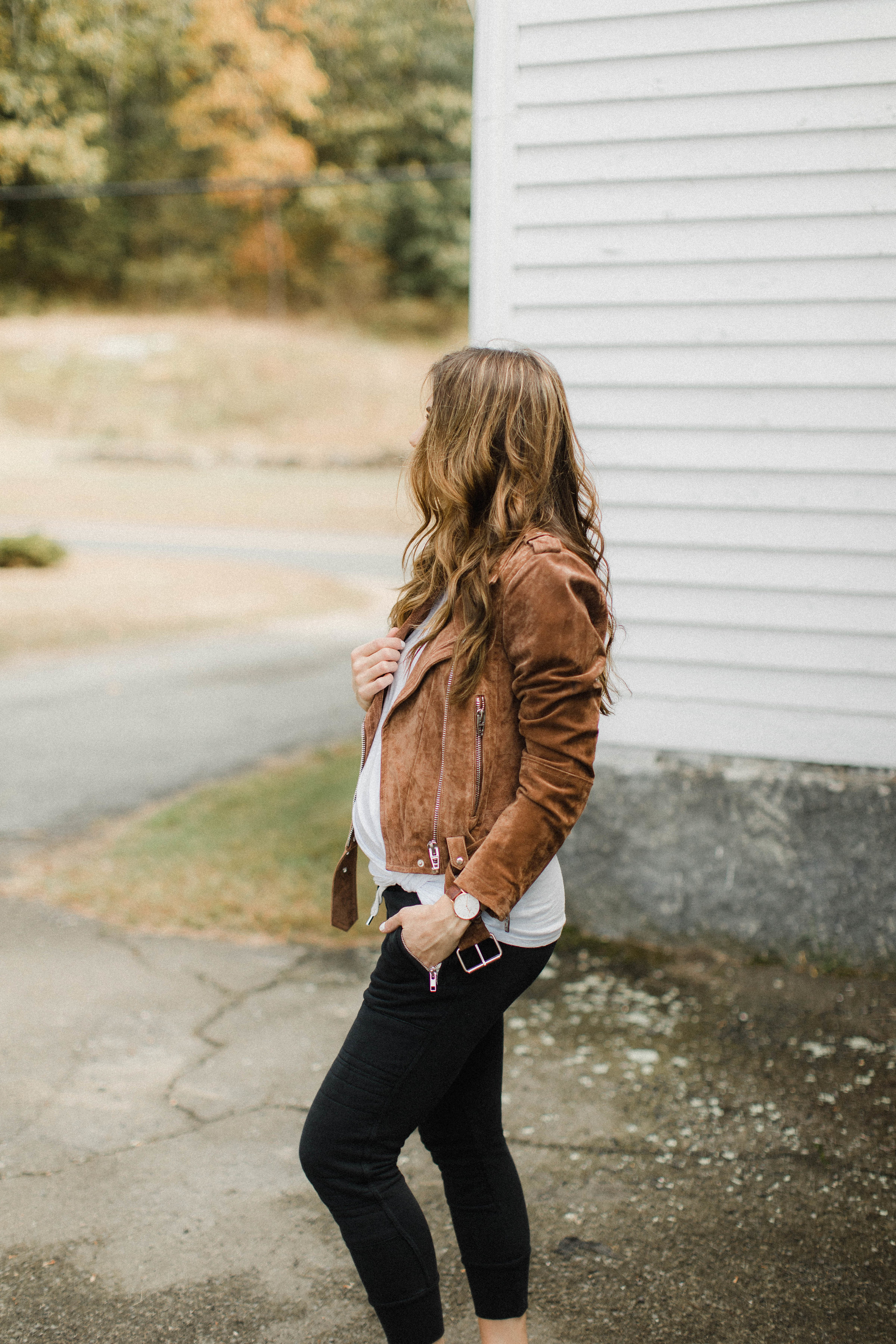 Jacket: BlankNYC / Top: BP. / Pants: Sincerely Jules / Sneakers: Nike
This is one of my favorite ways to style because the simple addition of a statement jacket really changes the entire look! I actually styled a similar pair of pants like this years ago right here, and it's still one of my favorite looks. These simple black Nike sneakers keep the look more sophisticated as well.
SHOP THE LOOK

Some other tips for styling jogger pants for fall for an everyday, casual look:
Choose the right pair for your body type. Choose a slimming pair of joggers like these by Sincerely Jules for a more sophisticated fit, or if you're petite! Jogger pants come in a variety of styles, and I prefer this slim fit over the rest. I actually own 3 pairs of these and receive compliments on them every time I wear them because they're a little edgy with their moto and zipper detail! Taller women can rock a looser option no problem because of their added height.
Choose the right shoes. I typically avoid boxy, athletic sneakers with my jogger pants because they don't look as sophisticated as a sleek and slimmer pair. I prefer my Converse, Adidas Superstar, a good pair of slip on Vans, or these Nikes because they're generally a cleaner look. If you are going with athletic sneakers, stick with ones that are less vibrant and more neutral colored. I also think velvet or leopard slip on options are a fun addition too! Below are some examples for you!
SHOP SNEAKERS BELOW

Add in a dressier piece. For instance, this suede jacket is a fun additional to my casual look! I've also worn a faux leather jacket as well. It makes the look a little more everyday and less like you're lounging at home (which is totally fine too!)
SHOP MORE JOGGER PANTS

Nordstrom is hands down my favorite place to purchase items because of their stellar return policy (seriously, it takes the cake!). They also have a wide variety of price points (many of the pants I listed above are under $50!), and I ALWAYS try to take advantage of their sales!
Hopefully this post helps inspire you to style jogger pants for fall!