I'm so excited to share our Fall Front Porch with you today because I'm featuring the greatest outdoor lanterns I've ever seen! Before I even get into today's post, I have to tell you how many mums and pumpkins I went through just to get this spot looking cute! The weather here in CT has been HORRIBLY humid and the temps keep fluctuating so much that everything is rotting out! But it's looking good for a hot second, so I snapped some photos before everything rots again 😉 Hopefully things cool down soon!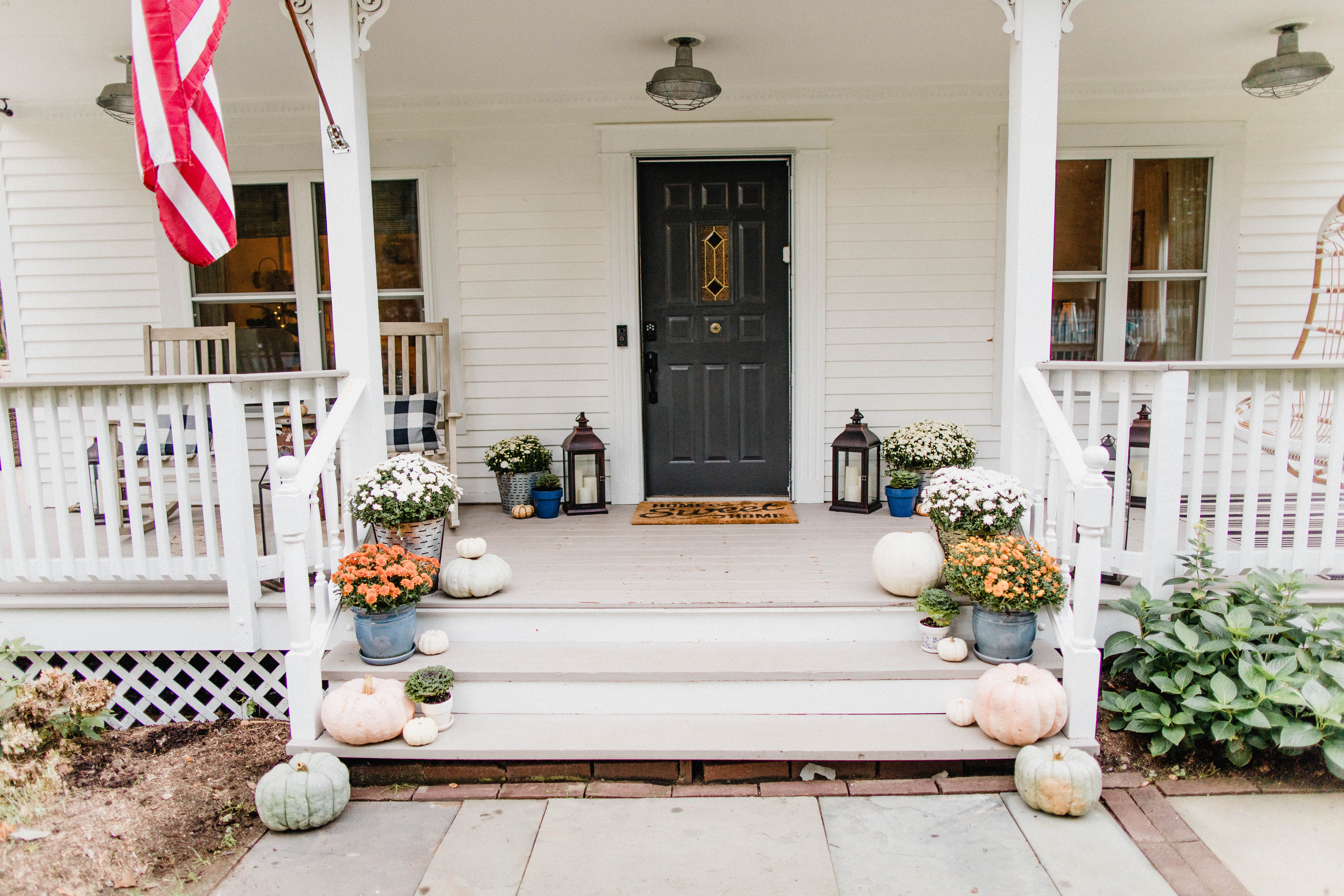 Our front porch is one of my favorite features of our home. It's so charming, adds some major curb appeal, and I LOVE sitting out here rocking with Austin in the swing or the rocking chairs. It holds a special place in my heart because I've rocked 2 babies on this porch, quietly listening to the birds and the breeze. Because we're out here so much, I love decorating it season to season, whether it's with beautiful summer flowers or seasonal decor.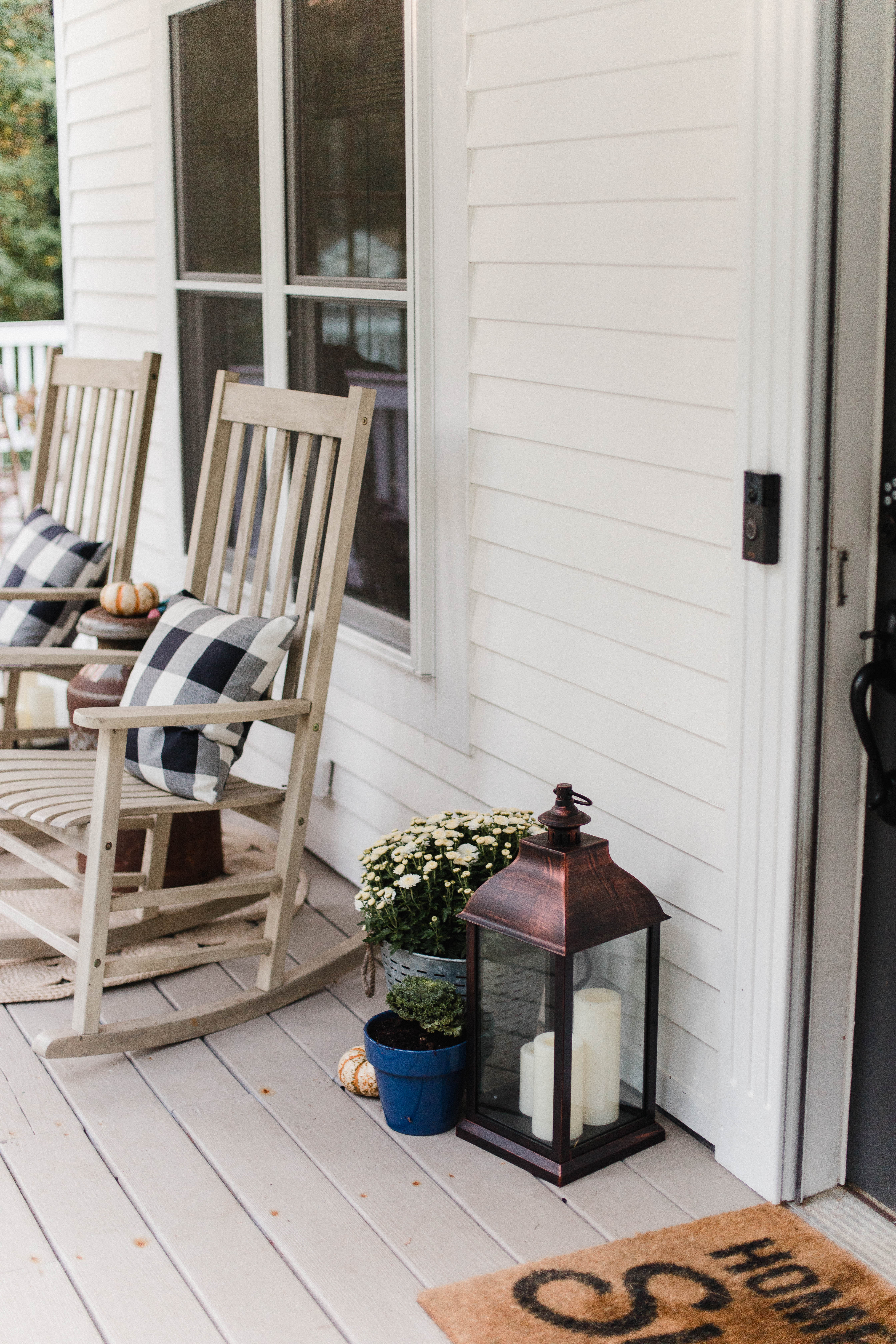 I wanted to keep things organic looking for fall, so I brought in some mums, pumpkins, and kale for the season. I reused my blue pots from the summer to tie in a little color and my coastal vibe, but I love the overall neutral look of everything.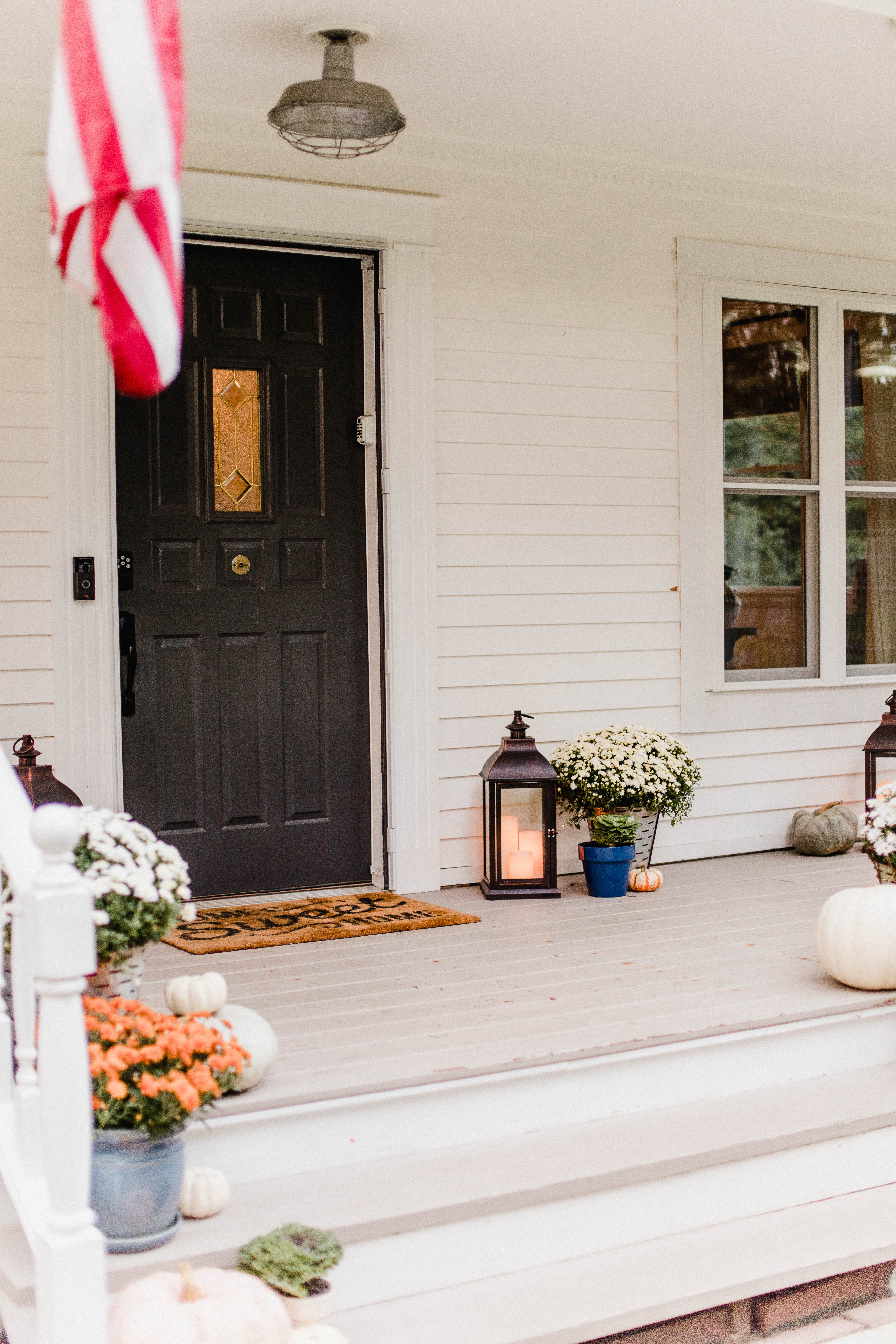 My FAVORITE feature of this porch are these incredible lanterns from QVC. Guys…they take the cake for outdoor lanterns. I've purchased quite a few, but seriously nothing compares. They are the PERFECT size for an outdoor space…they make a statement without being too big or too small. They have three flameless pillar candles inside at graduated heights. They have a realistic glow, and "flicker" like a real candle. They also function on timer, which is my favorite part! They'll stay lit for 5 hours and remain off for 19 hours, and they offer up to 500hrs of glow time.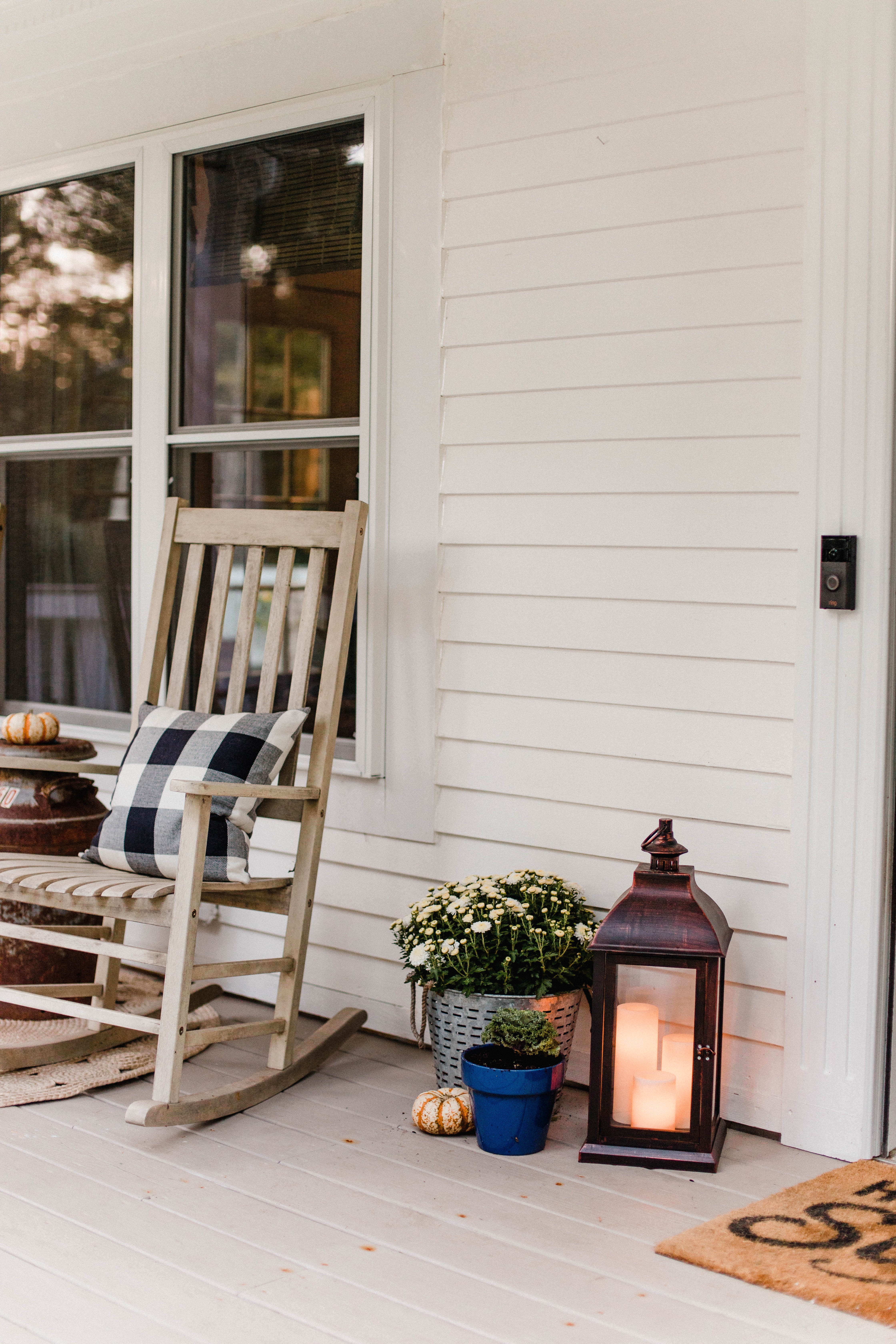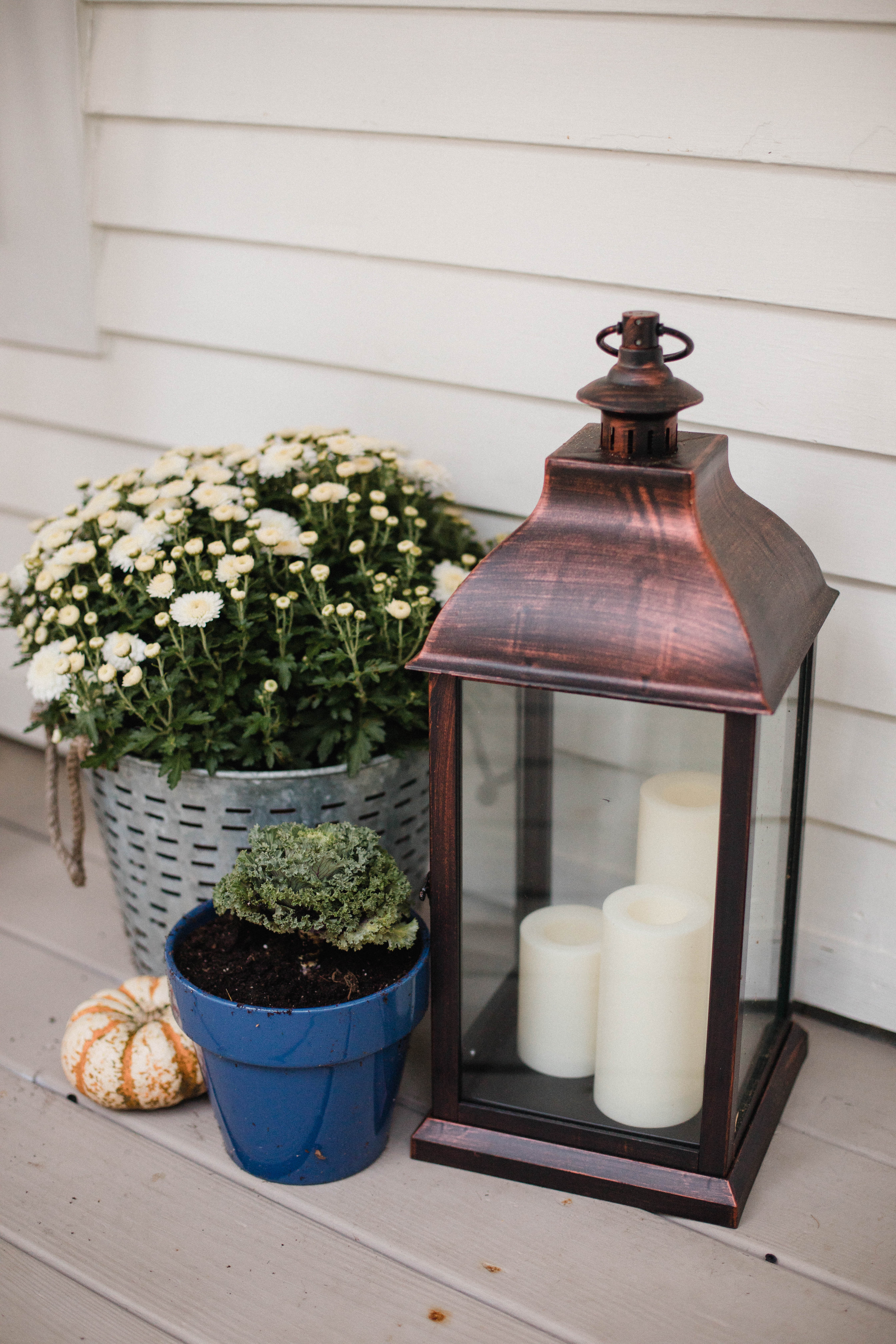 They can be used indoors, too! They add a welcoming glow to the front porch, and the best part is they're only $37.48 for one! I can't tell you the money I've spent on lanterns and flameless candles in the past – this is all in one! I have the antique bronze which is currently sold out, but they have this beautiful antique gray that I feel would fit this space too. They also have this beautiful version that's only a few dollars more and would work just as well!
I would share the swing space, but I'm still waiting for my replacement after the mold issue. 😉 Overall I love the simplicity of this space. We still have to carve pumpkins with the kids, and then it will be complete 🙂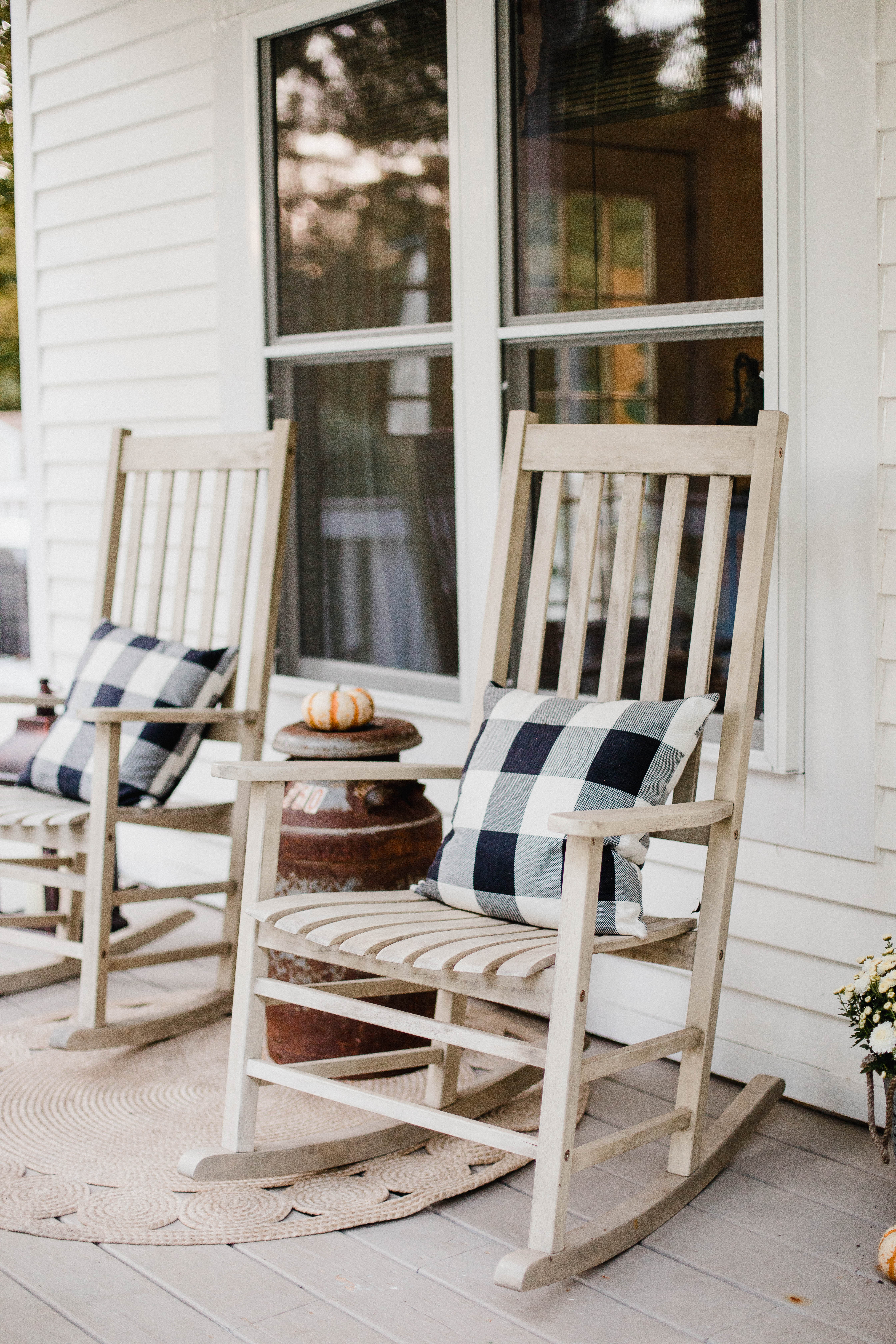 Before I know it, it will be time to decorate for winter! You can find all the sources below:
SOURCES:
Lanterns: QVC
Pots: World Market / Lowe's / local garden center
Rocking Chairs: Safavieh
Pillows: Amazon
Lights: Barn Light Electric
Door Mat: Target
Door Color: Benjamin Moore Wrought Iron
Porch Color: Benjamin Moore Arborcoat in Briarwood
SHOP THE POST