I've been a fan of bermuda shorts for several years now because they are perfect if you are looking for a little more coverage! They're surprisingly very versatile and look great whether they're worn casually with sneakers or even dressed up with heels. I had a few requests for a How to Style Bermuda Shorts after a recent Old Navy try on, so I thought I'd share a few different looks with you today and some tips on styling!
For this post, I'm styling the American Eagle Tomgirl Distressed Bermuda Shorts. There's also a non-distressed version, too! I recommend sizing down in these unless you want a looser fit!
One thing to note when purchasing a pair is the inseam length. Not all legs are created equal, and I personally find that bermuda shorts look better (and less frumpy) when they're several inches above the knee. This particular pair hits at the perfect length for me – about halfway down my thigh. Any longer and I think it would just look disproportioned. They're also a little slimming and hug my legs a bit more. This is a personal preference… I think it they were significantly looser, they would look much more frumpy. If you prefer the looser look, I highly recommend keeping your outfits a bit more structured and pulled together. A basic tee won't look as great with baggy bermuda shorts, but tucking it in and adding a belt will help bring back your waist. Just something to keep in mind!
OUTFIT 1
As I noted before, I love that bermuda shorts give a little more coverage than your standard pair of cutoff denim. These are especially great if you have small kiddos you're chasing after! The simplest way to style them is with a basic tee and a pair of sneakers. When choosing the right sneaker, go with a pair that is narrow and elongates your leg like Converse or this simple pair from Old Navy. A bulky pair might look a bit frumpy. Also, a simple front tuck of a tee makes this look a bit more polished.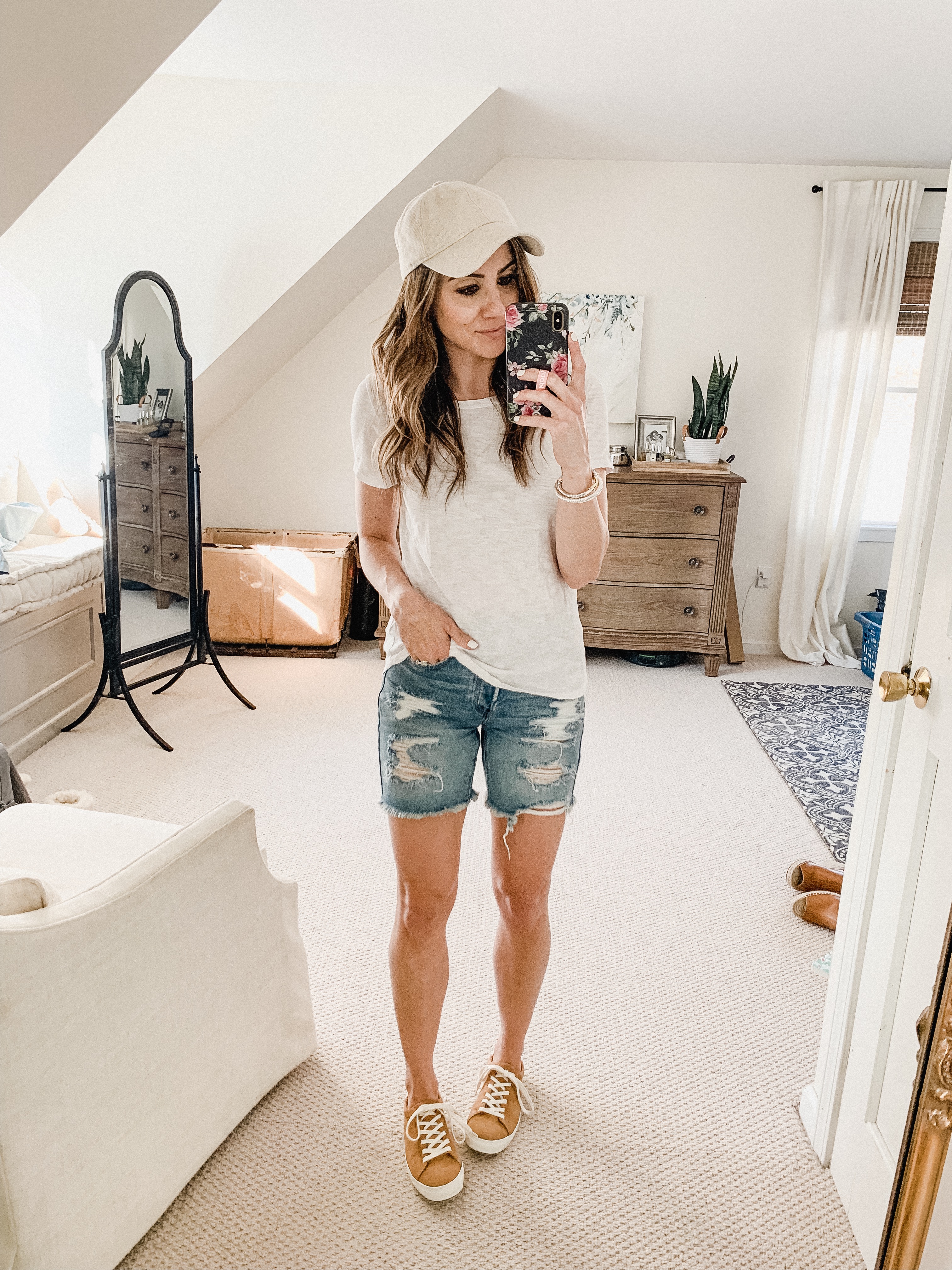 OUTFIT 2
Instead of a tee, this next outfit is with a simple spring sweater. I like the length and relaxed fit of this one, and it looks great with a front tuck. I threw on a pair of Converse for an easy spring look.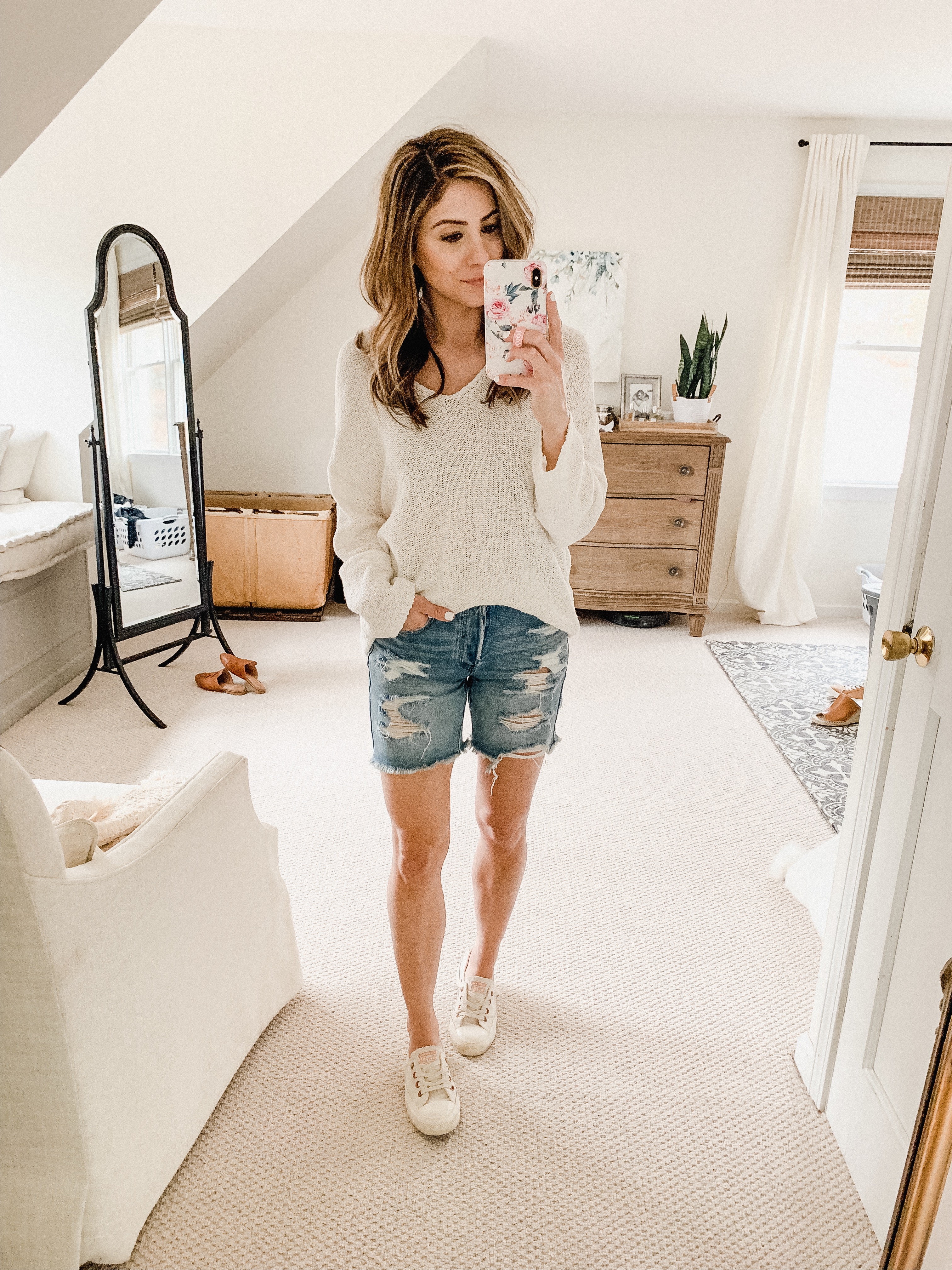 OUTFIT 3
This next outfit is taking is just one step up. I kept the comfy sneakers and switched out the tee for a simple button down blouse and a belt. I love that this is still casual, but looks a bit more polished with the addition of a blouse. This outfit would be great with some flats, mules, or sandals, too! I like that it can change with the simple swap of a shoe.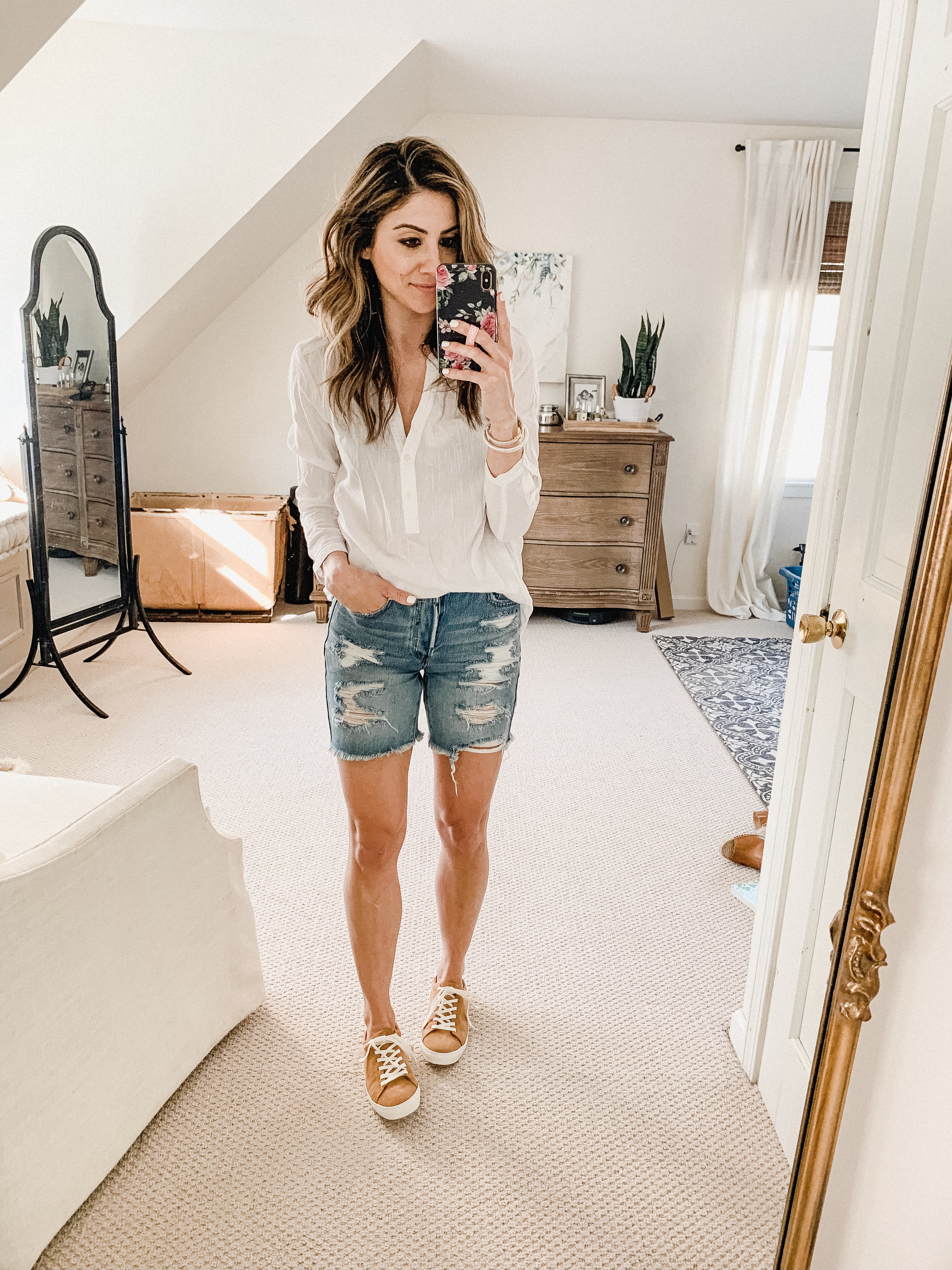 OUTFIT 4
For example, here's an outfit with flats. A simple button down blouse that's slightly front tucked plus the addition of a belt makes the outfit look more polished. You can also add a light jacket as well! A dressy pair of bermuda shorts would look great here as well, especially if you need something a little more business casual.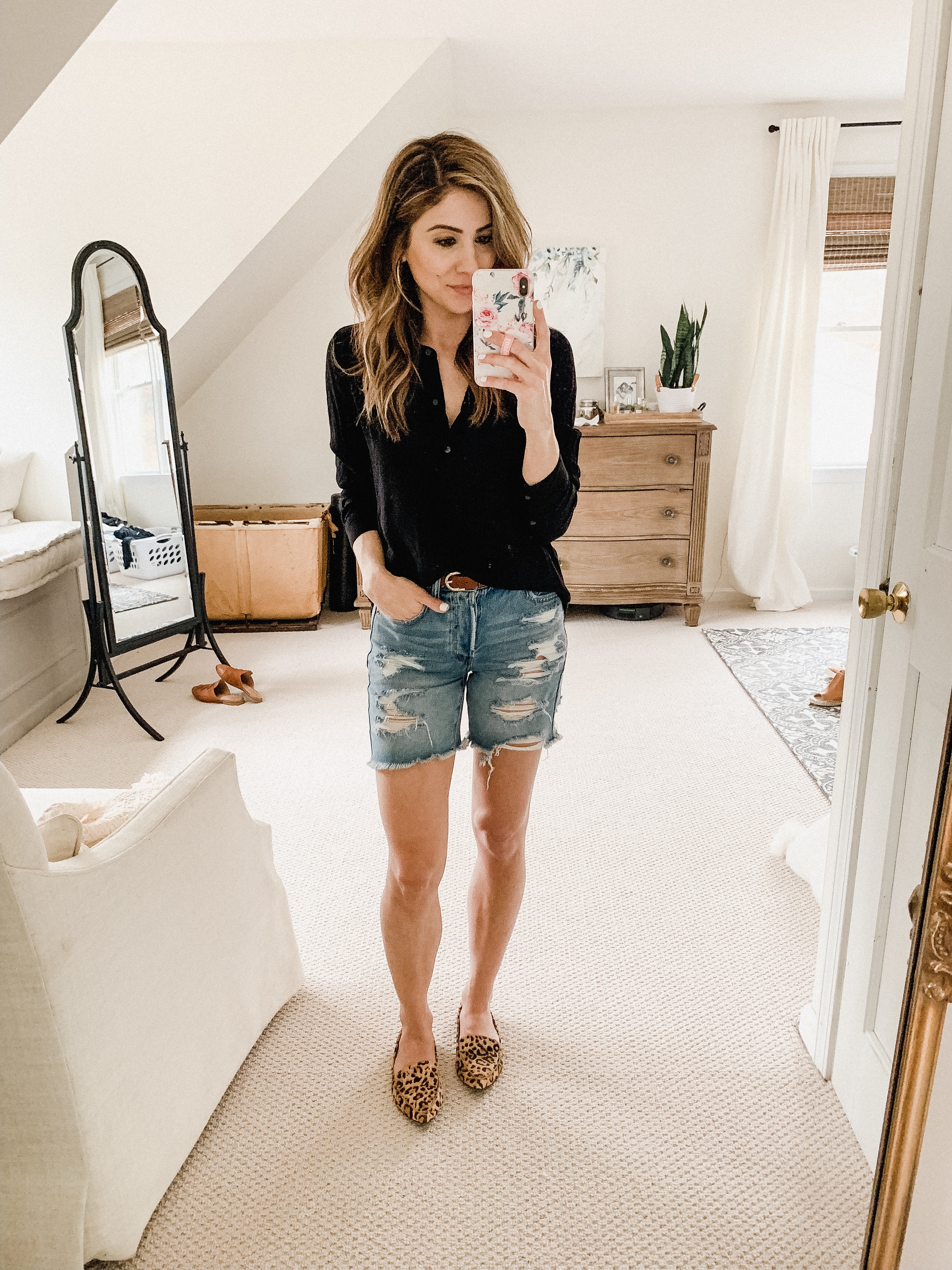 OUTFIT 5
Keeping the same blouse, we can easily take that look from day to night simply by switching to some espadrille wedges. It's important that the shoe is not too bulky here; we want a shoe that will elongate our legs and also be proportionate. These espadrille wedges are perfection and my new favorite for the season.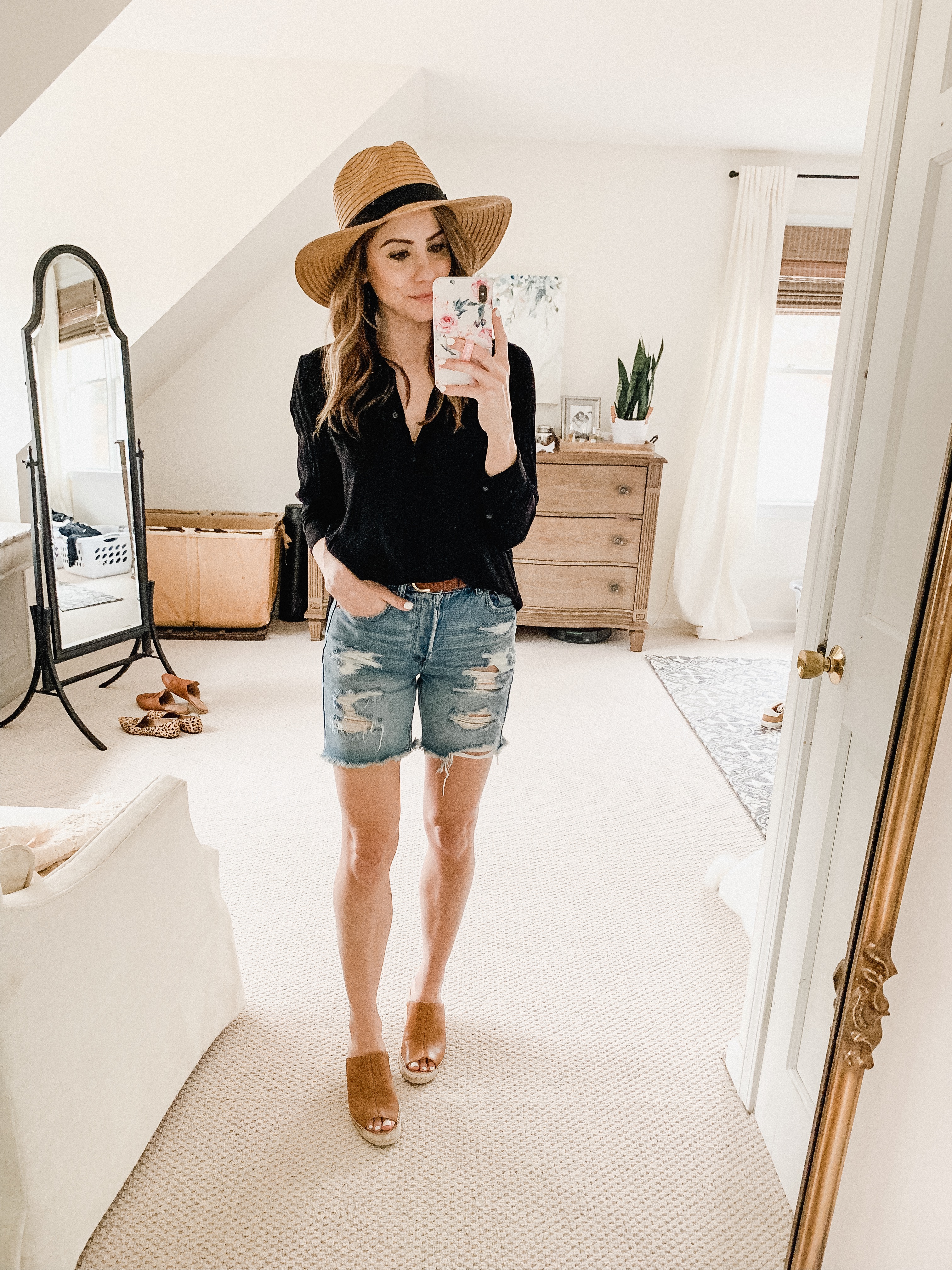 OUTFIT 6
Here's another example of how I would style bermuda shorts with heels! The longer inseam makes up for the height I added with the heels! I prefer a little more coverage in the booty area if I'm wearing heels – gone are the days of short shorts and sky high stilettos…for me anyway! Pull together the entire look with accessories and a fun handbag!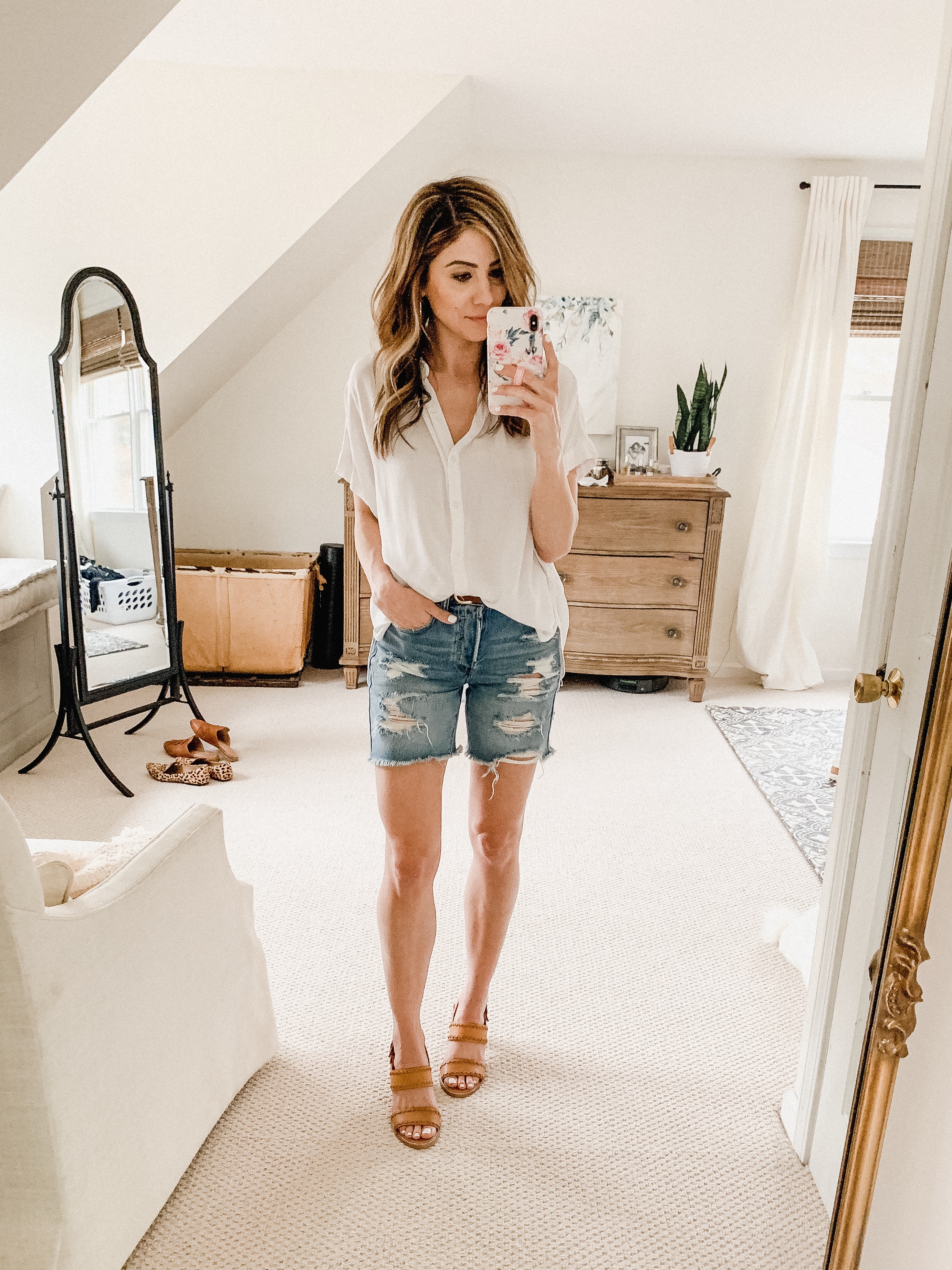 I hope that helps you when styling your own pair of bermuda shorts! Remember, choose and inseam and fit that works best for YOUR body type, wear shoes that are slim and elongate your legs, and never underestimate a good front tuck. Also, belts are your friend and so are accessories! 🙂