I am SO excited for this post because it's answering all of YOUR questions about Orangetheory Fitness! Before I get started, I want to make a note here that this is not sponsored (otherwise I would have to tell you, like I always do, at the very start of this post!). Orangetheory has no idea who I am (other than my local gym!). I am sharing this because I truly believe it's one of the best workouts for just about anyone. Several of you have expressed feeling intimidated by OTF, and I want to help you feel more comfortable if you decide to try a class. I realize this might not be for everyone, but since your first class is free, it's worth a try! Below I'm answering the questions you submitted via Instagram stories (many were repeats, and I combined a few!). If you have any additional questions you'd like me to answer, please don't hesitate to leave a comment below! 🙂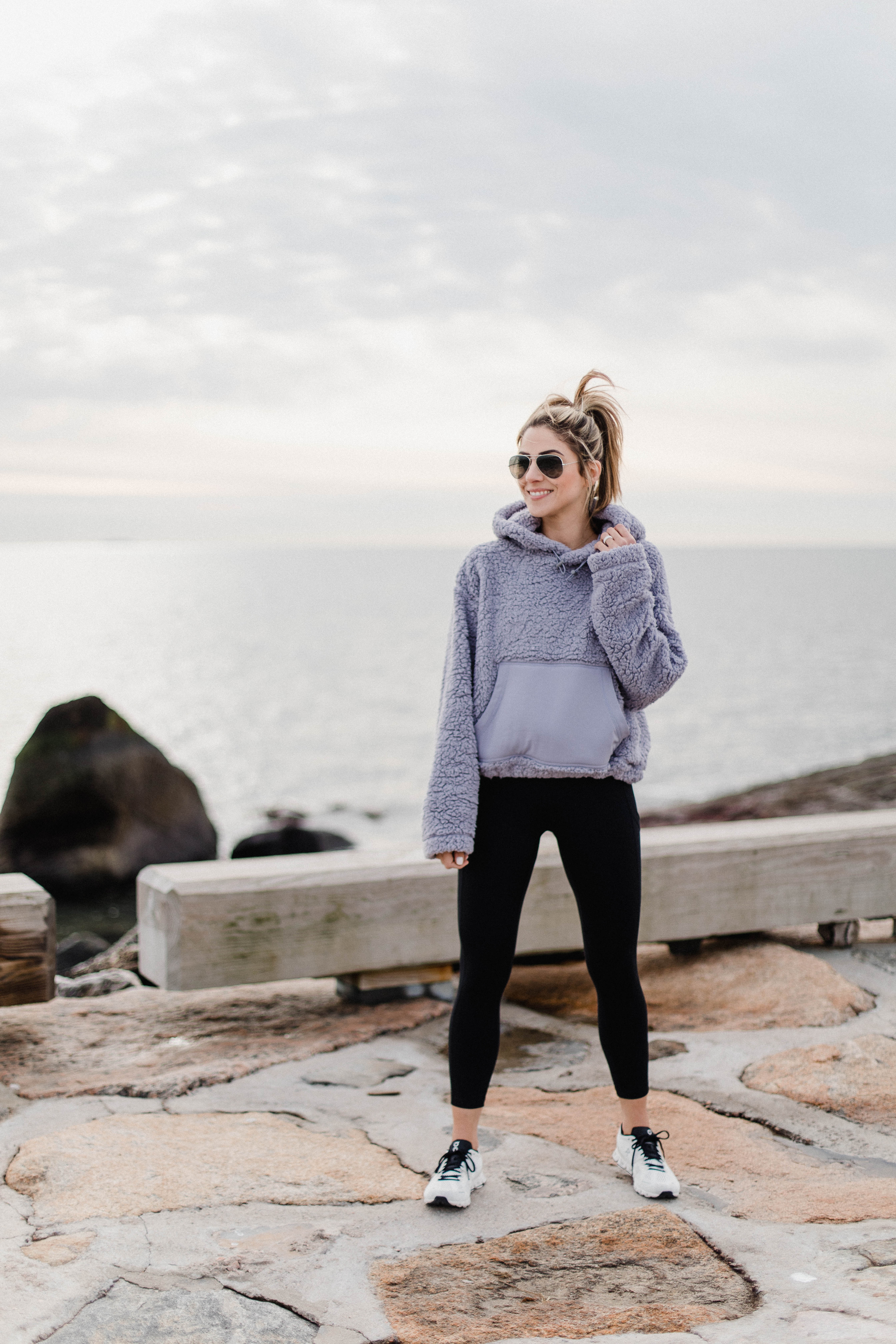 ORANGETHEORY FITNESS: YOUR QUESTIONS ANSWERED
Q: How expensive is it?
There are a few membership types, but I do the unlimited so I can go as often as I'd like. I have the Premier membership and it's around $180 a month. I realize that sounds astronomical to some, but it's worth it for me!
Q: Can you really work at your own pace or do you feel like you have to keep up with the rest of the group?
Yes, you go at your own pace! The treadmill is timed (for instance…they will tell you to run at your base pace for X amount of time), but YOU choose your pace. No one is forcing you to run faster. Power walking is ALWAYS an option. Everyone finishes at the same time (it's not a competition of who can be finished first like how CrossFit sometimes is). I'm so focused on what I'm doing that I don't even pay attention to the person next to me. It's the same for everyone else, too!
Q: Are modifications available due to injuries/skill level? Is there someone to assist with the mods?
ALWAYS. The coaches will usually tell you a modification, or tell the class to see them if you have orthopedic issues so they can tell and show you a different movement. I modify sometimes and I don't have ortho issues! For instance, I HATE jumping lunges, so I just do regular lunges instead. No one cares if you're doing a different movement. Everyone is there for themselves and not focused on other people in the class. A coach is ALWAYS available to ask for assistance! And if you are at a beginner skill level, that's okay! There are SUPER light weights you can use and power walking is always an option. There's such a wide variety of people in my OTF class. I worked out next to a man no less than 70 years old the other day!
Q: Is there a lot of running on treadmills? What about people who hate running?
There's a treadmill "block" in every single class – this is part of the workout. But power walking is always an option, as well as a bike or strider (elliptical). If you don't like to run, you can absolutely do one of those instead! Just tell the coach (they usually ask) and they'll get you set up! It's so routine for everyone else that no one will think twice about you opting for that instead of a treadmill. And again, you can always power walk. They give instructions for each machine repeatedly so you know what to do!
Q: How far do you run in one class? Do you have to run at the same speed for a long period of time?
This varies depending on the workout! I've run anywhere from 1 mile to 3, but that's at MY pace which is different than yours. They instruct you on how long to stay at a certain pace for. For instance, everyone has a "base," "push," and "all out" pace. My base pace is 7.0mph but I was at 5.0mph when I first started OTF. My push pace is 8.0-8.6mph depending on how I'm feeling (sometimes I just don't want to run as fast). My all out is a 9.5mph but only for 30 seconds. If it's a 1 minute all out, I will knock that down to 9.0mph. Each tread workout is timed differently. For instance, they might have you start with a 1 minute base pace (again, at your own pace…that could be a 4.0 or it could be a 7.0 like me), and then increase to a 1 minute push base, and then back down to a 1 minute base pace before a 30 second all out pace. But here's the thing. If you need to walk at any time, you can. If you need to stop for a sip of water, you can. You can hop right back in when you're ready. No one will yell at you! But the class is following the instructions of the coach all at the same time, so when that 1 minute is up, it's on to the next thing together as a group. No one is left behind, no one moves ahead. 🙂
Q: I'm a beginner. Is it okay for me?
Absolutely. Anyone can do it! There are modifications for everyone, and power walking is one of the cardio options. There are weights ranging from 5lbs to over 50lbs, and you choose what works for YOU. That looks different for everyone! The way the class works might be slightly confusing at first, and I'll explain why in the next answer. But you get the hang of it by the end of the class, the coaches will direct you!
Q: Can you walk us through a typical class?
Before class, you'll get a heart rate monitor. This heart rate monitor tracks your heart rate, what "zone" you're in (important to know!), calories burned, and more. You can see your stats up on the big screen in class. Everyone's name is in alphabetical order, and it does not move based on your numbers. While yes, your name is up there, no one will actually know your name…so you're good 😉 Also no one is looking at your stats, they're more focused on their own stats.
There are FIVE zones…gray, blue, green, orange, and red. The Orange zone is the sweet spot and for each minute in the orange, you earn a "splat point." Orangetheory is based on the science of EPOC, excess post-exercise oxygen consumption. When you're in the orange zone, your body is working harder to recover oxygen lost during exercise. This helps get your metabolism going and makes you burn calories after your workout is over. (This info is per the OTF website!). Each workout is designed so you can spend 12 minutes or more in the orange zone. You can read more about the science here.
There are 3 types of a classes – a 2G and a 3G. G stands for "groups." During a 2G class, there are 2 groups, during a 3G there are 3 groups. This is dependent on class size. I'm usually in a 3G because of the time I go. There are 3 areas on the OTF floor: the treadmills/strider/bikes, the rowers, and then the weight floor. During a 3G, there are people at EVERY group on the OTF floor, therefore 3 groups. During a 2G, they start with people on the treadmills and rowers only. Each class has a different format, but you are essentially switching from station to station. In a 3G, I like to start on the treadmill. This means I'll be on the treadmill for a third of the class time, THEN switch (as a group), to the rower, THEN switch (again as a group) to the floor.
So I'll start on the treadmill for roughly 16-20 minutes or so with the treadmill group. While I'm there, there are other people on the rower and floor. Essentially, the coach is coaching THREE groups at one time. They instruct the treadmills, while also instructing the rowers, and instructing the floor (the floor does have TV screens with the movements). When that 16-20ish minutes is up, everyone switches. Everyone on the treadmill goes to the rower, everyone who was on the rower goes to the floor, and everyone on the floor goes to the treadmill. Each station is numbered, and you STAY at your specific number. So if I'm on treadmill 9, I'm then going to rower 9, then floor spot 9, and so on and so forth. No one will take your place (unless they get confused! haha) because everyone stays at their number. Then I complete the rower workout for whatever the amount of time is that we are there. Once that's done, we switch as a group again, and I'll end on the floor.
Some classes are different, and you might switch through stations more frequently! But the format is always the same, everyone switches at the same time, in the same direction. As I said, the weight floor has screens with the movements (the coaches will still demo the movements ahead of time), which is nice because you can easily see what movement you have to do, how many reps, etc.
It sounds confusing, but I promise once you're in a class, you'll see what I mean! The coaches explain all of this to you before your first class, too.
Q: Do you prefer OTF over CrossFit?
Personally, I do. I felt like I was always injuring myself at CrossFit (I have SO many scars from box jumps, and I was so tired of ripping my hands open doing pull-ups), and I also felt like I wanted more cardio than what's involved in CrossFit. I wanted more running, whereas CrossFit is more olympic lifting. I DO miss barbell movements a bit, but not enough to go back. I feel the best I've ever felt, even having done CrossFit for several years, with OTF.
Q: Can you do OTF while pregnant?
Yes, as long as your physician says it's okay! I would probably modify my speed a bit if I was pregnant, as well as some movements. I would also pay attention to my heart rate. But this goes for any form of exercise while pregnant. I would NOT recommend STARTING it while pregnant though. But that goes for anything. Pregnancy is not the time to decide to start a high intensity workout. But since I've been doing this for a year, I would absolutely keep doing it (my body is used to it) if my doctor gave me the okay.
Q: Do you need to be in shape? Is it for people just starting to work out who are overweight? I feel like I could never keep up.
You don't need to be in shape, and it ABSOLUTELY is got people just starting to workout! You don't need to "keep up" with anyone! It's just you at your own pace. OTF is not about competition, it's about community. Everyone is in it together, working at their own pace, and finishing at the same time. There is no "winner" because it's not a race. These are timed workouts, and you're doing what you can during the amount of time. You can modify however you need to! Don't be intimidated if someone runs faster than you – they don't care if you're slow! The fact that you showed up is better than NOT showing up!
Q: Can you start as a walker on the treadmill?
Yep! The coaches give instructions for power walkers with every direction. There are always power walkers in the class (and man they work their butts off!)
Q: Is it easy to follow along with?
Yes! Like anything new, there's a learning curve, but as long as you listen to your coach, you're good! Your coach is there to help you, so never hesitate to ask. There are still times I'm confused and have to go up to my coach and be like whaaat am I doing again? Haha. They're all really fantastic!
Q: Is it a body positive place? Are all shapes welcome?
YES YES YES YES YES. ALL SHAPES AND SIZES WELCOME. We just want you to come! It's a community. We are all in it together. We are all there to get in a good workout and sweat! It doesn't matter what you look like. No one is judging you. Everyone is there for the same reason, and that's to get work done! And if you EVER felt differently, I would tell you to get the heck out of that gym and find another one! But I know you won't feel that way!
If you have ANY additional questions about Orangetheory Fitness, PLEASE leave a comment below and I'll respond to you! And if you LOVE OTF, please tell me why in a comment below to help motivate others! I really do think it's one of the best workouts you can give your body. If you decide to try it, report back on what you think! 🙂