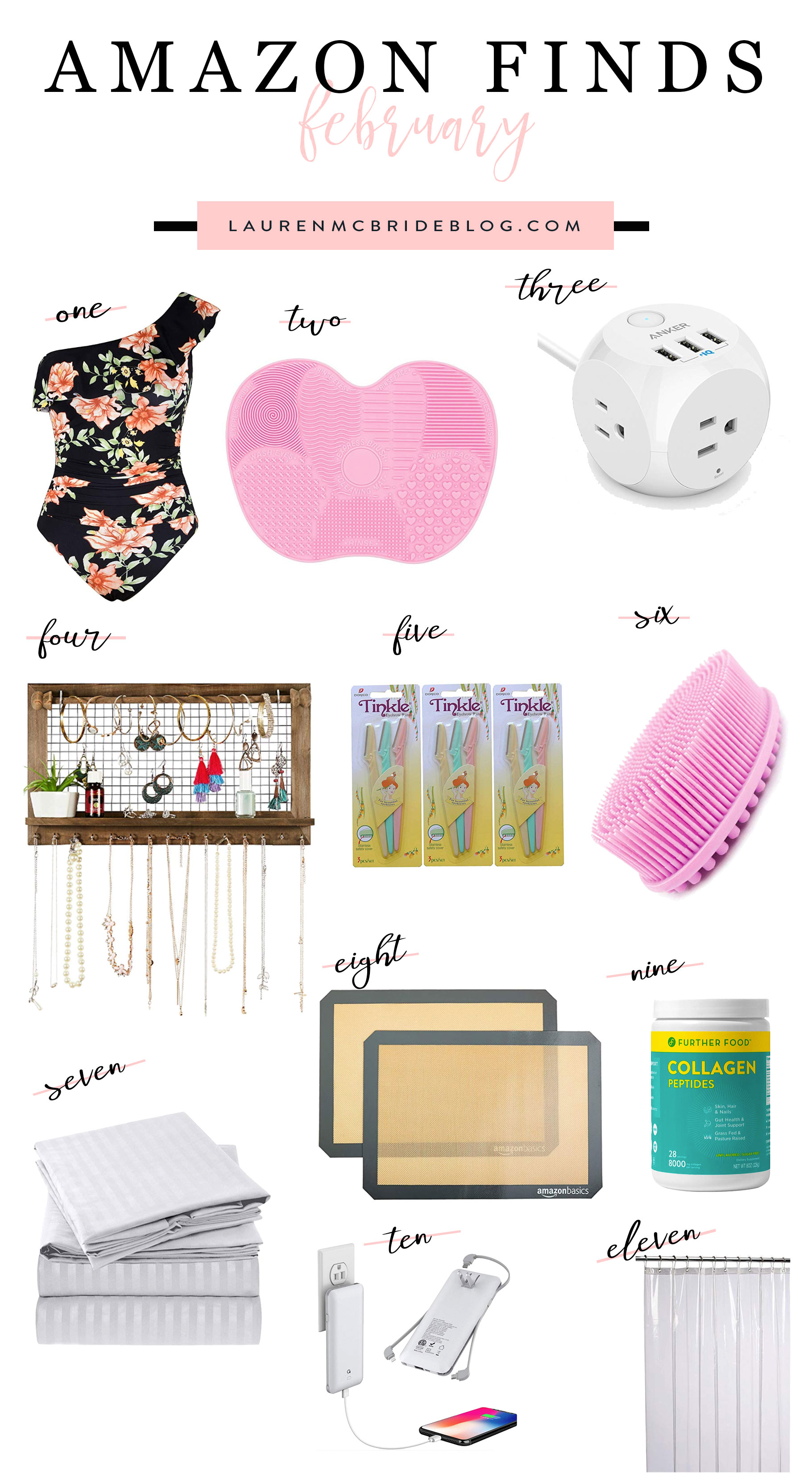 I've got some random Amazon finds I purchased the past month that I want to share with you today! Some things I've been loving for a while, and some that are new that I love! I figured I would start sharing my finds, since we all love Amazon, right?!
1 // One Piece One Shoulder Bathing Suit: THE bathing suit of the year. So so good, that I bought 2 more this year! They added a variety of colors and prints, too! The sizing is a bit strange – I'm typically a 0 and wear a size 6 in this suit, so just keep that in mind!
2 // Makeup Brush Cleansing Mat: This cleaning mat is similar to the Sigma one I have! It's AWESOME for cleaning your makeup brushes, and it only $10!
3 // Power Port Cube: I was so intrigued by this port cube! It's like a surge protector but smaller, and has USB cords! I like that it's a little more discreet, too.
4 // Rustic Jewelry Organizer: I needed a jewelry organizer for my closet and found this one for only $35! I found something similar at Pottery Barn for over $100, but didn't feel like paying that price tag! I love that this has a similar look for much cheaper.
5 // Tinkle Eyebrow Razors: I use these to shave the peach fuzz off my face about once a week! It makes a huge difference in applying skincare products and makeup, and a great supplement to dermaplaning!
6 // Silicone Body Scrubber: This silicone loofah I recently shared has been such a hit! I heard nasty things about traditional loofahs, so I feel a little better about using this one! It lathers great!
7 // Microfiber Sheets: These sheets are SO SOFT and SO cheap!!! They wash beautiful, they don't keep me hot, and I really love how they feel. Highly recommend!
8 // Silicone Baking Mat: I LOVE using these mats for baking! I had a much more expensive brand in the past, but these are identical and much cheaper! They really make a huge difference in baking!
9 // Collagen Peptides: This brand of collagen peptides was recommended to me by a friend, and I feel like it's easier on my stomach! So far so good here.
10 // Portable Battery Pack Charger: I purchased this portable charger last month and I love how it just plugs into the wall! I keep this on my in my work bag, and it's great for travel too!
11 // Shower Curtain Liner: This shower curtain liner has SUCH GOOD REVIEWS. I feel like I always buy crappy ones, so I gave these a try and so far I like that these are antimicrobial!