Thank you to Walmart for sponsoring today's post! All thoughts and opinions are my own.
Things are a little up in the air when it comes to going back to school in our state, but I'm still prepping like the kids are going back! I don't know about you, but I love finding the kids clothes that are both affordable but also super stylish. Today I am rounding up some great options back to school clothes for both girls and boys all found at Walmart!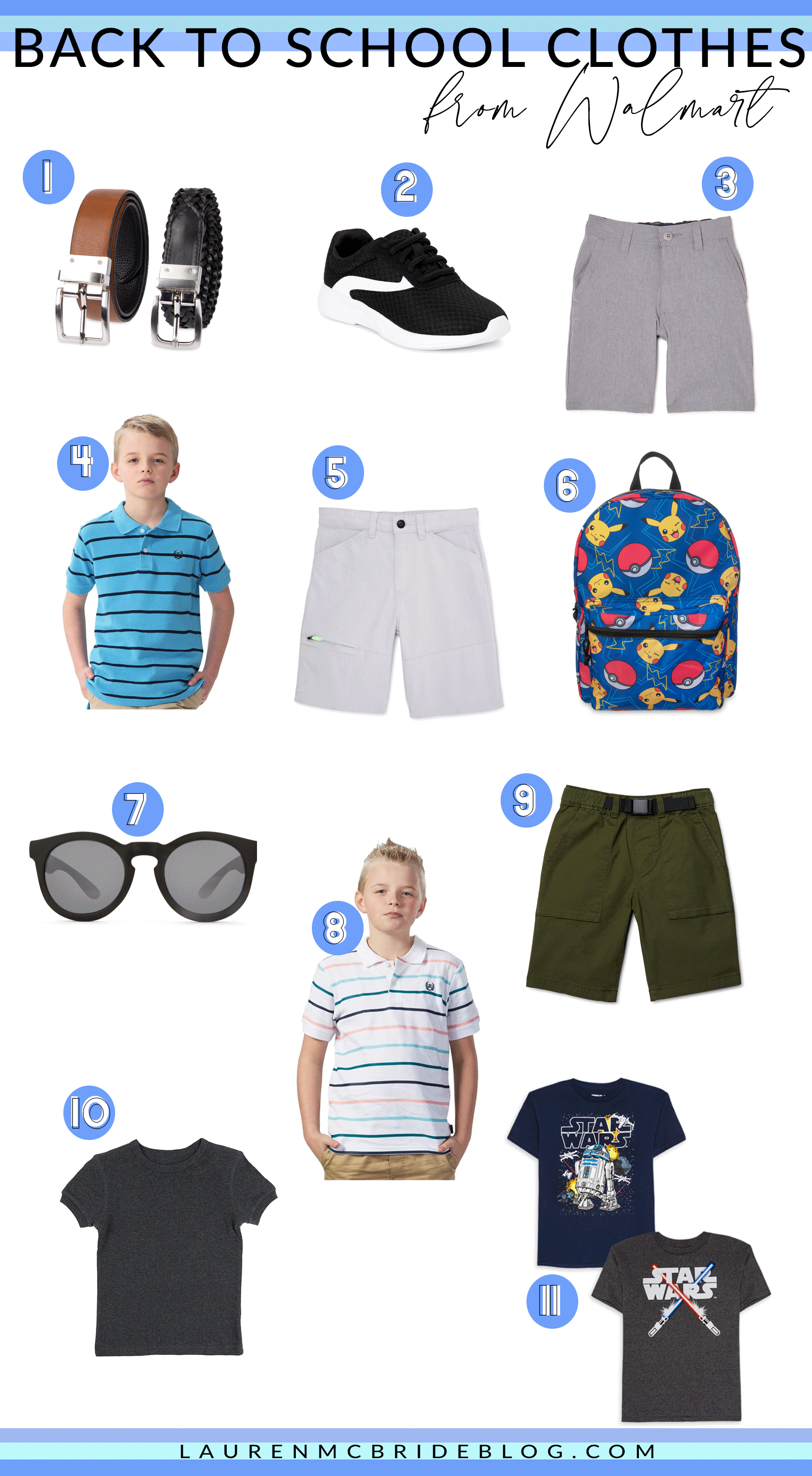 Back To School Clothes For Boys
1 // Wonder Nation 2 Pack Reversible Casual Belts: My oldest has a narrow waist and taller in height, so this 2 pack of belts is perfect when we need them!
2 // Athletic Works Mesh Athletic Shoes: These athletic shoes are only $9! Great for gym days, even if it's just at home!
3 // Burnside Boys Hybrid Stretch Shorts: I love that these shorts are a little less casual than cargo shorts, but still work with a basic tee. I'm getting these in multiple colors!
4 // Leo & Lily Boys Cotton Striped Polo Shirt: I love the simple stripe of this polo shirt! It comes in multiple styles.
5 // Wonder Nation Boys UPF 50 Everywhere Shorts: These shorts have UPF protection, which is great for some extra sun protection during those hot, late summer days outside.
6 // Pokemon Pokeball Backpack: My oldest is obsessed with Pokemon, and he will flip over this backpack! It's under $10, t00!
7 // Real Shades Chill Unbreakable Sunglasses: These sunglasses are unbreakable, which is great for little kids!
8 // Leo & Lily Boys Short Sleeve Casual Polo Shirt: Another adorable polo shirt option! I love the colors of this one.
9 // Wonder Nation Boys Buckle Up Utility Short: These utility shorts have an adorable built in buckle!
10 // Leveret Short Sleeve T-Shirt: These basic tees come in several neutral colors!
11 // Star Wars R2D2 + Light Saber T-Shirts: My oldest is also obsessed with Star Wars! I love this set of tees for only $14!
Shop Boy's Back to School: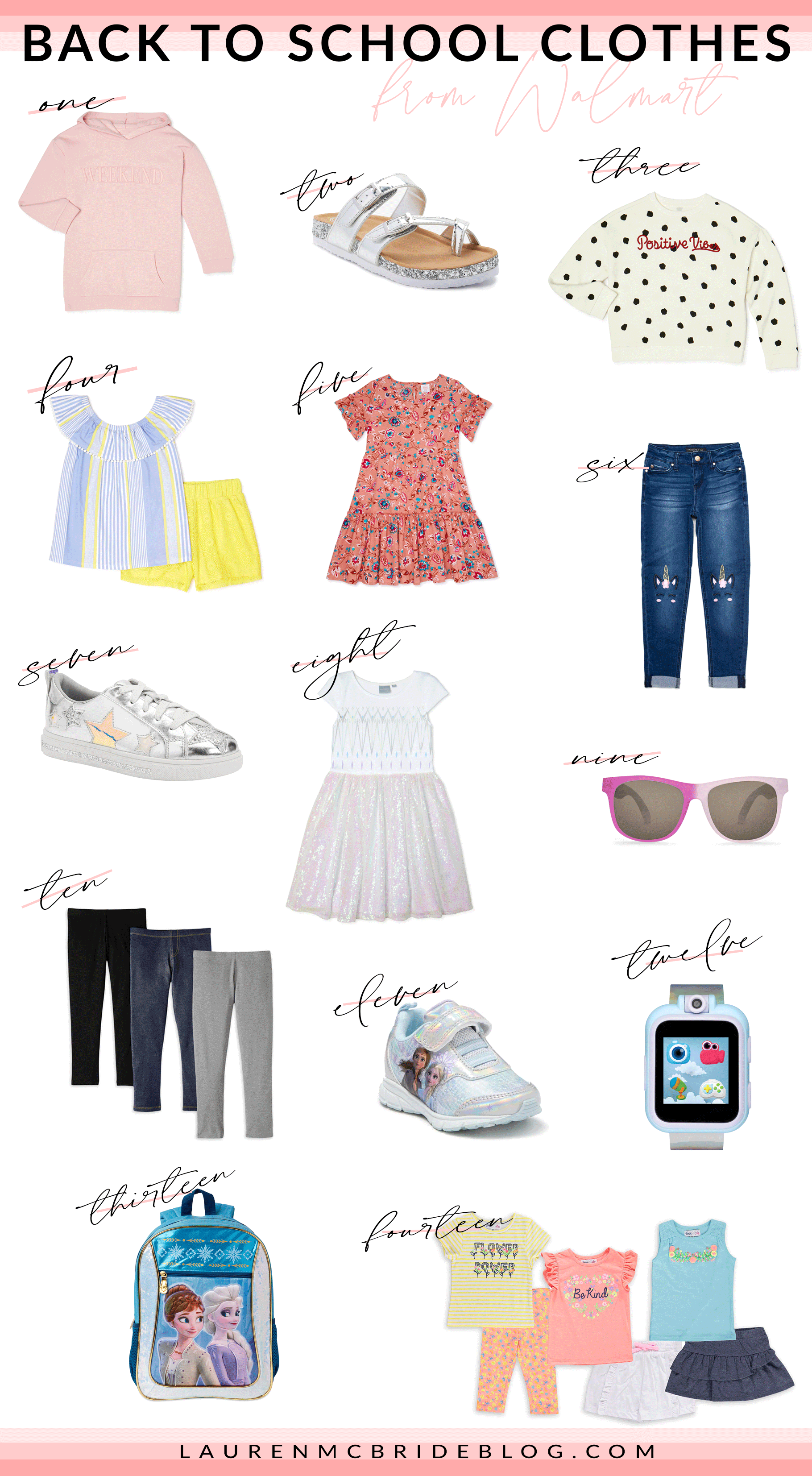 Back to School Clothes For Girls
1 // Wonder Nation Girls Pullover Sweatshirt: I love having sweatshirts for the kids as the weather starts getting cooler. This one is adorable!
2 // Wonder Nation Chrome Slide Sandal: I wish these came in my size! So incredibly cute for summer!
3 // Wonder Nation Crew Neck Embellished Pullover Sweater: I love the message of this adorable pullover!
4 // Forever Me Pom-Pom Off the Shoulder Top + Lace Shorts Set: This summer set would be precious with the silver slide sandals above!
5 // Wonder Nation Girls Ruffle Sleeve A-line Dress: This dress can be worn now with sandals, sneakers, or even booties into the fall!
6 // Celebrity Pink Unicorn Girls Embroidered Skinny Jeans: I though these unicorn embroidery on these jeans was precious!
7 // Wonder Nation Shining Star Low Top Sneakers: These give me Golden Goose vibes but for only $17!
8 // Disney Frozen 2 Girls Elsa Cosplay Dress: My daughter is obsessed with all things Frozen, and I love how this dress is a play on Elsa's!
9 // Real Shades Switch Color Changing Sunglasses: These sunglasses are super cute and change color in the sun!
10 // Wonder Nation Girls Ribbed and Solid Leggings: I always stock up on basic leggings for my daughter, and I love that this is a 3 pack for $12!
11 // Disney Frozen 2 Anna + Elsa Light Up Sneaker: The perfect sneakers for your Frozen-loving gal!
12 // iTech Jr. Smartwatch for Kids: This smartwatch has some neat features for older kiddos!
13 // Frozen 2 Winter Backpack: Walmart has some great backpack options, and this Elsa and Anna one is only $10!
14 // Freestyle Revolution Sunshine Mix + Match Set: I love that this set has a variety of tops and bottoms to mix and match! Multiple outfits for only $25!
Shop Girl's Back to School:

Walmart has a variety of back to school options and is also offering next day shipping, as well as pickup and delivery options! I love that they're making it stress-free and easy to get back to school shopping completed. Head to the back to school section for more great finds!