One of my goals this year was to get outside as much as possible, even in the cold weather! I absolutely feel I have seasonal depression, and I know forcing myself to get outdoors and have some fun is one way to help with that. I plan to pick up an outdoor winter activity (haven't figured that out quite yet, haha), but to start I knew I needed to LAYER appropriately to enjoy it! I read There's No Such Thing As Bad Weather which helped change my perspective on this, so I set out on a mission to invest in cold weather gear so I can get outside and play with my kids! I'm telling you how I've been layering below.
LAYER 1: BASE LAYER
I've learned this layer is crucial, as it's the layer closest to your body. It regulates your body tempeatirs and keeps you dry. AVOID COTTON – it will not keep you warm! It soaks up moisture and will leave you feeling wet. You also want this layer to fit snugly. Merino wool or synthetic fibers are best (or even a blend of them). Wool makes me itch, so I personally stick to fleece. The Cuddl Duds Fleecewear with Stretch Crewneck Top and matching Leggings are a great inexpensive base layer! I also love the Athleta Altitude Leggings, which I'm wearing here. I bought them for running in the cold, but they work as a base layer, too!
This layer also includes socks! I can manage wool socks, so we go this route. We always pull them up over our pants as you see below. I'm wearing a brand called Darn Tough, but Smartwool is also anther favorite. I have Smartwool for the kids.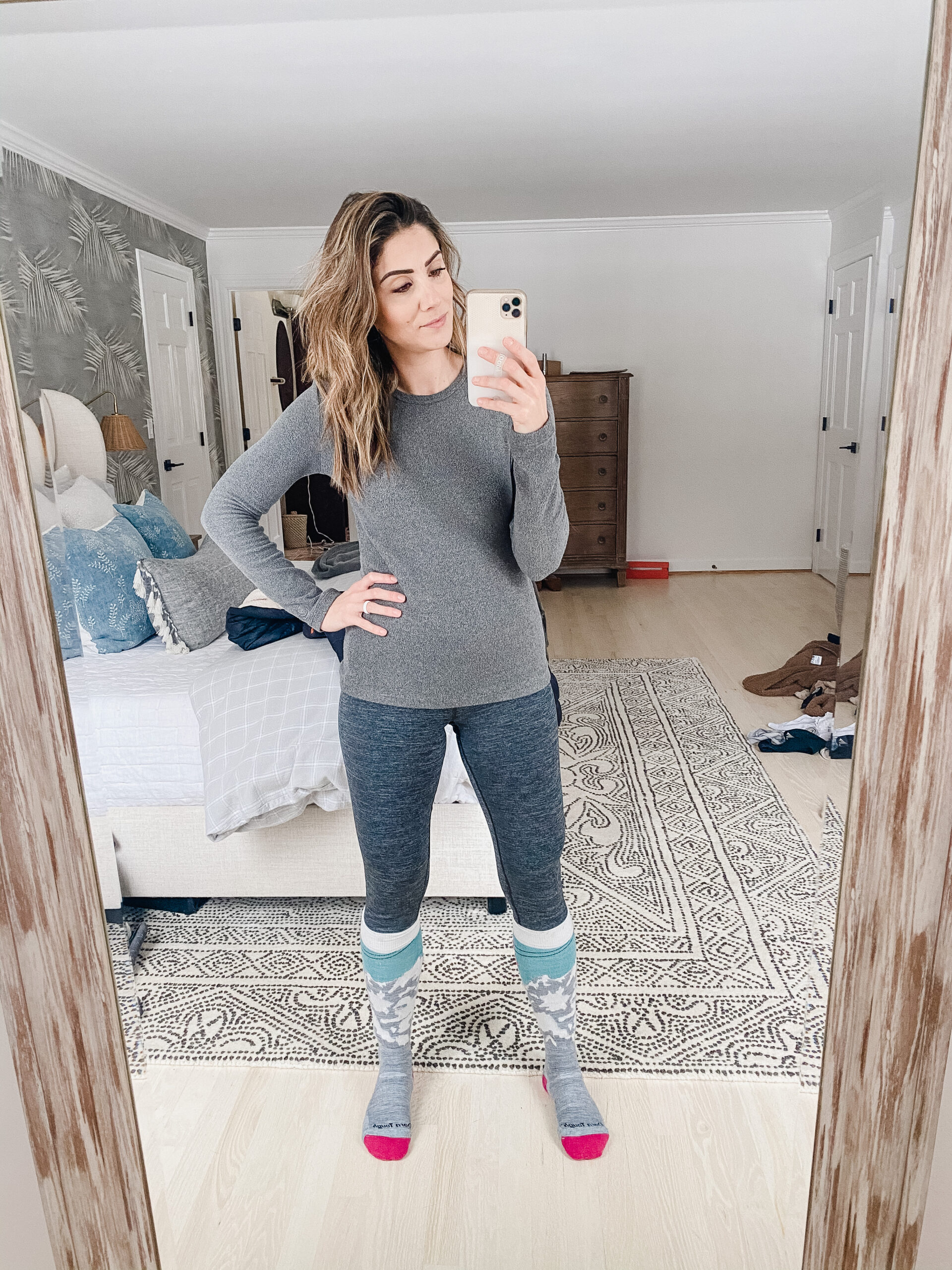 LAYER 2: SNOW PANTS
I put my snow pants on BEFORE my mid-layer just as a preference…I like the zip up over the bib. Otherwise you can flip this step and the next one. I purchased these snow pants last year and finally pulled them out for use. They're the same brand I have for the kids (kids version is here), and they're PERFECT for what I need them for. They fit well, waterproof, windproof, and keep my legs super warm. I prefer the bib style because I feel it protects me better than just the pants. I also like that these have boot grippers that go around your boots and prevent any moisture from seeping in, and also have boot zippers for easy on and off. Highly, highly recommend and they're a great price!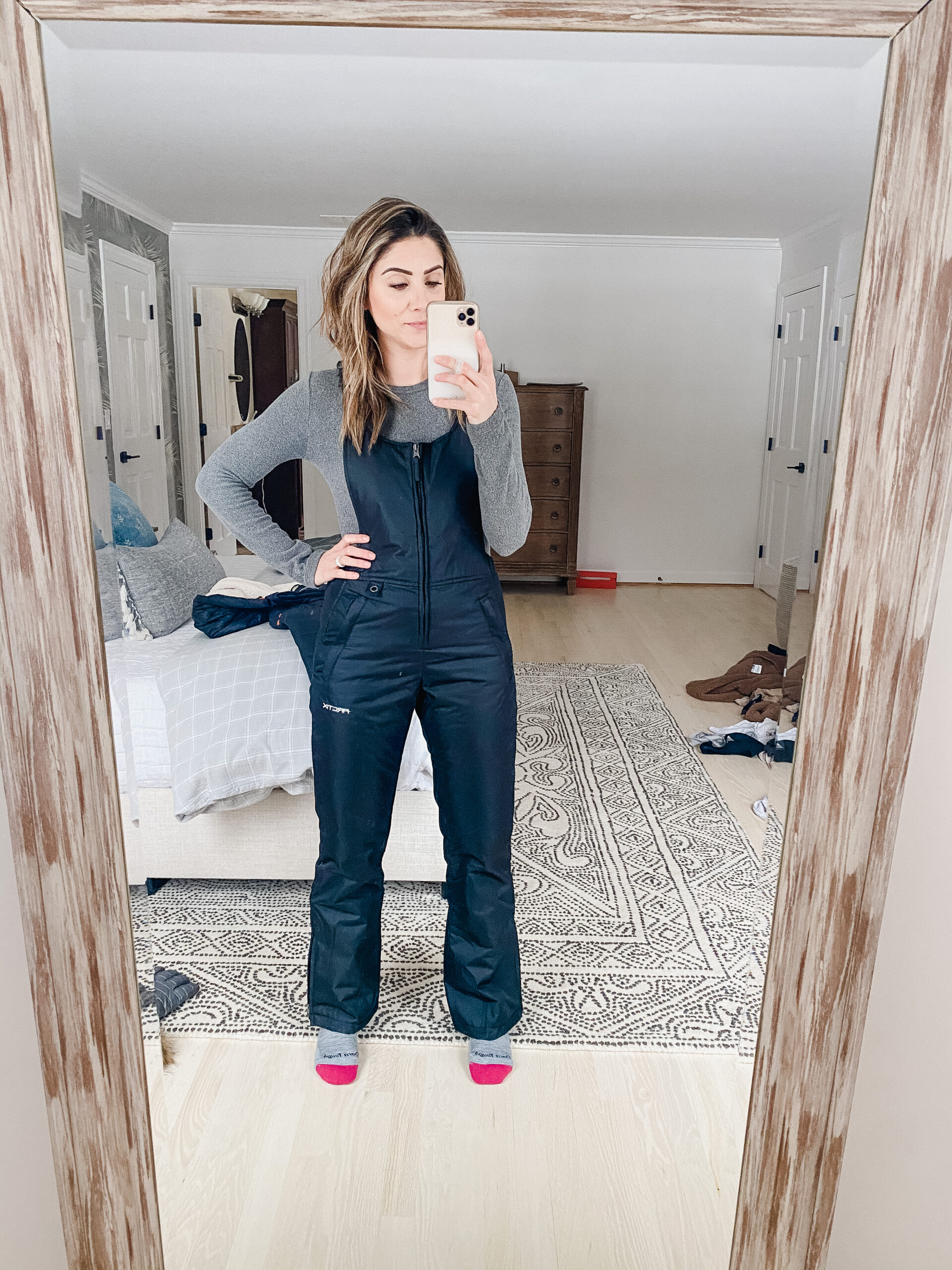 LAYER 3: MID LAYER
This layer helps to insulate the body and trap in heat! I prefer a fleece for extra warmth (again, I'm always cold), but a sweatshirt and sweatpants work too. If I was doing another pair of pants, this layer would go UNDER my snow suit. I'm wearing a lightweight North Face fleece I've had for a few years, but any fleece works. I also love these Columbia fleeces (here and here) for the kids! All 3 of mine have them. I prefer a lightweight fleece so it's not too bulky under their jackets.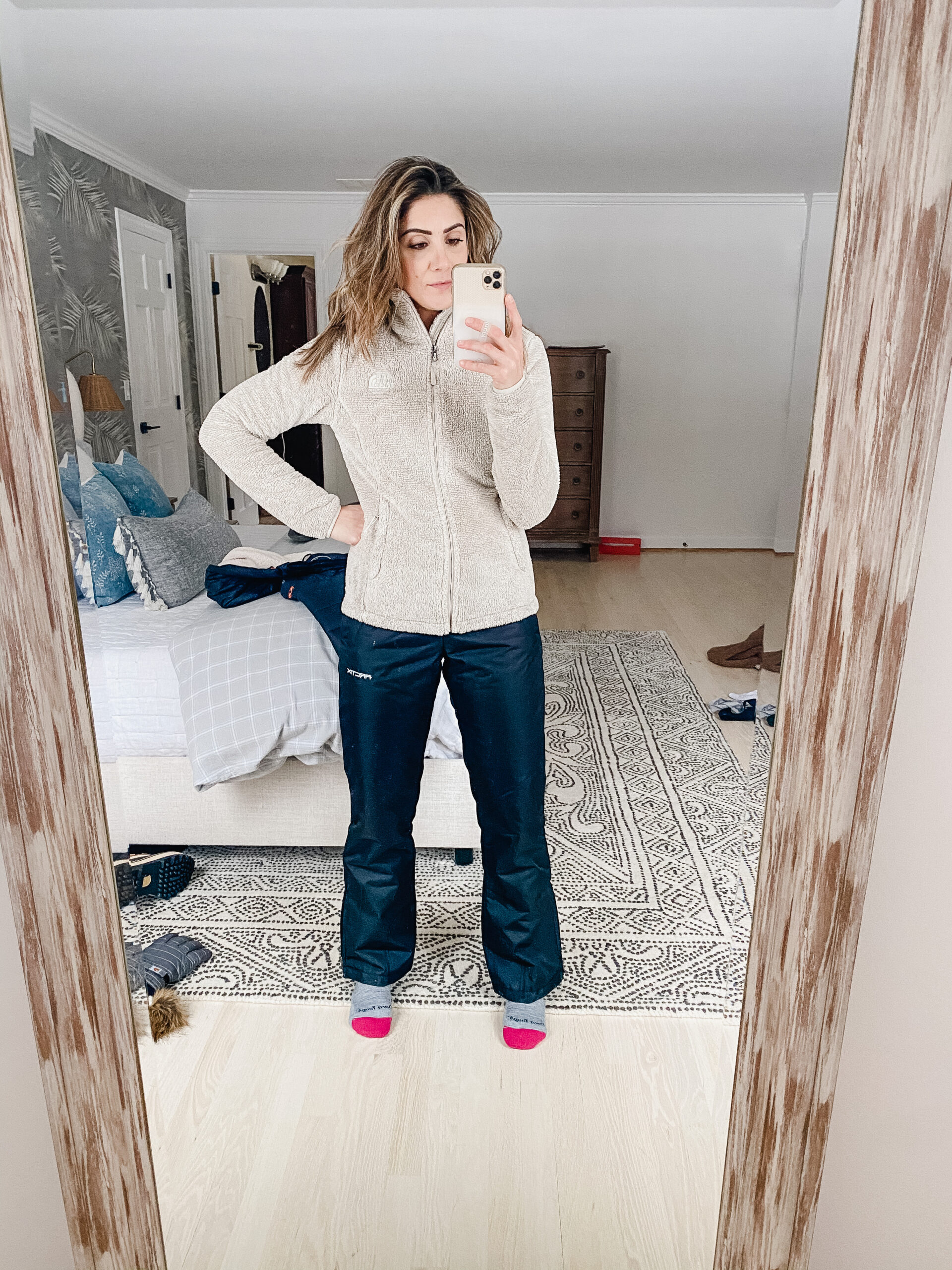 LAYER 4: OUTER LAYER (JACKET, HAT, GLOVES, BOOTS)
A warm jacket is key, and I prefer a longer jacket that covers my butt! Added warmth! Whatever jacket you're wearing needs to be waterproof and windproof while still being breathable. I'm wearing my Save The Duck jacket here, and the kids have their North Face jackets.
For boots, I always go with Sorel. These are the Sorel Caribou and they were insanely warm! Highly recommend the Joan of Arctic as well, although I feel the Caribou are warmer. Our kids have Sorel boots as well. I love how easy these Commander Boots are to put on!
Hats are a necessity because if your head is cold, you'll be cold! We always have a hat on while we're outside. I love this North Face beanie I got last year. I also like my jackets to have a hood so I can pull the hood up over my hat. Again, added warmth!
I just recently bought these Carhartt gloves and I am OBSESSED. Gloves are typically not as warm as mittens, but these did the job! My hands were TOASTY. I have various brands of mittens for the kids too, from North Face to Burton.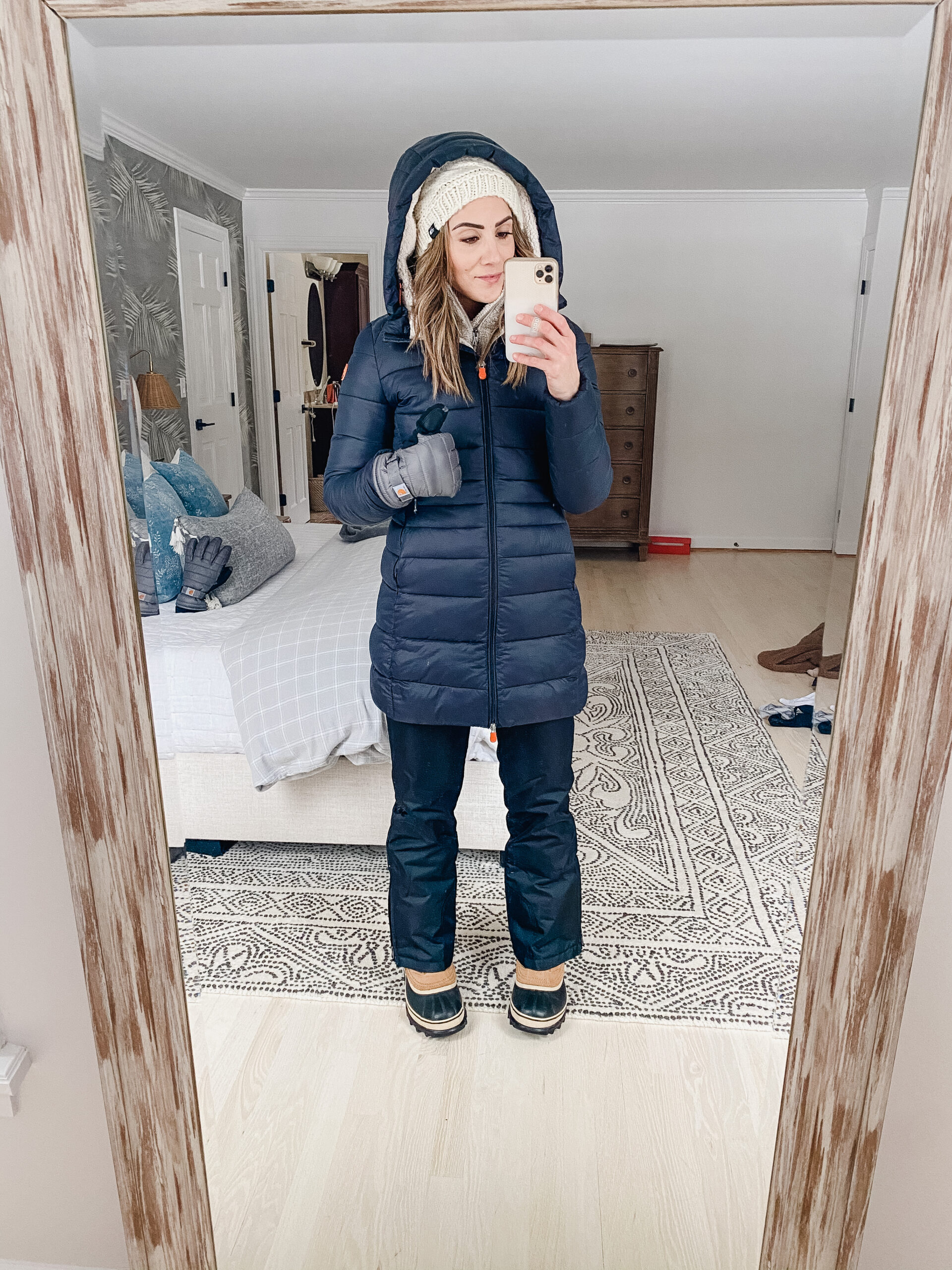 I hope this helps!! Again, I am not someone who loves the cold and this set up has me insanely warm! I was able to stay outside for hours! Get out there and have some fun with your kiddos, mamas! They will absolutely love it! 🙂