I took a virtual charcuterie board class with Kayty from Gather Intentional Living a few months back (SUPER awesome experiential gift idea!!!!), and I loooooved the entire experience! Ever since, I've had a blast making themed charcuterie boards for us and the kids. With Valentine's Day around the corner, I decided it would be fun for design a LOVE day board filled with chocolate-ly goodness for them (and us!) to enjoy!
Making a charcuterie board is actually not difficult whatsoever. I like to gather a variety of snacks and treats in different shapes, sizes, and colors to make it look extra full and appetizing. For this board, I found some heart shaped gummies, yogurt and chocolate covered pretzels, chocolate covered almonds, non-pareils, chocolate drizzled popcorn, and strawberries. I also grabbed some of my favorite Hu Kitchen Chocolate Gems to make chocolate covered strawberries.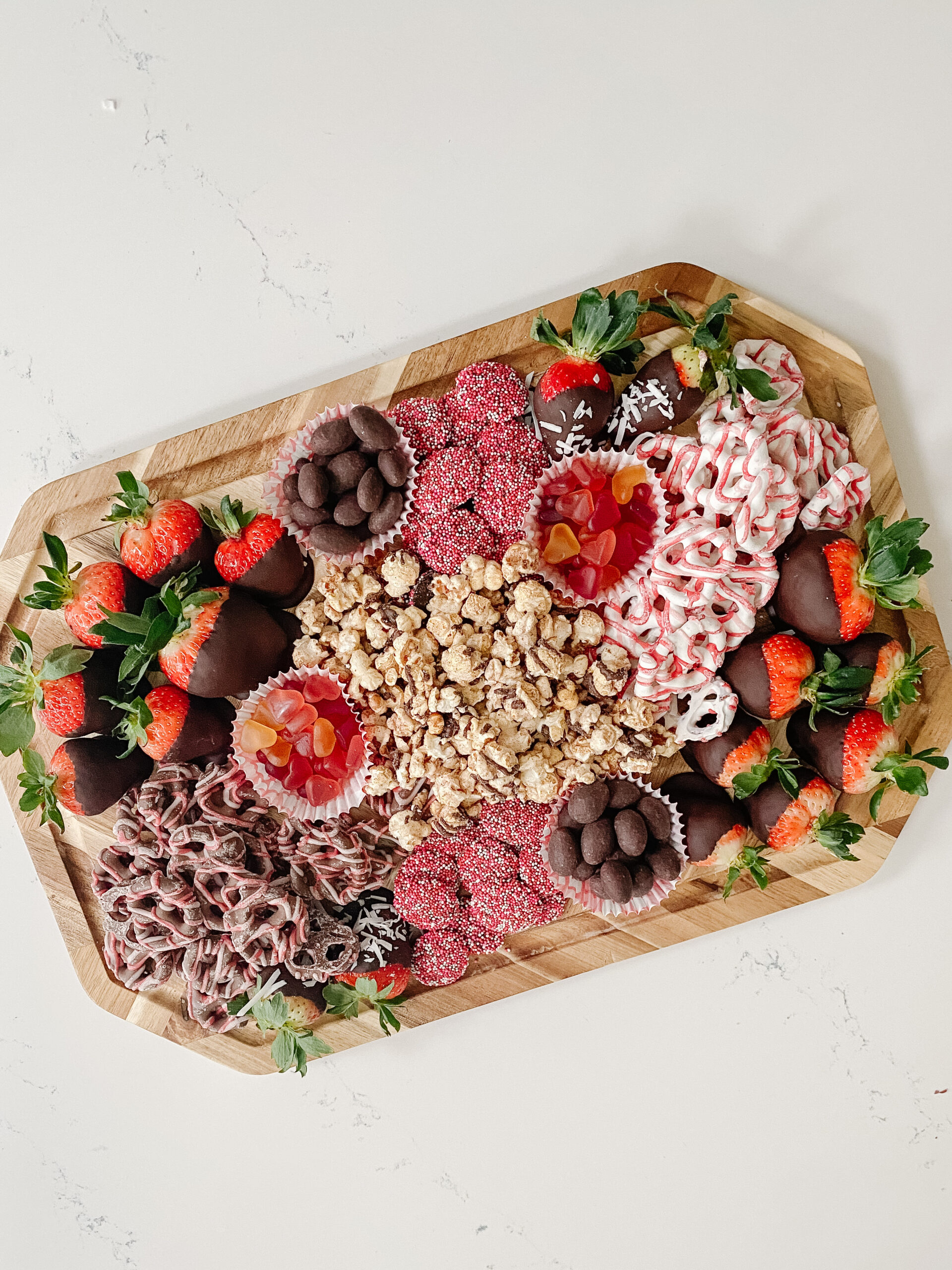 One of my FAVORITE treats to make is chocolate covered strawberries, so I knew they had to be apart of this board! They're SUPER easy to make, but just in case I included directions below:
Chocolate Covered Strawberries
You'll need: strawberries, chocolate, parchment paper, and a double boiler (or a mock one..I'll share what I do!)
– Clean and DRY your strawberries. They have to be dry!
– Spread out a piece of parchment paper on a flat surface.
– Use a double boiler to heat your chocolate. I use about half the bag of Hu Gems for a standard box of strawberries. I don't have a double boiler, so I simply put water in a medium sized pot and then place a smaller pot on top with the chocolate inside. I SLOWLY bring the water to a boil (I keep the heat at medium-high), and stir the chocolate as it's melting. Once it's completely melted, turn off the heat!
– Remove the small pot with the chocolate (CAREFULLY) and place it on the stove. I usually have to tilt it a bit to dip the strawberries.
– Dip the strawberries one by one and gently place them on the parchment paper. Allow them to cool and firm up before enjoying!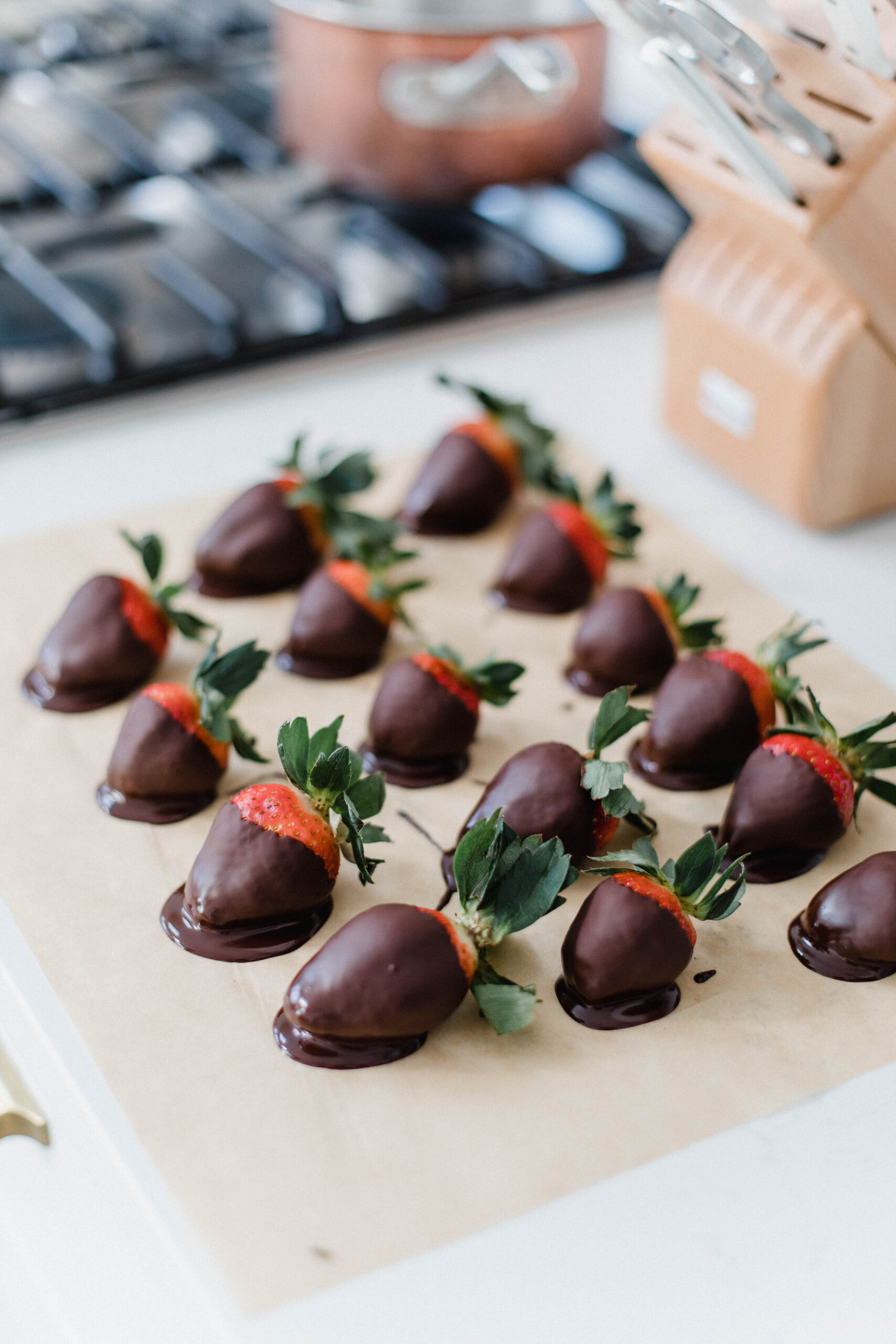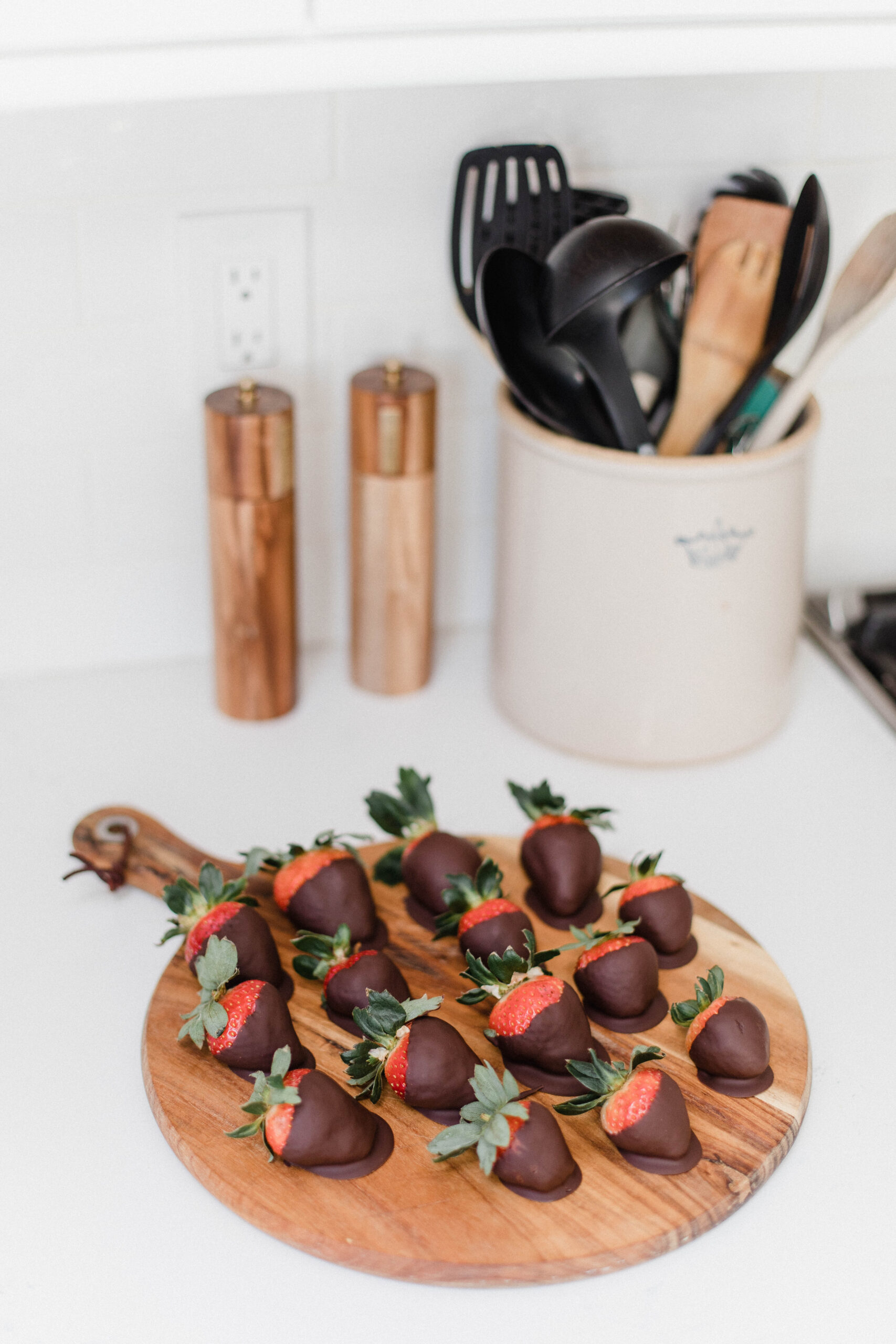 These are super easy to make and so insanely delicious! I love that the Hu Chocolate is paleo-friendly, too!
To start arranging the board, I usually work with the largest item first. In this case, the strawberries! I place them on opposing sides of the board as a starting point. Then, I simply fill in the rest. I like to use cupcake liners or little bowls for smaller treats like nuts, gummies, etc. I think it adds some nice contract and another layer to the board. Really, there's no going wrong here! These are simply just fun to make and enjoy. My kids LOVE them! 🙂
Hope that gives you a fun spin on Valentine's Day treats this holiday!